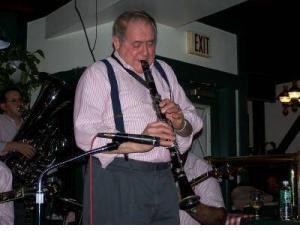 In September 1956, Albany, NY-based clarinetist Skip Parsons played his first gig with his Riverboat Six at the Van Schoick Tavern in Cohoes, N.Y. He was 20 years old.
"The group, which included drummer Tom Brown and cornetist Dick LaVoie, caught on and began to travel the college and night club circuits," Parsons recalled. "In those days, people were really interested in Dixieland music."
Since then the Riverboat Jazz Band has appeared with a veritable Who's Who in American Jazz including Doc Cheatham, Cutty Cutshall, Jimmy McPartland, Wild Bill Davison, Pee Wee Erwin, Bobby Hackett, Spiegle Willcox, and Kenny Davern.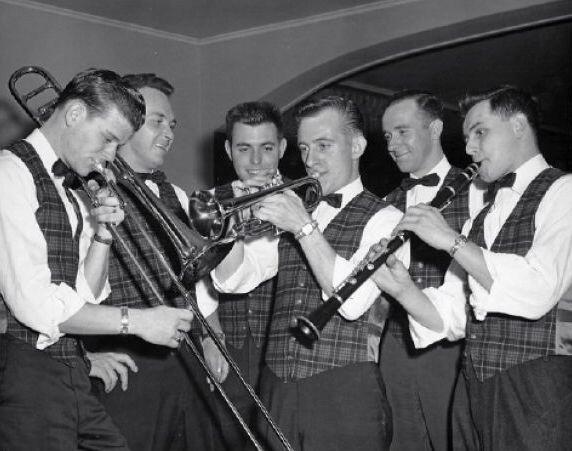 Parsons and the RJB returned to Central New York for the first time in six years to play a concert for The Jazz Appreciation Society of Syracuse on Sunday Sept. 8, at the Spaghetti Warehouse, on the north side of the Salt City.
Parsons, who celebrated his 83rd birthday in March, plays soprano sax and clarinet and occasionally vocalizes. On Sept. 8, the Riverboat Jazz Band also featured bassist Pete Toigo (pronounced Tu-wee-go), drummer Tim Coakley, banjoist Crick Diefendorf, trombonist Ken Olsen and Massachusetts cornetist and singer Rich Downs.
All attired in white slacks and dark shirts, the Riverboaters swung through two solid sets of classic jazz from "Tin Roof Blues" to "Basin Street Blues." Cornetist Downs vocalized "Singin' the Blues" as Parsons recalled Tram's C-melody sax work on his clarinet. Downs lent his voice again to "Rose of Washington Square," and he plugged a Harmon mute into his horn to evoke turn-of-the-20th century New York.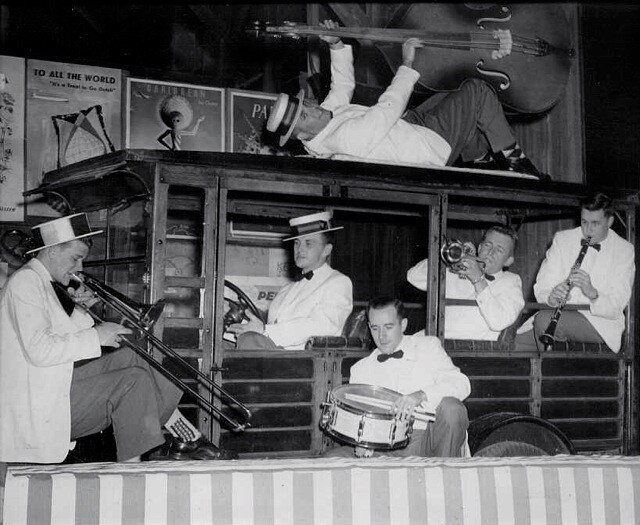 Diefendorf sang a rollicking rendition of "Make Me a Pallet on the Floor," on which the leader soared on clarinet. Parsons again reveled on the reeds with Lil Hardin's "Struttin with Some Barbecue," and trombonist Ken Olsen channeled Jack Teagarden on "Muskrat Ramble."
Parsons' voice may not be quite as powerful as it was 40 years ago, but he ably sang "You Can Depend on Me" in the first set and "Basin Street" in the second, and his reed work remains as strong as ever!
The Riverboat Band is proud of its long and harmonious history.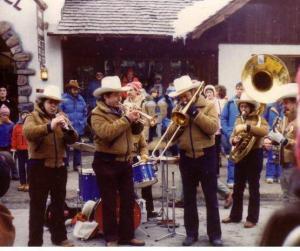 "It was about 1960 when I decided to run my band like a business," Skip says. "It's really the only way, if one is at all serious about keeping the ship afloat – riverboat in this case. Somebody has to do the real work, and now with this world of computing, taxes and red tape, it's a necessity. Other musicians in the clan often have to rescue me on musical matters, but it's all part of the same scenario. Whatever works, works.
"As far as the music," he says, "I have to separate the business from it in order to keep swingin.'"
During the 1970s Skip continued to front the band as well as doing appearances with Pee Wee Erwin, Bobby Hackett, Ed Hubble, Russell Moore, Vic Dickinson and several engagements with a band fronted by Doc Cheatham.
To begin the 1980s the Riverboat JB was named the official jazz band at the Lake Placid Winter Olympics. Employment by ABC Sports projected the Riverboat Jazz Band sound literally around the world on television throughout the entire duration of the games.
Skip Parsons and the Riverboat Dixieland Jazz Band issued a CD in the mid-1990s including such standards as "Struttin' With Some Barbecue," "Buddy Bolden's Blues," "Bourbon Street Parade" and "I'm Confessin.'"
Skip's desire to promote and produce musical events brought about his organization of the Great Northeastern Traditional Jazzfest in Greenville, N.Y., in 1978 and 1979, at which the RJB was the main focus. Several top artists to participate were Pee Wee Erwin, Bob Wilber, Kenny Davern, Dick Wellstood, Joe Muranyi and the Salt City Six.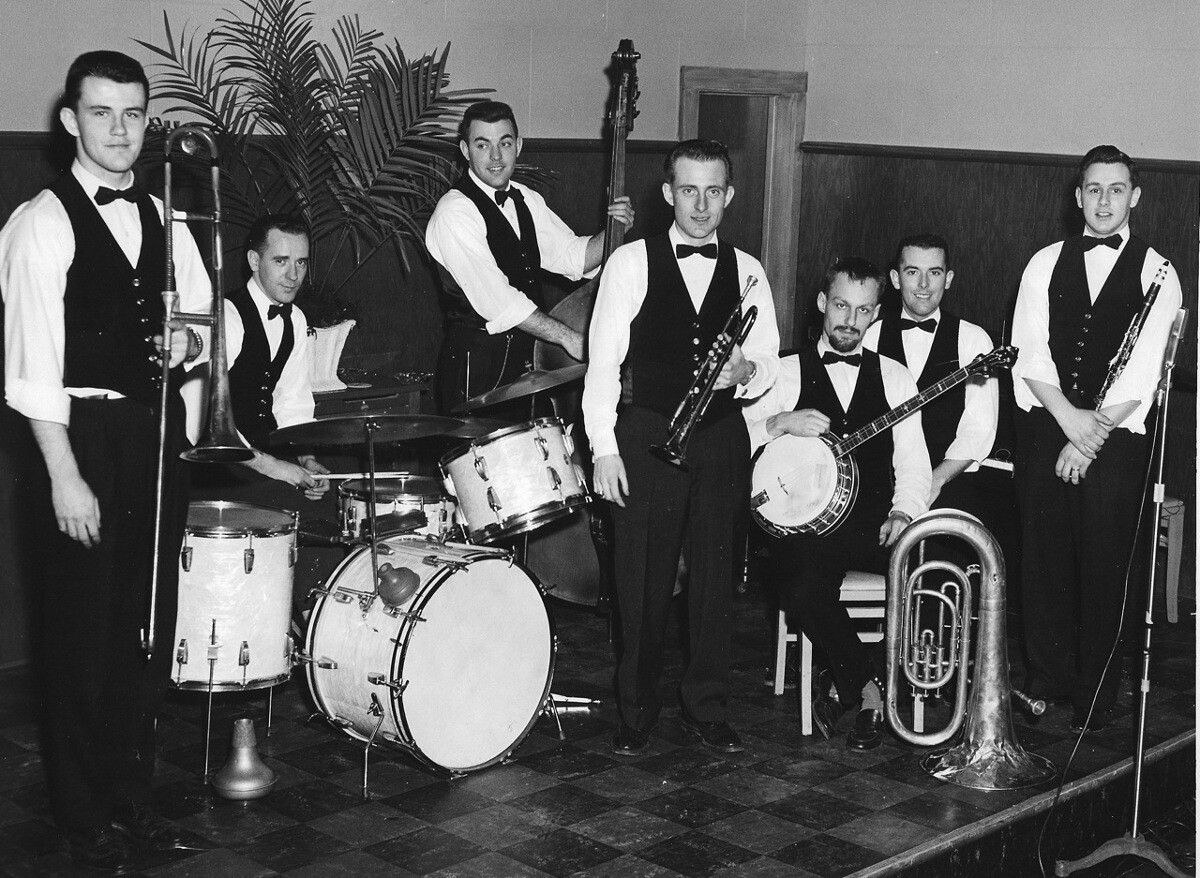 Skip also organized the Lake George Hot Jazz Party & Cruise which began in 1979 and was hosted by the RJB for 20 years. Festival appearances have included Newport at Saratoga; Ottawa International; Syracuse's Bix Bash and the New Jersey's Pee Wee Russell Stomp.
Later in the '80s to keep the sounds of Dixie alive, Skip began working with smaller groups too, trios and swing quartets.
The Riverboat band suffered a setback in 2014 when it lost its regular twice-a-month engagement at The Fountain restaurant, at New Scotland Avenue, in Albany. The group held down that job on the second Friday and Saturday of each month for 43 years, since 1971.
Although the gigs aren't as plentiful as they were 50 years ago, Skip's commitment continues into the new century as he schedules plenty of park and gazebo concerts, cruises, festivals, and nightclubs.
And Parsons has a new home base, McGeary's Pub, in Albany's Clinton Square on the second Monday night of each month. McGeary's Pub is located at Clinton Square, Albany; (518) 463-1455; mcgearyspub.com. To get to McGeary's, motorists must turn south onto Chapel Street from Clinton Avenue (Palace Theater) and proceed one block to a parking lot on left at the corner of Chapel and Orange.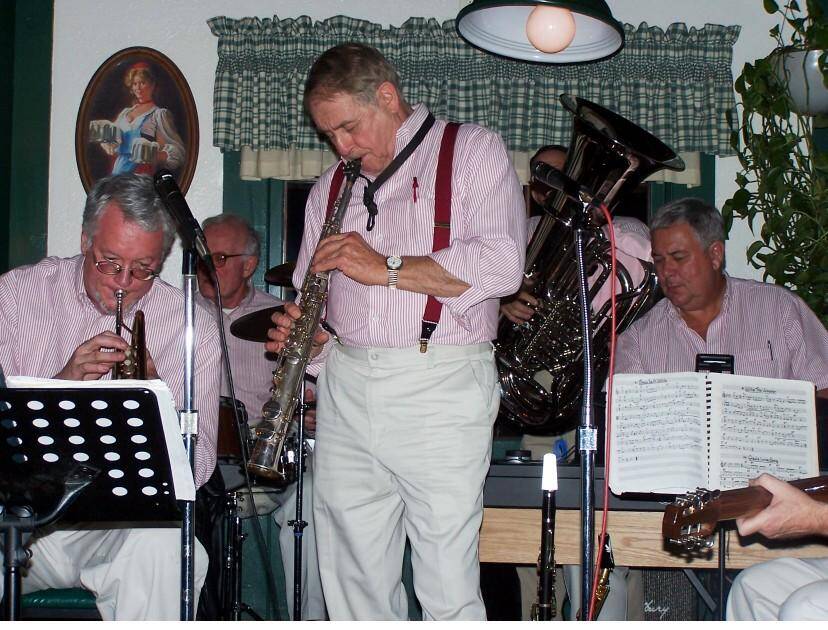 SIDE-BAR:
Hope on the horizon
Veteran Upstate NY jazzman Skip Parsons chatted with The Syncopated Times about a surprisingly satisfying jam session that unfolded at one of his last gigs at The Fountain restaurant.
Q: Tell us about your experience a few years ago with a group of young musicians from the Dirty Dozen Brass Band and some swing dancers who accompanied them.
A: Yeah. There have been a few young musicians in our area making an effort to play early-style music. Seems the Dirty Dozen Brass Band was booked at a local college for a concert. Some of these young musician friends who attended the concert brought some of the Dirty Dozen to the Fountain for a look-see, after the concert. Before I knew it, there were five trombone players, seemed everywhere within the place, with their horns-a-blowin.' A gal from Connecticut, who played great trombone, brought her guitar-playing boyfriend to join in the fun. Jammin' just like old times! Except 50 years ago, mine were usually after 3 a.m. I got a chance to meet and play with some great cats that way. Indeed, great memories and a "hands-on" education as well. Not enough of that anymore.
Q: What do you think the future holds for traditional jazz?
A: It often seems like we're the last of the old guys. But after seeing these kids around here, my hopes are somewhat brighter. They come in the Fountain late and ask for more. Sometimes there is about 20 of 'em. They slide the tables aside and dance, too. Ha! Plus they ask for "That's a Plenty," "St. James" and "Dixieland One-Step." They even applaud after a good solo, yep, a good solo. Imagine that? I have said over the mic occasionally, "What's-amatter? Haven't ya ever seen a bunch of old guys kickin' ass before?"
One More Quote:
"Funny, if you go to a gig with problems on your mind, you discover after the gig the music has become a natural therapy. When you're playing, you can't think of anything else but the jazz, and the troubles get set aside." –Skip Parsons
---
For artist info and gigs, visit skipparsons.com. All pictures in this story are from www.skip.clifflamere.com a wonderful site documenting the full history of the Riverboat Jazz Band put together by Cliff Lamere who has been photographing the band for years.