There aren't many Native Americans who became big names in the world of jazz. Among the few, Mildred Bailey, the "Rockin' Chair Lady", came from the Coeur d'Alene tribe in the Pacific Northwest.
Guitarist Jimi Hendix along with singers Cher, Tina Turner Della Reese, and Keely Smith all could trace their lineage to the Cherokee tribe. Illinois Jacquet was Sioux. Bassist Oscar Pettiford's mother was Choctaw, and his father was half-Cherokee. Vocalist Kay Starr's father was a full-blooded Iroquois.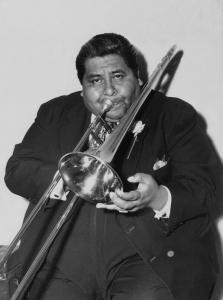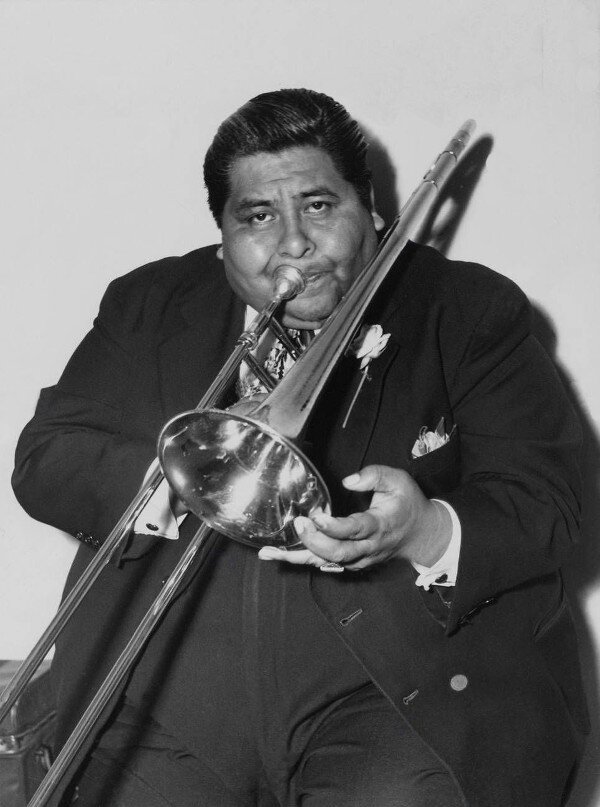 Another name to add to that list is Russell "Big Chief" Moore from the Pima (Akimel O'odham) tribe who grew up in the Gila River Indian Community just south of Phoenix, Arizona. He had a 50-year career that extended from the mid-1930s with Lionel Hampton's big band to two tours with Louis Armstrong to playing for East Coast socialites in Lester Lanin's Orchestra.
An exhibit at the Musical Instrument Museum in Phoenix that commemorated Arizona's statehood centennial in 2012 recognized Moore as one of the state's foremost musicians as well as marking the 100th anniversary of his birth in 1912. His horn is now on display at the National Museum of the American Indian in New York City, which is located in the Alexander Hamilton U.S. Custom House in Lower Manhattan. Artist Philip Stein, whose work decorates the back wall of the Village Vanguard in Greenwich Village, did an oil painting of "Big Chief" that adorns the 1973 album, Pow Wow Jazz.
Early Upbringing
When Russell was 11 years old, his father passed away, and he was sent to live with relatives in Blue Island, Illinois. His Uncle Bill and Aunt Mary taught him to play several instruments and encouraged him to study all types of music, which led to his love of jazz and the trombone. At the age of 17, he ran away to Chicago, and according to Dr. Andrew Darling, an archeologist who has made an exhaustive study of Big Chief's life, lived on the street, often sleeping in a casket in a burned-out casket factory. One evening when he was standing outside the Sunset Café, he heard Armstrong for the first time.
Moving to Los Angeles, Russell worked with Lionel Hampton's big band in 1935 and then jobbed around the country with territorial bands, including one led by New Orleans trumpeter Oscar "Papa" Celestin.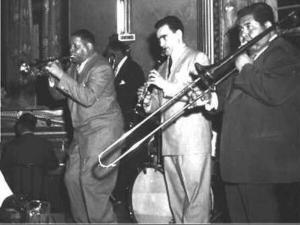 He joined Armstrong's last big band in 1944 When the band appeared in the movie New Orleans with Billie Holiday, the only tuxedo the producers could find to fit the 250-pound trombonist was one belonging to the equally-rotund character actor, Sydney Greenstreet. On the Hello Dolly album that featured tunes from the movie, Armstrong can be heard saying, "Take it, Big Chief" as Russell soloed on his favorite tune, "Someday You'll Be Sorry."
After the Armstrong band broke up in 1947, Moore worked with some of the top jazz musicians of that period, was in the house band at Jimmy Ryan's, shared the stage with Charlie Parker and Miles Davis at the International Paris Jazz Festival in 1949, toured Europe, recorded with Sidney Bechet, and performed at inaugural balls for Presidents Kennedy, Johnson and Nixon as well as at a wedding reception for Prince Charles and Diana.
Rejoined Armstrong in 1964
He rejoined Armstrong in 1964, replacing Trummy Young, and did a world tour with the sextet. Having lived the good life, his weight had ballooned to 350 and traveling became difficult, which led to his departure from the group. He settled in Nyack, New York with his wife and two children, led a Dixieland band, and played with the Lester Lanin Society Band. In 1982, he was honored as a "First American in the Arts" at the Kennedy Center and received the only standing ovation of the evening after playing his composition, Wounded Knee Chant.
During the last 25 years of his life, he devoted considerable time "for my people," saying "Almost all Indians have a natural musical talent. Every Indian school boy and school girl should think about the study of music. It is a way-of-life and a useful and productive one. Music is a source of revelation and a means of understanding one's self and one's fellow man." For several years, a free Russell Moore Music Fest was held at the Gila River Indian Community south of Phoenix..
Russell "Big Chief" Moore passed away in 1983 at the age of 70.