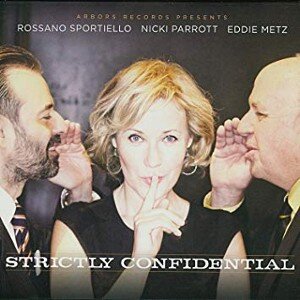 According to Nicki Parrott, the first time she played with pianist Rossano Sportiello and drummer Eddie Metz, Jr. as a trio was a club date in Switzerland in 2009. Eddie thought it was at an Arbors party in Florida the year before. Either way, this threesome have hit all the right notes since then and have just come out with their latest CD: Strictly Confidential.
It's a diverse collection of tunes that pay tribute to jazz piano masters such as Bud Powell, Duke Ellington, Errol Garner, Count Basie, Teddy Wilson, and George Shearing along with Michel Legrand, Ray Charles, Dinah Washington, James Morrison, and the Carpenters. Rossano selected the instrumentals; Nicki picked the vocals that feature her sultry voice.
Overall, it's an interesting selection, not the usual mainstream songs that are normally played. There's "Pure Imagination" from the 1971 film, Willy Wonka and the Chocolate Factory, the Carpenters' "Close to You," Errol Garner's classic "Misty," a couple of Ellington numbers, Teddy Wilson's "Sunny Morning" (where Eddie pays tribute to one of his mentors, the late Jake Hanna), along with two of my favorites from the Basie book, "Shiny Stockings" and "Shoe Shine Boy."
Nicki does her usual classy vocalizing on four tunes along with demonstrating her masterful skills on the acoustic bass.
As Rossano points out in the liner notes: "There are stages in our lives associated with certain songs, and through those songs memories come back to us with a nostalgic feeling—sometimes with outbursts of happiness, sometimes with pangs of sorrow, and sometimes with quiet reflection. It's the deeper role music often plays in most people's lives, beyond mere entertainment."
Don't let the title put you off. It's 15 tunes that present different jazz idioms and musical genres and as noted on the sleeve, are "For your ears only."
Rachel Domber oversaw the production of the CD as executive producer. To order from Arbors Records, just indicate ARCD 19499 (www.arborsrecords.com). "Great Jazz Lives On!"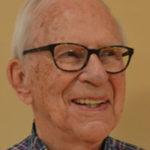 Lew Shaw started writing about music as the publicist for the famous Berkshire Music Barn in the 1960s. He joined the West Coast Rag almost thirty years ago and has been a guiding light to this paper through the two name changes since then as we became The Syncopated Times.  47 of his profiles are collected in Jazz Beat: Notes on Classic Jazz. Volume two, containing profiles from 2013-2016 will be available on Amazon soon. He taps his extensive network of connections and friends throughout the traditional jazz world to bring us his Jazz Jottings column every month.