I first noticed Hannah Gill in a fundraising video she made with Glenn Crytzer in support of his double disc release of originals and swing classics "Ain't It Grand". Her classic voice is dramatic enough to captivate even accompanying only Glenn's guitar in a small room. Always on the look out for young artists to highlight I sought out more. It proves how out of the loop I am that by that time in 2018 she was already known to millions for a viral performance with Postmodern Jukebox singing Gnarles Barkley's pop single "Crazy".
The trajectory of her career is a glimpse at the new world working artists find themselves in. At 21 her rise has been both meteoric and diligent. She might be found one night sitting in with a quartet before a small trad jazz loving crowd at The Ear Inn, the next night with Vince Giordano or Glenn Crytzer's full bands and a couple of days later at the Sydney Opera House with PMJ, a star of their theatrical productions of Billboard hits given jazz arrangements.
After graduating from high school in 2015 Hannah Gill moved to New York to spend a year trying to make it as a musician before committing to college. She told me all the "responsible people" in her life kept telling her "why don't you just go to school and become a music teacher?" She left that door open, but never needed to go through it, her career took off almost immediately.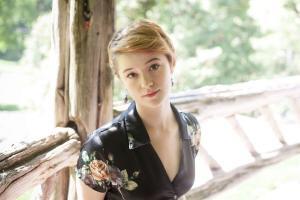 In New York she quickly found her place in the burgeoning swing community singing for both Gordon Webster and Glenn Crytzer. Suddenly she was able to support herself as an in demand jazz vocalist around the city.
She leveraged that freedom by promoting her own band, Hannah Gill and The Hours, which performs her original material. The band has a modern sound influenced by soul and contemporary vocalists. In 2016 the Hours released a professional video of her friend's original song "Austin". The filming was on location in Texas, which led to some confusion on my part about her origins. It's a cool town she told me, but she's never lived there. The video was a minor hit online and her and the band had many opportunities, they've even toured nationally.
Growing up in Maryland Hannah Gill was attracted to dramatic vocalists like Nina Simone and Otis Redding, you can hear some of that influence in her original work, specially on her recent EP "Lost in Words". Her classy and lyrical delivery is at the fore and her future efforts as leader seem to be growing closer to the Songbook rather than away from it as jazz experience has its effect on her personal artistry.
Her big break came early in 2017 at the weekly Frim Fram Jam, a long running swing dance meet up in NYC. She spotted Robyn Adele Anderson an early star of Postmodern Jukebox. After betting a nearby friend it really was Robyn she walked up and started what began as an online friendship. Robyn soon spotted her work with local jazz groups on Facebook and invited her to sub for her at a gig.
By May 2017 she had met Postmodern Jukebox founder Scott Bradlee and was flown out to LA to record her first video. It was a 1940's big band throwback of Gotye's "Somebody That I Used To Know", which in its chart topping 2011 original is a throwback to a 1980s pop sound. How postmodern can you get?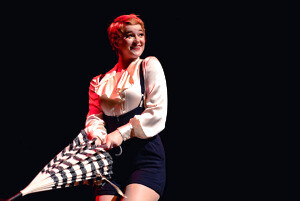 She first left the United States at not yet 20 years old as part of a Postmodern Jukebox tour to Australia and there has been no slowing down since. The group has two touring companies and has done an amazing job of transitioning internet success into real world opportunities for musicians by recreating their hit YouTube videos on stage. Chloe Feoranzo and Gunhild Carling both appear at their live shows regularly and dozens of musicians familiar to TST readers have found work as sidemen with the group.
Gill's performances with PMJ are among their jazziest and most interesting. I'm not sure how much say she has in choosing her titles but "The Ballad of Mona Lisa" by Panic at the Disco is a pick right out of her generation. She transforms the alt-rock pacing of the original into a velvety vocal jazz vehicle. She's accompanied by a five piece piano driven band, complete with trombone solos. The gems in the lyrics you might miss in the original are highlighted in a perfectly paced arrangement.
While many PMJ versions of pop songs can seem gimmicky the heart of what they do honors the original material and simply wows the audience with vocal driven performances of familiar lyrics. In the process they raise appreciation in modern audiences for instrument based music with clean delivery. The appeal is similar to TV shows like The Voice but despite all of my Gen X reflexes struggling to feel superior I can't help appreciating what they do as both art and entertainment.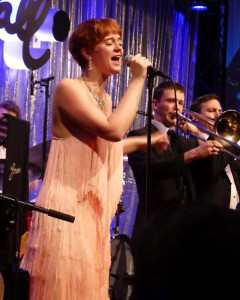 You certainly can't knock them for helping dozens of skilled instrumentalists make ends meet. As Gill told me, PMJ provides "a very nice platform for trad musicians, it might not be trad but it's music that is enjoyable to play." I like to think of them as the modern incarnation of the Vaudeville tours where many jazz and blues musicians got their start mixing well known songs with other entertainments.
When she's not with PMJ, or gigging around New York, Gill can be found with Gordon Webster at swing events in Europe and farther afield. We got to talking about how nuts for swing South Korea has become. "In Korea," she says, "people do really listen to the music. When we play those gigs we're playing for dancers, so seeing them dance is important but in South Korea they will also stand at the stage and listen."
Hannah Gill was on Glenn Crytzer's excellent Christmas album last year and has just recorded a few tracks with Vince Giordano. When they are released I'm sure we'll cover them in this paper. She also has 20 songs written for a new album and is trying to find a label to support it. She says the work is completely different from the pop focus of her previous releases. She's putting lyrics front and center. Hannah Gill is just getting started.
Follow her on Instagram, Facebook, Twitter, and Youtube.