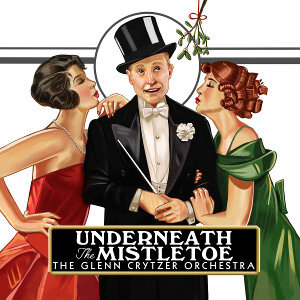 Glenn Crytzer has done it again! In 2018 we were so impressed by his double album, Ain't it Grand, that we reviewed it, twice, put him on the cover and ran one of his essays about arranging authentic yet inspired vintage jazz. This time he's harnessed these skills, and the respect he has among New York City's young jazz and swing musicians to set his sights on Christmas. It took some planning.
Back in April, as snow made way for flowers, an idea for a new Christmas song got stuck in his head. As he penned it down the thought of an original album of Christmas music for full band developed. In the heat of summer he quickly raised the funding to bring a big band, complete with strings, into the studio. He signed up a plethora of young traditional jazz and swing players, 25 by my count. A number of them rising stars of the New York scene.
Before the leaves had turned they spent a long day in the studio using the period recording techniques Crytzer has engaged on his previous albums. This meant ribbon mics on each section, a mic for the piano and for certain solos, but not recording each musician separately as is now the norm.
As on Ain't it Grand, the result is a stunningly period sound. And as on that record my favorite tracks are among the eleven Crytzer's originals. An experienced leader, he has a very specific vision for each song and effectively engages the appropriate artists towards it. Dandy Wellington delivers in classic style two original comic novelties, one extolling the wonders of Christmas foods, and the other an apology to Santa for leaving a fire going in the fireplace. The leading men of the 40s would have all taken their turn at these numbers.
Crytzer himself takes lead vocal on two Christmas classics in the making, "The Little Tree", about a couple remembering their first Christmas together, and "Christmas in New York", about the charms of that city in early winter.
Musically there is a concentration on the style of the late '20s dance bands. So much of Christmas music already reflects a throwback sound to the 40s and 50s that to truly harness a nostalgic yuletide feeling it's nice to go back a little earlier. That sentiment is expressed in the brand new "An Old Fashioned Christmas", at least before the song turns into a drink recipe.
Speaking of recipes, the album notes contain a recipe for eggnog, with an appropriate disclaimer of responsibility. You'll be reading awhile before you find it though. The extensive notes are so complete that I'll be referring back to them frequently for capsule bios of all the fantastic musicians on board. They also contain musical explanations for many of the creative arrangements Crytzer wrote for the album, and list the soloists utilized on each track.
Among the several, even many, exceptions to what I said about a 20s dance band focus are Hannah Gill's crisp period vocals on three standout tracks. "Hey, Mr. Snowflake" and "Playing Santa Claus" really capture the Goodman/Shaw feel Crytzer's going for, and Gill charms on "Underneath the Mistletoe".
In the notes on "Mistletoe", Crytzer explains his use of strings on the album; "In arranging, I wanted to use the strings in a way that wouldn't suck the swing out of the number, as so often happens when strings are added to big band music. Thus, I avoided underscoring the vocal with a lot of lush chords, gave the strings some moving lines, and mostly used lush passages only as comic relief to the brass and reed outbursts…"
The classics are given interesting arrangements. "Silent Night" has a waltzing "Over the Waves" feel, something that wouldn't surprise me to find on a 78 RPM but will be unusual to modern ears. "Up on the Housetop" mixes hot solos with square ensemble passages capturing, perhaps, a band just beginning to introduce jazz to it's sound, an effect highlighted with brass special effects reminiscent of the ODJB. "Jolly Old St. Nicholas" attempts to emulate the style of the territory bands, slower than usual with extended solos and pleasant rhythmic drive. The "Chinese Dance" from the Nutcracker is played hot. The fanciful arrangement of "Toyland" includes banjo accompanying harp. All told there are a generous 20 titles.
As the season begins with Thanksgiving the album sets off with "Over the River and Through the Wood". It ends with the tune that inspired it back in April, a string filled prayer to "Keep a Little Christmas in Your Heart."  This album will be a perennial favorite for year round fans of vintage American jazz who like a little heat in their holidays. Get it here: www.glenncrytzer.com/underneath-the-mistletoe
MUSICIANS: Glenn Crytzer (g, bj, dir, a, v, v3); Sam Hoyt, Jason Prover (t); Mike Davis (t, c, v3); Rob Edwards, Jim Fryer (tb); Joe McDonough (tb, bb); Jay Ratman (cl, as, ss); Dennis Lichtman (cl, as, bj); Dan Block (cl, as, ts, fl); Matt Koza (cl, ts); Ricky Alexander (cl, bcl, as, bar, v3) Gabe Terracciano, Meg Okura, Victoria Paterson, Caroline Drexler, Francisco Salazar, Akiko Hosoi (vn); Benni von Gutzeit (vl), Tom Valdez (vc), Kathryn Andrews (h); Bryan Reeder (p, cel); Ian Hutchison (sb); Andrew Millar (d); Hannah Gill, Dandy Wellington (v).
---
 Related:
Glenn Crytzer: Composing the New Classics,
Glenn Crytzer: A History of the Music Business and Where it's Headed Now
Glenn Crytzer on Playing Pre-War Jazz: 8 Things You Won't Learn in Jazz School,
Glenn Crytzer on Programming an Album of Original Swing Music,
The Glenn Crytzer Orchestra: Ain't It Grand?(CD Review #1),
The Glenn Crytzer Orchestra Ain't it Grand? (CD Review #2),
From Glenn Crytzer's CD Release Party,
Glenn Crytzer Swings the Easter Ball at the Plaza Hotel,
Glenn Crytzer Orchestra at Kola House April 10.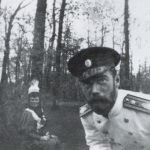 Joe Bebco is the Associate Editor of The Syncopated Times and Webmaster of SyncopatedTimes.com. He is available for liner notes and other writing or to give your website an overhaul. Reach him at [email protected]