Becoming an overnight sensation is no small feat—especially in the unpredictable world of jazz, and particularly in its very birthplace, New Orleans. But here, for your consideration, is Chloe Feoranzo, Exhibit A—small feet and all.
Learning her craft along a steady trajectory from San Diego to Los Angeles, then to St. Louis and down to the mouth of the Mississippi, the diminutive clarinet and saxophone player has already dazzled musicians in her own age group as well as the grizzled veterans—and she's only 25.
"I wasn't sure what I was expecting," she admits. "I never really thought I would move to New Orleans, but I fell in love with it when I came for a long visit back in January. I got swept up in the pace of the city and haven't looked back yet."New Orleans is incredible. It feels a whole different world than the rest of the United States. There is music everywhere and such a rich, vibrant culture full of unique traditions and people. I've barely scratched the surface of this city but am enjoying what I have learned and experienced so far."
A visitor to The Big easy shouldn't have a hard time finding this remarkable young talent—though she stands merely four feet, ten inches tall.
"I perform all over the city as a freelancer," she says. "I work a lot as a sub since there is a large circulation of musicians around here. I have played with Shotgun Jazz Band, Smokin' Time Jazz Band, New Orleans Jazz Vipers, Kris Tokarski, TomCats, and Gerald French just to name a few. Even with a Russian Mafia Band called Debauche—haha! I have busked on the streets, played all over Frenchmen St. and parts of the French Quarter, on the Natchez, AllWays Lounge, Buffa's, and the Old Mint. Luckily everything is in a short distance from each other which makes it quite easy to get around, even though getting stuck behind horse-drawn carriages in not something one would think to happen as cause for traffic in most other parts of the US."
Chloe was raised in San Diego, CA, and earned numerous honors as a musician in junior high and high school. She and her mother then moved to Los Angeles, where the late Pete Kier—a bass player and officer in the South Bay New Orleans Jazz Club—introduced her to yours truly and the JazzAmerica program. (JA, established in 1994, is a tuition-free program of traditional and big band jazz instruction that was co-founded by the legendary Buddy Collette.) Chloe distinguished herself on clarinet in our Gumbo Combo in the spring, and on tenor sax in the Big Band that summer. That fall, we recommended her to the LA Jazz Society, which conferred its New Talent Award to Chloe. Then it was time for college.
"I really wanted to travel outside of California and experience some seasonal changes—haha! I was a bit intimidated by the more famous music schools (it's quite competitive and I've never done well with that mindset), so I was looking for a small school. My mom worked in the San Diego Junior Theater office when I was in high school and the name of Webster University came up because it's also a big theater school. I looked into the music program and really enjoyed my audition weekend since Paul Demarinis (the head of the jazz department and also saxophone professor) gave me a lesson that same weekend. I ended up only applying for that school and got in! It is a very tiny music program but I really enjoyed my professors and learned a lot the time I was there."
The walls of academia were no barrier at all to Chloe's musical adventures. St. Louis had its own thriving jazz community, which included Miss Jubilee—"an amazing St. Louis vocalist who can belt the blues like nobody's business." Sitting in one night was a guest named Pokey Lafarge. He writes "original music that was heavily influenced by traditional jazz, old blues and traditional country music." Chloe toured for three years with Pokey Lafarge. "I am absolutely grateful for the opportunities presented through the band—like playing on David Letterman, Prairie Home Companion, and even the Grand Ole Opry. We played for some amazing festivals and I never thought I would ever play 'Riverboat Shuffle' to thousands of people one day but we did! And it was really fun. That being said, road life is very hard."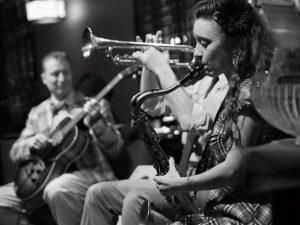 One of Chloe's dearest friends is also one of her inspirations for moving to New Orleans: Molly Reeves. She leads The Red Skunk Jipzee Swing Band, a band influenced by traditional and gypsy jazz that has played in a lot of Dixieland festivals around the country. Molly is a powerhouse and an incredible guitarist. [More recently you can see Chloe with Molly Reeves in The Shake 'Em Up Jazz Band]
Other musicians and bands continue to look to Chloe for her stellar musicianship and winning personality. One of them is Tom McDermott. "Originally from St. Louis, Tom has been in New Orleans for over 30 years and has become a staple in the scene. He is a master at piano and has a deep affinity for not only traditional jazz but all kinds of music, especially Brazlian choro. He has gone to Brazil many times over the years and has learned to make the chorus his own. I am honored that he enjoys playing with me and we have a CD coming out next year which I am very excited about.
A look at the "Schedule" page of the ChloeFeoranzo.com website reveals a dizzying array of her gigs in October: Shotgun Jazz Band, Jenavieve Cook and the Royal Street Winding Boys, Riverside Jazz Collective, Tom McDermott Duo, Larry Scala Band, Michael Gamble and the Rhythm Serenaders, Antoine Diel and the Misfit Power, Chas Justus and the Jury—just to name a few.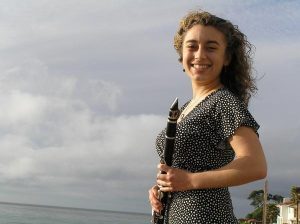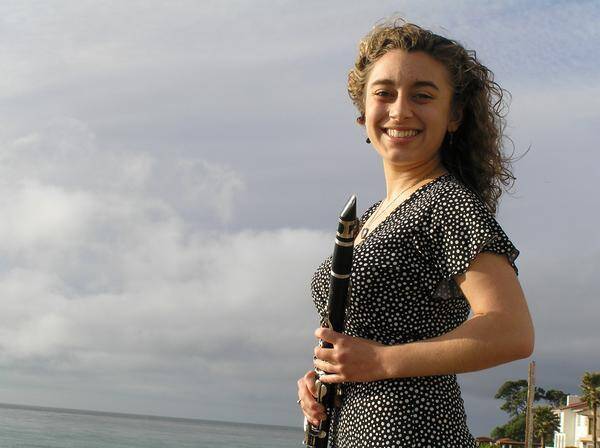 Clearly, Chloe Feoranzo has arrived; not just in New Orleans, but as a fixture in the traditional jazz scene, with an unending profusion of performances and recordings. Her sound is as compelling as her personality—sparkling yet tastefully understated, exuberant without ego. Fortunately, a hurricane is not the only thing to hit New Orleans by storm.
View our complete Chloe Feoranzo Discography