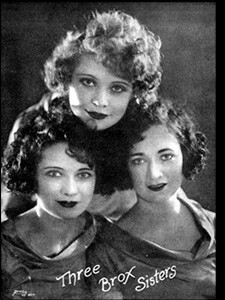 The Brox Sisters were a close harmony vocal group of three sisters. They where born in Kentucky and Tennesse but grew up in Edmonton, Alberta, Canada. There real last name was Brock but they appeared on stage as the Brox Sisters.
They rose to fame in the Music Box Revue which played at the New York Theatre from 1921 to 1924. In 1925 and 1926 the sisters performed on Broadway in the musical comedy "Cocoanuts" with the Marx Brothers.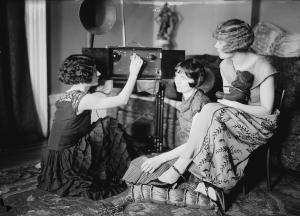 In 1927 they appeared in the Ziegfeld Follies of 1927 at The New Amsterdam Theatre with Eddie Cantor. In 1929 they appeared in the film Hollywood Revue of 1929 performing the song "Singin' In The Rain" with Cliff Edwards. In 1930 the sisters appeared in the film "King of Jazz" in 1930. They performed the song "A Bench in the Park" with Joe Venuti, Eddie Lang and the Rhythm Boys.
Thanks to Eddie Mitchell for his help with this page.

Title

Recording Date

Recording Location

Company

Away Down South
with Bennie Krueger and his Orchestra


(Sam M. Lewis / Joe Young / Harry Akst)

7-1922
New York, New York
Brunswick
2305
Bring On The Pepper
with Bennie Krueger and his Orchestra


(Irving Berlin)

1924
New York, New York
Brunswick
2360
Broken Hearted Sue


(Paskman / Breene / DeRose)

9-11-1926
Camden, New Jersey
Victor
20325
Come On Home
with Bennie Krueger and his Orchestra


(George W. Meyer / Sam M. Lewis / Joe Young / Harry Akst)

1924
New York, New York
Brunswick
2360
Cover Me Up With The Sunshine Of Virginia


(George W. Meyer / Sam M. Lewis / Joe Young)

3-7-1924
New York, New York
Victor
19298
Do I?


(Sam M. Lewis / Joe Young / Harry Akst)

3-7-1924
New York, New York
Brunswick
2330
Early In The Morning Blues


(Brown / Klages)

3-7-1924
New York, New York
Brunswick
2330
How Many Times?


(Irving Berlin)

7-20-1926
Camden, New Jersey
Victor
20123
I'm Lonely Without You


(Bud Green / Harry Warren)

9-18-1926
Camden, New Jersey
Victor
20232
Iyone, My Iyone


(Bryan / Britt / Leonard)

7-20-1926
Camden, New Jersey
Victor
20123
Kentucky's Way Of Saying Good Morning


(Gus Kahn / Egbert Van Alstyne)

3-7-1924
Chicago, Illinois
Victor
19921-B
Kicky Koo
with Bennie Krueger and his Orchestra


(George W. Meyer / Sam M. Lewis / Joe Young)

7-1922
New York, New York
Brunswick
2305
Lay Me Down to Sleep in Carolina


(Milton Ager / Jack Yellen)

9-27-1926
Camden, New Jersey
Victor
20232
Lazy


(Irving Berlin)

3-7-1924
New York, New York
Victor
19298
Learn To Do The Strut


(Irving Berlin)

11-1923
New York, New York
Brunswick
2538
Little Boy Blues
with Bennie Krueger and his Orchestra


(Turk / Robinson / Britt)

4-1923
New York, New York
Brunswick
2427
Mandy Make Up Your Mind


(Clark / Turk / Meyer / Johnston)

9-22-1924
Camden, New Jersey
Victor
19501
Nobody Loves You Like I Do


(Benny Davis / Harry Akst)

9-22-1924
New York, New York
Victor
19478
Pretty Cinderella


(Will Harris)

9-27-1926
Camden, New Jersey
Victor
20325
Red Hot Mamma


(Wells / Cooper / Rose)

10-4-1929
Camden, New Jersey
Victor
19501
School House Blues
with Bennie Krueger and his Orchestra


(Irving Berlin)

3-1922
New York, New York
Brunswick
2268
Sittin' In A Corner


(Gus Kahn / George W. Meyer)

11-1923
New York, New York
Brunswick
11823
Some Sunny Day
with Bennie Krueger and his Orchestra


(Irving Berlin)

4-1922
New York, New York
Brunswick
2268
Sweetest Little Rose In Tennessee


(De Voll)

9-22-1924
Camden, New Jersey
Victor
19478
Tie Me To Your Apron Strings Again


(Joe Goodwin / Larry Shea)

12-18-1925
Chicago, Illinois
Victor
19921-A
Tokio Blues
(from "Music Box Revue")


(Irving Berlin)

1-16-1925
Camden, New Jersey
Victor
19631
Who?
(from "Music Box Revue")


(Irving Berlin)

1-16-1925
Camden, New Jersey
Victor
19631
Ziegfeld Follies – Selection Part 1
"Ooh! Maybe It's You"
9-14-1927
New York, New York
Victor
35845-A
Ziegfeld Follies – Selection Part 2
"It All Belongs To Me" (with Franklyn Baur), "It's Up to The Band"
9-14-1927
New York, New York
Victor
35845-B
| | |
| --- | --- |
| Artist | Instrument |
| Josephine "Bobbe" Brox aka Dagmar Brox | Vocals |
| Kathlyn Brox | Vocals |
| Lorayne Brox | Vocals |
| Arthur Johnson | Piano |
| Bennie Krueger | Orchestra |
| Nat Shilkret | Orchestra |
| unknown | Piano, Violin, Guitar, Ukelele |
| | | |
| --- | --- | --- |
| Title | Director | Year |
| Down South | Vitaphone Short | 1927 |
| Headin' South | Vitaphone Short | 1928 |
| Hollywood Review of 1929 | Charles Reisner | 1929 |
| At The Night Club | Vitaphone Short | 1930 |
| Spring Is Here | John Francis Dillon | 1930 |
| The Dogway Melody | Zion Myers and Jules White | 1930 |
| The King of Jazz | John Murray Anderson | 1930 |
| Gems of M-G-M | | 1930 |
| Hollywood on Parade | Louis Lewyn | 1932 |
| Transatlantic Merry Go Round | | 1934 |