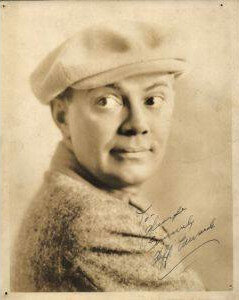 He was a very popular singer and entertainer who, as "Ukulele Ike," had major accomplishments in the 1920s, he appeared in many films in the 1930s (including Gone With The Wind), and his voice was heard by virtually everyone due to his participation in a rather famous Disney movie. But long before his death in 1971, the world had completely forgotten Cliff Edwards. By then he had completely run out of comebacks.
Clifton Avon "Cliff" Edwards was born on June 14, 1895, in Hannibal, Missouri. By the age of 12 he was supporting himself with menial jobs including working in a shoe factory. He dropped out of school early, left home when he was 14, sang for tips in St. Louis, and worked with traveling carnivals and minstrel shows. Along the way he learned how to accompany his singing on ukulele. In Chicago, one night while performing at the Arsonia Café, the manager could not remember his name while introducing him and he spontaneously called him "Ukulele Ike," a title that stuck.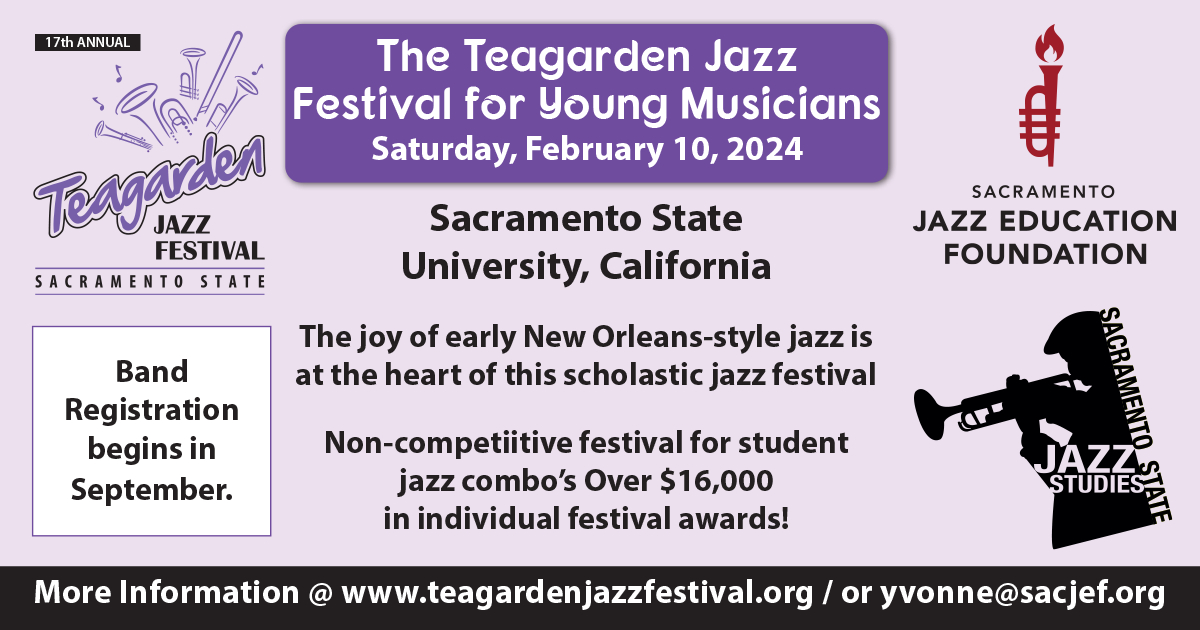 After years of bouncing around in vaudeville and show business, in 1918 he had his first success. Edwards teamed up with pianist-composer Bob Carleton and they were a hit performing Carleton's "Ja-Da." When Carleton left the act to concentrate on songwriting, Edwards was hired by Joe Frisco, a vaudeville headliner who was a stuttering comedian. Soon they were being featured at the Palace in New York. After that association ran its course, Edwards briefly teamed up with singers Pierce Keegan and Lou Clayton before becoming a single.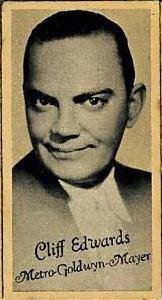 Although he recorded a few songs during 1919-20, those were never released. Edwards made his official recording debut in 1922, singing wordlessly on a song with Ladd's Black Aces and two with Bailey's Lucky Seven. While it has long been reported that he was playing kazoo, he actually was doing what he called "eefing," scatting in his falsetto voice.
Those who think that Louis Armstrong on "Heebie Jeebies" in 1926 was the first scat-singer on record are off by a few years. Not only did Cliff Edwards precede him by four years, but Gene "The Ragtime King" Greene on "King Of The Bungalows" was scatting in 1911!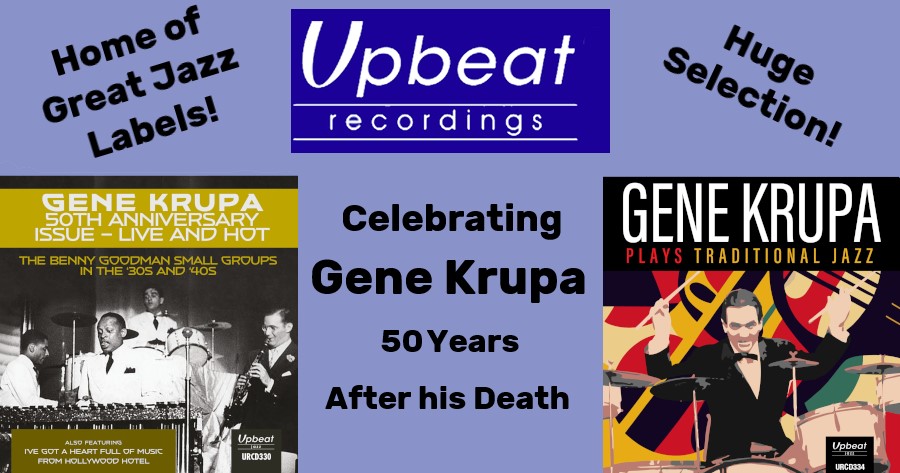 With his friendly voice, impeccable diction, versatility (equally comfortable in singing sentimental ballads and jazz-inspired romps), and joyful stage personality, Cliff Edwards was heading for the big time. He began to record regularly starting in November 1923 with "Old Fashioned Love" and "Lovey Came Back." Among the 16 songs that he waxed in 1924 (all as a solo performer) was the first version of "Fascinatin' Rhythm" which he had just introduced in the Broadway show Lady Be Good.
Although often overlooked by jazz historians, Cliff Edwards was arguably the first male jazz singer to record. Virtually no jazz instrumentalists were singing on record by late 1923. In addition, Edwards' vocalizing is much easier to take today than the studio singers of the time.
The 1920s were Cliff Edwards' glory years. He was featured in the 1925 musical Sunny, was one of the stars of the Ziegfeld Follies in 1927 (where he introduced "I'll See You In My Dreams"), and he stole the show in the film Hollywood Revue Of 1929 where he made "Singin' In The Rain" into a standard 25 years before the movie of the same name. He was so popular that he is given much of the credit for the ukulele catching on big during the era.
Edwards recorded around 130 songs during 1923-33, with many best-sellers. Among his hits were "Singin' In The Rain," "Fascinatin' Rhythm," "June Night," "Sleepy Time Gal," "I Cried For You," "I Can't Give You Anything But Love," "Sunday," "Somebody Loves Me," "Oh, Lady Be Good" and "I'll See You In My Dreams." He introduced "Toot Toot Tootsie" before it was adopted by Al Jolson, and in 1933 helped make "It Is Only A Paper Moon" into a standard. In addition to his unaccompanied performances, Edwards was sometimes joined on records by his "Hot Combination" which often included such notables as cornetist Red Nichols, trombonist Miff Mole, clarinetist Jimmy Lytell, Jimmy Dorsey and Bobby Davis on reeds, violinist Joe Venuti, guitarist Eddie Lang, and drummer Vic Berton among others. Before Bing Crosby and even before Louis Armstrong, Ukulele Ike was singing swinging vocals.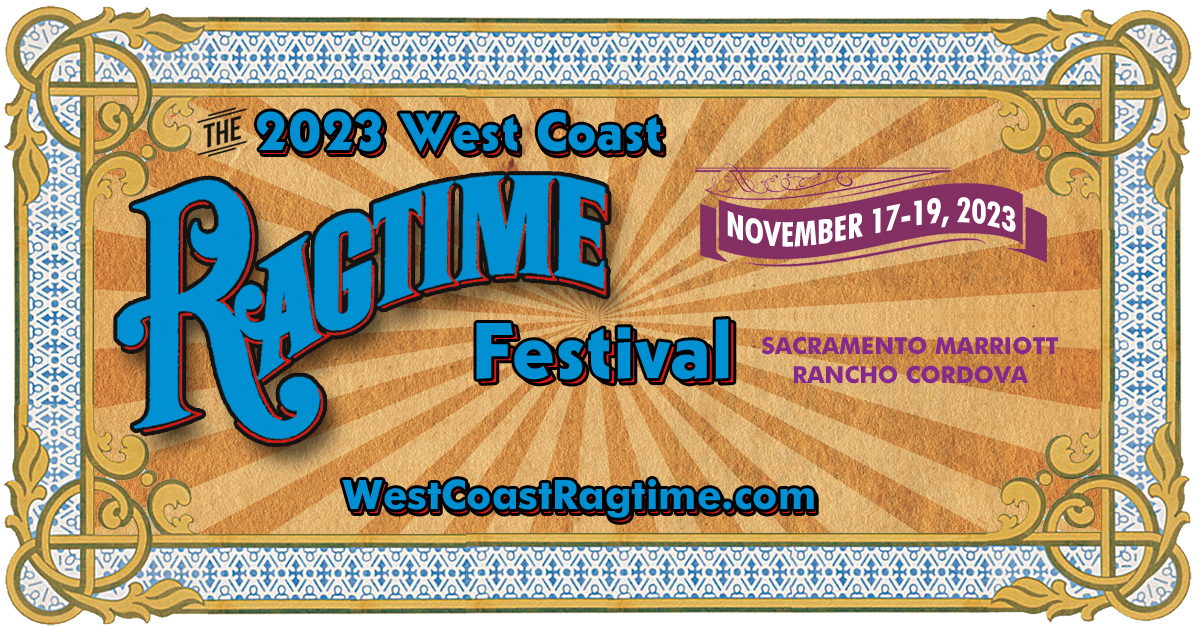 After Hollywood Revue of 1929 (which was his third appearance on film), the 34-year old Cliff Edwards seemed to have unlimited potential in his career and life. He hosted nationally broadcast radio shows off and during 1932-46. He went to Hollywood where during 1930-45 he appeared in close to 100 films. But ironically, Ukulele Ike became less known to the general public with each passing year.
Musical tastes were changing and Edwards was not a significant part of the swing era despite being on radio. In addition, Edwards was never close to becoming a movie star. He generally was in low budget B movies, including Westerns, occasionally singing/scatting a song (including "I Wonder Who's Kissing Her Now" in 1935's Red Salute) but mostly being cast as comedy relief, as the humorous friend of the lead, or in bit parts. Probably his best role was as one of the reporters in the Cary Grant comedy His Girl Friday. In Gone With The Wind, his voice can be heard in a hospital scene but he does not appear on screen.
While his Hollywood career was disappointing, Cliff Edwards' private life was a constant disaster. He was married and divorced three times by the mid-1930s and had to pay alimony to each of the former Mrs. Edwards. He became an alcoholic, had regular tax problems, and was said to use drugs (possibly heroin and cocaine) at times in his life. Even worse, he was an unsuccessful gambler who constantly ran through his money. Edwards had made a fortune through his record sales and stage appearances and was still working in the movies. But by the early 1940s, he had declared bankruptcy four times.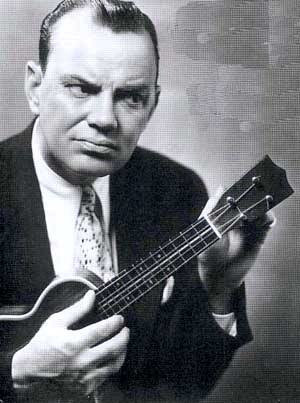 Cliff Edwards received a very big break in 1939. Walt Disney was a fan of Ukulele Ike's singing and he cast him as the voice of Jiminy Cricket in the animated feature Pinocchio. Edwards sang "When You Wish Upon a Star" and that tune won the Oscar for best song of 1940. Suddenly Ukulele Ike was in demand again, at least for a time.
He appeared in more films (mostly Westerns) up to 1943, provided the voice for one of the main crows in the Disney film Dumbo (singing "When I See An Elephant Fly"), and made a series of radio transcriptions that were later released on LP. In 1949 he hosted The Cliff Edwards Show, a television variety program. But despite these successes, he drank and gambled away his opportunities and slipped away into obscurity.
Edwards had one more chance thanks to Walt Disney. In 1954, Ukulele Ike began making regular guest appearances on the Mickey Mouse Club Show, singing some of the songs that he had made famous and showing that he could still engage in "eefing" in his unique fashion. He made a few children's albums and cut an LP for the Disney label in 1956 with a Dixieland band on which he sounded fine performing remakes of some of his early hits.
But that was his last gasp even though he lived another 15 years. Cliff Edwards was unable to stop his drinking and his unreliability resulted in him losing any possible work. He often hung out at Walt Disney Studios where he told stories to employees (who sometimes took him out to lunch) about the old days while hoping for voiceover work that rarely came. Strangely enough, he does not seem to have been interviewed by anyone during his later years. No one in the jazz or entertainment world seemed to know or care that he had been jazz's first significant male singer and that he had sold 74 million records in his life.
Ukulele Ike spent his last years living in a home for indigent actors. He was penniless at the end when he died from a heart attack on July 17, 1971, at the age of 76. He was so completely forgotten that at first his unclaimed body was donated to UCLA's medical school although Walt Disney Productions and the Actors' Fund of America made sure that he received a proper burial.
It was a sad ending to an entertainer who sounded so happy when he was singing and playing ukulele. Fortunately Cliff Edwards can be heard in much better times on such CDs as Fascinating Rhythm 1922-35 (Retrieval 79068), Singin' In The Rain (ASV/Living Era 5313), The Vintage Recordings Of Cliff Edwards (Take Two 419), Singing In The Rain (Audiophile 17 which features him in 1943), and the 1956 album Ukulele Ike Sings Again (Disney 60408).