View an individual entry to share on social media by clicking on a picture or name.
---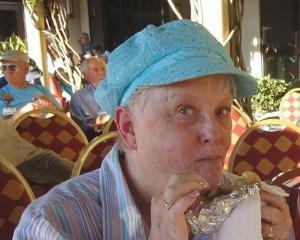 Karen Beatton died peacefully December 10th after a fight with cancer. She was a classic jazz superfan who attended scores of festivals and events, cruises and weekly meetups. She helped to host many jazz events in the Los Angeles area. She was familiar to many from Karen's DixieJazz Beat, a newsletter guide to jazz happenings in Southern California and beyond, that she has been compiling for many years. It has often been a source of news later reported in The Syncopated Times.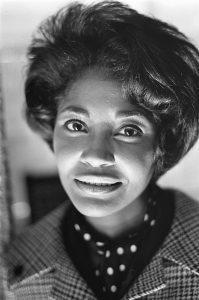 Nancy Wilson, 81, in Pioneer Town, California. She had eight albums reach the top 20 on Billboards album charts during the 1960s and would record more than 70 during her career as a "vocal stylist." She made a memorable album with Cannonball Adderley, and had hits with "(You Don't Know) How Glad I Am" and her debut single "Guess Who I Saw Today".
She began singing professionally at 15 around her hometown of Chillicothe, Ohio. After a year in teacher college, she decided to devote herself to a music career. She toured for several years with Rusty Bryant's Carolyn Club Big Band before being advised by Cannonball Adderley to move to New York City.
She signed with Capitol Records in 1959 and had a string of successful albums. She also began to make television appearances and won an Emmy for her own The Nancy Wilson Show. She continued an active career on television, in the studio, and performing worldwide until retiring in 2010, even winning Grammys for Best Jazz Vocal Album in both 2005 and 2007. She hosted NPR's Jazz Profiles show from 1996-2005.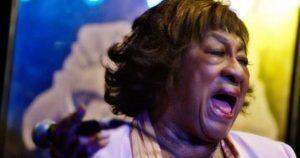 Ruth Brisbane, vocalist for the Harlem Blues and Jazz Band, has died. She became famous as a modern incarnation of the classic blues and novelty vocalists of the 1920s. She presented shows focused on the music of Bessie Smith as early as 1971. She balanced a career forwarding jazz and blues projects with another on the theater stage.
She appeared in many Broadway shows including The Wiz, Grind, and Raison, and appeared as "Bloody Mary" in a revival of South Pacific. Off Broadway, she appeared in the long-running show One Mo' Time, during both, its Greenwich Village and London premieres as well as in the original Paris production of Black and Blue.  She also created and starred in her own one-woman show, The legacy of Bessie Smith.  She has recorded for many TV commercials and film soundtracks.
She has recorded several albums with Ragtime historian Terry Waldo and was part of several of his productions including Shake That Thing. She is well known at Jazz festivals across both Europe and America, and maintained frequent club appearances at Smalls and other notable venues.
Together since 1973, The Harlem Blues and Jazz Band was formed to take advantage of the wealth of veteran jazz and blues musicians from the classic era who were living in New York City. They celebrated their 40th anniversary in 2013.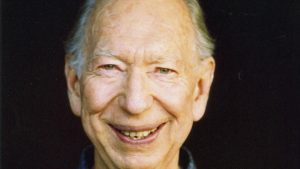 Roger V. Burton died Nov. 30 at his home in Santa Monica. He was 90 years old. Most recognized for appearances on numerous television programs including My Name is Earl, Fargo, Super Clyde, Monk, House, The George Lopez Show, and a dozen others, acting was actually his third career.
His second career was as a research psychiatrist after returning to Harvard as an adult.
His first career, as a jazz musician, began when he was only 11. As a trombonist he found professional work with big bands and movie studios. He played with Nat King Cole, Peggy Lee, Andre Previn, Johnny Ray, Frankie Laine, the Lennie Niehaus Octet, The Ink Spots, the Chuck Cabot Band, and the Dick Pierce Band. He also did studio work for films and The Hoagy Carmichael Show. He continued his schooling, beginning at the University of Southern California at age 16 and receiving a BA in music and MA in Science. Later in his music career he switched to bass, receiving lessons from his friend Charles Mingus. On bass he would contribute to a series of smaller combos.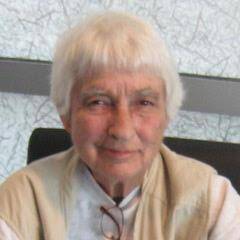 Jean Levinson, 81, on  July 7th, 2018.
Jean Levinson played tuba with the Sacramento based Catsnjammer Jazz Band for over 30 years — from their very beginning (in the early 70s) until soon after the band's leader and cornet player, Gene Berthelsen, died in Nov. 2011.  She is on all four of the band's CDs.
After Berthelsen's passing the band reconstituted itself; Bob Sakoi was hired on trumpet to take Berthelsen's place, and Brian Richardson (trombone) assumed leadership of the band.  The band carried on for a year or two until it fused with The Creole Jazz Kings.  They now perform mostly in the Modesto area.
Prior to joining The Catsnjammers, Levinson played with Cell Block Seven (a Stockton/Lodi band fronted by Bob Romans).
In 1981, weekly practice gatherings held at Jean Levinson's home drew in local ragtime fans who, noticing a local scarcity of ragtime events, founded the Sacramento Ragtime Society in March of 1982. The unincorporated group hosted monthly ragtime meetups and helped to arrange the Ragtime Corner at the Sacramento Jazz Jubilee.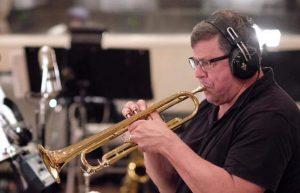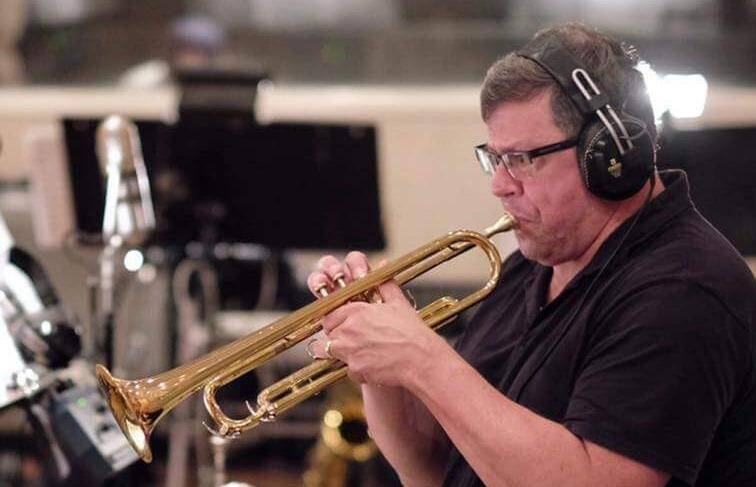 Kevin Bryan, lead trumpet player for the Duke Ellington Orchestra, Bobby Sanabria's Big Band, and the Mambo Legends Orchestra among others died of pancreatic cancer on November 15th, he was 53. Acclaimed for his artistic use of a plunger mute and his ability to sit in on many styles of jazz, he was always in demand to tour and record.
He appeared with jazz greats including Harry Connick Jr. and Tito Puente, and popular artists including Norah Jones, k.d. lang, Levon Helm,  Michael Bolton, and Macy Gray. His discography runs to several dozen albums beginning in the late 90s, including three in just 2018. He also worked regularly on Broadway and could be found sitting in with many classic jazz bands in the New York City area.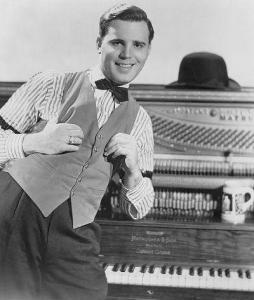 Johnny Maddox, one of the most recognizable personalities in ragtime history died Tuesday, November 27th, he was 91. He planted the seeds of a ragtime revival that would bloom with the classical revival of ragtime music in the late 60s.
He was born on August 4, 1927 in Gallatin, Tennessee. He learned piano as a toddler from his Aunt Zula Cothron who had played ragtime at the 1904 Louisiana Purchase Exposition in St. Louis. Maddox began performing publically at age 5 and had a professional career by the time he was 12 years old.
He became a nationally recognized star after the release of "St. Louis Tickle" backed with "Crazy Bone Rag" on Dot Records in 1950. It sold 22 thousand copies in just a few weeks. Maddox carried Dot Records, which was owned by his friend Randy Wood, to national prominence, recording a series of hits for them until 1967. His discography runs to over 50 albums and 90 additional singles.
In the early 50s, he appeared with major stars from Sophie Tucker to Elvis Presley. He had a hit playing Bob Wills' "San Antonio Rose", bringing the sounds of his piano to millions of ears. He had another major hit with "In The Mood".
His sound caught on with the public and by 1954 he had been declared the "Number One Jukebox Artist in America" by the MOA (Music Operators of America). The next year he recorded his biggest hit, a version of "Crazy Otto Medley" that spent 14 weeks near the top of the Billboard Chart and became the first all-piano record to sell more than a million copies. He went on to have nine gold singles.
During his broadest fame in the 50s and 60s he appeared on all the major television variety shows, and in major city venues nationwide, but he also toured state fairs, playing a piano mounted on the back of a pickup truck. He befriended many of the surviving stars of the original ragtime and early jazz era, including W.C. Handy, and appeared with rising country musicians like Patsy Cline.
Always one to have a home base, he maintained a 17 year engagement at the Red Slipper Room in Denver, Colorado's Cherry Creek Inn through the 50s and 60s.  He attempted to retire several times but continued to perform regularly until 2012.  He played at  Il Porto Ristorante in Old Town Alexandria, Virginia for many years and then from 1996-2012 at the Strater Hotel's Diamond Belle Saloon in Durango, Colorado.  He amassed one of the largest collections of original ragtime sheet music in private hands, totaling more than 200,000 pieces. In recent years he has befriended and performed with young ragtime pianist Adam Swanson.

Joe Bebco is the Associate Editor of The Syncopated Times and Webmaster of SyncopatedTimes.com. He is available for liner notes and other writing or to give your website an overhaul. Reach him at [email protected]