I normally don't report on one-off concerts I attend, on the theory that (1) it's in the past and may not ever be repeated, and/or (2) the performers or performance had only local appeal.
This treatise is not about a one-off; it's about a two-off. On June 24 and 25 I saw the stellar New Orleans street band Tuba Skinny at two locations in upstate New York, where I sojourn during the summer. The first was at the multi-day Syracuse Jazz Fest and the second was at a rural venue, Mace Chasm Farm in Keeseville, a few miles from Lake Champlain. I never pass up a chance to see Tuba Skinny, and of the roughly half a dozen times I've seen them, only one was on their home turf. Secondly, Tuba Skinny is clearly not a band with only local appeal.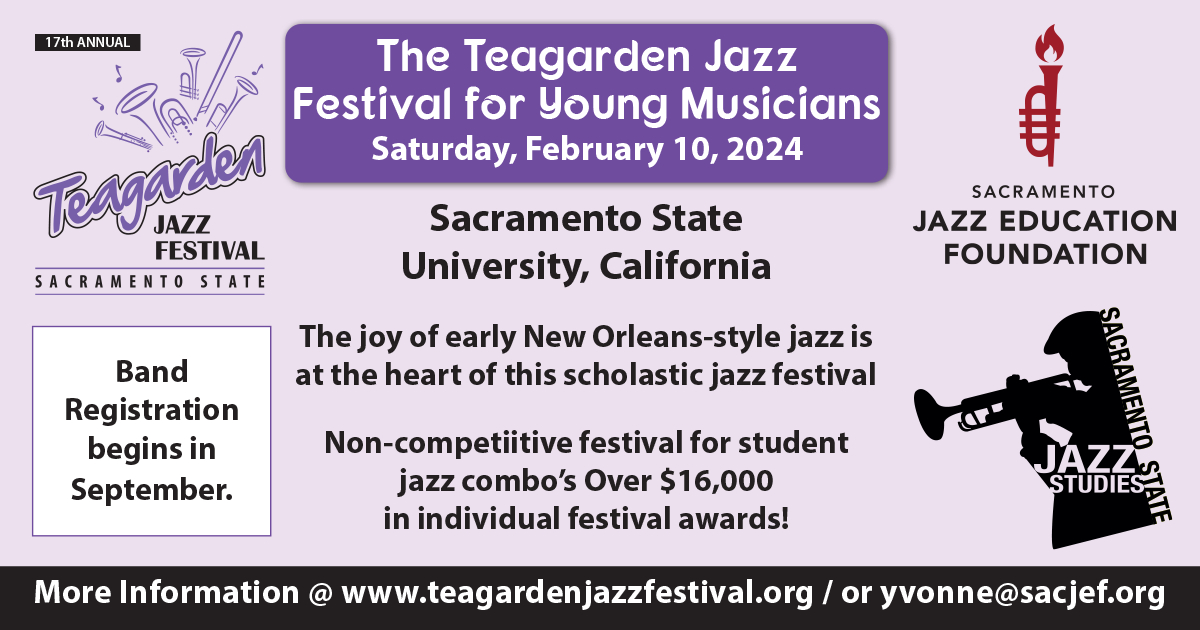 First, about Jazz Fest (syracusejazzfest.com). It's held in late June every year at Clinton Square, a public space bordered by Salina, Water, and Clinton Streets, and Erie Boulevard in downtown Syracuse. A covered stage is set up to protect the musicians from the weather, but the audience is in the open. There is a reserved seating area closest to the stage for paid ticket holders, but non-paying attendees must either bring their own chairs or sit on a low concrete wall farthest from the stage. The area between the wall and the stage is a sunken concrete plaza that is filled and frozen in the winter for ice skating.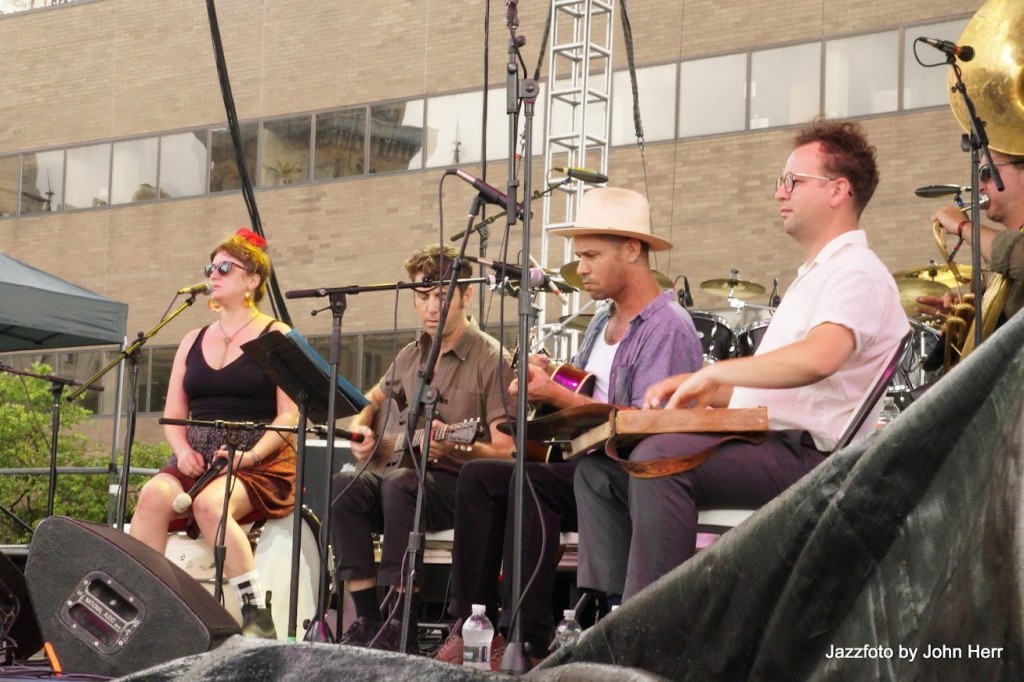 On this particular day it had been raining off and on, so if the standing water in the plaza could have been frozen, there was almost enough for skating. It was not raining when I arrived, but a light sprinkle that later turned into a brief but heavy shower began about 15 minutes before show time. This brought out umbrellas that blocked the view of the stage for many people. It was alternately raining and partly sunny during the 75-minute show that began at 5:30 pm. Fortunately, the organizers had set up two large screens on either side of the stage so everyone had a good view no matter where they sat. And I will add that the camera operators did a wonderful job varying the shots and with close-ups of the soloists. I did notice, however, that while watching the screen, the audio of the vocals was a fraction of a second behind the video.
I was prepared, partially, for rain with a jacket and cap. But I was very happy to be handed a plastic poncho when the rain started, provided by National Grid, the local electric company and one of the festival's sponsors. I will keep it for future outdoor concerts.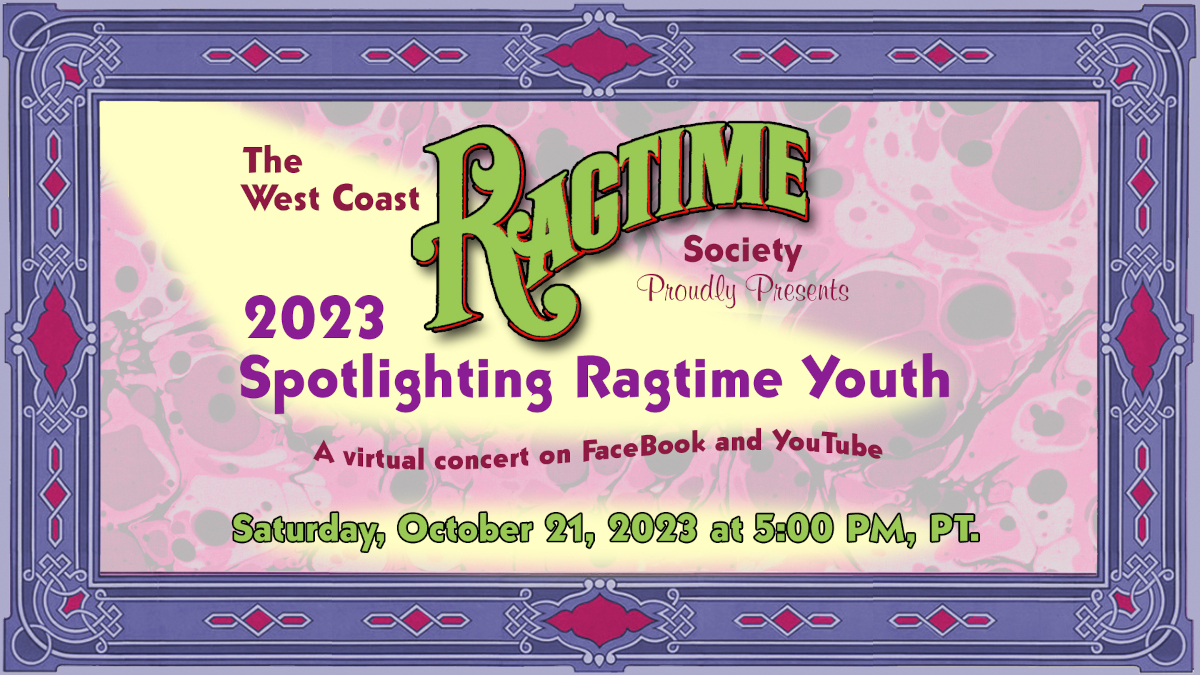 This was Tuba Skinny's first appearance in Syracuse, and perhaps the humidity and showers were the city's way of making them feel at home. Mercifully, the legendary New Orleans heat was absent. Of the 15 numbers they played, eight were unfamiliar to me. All the tunes were identified not only by title but by the band or vocalist who wrote or popularized them. A varied mix was played, with about half having vocals, mostly by Erika Lewis, the band's drummer, but also by guitarist Greg Sherman. While most of the paid seats were unoccupied (and were wet from the rain), the free space was nearly full, so perhaps T.S. already had a large following without having played here before. Their set was very enthusiastically received, as were all of theirs that I've attended. The late Bob Erdos, owner of Stomp Off Records, once told me that Tuba Skinny was his favorite contemporary repertory band.
My photographer friend John Herr, whose work sometimes appears in this paper, was there, as was your assistant editor Joe Bebco and local jazz authority Russ Tarby. But I did not see Joe, and I've never met Russ. As I spend my summers in Potsdam, 130 miles from Syracuse, I have made the trip to Jazz Fest before, having seen the Anderson twins and Ricky Alexander's band, all from New York City, there. However, most of the festival's focus is on modern jazz, for which it draws some big names but as my regular readers know, that is not my cup of tea.
The next day I drove approximately four hours from Syracuse through the southern Adirondacks to Keeseville for my second Tuba Skinny fix. This concert was in a barn at Mace Chasm Farm and carried a $20 admission fee. I learned that the band has played here annually for about ten years. Erika Lewis was a roommate of the owner's wife, which undoubtedly is a reason for that. Tuba Skinny often makes a swing through the Northeast around the end of August, after I have departed Potsdam. That's why I had never seen them at Mace Chasm, though much of the over-capacity crowd had, and their overwhelming reception brought an encore to the 21-tune show.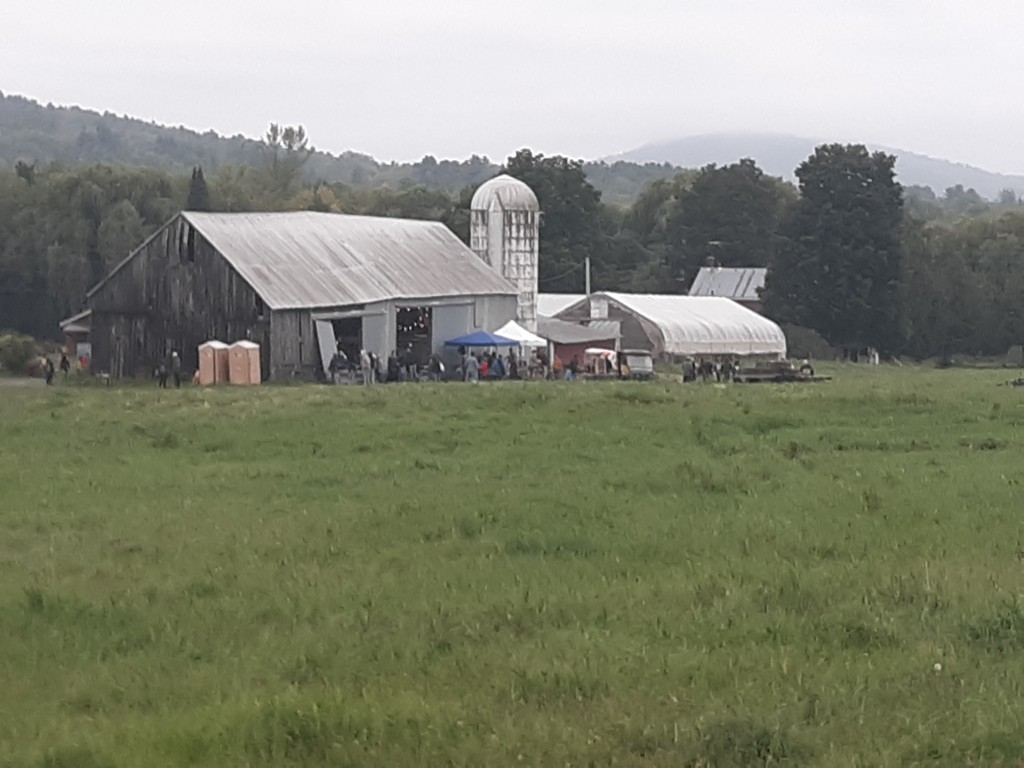 I was among the earliest arrivals so I had my choice of seats. I brought the folding chair I had used at Syracuse, which was much more comfortable than sitting on a hay bale. The bales were arranged in rows with long wooden planks covering them to provide stability and extra seating capacity. I could not determine the dimensions of these planks, but they were much longer and thicker than 2x4s or even 2x6s. Perhaps they were custom cut for concerts, which occur here several times during the summer.
The setting was, ahem, unique but charming in its own way. It's an old barn and anyone interested in barn architecture would find it a good subject for study. A stage was set up at one end, above which was a loft that was off-limits to the crowd. The hay bales were stacked in tiers as you went farther from the stage, as in a typical theater, thus improving the view for those in the back. Personal chairs could be set up anywhere the bales were not. Food and beverages were available for purchase but patrons were allowed to bring their own, as I did. However, I did sample one of the local beers that were on tap at a reasonable six dollars.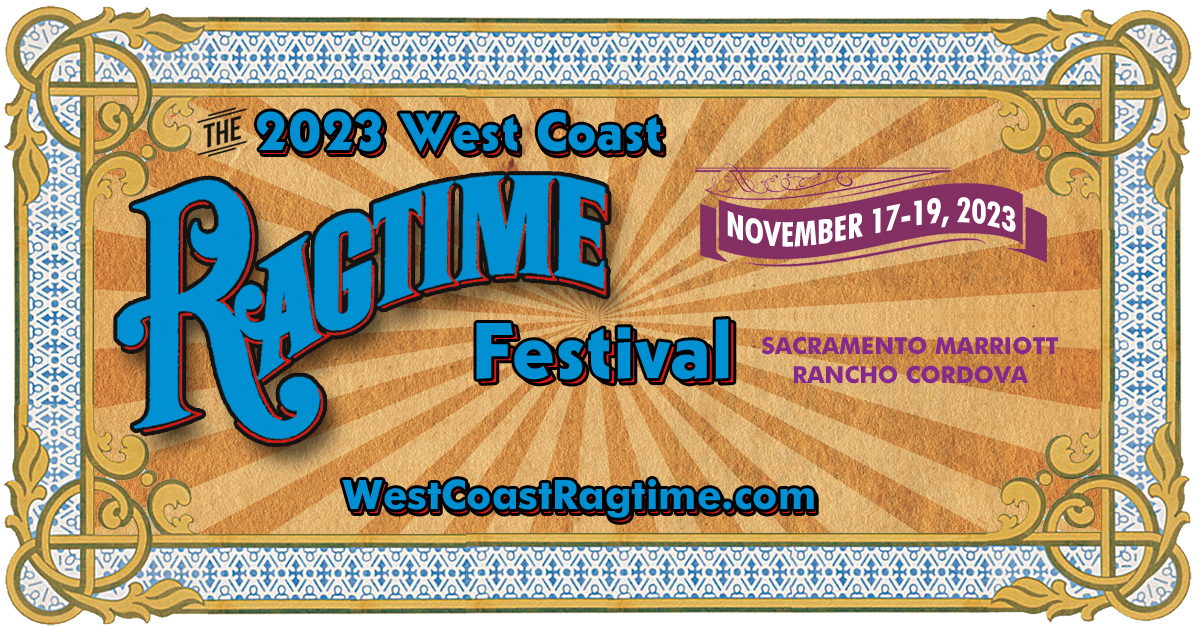 I could not determine how many people attended, but the cars parked along the road extended for at least half a mile. Around 5:30 pm when I went for my beer I counted about 75 cars as more were arriving. The show was scheduled to start at 6 but for some reason did not kick off until almost 6:30. I'm guessing between 200 and 300 people of all ages were on hand. Probably half of them could not get in the barn and sat on chairs or the grass outside.
The band played two sets lasting almost an hour each. During the break I visited the "merch" table, and bought two CDs I knew I did not have. I played them on the two-hour drive back to Potsdam. They were recorded in 2014 and 2018 with most of the same personnel in the band today.
As for the musical menu, eleven songs were played in the first set and ten, plus the encore, in the second. There were about four repeats from the previous night, but I was likely the only person who was at both shows. I could not understand several of the tunes when they were announced, and I was familiar with only three or four, among them "Variety Stomp" and "Alligator Crawl."
(The band left to right: Erika Lewis, Todd Burdick, Jon Doyle, Shaye Cohn, Jason Lawrence (behind Cohn), Barnabus Jones, and Robin Rapuzzi.)
So far I have not said anything about the individual band members. That could be a column in itself; each has earned justifiable renown on his/her instrument, and nearly every tune they play allows all to solo. There are no weak links in this band. I find Erika's vocals to be a perfect fit for the band's style and book. Guitarist Greg Sherman is also excellent on vocals, and sometimes there is ensemble singing. Robin Rapuzzi on washboard is in a class by himself. Shaye Cohn on cornet is the nominal leader; she counts off the tempos and calls the solos but doesn't announce most of the tunes and does not over-dominate. Given the caliber of people with her, she doesn't have to.
I know I'm not the first person, and won't be the last, to laud Tuba Skinny. If you can't go to New Orleans to see them and they don't have a gig near you, get their CDs and vinyl records and see what you've been missing.