During the summer of 2018 Tuba Skinny had the unique opportunity to perform as part of the Ashton Brothers circus in the Netherlands. We performed five nights a week for two and a half months, with an average audience of a thousand or more people filling the bleachers inside the big top for every performance. There were balancing and trapeze acts, pratfalls and dancing, juggling and magic, parades and aerial contortion, so many clowns and so much music.
Tuba Skinny performed for a majority of the acts and performed a short concert outside the bigtop afterwards. If an act was over five minutes we would string together a medley of tunes, or play a minute and a half musical excerpt from a song depending on what the act called for. We wouldn't always play as the whole group either, and there were times we would not even play our regular instruments.
For one of the trapeze acts Erika sang an original country number on guitar and for two other acts Shaye played solo ragtime piano.
My favorite part of the circus was getting behind the drum set with Max on electric bass, Shaye on the Wurlitzer organ and Friso, one of the Ashton Brothers, on electric guitar. It was an improvised rock tune in which I got to play Ringo Star fills over the tom toms.
Before the main show began every night, Tuba Skinny would parade around the grounds of the circus. We often played Starowka Stomp, a march I wrote, and a no name original by Todd which sounded like a delirium of racing colors. We also played Bunk Johnson tunes and other classic jazz numbers from our regular repertoire.
The big top was located at the edge of a town called Zeist. It shared a small island with a castle and was surrounded by a moat. Arriving guests could pay extra to have a fancy dinner inside the castle or they could enjoy a variety of the many hot meals, drinks and snacks sold at stalls on the circus grounds. Small, unexpected performances took place among the mingling guests before the main show began. Two young magicians would set up in an empty shipping container and ask the audience to pull cards from a deck. One fellow juggled flaming pins each day beside the picnic tables as a few of us roamed singing the Tequila song but would shout Ashtonia instead.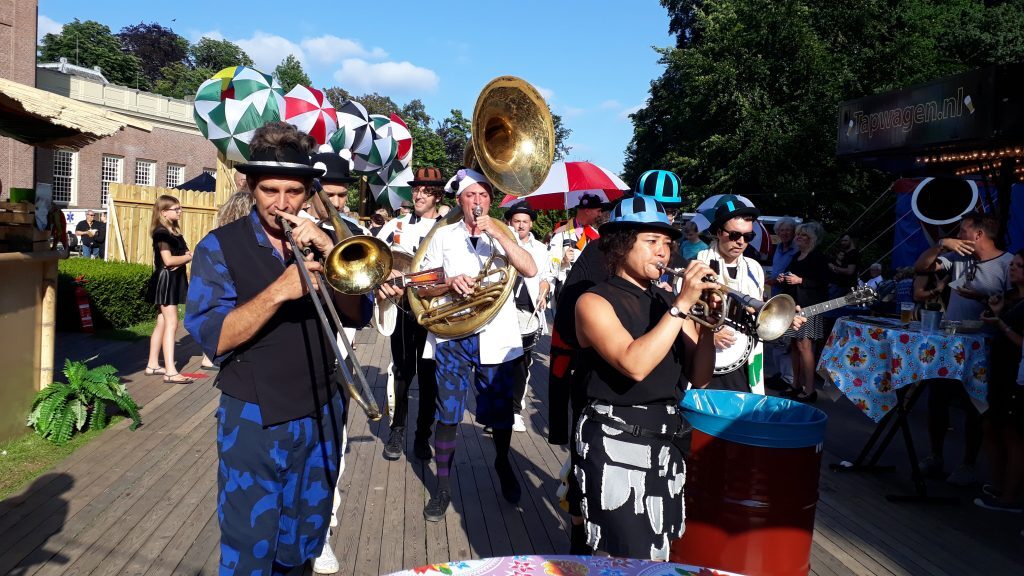 The first act of the night was Olaf's upside-down man routine in which he wore pants and a shirt reversed, walked barefoot and carried shoes like gloves on his hands. The illusion of him balancing on his hands was surprisingly strong. He performed extreme stretches and jumped on a trampoline doing splits in the air.
There was the spinning fire act which involved Yoost, another Ashton Brother, chanting and spinning in a large dress that was set on fire. This proved to be the most difficult music piece for me as it began with a fast bamboula rhythm on the floor tom while keeping pace with Yoost's energy twirling on stage. I'm not sure if we ever quite got it right. Before the show began, backstage, Yoost would approach us all indivudually and with a hug and a whisper say, "Don't fuck it up". Before I understood this was a tradition of his I thought he meant it.
2 of 5 Erica's Country Song (Different).
Other articles and reviews about Tuba Skinny or its members.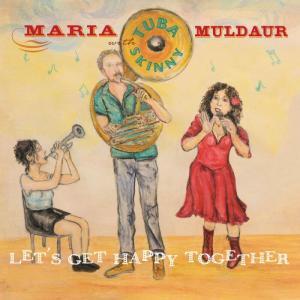 The band Tuba Skinny (name inspired, perhaps tongue-in-cheek, by a local musician billed as Tuba Fats) was formed as a loose New Orleans street band
Read More »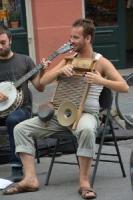 Robin Rapuzzi plays washboard for Tuba Skinny and shows up on a lot of albums for other bands, check out his discography.