The 2019 Jazz Jubilee by the Sea was a real blow-out. World-renowned New Orleans busking-band Tuba Skinny made their first-ever West Coast festival appearance. In addition to the Jubilee, the Thursday night farmers' market in downtown San Luis Obispo was treated to a free concert with the Crustacea Jazz Band, one of our SLO favorites, followed by two sets from Tuba Skinny. Audience numbers at the farmers' market set a new record and some of the YouTube videos posted by their loyal fans have exceeded 5,000 views. Enthusiasts traveled from across the country to see their favorite band in comfortable settings rather than brave the streets of New Orleans.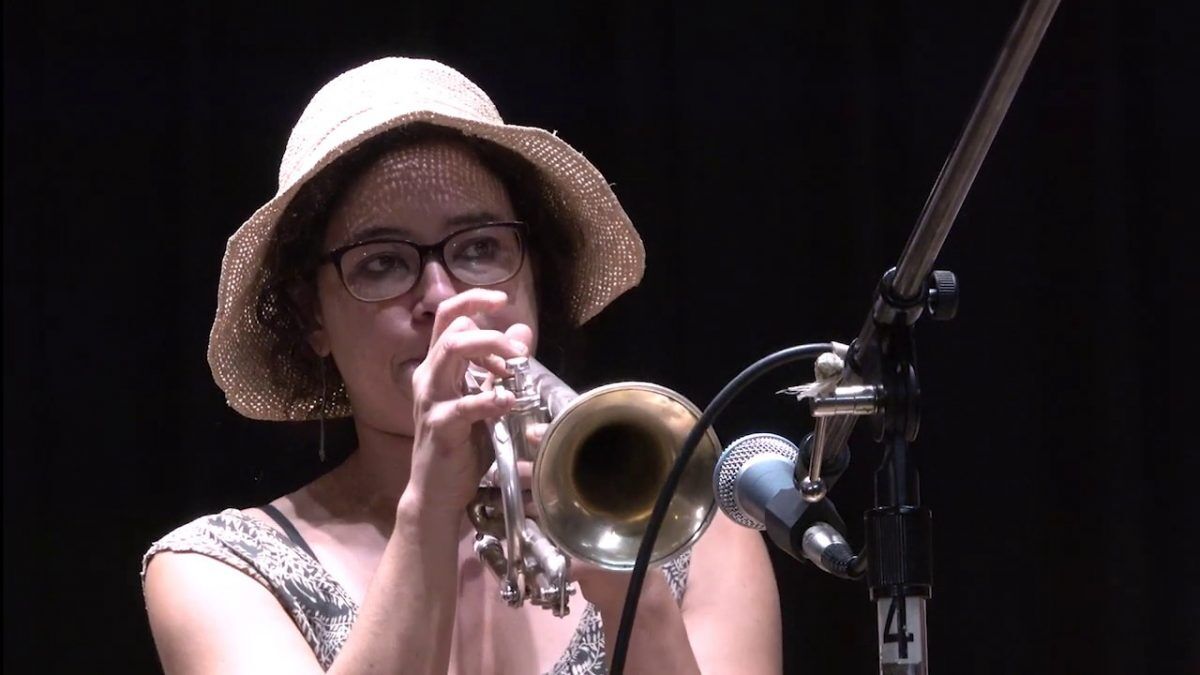 But Tuba Skinny was not the only band generating the intense excitement that characterized this festival. We also had the debut performance of the Australian Jazz Connection, an assemblage of Australian ex-pats put together by the able and debonair Paul Ingle, a new Friend of the Festival. Some jazz buffs traveled from Australia to see this band. With minimal rehearsal, they were able to pull together some astounding sets, due to the extraordinary talent of the individual musicians.
The Australian Jazz Connection members were not the only Aussies in the house. The ever-popular Professor Cunningham (another Australian ex-pat) and His Old School also graced our stages. This year they brought sexy calendars featuring the band members, which were a big hit and an instant sell-out. Their tribute to Bobby Darrin was one of the high points of the festival and one of many, many incredible tribute sets performed over the weekend. Professor Cunningham also guested with the Australian Jazz Connection on their "Aussie Tunes" set.
Bob Draga performed a tribute to Pete Fountain that packed the house at the Vet's Hall, with people spilling out of the doors and into the lobby. The set was flawlessly executed, entertaining, and educational. Bob proved that he still has what it takes to steal the show.The Shake Em Up Jazz Band wowed the audience this year with their intimate mix of vocals and instrumental performances. This all-woman band also hails from New Orleans, but features former Los Osos musician Molly Reeves. Haruka Kikuchi, absent last year, returned this year and demonstrated why she is one of the top trombone players in New Orleans. Individual and ensemble performances by the rest of the band proved that this singular group of women will be on the radar for many years.
Other returning favorites included Cornet Chop Suey, Tom Rigney and Flambeau, the Midiri Brothers, Sue Palmer and Her Motel Swing Orchestra, Blue Street, and the ever-popular Creole Syncopators.
Another new band for us this year was Gator Nation. Their unusual and theatrical performances had the dancers in the crowd energized and left the audience wanting more. This is a band that deserves to be heard and has important messages to convey.
Our local mariachi band, Mariachi Autlence, pulled out all the stops at their Sunday shows. We regularly see them perform at a local restaurant and they are always great, but they really brought it to the big tent. Their romance singer worked the audience, giving special attention to all of the ladies. The youngest member came off the stage to belt out his numbers. Those that caught this set were glad that they made time for it.
There were many special blocks of sets throughout the weekend, including the New Orleans block, the USO/Big Band Swing block, Night Club, Gospel, and Rent Party. We also had many special and theme sets including tributes to Bobby Darrin, Benny Goodman, Pete Fountain, Louis Armstrong, Artie Shaw, and Count Basie.
Besides all of the excitement at the main festival venues, we expanded our reach to include other locations within the cities of Pismo Beach and Arroyo Grande. This was our way of saying "Thank you" to both of these cities for their generous financial contributions to our event. We sponsored free performances at local restaurants The Branch Street Deli and Puffers of Pismo, as well as at new hotels The Agrarian in Arroyo Grande and Vespara on Ocean in Pismo Beach. These community performances were well attended and helped introduce our festival-goers to local businesses, as well as acquainting more local residents with our unique music festival.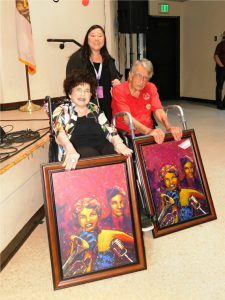 One of our themes (and we ended up with several this year) was a "Salute to the 90's", meant to honor all of those in our audience and in our bands that were 90 years old or older (also known as nonagenarians). All festival attendees in that age group were given free buttons that said, "I'm a nonagenarian. Ask me about my life." We tied this to the 75th anniversary of D-Day, celebrated in June of this year, and all of the veterans and those that lived during World War II.
A major part of this theme was giving Pat Yankee and Chet Jaeger the royal treatment. We featured portraits of Pat and Chet that were taken during the war years on the cover of our program, with Chet pictured in his World War II uniform. The original painting, by local artist and graphics designer Priscilla Wilson, and an identical canvas copy were displayed in the lobbies of both the Vet's Hall and Ruben's Rendezvous for all to admire. Both Pat and Chet were very impressed with it and made comments about it during the festival.
Our last set of the festival featured Night Blooming Jazzmen with Pat Yankee appearing as a special guest. At the end of the set, both Pat and Chet were each presented with a framed painting, signed by the artist. Both of these venerable musicians were visibly touched and many pictures were taken with the two paintings and the artist. It was truly a wonderful way to end the festival.
After a few hours of cleaning up, the volunteers and the festival patrons were treated to an after-party at the Vet's Hall, with food prepared by Del Monte Café and musical entertainment by the Midiri Brothers. It was a great way to thank all of those who contributed both time and money to keep this festival going in a truly spectacular style. Those who attended the 43rd Jubilee will be talking about it for years to come.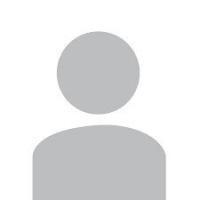 Rhonda Cardinal is Festival Director of Jubilee by the Sea, an annual event hosted by the Basin Street Regulars in Pismo Beach and Arroyo Grande, California. Visit the festival/club website at www.pismojazz.com.