Tokyo native making her bones in old New Orleans
Like a cyclone from across the Pacific, trombonist Haruka Kikuchi blew away audiences at last year's Jubilee by the Sea with her dynamic debut performances at the 40th annual festival in Pismo Beach, Calif.
Wowing at Pismo
It couldn't have been a less auspicious setting for musical magic as she first took the stage there on October 27, 2016. Children's crayon drawings covered the plywood walls of humble and homespun Veterans of Foreign Wars Hall on a hill overlooking downtown Pismo Beach, a quiet ocean-side community of some 8,000 inhabitants.
Haruka sat in with We Three Plus One—drummer Danny Coots, pianist Jeff Barnhart, clarinetist Bob Draga and guitarist Larry Scala—at the 50-year-old VFW Hall on the festival's opening night. Scala—who has known Haruka since she relocated to New Orleans from Tokyo in 2014—brought her out West as part of his band, the Rhythm Jesters.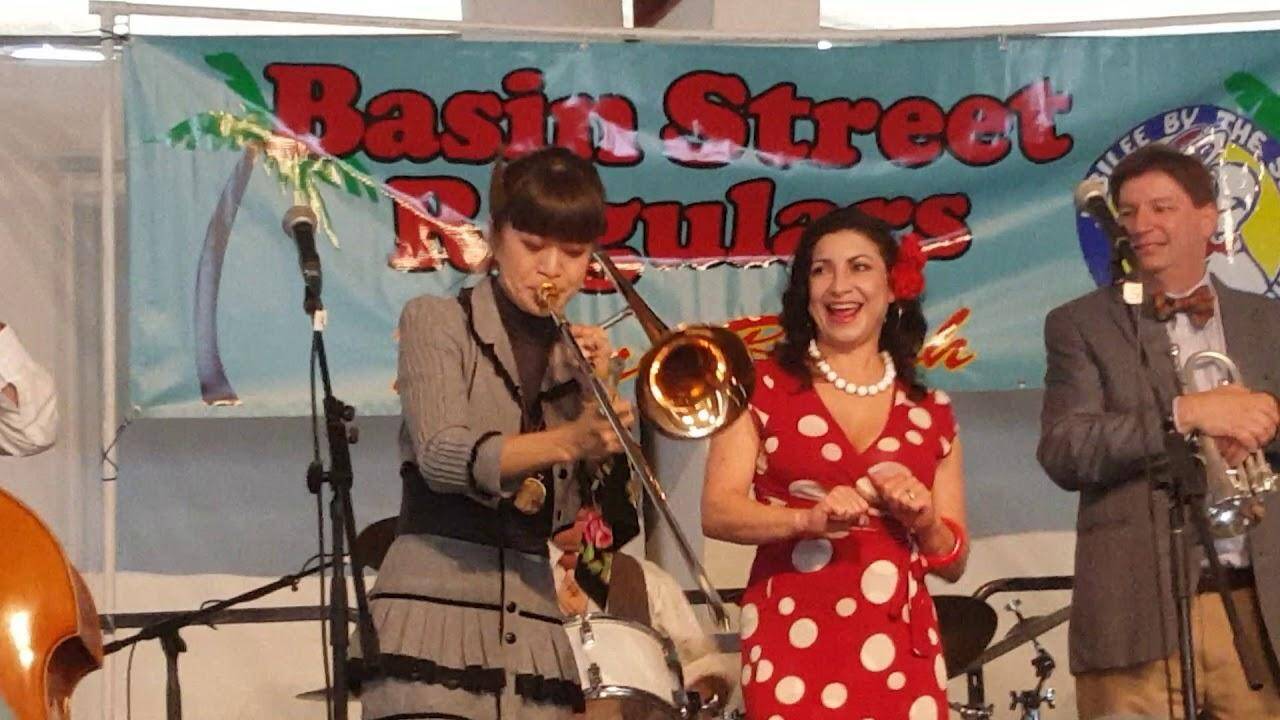 "I've had the pleasure of knowing her for about three years," Larry told The Syncopated Times, "and she is a simply a delightful young woman. "She is also delightful to play with. Haruka brings an unusual enthusiasm to the bandstand and her love of traditional jazz and swing is unsurpassed."
She wasted no time at all proving his point last year at the VFW Hall. As the band vamped a blues, she growled like Teagarden and traded fours with Draga without missing a beat.
Then she pulled a big black plunger from her instrument case to add tantalizing wah-wah effects to a lowdown "Basin Street Blues."
After a spontaneous explosion of approval from some 300 listeners following that classic, Draga personally and publicly thanked Haruka for her heartfelt devotion to the music: "Jazz originated in the United States," he observed, "but to have a woman like you from halfway across the world come over here and say, 'I like what you're doing. I like this sound,' well, it's just wonderful!"
Applauding in agreement, again the crowd went crazy.
Surprising Audiences
Guitarist Larry Scala knows why. The Long Island native now working top-shelf trad jobs in New Orleans had asked Haruka to make the journey west to appear with him at the big Dixie weekend on California's central coast.
"People don't see Haruka coming when she steps on the bandstand," he said. "They see a cute Asian girl carrying a large horn, and I don't think they expect very much. Then she plays, and they're always amazed. That's what happened at the VFW in Pismo."

The next day, Haruka Kikuchi sat in with the Crescent Katz during their afternoon set paying tribute to Shakey's Pizza Parlors. She blew up a storm on "Cake Walkin' Babies from Home," and then gamely donned one of those cheesy red-and-white-striped vests, just like the waiters wore at the original Shakey's at 57th and J streets in East Sacramento. As ladies paraded with parasols, the band asked "Has Anybody Seen My Gal?" before climaxing with a swinging "Take Me Out to the Ballgame."
On Saturday, Haruka joined the Jesters to play an absolutely delicious lead on "Struttin' with Some Barbecue." Scala led the combo through a varied set ranging from "Goody Goody" to "Mambo Italiano." Haruka and fellow 'bone player Dave Ruffner traded fours on "Ain't I Good to You" before she showcased her slide work on a roaring "Tiger Rag."
Origins
Haruka Kikuchi was raised in Chiba Prefecture outside Tokyo, and she played piano and violin as a child. "I was also listening to all kinds of music, and dancing with the music on the street," she recalls on her website, harombone.com. At age 15—which was about 15 years ago—Haruka picked up the trombone after hearing a recording by the Original Dixieland Jass Band, with trombonist Eddie Edwards.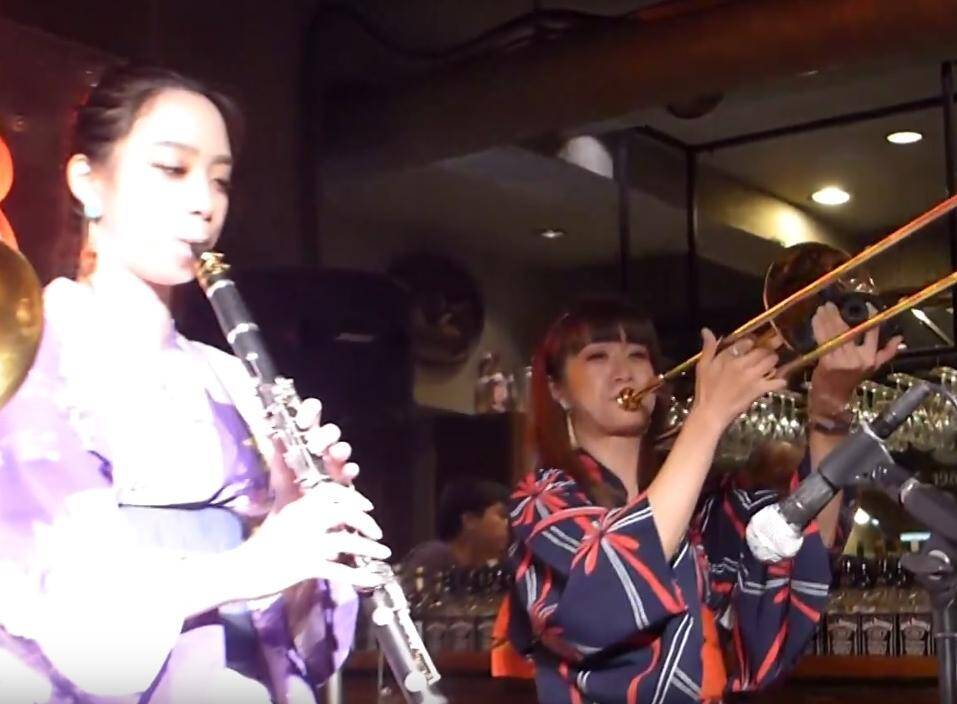 After forming a Dixieland band in high school, she studied at Tokyo University of the Arts, graduating in 2010 with a degree in music science.
Absorbing New Orleans
Her passion for the sounds of old New Orleans brought her 6,780 miles from Japan to Louisiana in early 2014, and she now lives in the Crescent City performing with the likes of Kermit Ruffins, Marla Dixon's Shotgun Jazz Band, The Swamp Donkeys, the all-female Shake 'Em Up Jazz Band, and the Audacity Brass Band.
"I will keep playing with several bands in New Orleans, mostly traditional jazz bands," she told The Syncopated Times. "And sometimes I play with my band, Haruka Kikuchi & The Big 4Tune."
Last year she began exploring the Mardi Gras Indian repertoire as a member of a street septet called Cha-Wa. Haruka appears on the band's Funk'n'Feathers disc playing 'bone on "Cha-Wa Got Fiyo."
In May and June this year, she toured Japan, and in August she played Friday's at Fritzel's in the French Quarter and Saturdays at the historic Little Gem Saloon on South Rampart Street.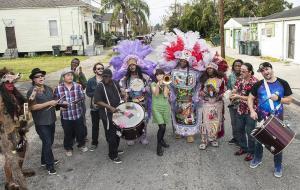 Tailgate Style Trombone
"Musically, Kikuchi sounds like she may as well have been born and raised in Treme," said WWOZ radio personality Carrie Booher, who praised the trombonist's seven-track CD, Music Granola, for its covers of New Orleans standards such as "Tin Roof Blues," "Joe Avery," and "Tiger Rag."
"Kikuchi's trombone flies as she skillfully leads a band full of experienced musicians on each song," Booher wrote. "In addition to Ruffins, Shannon Powell, Barry Stephenson, Tom Fischer, Larry Scala, Walter Harris, and Yoshitaka 'Z2' Tsuji join her for the recording."
A British blogger known as Pops Coffee met Haruka during a recent visit to the Big Easy.
"Today Haruka is one of the best and most exciting trombonists in the world of traditional jazz," Pops blogged. "If you want to understand how traditional jazz works or if you are learning to play in a traditional jazz band, you could hardly do better than study Haruka's playing. Just notice the line she takes—how well it supports the melody. Notice how she phrases the music and where she takes a breath. Notice how she drives the band along, both in her ensemble work and in her exciting solos."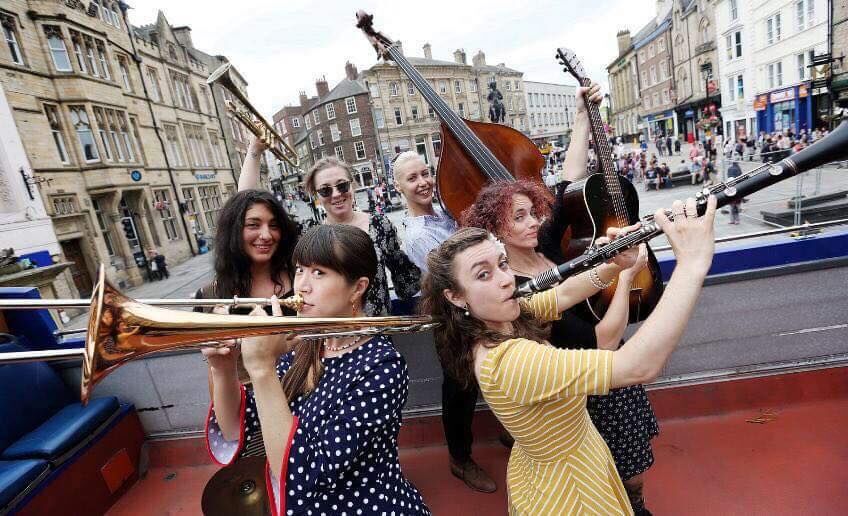 See Her Soon
This year, Haruka will return to Jubilee By The Sea, October 26 through 29, in Pismo Beach Pismojazz.com. "I was quite pleased when my sponsor at Jubilee By The Sea, George Smith, agreed to include her with the Rhythm Jesters last year," Scala said. "And I'm also pleased that we'll all be back this year."
Haruka will be featured with Larry Scala's Rhythm Jesters at 11 a.m. Friday, October 27, at Ruben's Rendezvous, before heading over to Turk's Tent at St. Anthony's at 2 p.m. and performing there at 3:20 p.m. with JC's Jazz Crew. At 7:20 p.m. that evening the Rhythm Jesters will hold forth at the VFW Hall, and on Saturday, October 28, Haruka will perform with the Jesters at 4:40 p.m. at Turk's Tent, and at 7:20 p.m. they'll hook up with pianist Jeff Barnhart at the massive Addie Street tent.
Shades of Kid Ory and Eddie Edwards! This talented Tokyo gal—Haruka Kikuchi—is well on her way to being crowned the 21st century's Queen of the Tailgate Trombone.
---
Also Read:
Haruka Kikuchi Discography,
Haruka Kikuchi- Japan: New Orleans Collection Vol.1-6,
Haruka Kikuchi- Japan: New Orleans Collection Vol.7,
Shake 'Em Up Jazz Band: le Donne Mangiano Zucchero & A Woman's Place,
The Shake 'Em Up Jazz Band