Bandleader Marla Dixon didn't grow up playing traditional jazz, at one point she was putting her trumpet to use in a ska band. Then a friend heard her do a "fairly obnoxious Ethel Merman impression" at a party and invited her to his band rehearsal. Once there she met Toby Hughes who insisted she go to Grossman's Tavern in Toronto and hear Cliff 'Kid' Bastien play with his Happy Pals.
Bastien, who came to Toronto in 1962 by way of London and New Orleans, was a disciple of 'Kid' Thomas Valentine. He founded the Happy Pals in 1968 to celebrate the music of the Crescent City. Their playing draws heavily on the revival period led by Orange Kellin, Big Bill Bissonette, and others. About that pivotal night Dixon says:
"I had no idea what any of this meant at the time, but I do remember walking up Spadina Ave, getting close to the bar and hearing this raucous music pouring out. It's the first time I'd ever heard that music played live, and it was definitely the music I had been wanting to hear."
Bastion passed away soon after, and Patrick Tevlin took over leading the band on trumpet. Tevlin encouraged Dixon to sit in and taught her the ropes. He also gave her an education on revivalists like Billie and DeDe Pierce, George Lewis, Kid Thomas Valentine, Big Jim Robinson, and Sammy Penn. As a result, Dixon knows her recent jazz history to an unusual degree.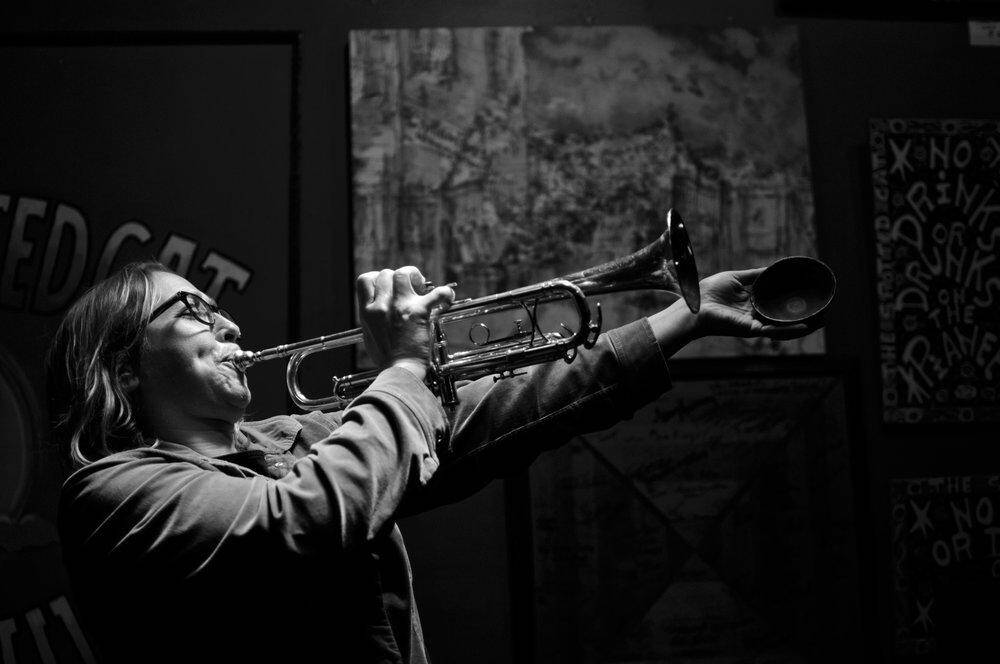 On a few occasions she led the band in Tevlin's absence, that gave her first hand experience with the moving parts involved. She started her own traditional jazz group with Toby Hughes around 2004. The Don Valley Stompers, through several changes in their lineup, are still active in Toronto.
During that period she describes the scene as having a healthy mix of older and younger fans with several bands playing weekly gigs in the city, including the Silverleaf, Hot Five, Excelsior, and Climax Jazz Bands. Most of the bands, following the Happy Pals lead, had a New Orleans focus.
From what I found looking into Toronto that is still largely true today. I contacted Ralph Pastore, who leads or works with several active traditional jazz bands there, to get background for this story. His recent efforts evoke a remarkable early jazz and ragtime novelty sound. It turns out he credits Dixon with inspiring his interest.
Around 2005 Pastore was playing with both Hughes and Dixon in their Ska band, "Frankie Foo". "As a result," he says, "I also started going to see their trad band, "Don Valley Stompers", at a now-defunct pub called 'Paully's'. From that point on I was hooked and wanted to figure out how I could be a part of it." Not able to keep up on jazz piano he found that place playing banjo and "couldn't be happier." He went on:
I only get to see Marla once a year or so now when I visit New Orleans but I absolutely think of her whenever I find myself struggling with some aspect of performance… I'm continually inspired by her unique ability to combine power and aggression with a surprisingly gentle intuitive sensitivity for the music (and its musicians).
While she was with the Stompers Dixon made a temporary switch to Sousaphone out of necessity, and with it took her band back a notch in time. Twerk Thomson, who would later follow Dixon to New Orleans, quit the Stompers leaving them without a bass player. A sousaphone happened to be available and for several years Dixon led her outfits from behind.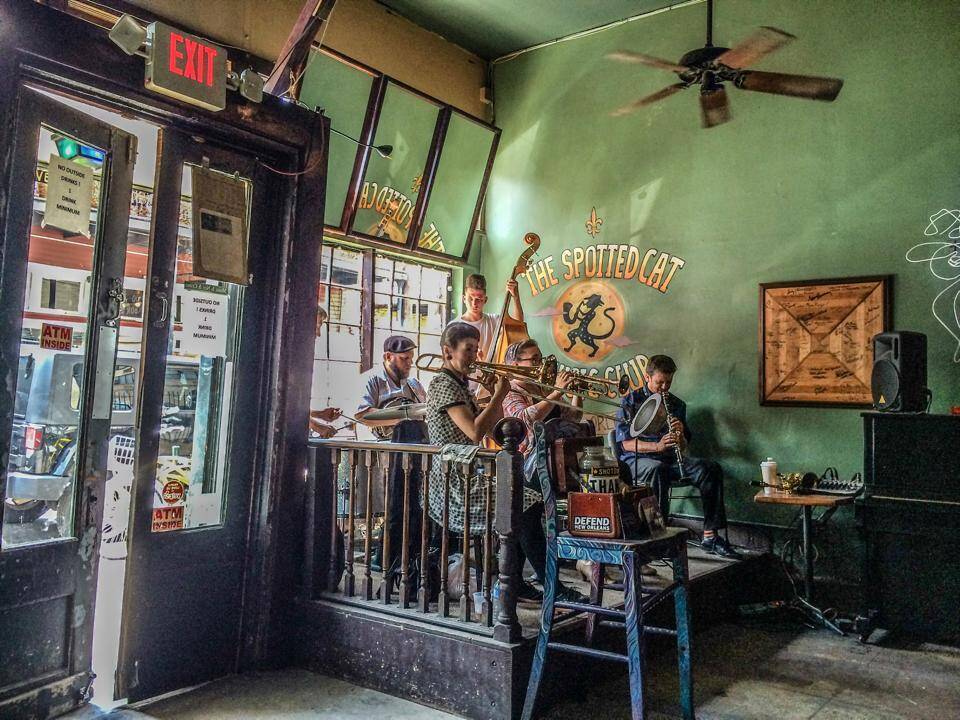 She also began making frequent trips to New Orleans. First to attend French Quarter Fest and sit in with the Happy Pals at Fritzel's European Jazz Pub on Bourbon Street. She returned to play as often as she could before making her official move to the city in 2009. Along the way she met and married John Dixon who hails from North Florida.
Together they started to play the streets near the French Market, John on guitar and Marla on trumpet. Their duo became a trio and they decided to record a CD to sell, but for that, they needed a full band. Musicians were pulled in and The Shotgun Jazz Band was born in April of 2011. The CD helped them make the transition from busking to playing mostly, and then exclusively, in the expanding number of traditional jazz clubs in New Orleans. Through playing clubs they were able to work with veteran musicians like Orange Kellin, and make connections they otherwise wouldn't have.
They've released six albums, play regularly at all of the notable area venues, and are a draw at local events including The New Orleans Jazz & Heritage Festival, French Quarter Festival, Satchmo Summer Fest, and Creole Tomato Festival. They've also played around the country at countless traditional jazz festivals and swing events.
In November they released a live album recorded at the historic Dew Drop Jazz Hall on the North Shore. The Shotgun Jazz Band, with its enduring focus on the New Orleans revival, will be a force in the world of traditional jazz for years to come.
But that isn't all Marla Dixon has been up to.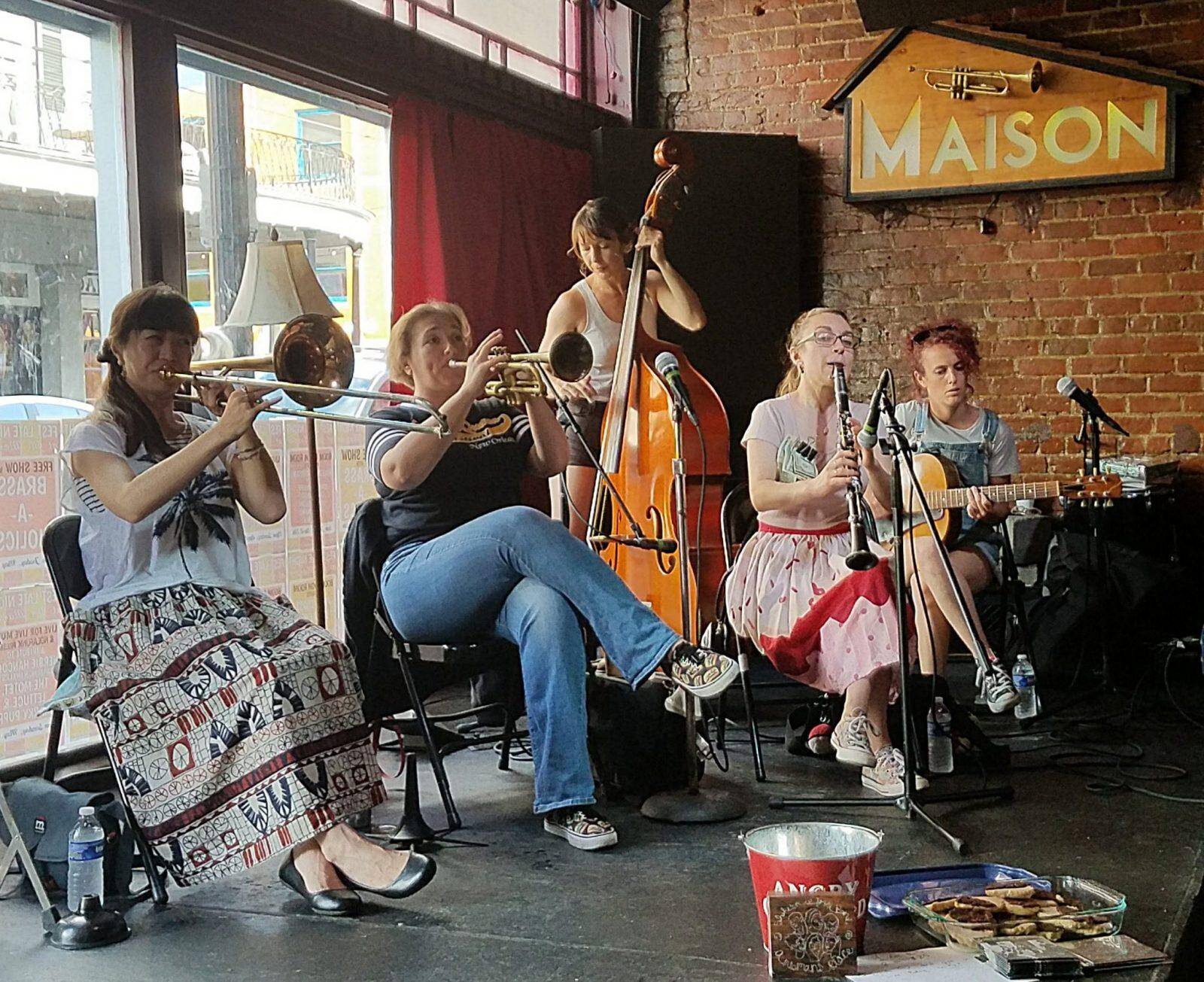 In June 2016 Shaye Cohn of Tuba Skinny recruited an all-star line up of female instrumentalists for a one time performance at Girls Rock New Orleans. Demand for more performances was immediate. While Cohn wasn't able to stay, Haruka Kikuchi joined Dixon, Chloe Feoranzo, Molly Reeves, Julie Schexnayder, and Defne 'Dizzy' Incirlioglu and they started booking festivals as the Shake 'Em Up Jazz Band.
They recorded an album, "Le Donne Mangiano Zucchero", and followed it up with another, highlighting the work of female composers, called "A Women's Place." Unlike the Shotgun Jazz Band which has a clear focus on revival jazz, the Shake 'Em Ups draw from a broader pot. Their first album had a calypso number, and months after reviewing it I still return to their haunting blues cover of Geeshie Wiley's "Last Kind Word Blues" on A Women's Place. The version of "In the Gloaming" on that album is second only to you know who, largely on the strength of Dixon's vocal and expressive playing. (The rhythm keepers are also superb, who knew a washboard could be played so soulfully?)
They quickly solidified from a festival act into a tight group with regular gigs at top venues. They recently played the Pismo Beach Jazz Jubilee by the Sea and next spring you can catch them at the Tribute to Bix Fest in Racine Wisconsin.
Watching Ms. Dixon's videos with the Shotgun Jazz Band I didn't cast her as a "girls, girl", and I don't think she saw herself that way either. I asked what the experience of working with an all-female band was like for her and she responded:
I love it so much. I didn't think I'd have that reaction, because music is music and a band is a band, right? Nope. This particular group of women is something special and so, so much fun to play and travel with. I think we were all surprised by it.
The Shake 'Em Ups rapid success has led to performances at several European festivals so I asked if she had any good stories from the road:
That I can repeat in print? Not likely. But I can tell you that we had some great interactions with Al Jardine and the rest of the Beach Boys band in Italy last year, which was a little trippy. We travel really well together and ate our way through Brittany this past summer. We loooooove the crowds in Edinburgh! We apologize in advance to other passengers on any trains we might need to take, and all towns we play in should prepare to have their thrift stores ransacked.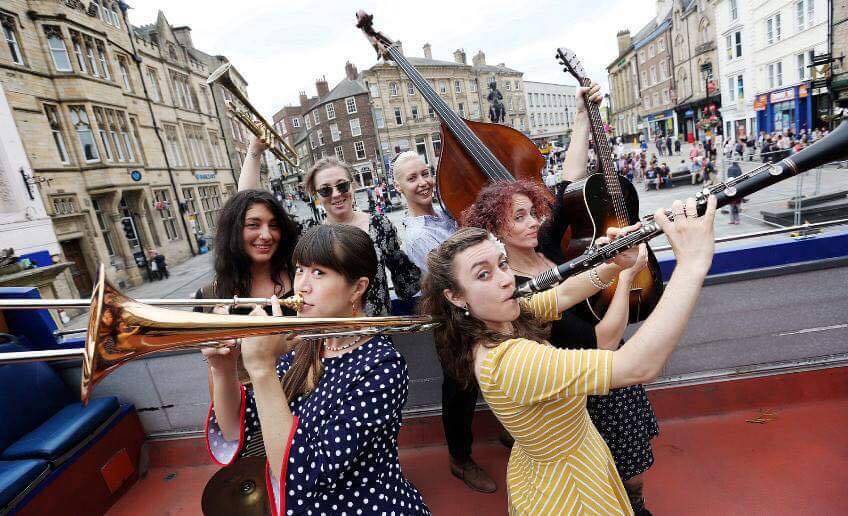 I also asked if she had a philosophy for leading bands:
I haven't really worked out a philosophy or set of rules… I just try to play music that I enjoy, with players that all get along – that is becoming increasingly important to me. I've been really lucky to have the best seat in the classroom of my musical education: right in the front row, beside and in front of all my teachers. I am always astounded at how amazing my bandmates are. I'm pretty lucky.
---
Read more about Marla Dixon:
Shake 'Em Up Jazz Band: le Donne Mangiano Zucchero & A Woman's Place
The Shake 'Em's Third Album: The Boy in the Boat
Shotgun Jazz Band- Live at The Dew Drop
Shotgun Jazz Band- Steppin on the Gas
And more from her bandmates:
Molly Reeves' 'Unique Voice Within the Tradition'
Chloe Feoranzo: A Joyful Rustling among the Reeds
Haruka Kikuchi: Queen of the Tailgate Trombone
Catching up with New Orleans, Part 1
How Tuba Skinny's New Orleans Street Jazz Found Fans Worldwide
Twerk Thomson Plays Unpopular Songs