The New Orleans Jazz & Heritage Festival celebrated its 50th this year with eight full days of performances. The official date of the first Fest was 1970 although a smaller gathering occurred in 1969, so this year's event was considered the 50th year of celebrating the music and culture of New Orleans and southern Louisiana. With 12 stages, the Festival offers many genres of music. The Economy Hall Tent provided traditional jazz in six sets from 11:15 am to 6:45 pm. Most stages will have 5-7 sets each day, adding up to lots of talented musicians all in one location for eight days.
The Jazz Museum held a special presentation on April 24th to view seven remastered videotapes showing the original Fest held at the Municipal Auditorium in Beauregard Square (now Armstrong Park) and there was a special evening on the Steamer President cruising the Mississippi. A Saturday parade up and down Canal Street engaged Fest participants and 20 food booths offered regional treats including po'boys, gumbo, grillades, grits, etouffee, crabs, crawfish, oysters, and shrimp.
The first Fest in 1970 took place with as many guests as there were performers. The four day celebration had some evening venues and highlighted not only the local bands (Pete Fountain, Al Hirt, Preservation Hall, The Dukes of Dixieland, the Zion Harmonizers, Olympia Brass Band, The New Orleans Ragtime Orchestra, Onward Brass Band, Eureka Brass Band, Original Tuxedo Jazz Band) but included sets with Mahalia Jackson and the Duke Ellington Orchestra. The Mardi Gras Indians made their public debut and Cajun music had its own stage, a first for that style of music.
Fast forward to this year's Fest and some of the same names appeared on stage: Germaine Bazzle, Lars Edegran, Orange Kellin, Ellis Marsalis, and several others.
Many sets concentrated on tributes to musical heroes and pioneers: Louis Armstrong, Mahalia Jackson, Pete Fountain, Al Hirt, Jelly Roll Morton, Fats Domino, Dave Bartholomew (who celebrated his 100th birthday on Christmas Eve!), Louis Prima, Danny Barker, Blue Lu Barker, Allen Toussaint and The Humphrey Brothers.
Lars Edegran (p, bj, gtr) and the New Orleans Ragtime Orchestra (First Fest performers) took us from Ragtime to Jelly Roll with Kris Tokarski (p) and nine other musicians. The selected pieces were identified with ragtime artists melding into early jazz with Buddy Bolden, Kid Ory, Louis Armstrong, King Oliver, and then standard Morton offerings.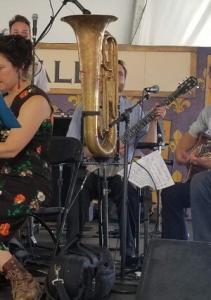 Detroit Brooks (gtr, bj) paid a tribute to Danny Barker (gtr, bj) and Blue Lu Barker (v) and recalled some of the songs made famous by that duo.
Wendell Brunious (tp) and Michael White (cl) honored Louis Cottrell and the Onward Brass Band, again one of the original First Fest performers with Grand Marshal Andrew Le Duff.
Local "street" band Frog & Henry performed with a foot-pedal tuba, a one of a kind instrument first used in 1890 which allows the musician to play a banjo/guitar at the same time. This collective of street band musicians has recently toured Europe and was well received at the Fest performance.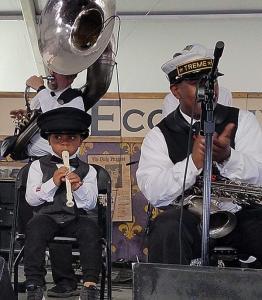 Treme Brass Band had the youngest performer on stage—toddler Kingston Wiley—the new "Future of Fest" showing every bit of talent as his dad Cedric.
Ellis Marsalis (p), a First Fest performer, enjoyed a family tribute with all four sons on stage at the Jazz Tent—Wynton (tp), Branford (sx), Delfeayo (tb) and Jason (dr/vb).
Louis Prima, Jr., had a set featuring his father's signature standards complete with the stage antics and a Sam Butera style saxophone. It was a rousing performance and the audience not only jumped, jived, and wailed, but took to its feet to salute the memory of this remarkable musician, composer, and entertainer. Local vocalists John Boutte and Meschiya Lake also contributed.
The following Wednesday, May 1st, the Jazz Museum held the grand opening of the Louis Prima exhibit and this time it was Louis' daughter Lena that provided the music. Lena again performed the following day at the Fest and since moving to New Orleans permanently in 2011 can be seen regularly in the Quarter. Her most recent gigs were at the Hotel Monteleone on Royal Street.
The Assunto Dukes intended to give a performance at the Sheraton for the New Orleans Jazz Club's 71st Anniversary party on May 1st, but the new management was not aware that the music would be "so loud"—the Jazz Club band has performed there for years and it has always been a pleasure to hear the several bands (including Tim Laughlin (cl) and his group) in the multi-story lobby of the hotel on Canal Street.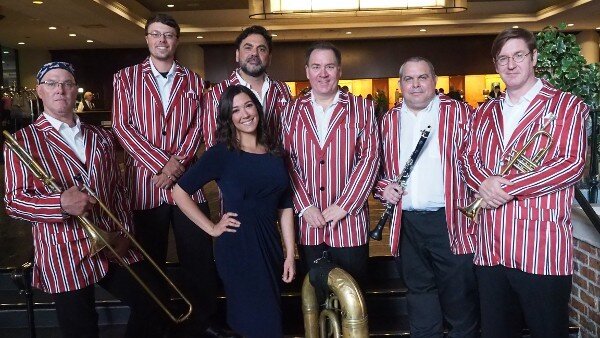 The Assunto Dukes were to debut their new tribute group to carry on the legacy of Frank and Freddie Assunto—the Dukes of Dixieland 1947-1974. Frank's granddaughter Lexie was able to belt out a few numbers before the hotel ungraciously pulled the plug on the microphones. It was very disappointing to all the guests that were in attendance, not only Jazz Club members but the visiting Fest goers from all over the world.
The (Assunto) Dukes of Dixieland in the early 1950s were the first to record what is now considered a jazz classic, Paul Barbarin's "Bourbon Street Parade," and they were the first Dixieland group in history to sell more than one million albums. This tribute group will be performing throughout the year so be sure to enjoy them in a more welcoming venue.
Tim Laughlin was able to perform several numbers (without the trombone or cornet at the management's request) prior to the Assunto Dukes coming on stage. He played a beautiful rendition of "Singin' the Blue"s as a tribute to Connie Jones (ct, tp) who passed away on Valentine's Day. Connie played with the Dukes of Dixieland, Jack Teagarden, and Pete Fountain and was a treasured member of any band.
At the 2nd weekend of Fest, Mark Braud (tp) gave a tribute to the Humphrey Brothers (Willie & Percy) and the Eureka Brass Band. With 13 musicians on stage, the place was truly rocking! The Humphrey Brothers played for Preservation Hall and in other bands. They were icons of the genre and emulated often by clarinetists and trumpeters throughout the city.
Gregg Stafford (tp) had several sets with the Jazz Hounds and the Young Tuxedo Brass Band.
Tim Laughlin arranged a tribute to both Pete Fountain and Al Hirt with Wendell Brunious (tp) and Doyle Cooper (tp). Bourbon Street must have been heaven when both of these musicians had a club a few blocks apart. The most difficult decision of the era must have been to figure out which club to go to knowing one would be missing something great at the other one! I would have loved to experience that dilemma.
The Paulin Brothers Brass Band remembered their brother Rickey who passed away only a few weeks ago. Rickey played the clarinet and he was often seen busking in the Quarter. Doc Paulin made sure all of his sons played a different instrument and there were six of the remaining brothers in this tribute.
The Fairview Baptist Church Christian Band reunion brought together many of the young men that Danny Barker groomed into becoming musicians. Danny was a strong influence on these men and his nurturing provided a basis for education and balancing family life. When Danny returned from New York after being with the Cab Calloway band, he was dismayed that there were no music programs for the kids in the neighborhood. So he started one at Fairview. Leroy Jones (tp) and the men on the stage sweetly reflected their memory of this jazz guitarist, banjo player, and all around raconteur.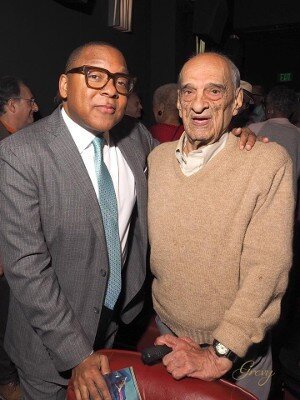 Michael White (cl) paid tribute to the nine musicians who played in Economy Hall last Fest and are no longer with us. He also noted that he completed the liner notes on the CD for the new movie Bolden—it is a fictional account of the New Orleans cornetist Buddy Bolden. Wynton Marsalis is the Executive Producer and composed and performed on its soundtrack. The book by local Don Marquis, In Search of Buddy Bolden: First Man of Jazz, was a good factual reference. It was Don's birthday May 4th and we usually see him at Palm Court. Hopefully he was enjoying the opening of the movie on May 3rd in another location.
One of the best things about Fest is the activities at the various other clubs in the Quarter. We made reservations at The Palm Court every night it was open. The bands are always outstanding and the surprise guest musicians from all over the world add another level of entertainment. Sammy Rimington (cl, sx) made his annual trek across the pond to play here and at the Fest. Clive Wilson (tp) has written a memoir of his early days in the Quarter—Time Of My Life, A Jazz Journey from London to New Orleans—and it is filled with the passion of experiences enjoyed by the "choir boy" who has become a well-respected trumpeter. Add this to your collection with Tom Sancton's Song for My Fathers and Sammy's A Life In Pictures.
Little Gem Saloon had an evening with clarinetist Evan Christopher, a recent recipient of a Chamber Music America's 2018 New Jazz Works Program grant. No, it doesn't sound like "chamber music" but it is rewarding Evan for his preferences for intimate, acoustic performances. The "Faubourg Variations" composition has an overall theme of New Orleans with local guest musicians. Evan has played in traditional bands over the years but has developed a specific style since his return from abroad after 2005. He doesn't always play what I would like him to play, but I always like what he plays!
The Bombay Club had an evening with drummer Hal Smith and others including James Singleton (bs), Dave Jellema (ct), Kris Tokarski (p), Ben Polcer (tp), Tim Laughlin (cl), Alex Belhaj (gtr) and a set with Benny Amon (dr), Kris Tokarski (p), Alex Owen (tp), Andy Reid (bs), Alex Belhaj (gtr), and Alejo Majcherski (tb).
Of course Fritzel's continues to be a mainstay and again there are often surprise guest musicians for a few tunes each evening at this international pub.
We stopped in at the new Historic New Orleans Collection's Seignouret-Brulatour building at 520 Royal, the feature of my last article in May. The experience is hardly describable; the large flat "smart" table is such advanced technology! To be able to see the Quarter at various stages of its life over centuries by just touching the screen; the 360 degree "viewing" room with brass bands circling above your head and parades jumping from wall to wall! Plan to spend many hours there and have a bite at the café to hold you over to the next exhibit.
These annual visits to attend the Jazz Fest with friends from all over the United States, Mexico, Canada, England, Italy, France, Belgium, Germany, Switzerland, Sweden, and Japan are precious. It is what brings me back to New Orleans for Fest and for the additional times of the year when we visit.
There was a lot of controversy over the intended performances of the Rolling Stones or Fleetwood Mac (and the double/triple fee for that day) together with the yearly inclusion of other mainstream artists that are not actually affiliated with New Orleans or Jazz. There are dozens of "big name" performers that command a large paycheck for their set and the ticket prices have increased by about 500% since we started attending. It is being reported that there were 475,000 attendees at this eight day festival. But to see the local performers I mentioned on stage day after day and then to catch their sets in the evenings?…it is a price worth paying.