In my December 2017 column, I reported on my short visit to New Orleans, concluding that "I shouldn't wait another 23 years to return."
I didn't. Without boring you with all the details, I was able to book an inexpensive trip to NOLA for April, and used it to attend French Quarter Fest.
First, a little background on this festival. Choosing which sets to attend is like selecting from a Chinese restaurant menu—one from column A and two from column B. It's actually harder than that because you must also consider how much walking you care to do or are able to do between venues. FQF on most days has no fewer than 11 stages ranged over more than half a mile in the southern part of the Quarter—the area nearest the Mississippi River.
This is an outdoor festival. The bands are on covered stages and most of the seating (or standing) areas are in the open. There are covered seats at some stages for people who spring for VIP tickets. The weather this year was dry during the day, so rain contingencies were not needed, and it was not oppressively hot or humid. In fact, Sunday was cool and windy.
If you are looking exclusively for trad jazz, as I was, you may not have too many sets to choose from. The music menu can vary year to year, and with only one experience, my perspective is limited. Also keep in mind that the word "jazz" is not in the festival's name, so the musical fare could justifiably be anything. I was very disappointed by the sets I heard on Thursday, the first day, and feared that I was attending two festivals in one—my first and my last. But the trad offerings on the other three days were ample and excellent.
I tallied up what I estimated to be the share of trad bands. I counted 13 bands that unquestionably were trad and 15 others I judged to be so based upon the name or what I knew about the leader. I counted 298 groups altogether, so the ratio of trad to the total was not quite 10 percent. Nearly all the groups performing are from the local area. Never having heard of most of them and not being able to find websites for all, I had to guess which were most likely to be trad. Sometimes I guessed wrong. All bands, regardless of genre, played only one set each. Had I been in charge, I would have booked fewer bands but given each one at least two or three sets, so that attendees didn't have to pass up one favorite to hear another. With local bands, this would not have affected travel costs. There were individual musicians who played in more than one band during the festival.
On Friday I started off with Banu Gibson's set, which, unfortunately, I had to cut out on to attend a timeshare sales meeting (which was the reason for the inexpensive trip, and no, I did not buy). Her band included top-notch players, most of whom I knew personally or was familiar with. When I returned to the festival I caught part of the Borderland Jazz Band from Austria, which was great, and most of Orange Kellin's New Orleans Deluxe Orchestra, also first-rate. I had planned to see Steve Pistorius and the Southern Syncopators at the beginning of the day, but never found their stage; the map in the program booklet was incorrect. But I did see Steve, whom I like, on piano with Kellin's band and on Saturday with the N.O. Classic Jazz Orchestra. All in all, a good afternoon.
Friday I was wearing a T-shirt that I had gotten from Rivermont Records with its name on the back. I was sitting on the grass close to the stage where Banu was setting up when I heard a woman behind me call "Rivermont!" I turned around to speak with her. It was Sally Fee, a reader of this paper and a long-time trad jazz fan. She and her husband Mick, who was with her, live near Detroit. I learned that we have many musician and aficionado friends in common, including Banu, Vince Giordano, Dan Levinson, and Andy Schumm. We decided to meet for dinner that evening where we spent two more hours in animated conversation, all because of a T-shirt. It pays to advertise. Over the weekend I also bumped into several friends who had attended the New York Hot Jazz Camp, where I volunteer, whom I did not know were in town.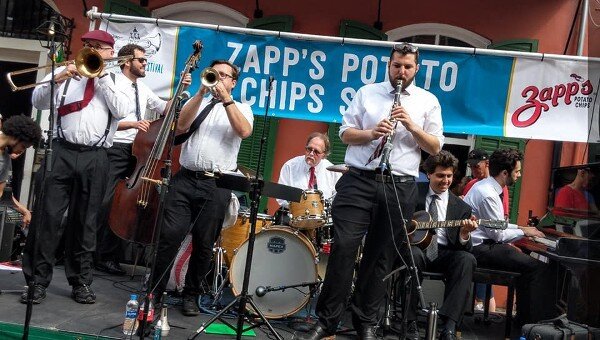 Saturday brought two excellent sets and parts of two others that I rated good. The former included the aforementioned Classic Jazz Orchestra and On the Levee, led by drummer Hal Smith, whom I finally got to meet in person after having seen him numerous times. A third band that likely would have fit in the excellent group was Charlie Halloran and the Quality Six. I could have split my time between his band and Hal's, but due to the size of the crowds, I would have risked not having a satisfactory seat at either location. "Seat" here means a curb or lawn. I did not have a folding chair with me so it was either stand or take whatever ground-level space I could find. I also had to pass up several other bands because of a schedule conflict or the time required to walk between venues. I normally walk about four miles per hour, but that wasn't possible here because of congestion.
Sunday's sets began with my first live performance by Tuba Skinny. They just marked their 10th year and have just cut a new CD, from which they played several tunes. Then I stayed at the same venue to check out the Shannon Powell Traditional All-Star Band, thinking this might be a trad band. It wasn't, so I left. Next was the Shake 'Em Up Jazz Band, which lived up to its name. It's a six-piece all female band, with washboard instead of drums. I think I may have read about them in this newspaper. The members all appear to be in their 20s, and they have been together for three years. What most caught my ear was their three-part harmony. If I had closed my eyes during their rendition of "Puttin' It On," I would have sworn I was hearing the Boswell Sisters, who had recorded and written that tune.
Part of Shake 'Em Up's set overlapped with Aurora Nealand's Royal Roses, so I split the time between the two. Unfortunately, Aurora was ill and couldn't lead the band, but they put on a good show just the same. On a stage in the next block was the New Orleans Serenaders, also a good trad band that I would rate about on a par with Aurora's, the major difference being that the Roses didn't use a piano. I listened to part of both bands' sets.
So, on the whole, did I like FQF enough to go back? The truly trad groups I heard were all worthy of a repeat visit, but the large crowds and general mayhem that are part of the festival (and, evidently, everything else that goes on in NOLA) is definitely a drawback for me. I would prefer to enjoy these great musicians in their natural habitat—the clubs in and around the Quarter. Of course, it costs more and takes more time to do it that way, but the overall experience is better. And I'd get some face time with those I know. Still, I won't rule out a return; it'll depend on the lineup. Future trips will likely cost me more, since I won't fall for a timeshare pitch to help foot the bill.