Haruka Kikuchi- Japan: New Orleans Collection Vol.7
Related: Haruka Kikuchi: Queen of the Tailgate Trombone, Haruka Kikuchi- Japan: New Orleans Collection Vol.1-6
---
 In July, as part of a Catching up with New Orleans series of reviews, I strongly recommended an ongoing recording project by a product of the Japanese traditional jazz scene; the New Orleans slide trombone phenom Haruka Kikuchi. In that review, which you can see here, I summarized Vol. 1-6 of her Japan: New Orleans Collection.
The project brings together her extensive networks in both the Japenese and New Orleans traditional jazz worlds. When a Japanese musician is visiting the Crescent City she gets them in the studio to record a few tracks with locals.
The Guest: Junji "Oji" Kimura
This August she released Vol. 7 of the series. It features guest drummer, Junji Kimura, his nickname "Oji" means prince in Japanese. He has played with Black Bottom Brass Band since the 1990s. They are renowned in Japan and have also played in New Orleans, at Donna's Bar & Grill no less, a now closed but legendary home for the city's Brass Bands.
Kimura was born in Osaka (he's now based in Tokyo) & his father is the legendary drummer, Yoichi Kimura, who was one of the founders of Waseda University's New Orleans Jazz Club in Tokyo back in 1957.

Connections: Waseda University's New Orleans Jazz Club
That club has produced many great musicians, including Ryoichi Kawai, the leader of the New Orleans Rascals a group that has won continuous accolades for 57 years and counting. Kikuchi herself was a member which has helped her to bring musicians together across generations as well as continents.  Her last concert before moving to New Orleans was the 52nd annual recital of Waseda University's New Orleans Jazz Club in 2013.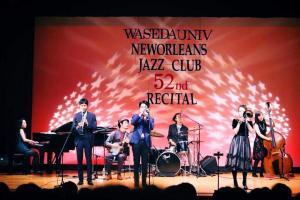 Other members of the club have been Yoshio Toyama (a.k.a. the Japanese Louis Armstrong), Mari Watanabe, Makiko Tamura and many others. Mr. Yoichi Kimura used to live in the United States and he played at Preservation Hall in the 1960s. This was even before Yoshio Toyama and his wife Keiko came to New Orleans, apprenticing with Preservation Hall for five years and establishing a lifelong relationship with the city that includes annual appearances at Satchmo Summerfest with his band the Dixie Saints.
The Session: From Satchmo Summerfest to the Studio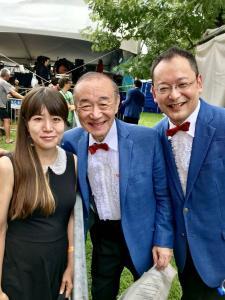 It was the Satchmo Summerfest that made this session possible. Junji Kimura was in town to play with Toyama, following his father's footsteps and bringing together generations.
The New Orleans musicians on the session include Kikuchi on trombone, Kevin Louis on Cornet, John Rodli on Guitar, and T Werk Thomson on Bass. Louis currently plays for Preservation Hall and recently made national news for the whopping fines he received while riding his unregistered bicycle.  Rodli and Thomson are both ubiquitous in the current New Orleans trad scene as members of bands and volunteers for the studio. They perform together in the group Doro Wat.
The set kicks off with rousing drums on "Gettysburg March" to welcome the guest musician. He also takes center stage on the second track joining the ranks of singing drummers on "I want a little girl". They slow it down going out with "You can depend on me" an Earl Hines number from 1931. The playing is all solid and enjoyable with, as all the sessions have had, a real New Orleans feel.
These three new tracks bring the full collection up to 20 cuts featuring eight different Japanese guests and 19 New Orleans locals. These creative encounters are what traditional jazz is all about and Haruka Kikuchi should be applauded for facilitating them.
Related: Haruka Kikuchi- Japan: New Orleans Collection Vol.1-6, Haruka Kikuchi: Queen of the Tailgate Trombone
Update: Vol. 8 has been released, you can check it out here: http://harombone.bandcamp.com/album/japan-new-orleans-collection-series-vol-8
---
Online Only
For Online Only Access without delivery of the print paper sign up below.
Subscription Options
---
Print Edition
 If you'd like the PRINT EDITION, (12 monthly issues) use the following PayPal link. After your payment is complete you will be allowed to create an online account. You will receive the next mailed copy, usually shipping around the 22nd of the month. See a PDF Sample Here.