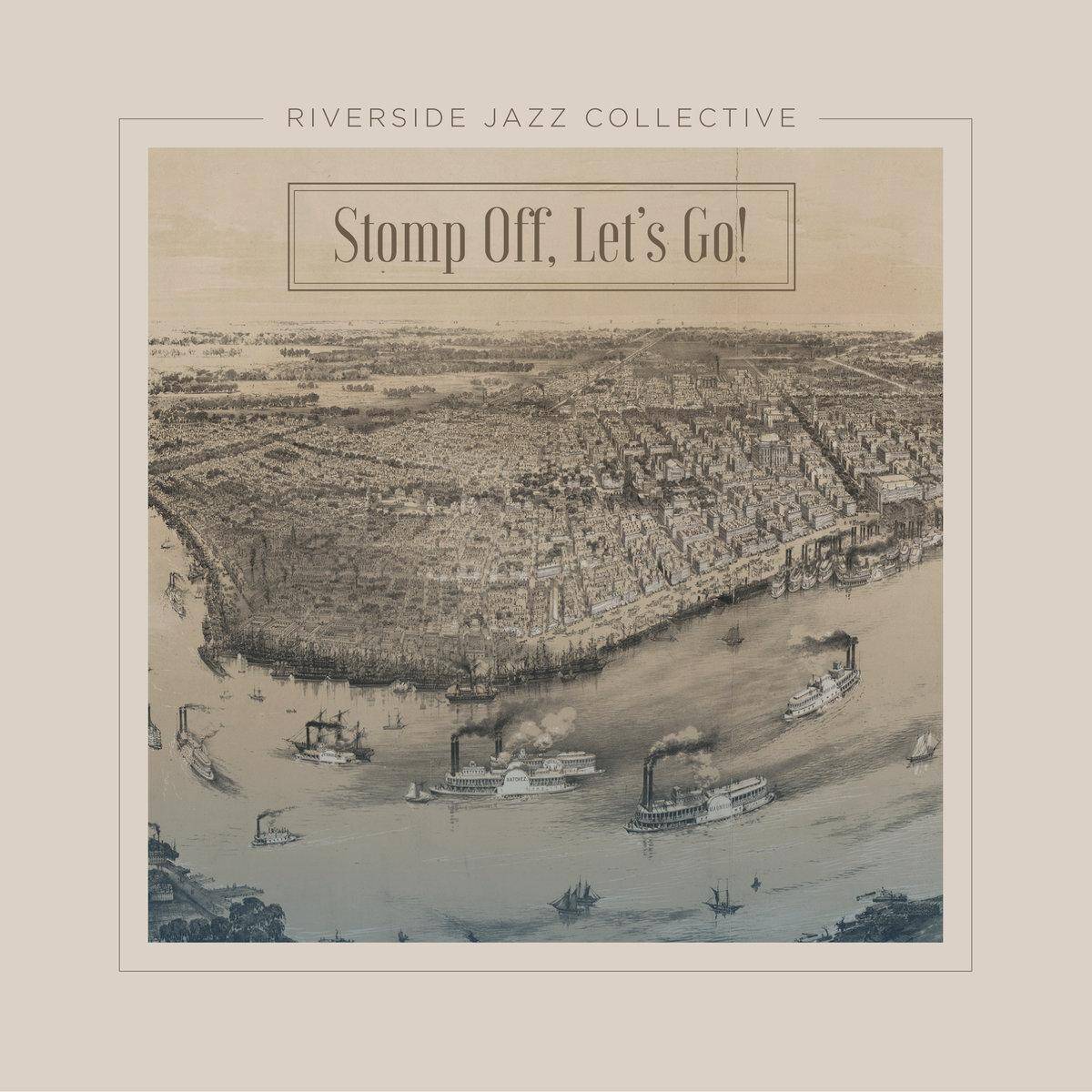 Catching up with New Orleans, Part 2
Last month we began to explore some of the great records coming out of New Orleans. This month features five more. I could easily have continued into a third or fourth month. I encourage you to do some catching up with New Orleans on your own. Tracking down the other projects of the individual artists on these albums would be a great way to start—most of them juggle several bands. We've done a lot of the hunting and pecking for you: check out the Wishlist on our Bandcamp Fan Page to listen to some great selections. bandcamp.com/syncopatedtimes
---
Doro Wat – Doro Wat
CD Available Here. Or Digital Download From Bandcamp
They have a Friday night gig at Three Muses, their album was recorded at The Spotted Cat and engineered by John Dixon of the Shotgun Jazz Band—Doro Wat is about as in the scene of New Orleans as you can get.
The line up is top notch: Ben Polcer on trumpet, James Evans on sax, Charlie Halloran on trombone, Tom Fischer on alto sax, backed up by David Boeddinghaus at the piano, John Rodli on guitar and Twerk Thomson on bass. This is a mix of freshness and experience and raw talent one would normally chance to see only in the closing jam session of a festival.
Unlike those jams, this band is so on the same page that after booking two days of recording time they wrapped up the album in three hours and eight minutes. They knew what they were going for, which seems to be nothing more—or less—than taking advantage of the opportunity to make great jazz with such a solid line up.
The band is named for the spicy chicken stew that is Ethiopia's national dish and their cover art is not what you'd expect from a traditional jazz band, but the music itself is a hot respectful romp in the style. The album starts with a roaring "Jubilesta" and you'll know from the first notes that you are in for something special. They frolic through "Jamaica Shout," roll through "Bugle Call Rag," and stroll through "Old- Fashioned Love" with vocals that will have you feeling like you to can sing like Satchmo. "Oh! Peter" also features engaging vocals plus a rhythm to get the dancers on the floor. "Aunt Hagar's Blues" highlights their skills as individual and ensemble players in a truly artistic rendition. "Potato Head Blues" is my favorite on an album which has been getting repeated play in my house for months. (View as a Separate Post)
---
Smoking Time Jazz Club- Take Your Time And Fly
Downloads from Bandcamp. Check the Band's website for more info.
Most of the trad players in New Orleans seem to cycle in and out of bands and projects every few years, often juggling several at once. The Smoking Time Jazz Club takes a more traditional approach. They've developed a staid fluency with each other while releasing 10 albums since 2011. Though sideman do rotate in and out; the core of the band, developed around Sarah Peterson's vocals, has stayed remarkably stable. Rhythm is provided by Mike Voelker on drums, John Joyce on bass, and Joseph Faison on banjo or guitar, with an extra full frontline featuring Jack Pritchett on trumpet, Russell Ramirez on trombone and reeds from Joe Goldberg and Brian Asher. They are a real working group with weekly bookings at two of the Marigny's best venues for traditional jazz, The Spotted Cat and The Maison. If you're planning a trip you now know where to find them.
With ten CDs to their credit, (counting two without Sarah Peterson), it is worth your time to explore the catalog on Bandcamp and find the one that is right for you. On the most recent album, Take Your Time And Fly, they fill out the line up with two more guitars, held by Molly Reeves and Brett Gardner. It's just what you'd wish to hear drifting out of a club on a bright New Orleans afternoon. Downtempo for the most part, it's bluesy and deeply rhythmic. The second track, "Dear Old Southland" is beautifully arranged to highlight what the line up has to offer. Saxophones are put to good effect over a full steady beat "Birmingham Black Bottom" does justice to the fantastic 1927 Charlie Johnson original while developing the Kansas City Swing feel inherent to the tune. Peterson's superior blues vocals guide throughout without distracting from the playing. The band picks up the pace as the album concludes, "Temptation Rag" is in smoking time and "Weary Blues" will send you back to the street ready to discover more. (View as a Separate Post)
---
Haruka Kikuchi- Japan: New Orleans Series Vol.1-6
Download from Bandcamp, iTunes, or CD Baby.
Haruka Kikuchi is a 31-year-old native of Japan who, since relocating in 2014, has been accepted into the New Orleans scene so readily that she has already recorded with everyone from Kermit Ruffins to a Mardi Gras Indian krewe. She plays tailgate trombone in such a natural style that local radio station WWOZ has said she "sounds like she may as well have been born and raised in Treme." Her skill has made her attractive to a number of bands. In June she played the Edinburgh Jazz Festival with the Shake 'Em Up Jazz Band and stopped on the return trip to play with Post Modern Jukebox in Ann Arbor.
In addition to these travels, and while also making engagements with her own band, Haruki Kikuchi and the Big 4Tune, she has found time to pursue a passion project which hooks the worldwide traditional jazz community back into its source.
Since 2016 she has been arranging for visiting Japanese traditional jazz musicians to record two or three tracks with New Orleans residents from the Brass Band and Hot Jazz communities. Her hope is that they take some of the current New Orleans flavor back with them to the clubs in Japan at which she herself got her start. The jazz revival scene in Japan, already strong in the '50s, solidified around a visit from George Lewis in 1963. The style of play there is consistent enough to be described as its own sound.
Meanwhile, the sound of the street in New Orleans has continued to develop, with a large legacy attributable to Danny Barker and the brass bands he fertilized in the 1970s. When these musicians greet each other, even across a language barrier, magic happens.
So far she has produced 17 tracks of mostly New Orleans mainstays like "Struttin' With Some Barbecue" and "Jesus on the Mainline." Sessions have featured anywhere from three to six musicians, always with Kikuchi herself and at least one visiting Japanese musician. The New Orleans residents joining them have included Gerald French,(who is only the fifth leader of the 108-year-old Original Tuxedo Jazz Band), Richard Moten, Dewon Scott, Larry Scala, Joshua Gouzy, and Molly Reeves. They have been young and old, black and white, male and female, NOLA born or transplant, as diverse as the city itself. The Japanese musicians have themselves varied in age, gender, and instrument but all share a love of New Orleans style jazz.
The six groupings each provide something unique, but the overall feel is totally New Orleans—hot contemporary traditional jazz from a city where it never went out of style. The tracks are available for purchase in six separate blocks based on performer groupings. As there is now more than enough for an album I hope they will soon be made available together. Or even better, a record company should collect these gems and give them a full international distribution.
View and share this review as an individual post
---
Riverside Jazz Collective- Stomp Off, Let's Go!
Download or well-designed CD with liner notes from Bandcamp (we vote CD!)
The Riverside Jazz Collective is a working band with a long residence at The Always Lounge Cabaret (not for the faint of heart) and now with at least a string of gigs at The Bombay Club. They are also one of the hottest and most traditional of the outfits regularly playing New Orleans. On my first listen, and with some pre-judgments I had made based on the lineup, I pictured them in a classy hotel setting, impressing a small crowd of seasoned fans, far from the hustle and bustle of the Marigny. That they would impress in that setting, or at a festival, I am sure. That the going-out crowd in New Orleans also appreciates them says a lot about the depth of what has taken hold in that city.
Organized by Benny Amon, drums; Alex Belhaj, guitar; and Kris Tokarski, piano, they fill out the lineup with the best trad musicians you could expect to find. Ben Polcer is on trumpet for this album, alternating with Alex Owen on cornet. We also find Tyler Thomson and Andy Reid alternating tracks on string bass. The rising star Chloe Feoranzo is on clarinet, and the hardworking Charlie Halloran is on trombone.
In fact, they are all hardworking: just sticking with the organizers, Belhaj and Tokarski are also part of the On The Levee Jazz Band with Hal Smith, and Belhaj and Amons both play with The Messy Cookers Jazz Band. Amons also plays with Evan Christopher's Clarinet Road and Duke Heitger's Steamboat Stompers. That's just scratching the surface.
Amons' steady drum really makes the sound, which owes a debt to the early Chicago bands without being frozen in amber. "Blues My Naughty Sweety Gives To Me" feels brand new with clear ensemble playing bringing out both the guitar and piano. "Melancholy Blues" is also nicely balanced. By refraining from showing off they make it easy to focus in on one instrument at a time. Thomson plays the bass with a natural table-tapping ease. I'd guess that Tokarski picked "Swipsey Cakewalk" which builds to intense heat at a slow Joplin pacing. "Ready For The River" is the best of the five vocal tracks—the catchy tune, recorded by many in the late '20s, is given a crisp presentation that had me thinking of Randy Newman.
The recording quality itself is very good. It was recorded at the Ellis Marsalis Center for Music with help of a Perkins Fund grant. The result stands out from the output of the more impromptu studios many groups seem to be relying on. It's a top shelf new release that even comes with liner notes.
View and Share this Review as a Separate Post.
---
Panorama Jazz/Brass Band- Song of The Month Club: Good Music For You
Jazz is the original world music—a hybrid creation of pan African, and pan-European, musical forms coalescing in a historic port of entry for French, Spanish, and Caribbean-African migrants just at the moment the city was absorbing a wave of Sicilian, Irish, and Jewish newcomers.
Recently, many New Orleans musicians have been experimenting with those roots. You can regularly spot trad jazz players in Balkan Brass bands. It's a style so popular recently that there are exclusive venues in both NOLA and New York providing an Eastern European dining and musical experience. Traditional jazz musicians have also been digging into the Caribbean roots of the city, jazzing up arrangements of 1930s calypso songs for their live shows or even, in Charlie Halloran's case, releasing a whole album in a vintage Caribbean style.
Before all that was the popularity of Klezmer music among the city's creatives—a happenstance that can be traced to Ben Schenck's move to New Orleans in 1988 and the founding of the New Orleans Klezmer All-Stars. They've been without him since 1995, but they are still going strong, and have become a mainstay at Jazz Fest. Schenck instead expanded his musical horizons to explore a full world of brass band music by founding the Panorama Jazz Band. The name was a nod to the long-standing New Orleans Bands with big names like "Olympia".
The Panorama Jazz Band (in certain lineups called the Panorama Brass band) draws inspiration from an array of pre-electrified party music genres—the usual sources being Southern and Eastern Europe, the Caribbean, and Latin America. All is played with brassy New Orleans Jazz feeling. They aren't traditional jazz but they aren't anything else either.
This expansiveness could easily flop if it weren't for the serious musicality Schenck brings to the endeavor. He arranges most of the titles. They occasionally play well-worn tunes like "Oh, Didn't He Ramble" but more often try their hand at foreign obscurities. The band draws widely from the wealth of local talent. When everything works the infectiousness of these strangely familiar good time grooves takes hold and as Schenck puts it "the music plays you."
Since 2014 the band has been releasing its music in a novel fashion. You can subscribe to a Track-Of-The-Month-Club and receive a new download every month. A subscription gives you access to the back catalog of previous songs of the month, and some other extras. If you prefer the more traditional approach these songs are also available in album size portions. I've subscribed, and when I need something just a little funkier they've become my go-to.
I tend to prefer them in the Panorama Brass Band line up, if you're giving them a test drive those are good tracks to start with. My favorite is "Boki 13" which, despite being named for a flamboyant Macedonian reality TV pop star, could be from nowhere but New Orleans.
---
Online Only
For Online Only Access without delivery of the print paper sign up below.
Subscription Options
---
Print Edition
 If you'd like the PRINT EDITION, (12 monthly issues) use the following PayPal link. After your payment is complete you will be allowed to create an online account. You will receive the next mailed copy, usually shipping around the 22nd of the month. See a PDF Sample Here.