This is not an article I expected to write, but given that the events I'm relating occur on a regular or seasonal basis, I felt it would be useful to you readers to know about them in case you're near or planning a trip to New York City.
On Wednesday, August 25, I made my first music pilgrimage to the City since February, 2020. I originally had only planned to see David Ostwald's Louis Armstrong Eternity Band at Birdland. With Birdland's 99-cent cover charge in effect for a limited time to celebrate its re-opening after a COVID shutdown, I could not pass up such a bargain. The band's set was from 7 to 8:30. Come September, they will be back to their traditional slot of 5:30 to 7.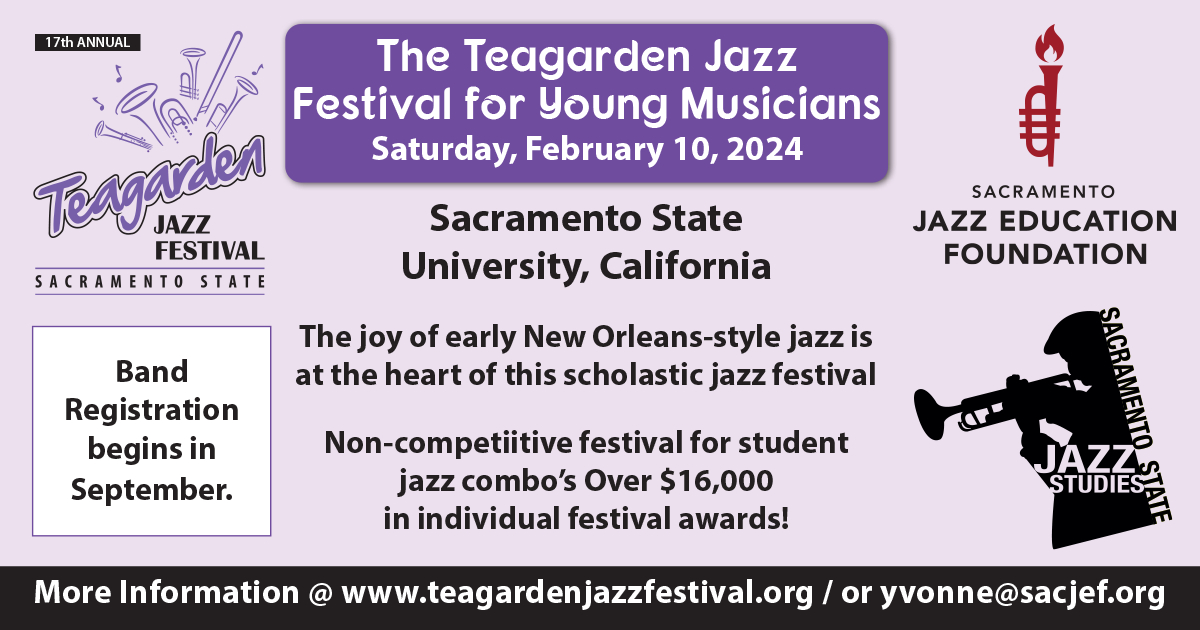 I've learned, when going to New York by bus, to allow plenty of extra time for traffic delays. I also make an allowance if I go by train, but not as much as for buses.
The day before, on Facebook, I saw an announcement that Terry Waldo's Gotham Band had was playing at 33rd Street and 7th Avenue from 4:30 to 6, so my early arrival allowed me to go there, too.
This outdoor "concert" was an eye-opening experience, but not because of the music. The band was lined up alongside the storied but now-closed Hotel Pennsylvania. Fortunately, nearby tall buildings provided shade on this oppressively hot and humid day. For street concerts, you either bring a chair or you stand. Bringing a chair on a bus would have been unwieldy, and I didn't need it at Birdland. But about 100 feet of the south side of 33rd St. at 7th Ave. is reserved for Citibikes. This is a fleet of rental bikes now found (under different names) in many cities that you can access with a smart phone for short trips or for sightseeing. Very few bikes at this location (and there are numerous sites in midtown Manhattan, where the demand for the bikes is greatest) were in use at the time, so I and several other spectators were able to perch ourselves in relative comfort on the bikes' wide padded seats.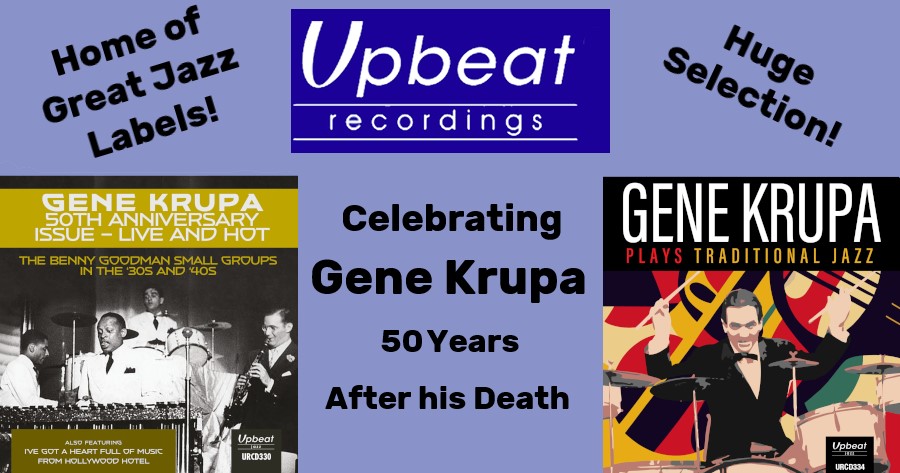 The usual tip bucket was placed on the sidewalk. What I found striking was the number of people who threw money in as they walked by without stopping to listen. Arnt Arntzen, who was on banjo, quipped that this is his favorite kind of audience. One passerby in a car (with a Pennsylvania plate, no less!) waiting for the light to change handed me some money to put in the bucket.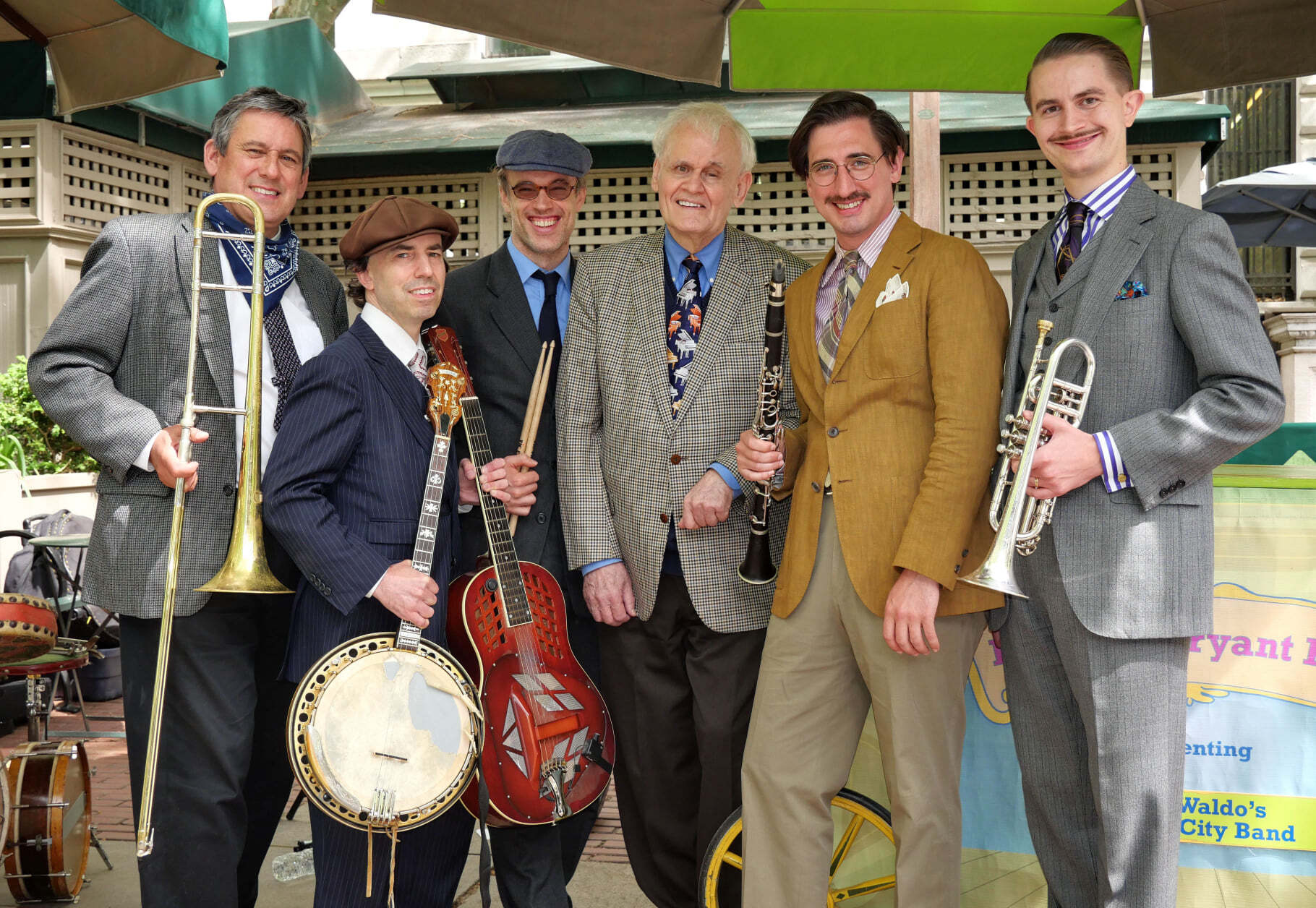 I need to mention that this was not just an impromptu gig. The 34th Street Partnership sponsors these shows and other events during the warmer months. The same thing happens at Bryant Park, located behind the main New York Public Library on 5th Avenue between 40th and 42nd Streets, under some other group's aegis. Terry's band plays twice a day, five days a week, weather permitting, at various locations in the Penn Station-Herald Square neighborhood. So there are some regulars who work in the area who stop by. Terry, I was told, doesn't play when it's too hot, so Jesse Gelber was on keyboard.
The keyboard, stools for the musicians, and cones to mark off their space, are all provided by the Partnership (34thstreet.org). There was even a young woman from the association with a counter who kept track of attendance and maybe other things. I spoke with her during a break and learned that she's from Carlisle, only 55 miles from Lancaster. There was also an unarmed security guard who kept a very low profile, but his services weren't needed.
There were another sub in the band this day besides Jesse: drummer Uri Zelig, whom I had never seen. The usual drummer is Jay Lepley. The regulars were Mike Davis on trumpet, Josh Holcombe on trombone (whom I had not seen in quite a while), Arnt on banjo, and Ricky Alexander on clarinet.
There are plenty of negative comments warranted about NYC, and I've made my share. But what I saw in the way of friendliness and civility on 33rd St. proved that even New York has a gentle side.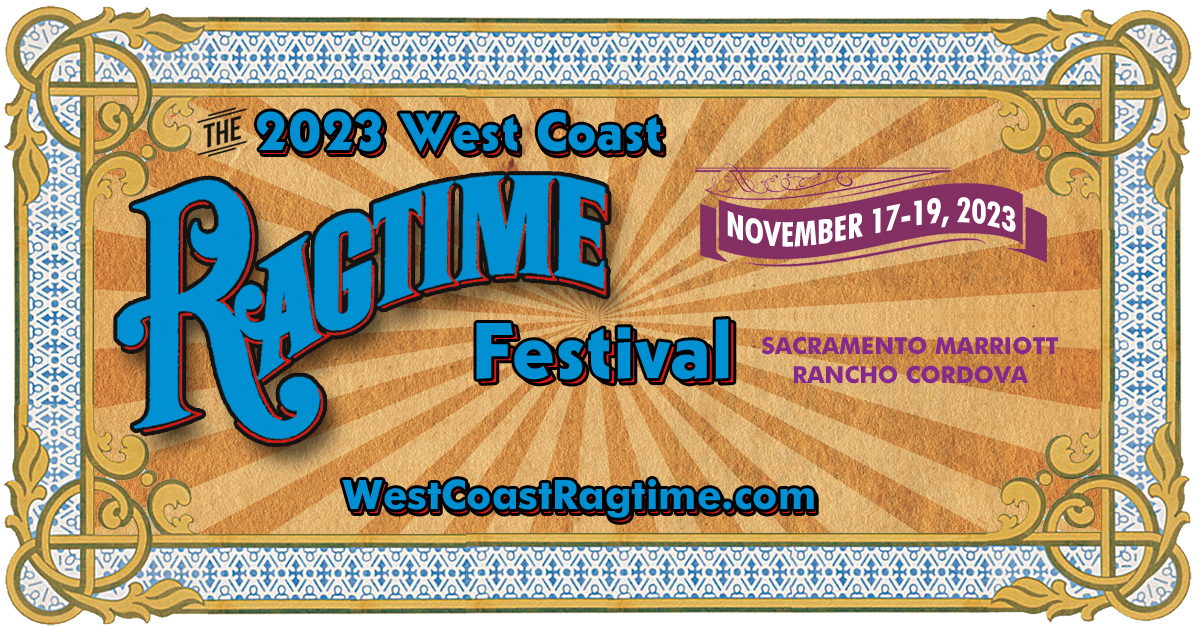 Then I walked up to Birdland on 44th, where David's band sounded as good as ever. Despite a nearly full house, I had a great table with an unobstructed view of the stage. While I was eating who comes in but singer/pianist Daryl Sherman! She sat at the bar and I went over to say hello. I've only seen her a few times and don't know her well, but she's always greeted me very warmly. David called her up to sing a number. She picked "A Kiss to Built a Dream On," which Louis had a successful record of in his big band years.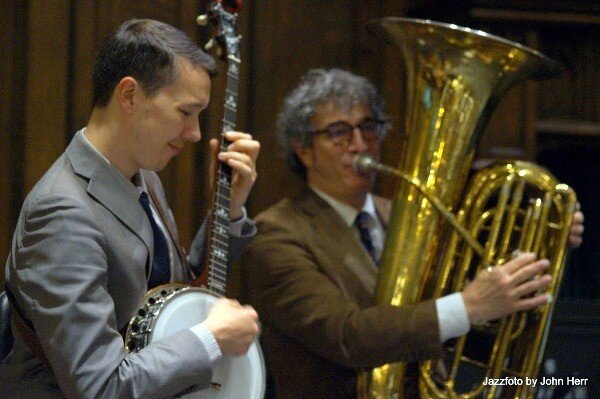 David had posted on Facebook the previous weekend about the birth of his grand-daughter. I commented, facetiously, that perhaps the band should play "Grandpa's Spells" at Birdland. (I had previously told him I was coming that Wednesday.) Sure enough, they played it when he announced the birth and gave me a shout-out for suggesting the tune.
Who was in the band? Besides David on tuba, which someone had to carry to and from the stage since he was using a mobility device due to aggravating an old tendon injury a few days earlier, and on which he's probably had surgery by the time you read this, there was Jim Fryer on trombone, Alex Raderman on drums, Will Anderson on reeds, Arnt on banjo and guitar, and Joe Boga subbing for Bria Skonberg on trumpet. I knew Bria and her husband had taken their now one-year-old for the first visit with his grandparents in British Columbia and weren't quite back yet. Joe, whom I've seen before, is a great player and took some superb solos.
I also got my first view of the new Moynihan Train Hall at Penn Station, under the old main post office on the west side of 8th Avenue. It's not yet finished, but it purports to be a throwback to the glory days of the original, of which I only remember the skylights from being there once or twice in the '50s. The demolition of Penn Station in 1962 and its replacement with Madison Square Garden and the nondescript station underneath sparked the landmark preservation movement across the country that remains strong today.
As usual, I got home in the still of the night, exhausted but exhilarated by the music I had heard. Just a word of caution: because of the still changing status of the COVID pandemic, you should check with any venue, anywhere, you plan to frequent for their policy on masking, testing, and/or vaccination proof. Birdland, for example, required all guests to show their vaccination card and wear a mask except at their table.