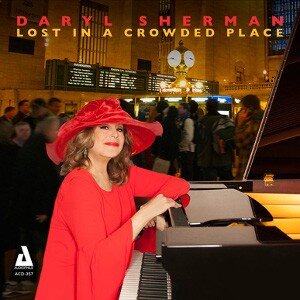 A veteran of the New York City Jazz scene known for taking deep dives into the American Songbook Daryl Sherman delivers on her latest album, Lost in a Crowded Place. It's full of unheard discoveries, some of them melodies set to Sherman's own fresh lyrics. With the exception of a marvelous delivery of the complex, "Stars Fell On Alabama", complete with verse, these are titles you aren't likely to find on any other recent discs.
The title track is a melody from pianist Barbara Carroll with lyrics from Irving Caesar who also penned "Sometimes I'm Happy" and other classics. She has a knack for identifying tunes that never got their fair shot when written.
"Turkquoise" is an album highlight and one of several where the lyric is her own contribution. You'd think it was a classic. It's in fact a hard-swinging reworking of "Tangerine" as recorded by Turk Mauro in the 70s.
Sherman's piano is joined by Jon-Erik Kellso (trumpet), Don Vappie (guitar, banjo) and Jesse Boyd (bass).  A team with the confidence and experience to strike the perfect compliment to her delivery of this great material. Kellso has some shining moments, particularly on "New Sun In The Sky", where Vappie picks up the banjo on this upbeat number from a 50s musical. Vappie also comes through with a Tony Bennett smooth vocal on the duet "You Go To My Head."
Other tracks include "Everything But You", which highlights her skillful piano playing and artful vocals with a lyric by Don George accompanying the music of Duke Ellington. "If We Never Meet Again", the Louis Armstrong beauty, is an appropriate addition because the album was recorded in two sessions during Satchmo Summer Fest. This is the third album she's recorded in the New Orleans studio of George Buck's Audiophile Label.
The only track not recorded in New Orleans is "Rainbow Hill", recorded in NY as a tribute to Sherman's long friendship with Marlene VerPlanck. Boots Maleson replaces Vappie on bass for this number, which smoothly winds out the album. It has extra poignancy because VerPlanck died soon after.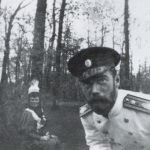 Joe Bebco is the Associate Editor of The Syncopated Times and Webmaster of SyncopatedTimes.com. He is available for liner notes and other writing or to give your website an overhaul. Reach him at [email protected]