Andy Preer's Cotton Club Orchestra
was billed that way to promote Preer's regular place of work. Actually, the group was the
Missourians
, who later teamed up with
Cab Calloway
at the Cotton Club and ultimately became Cab's band.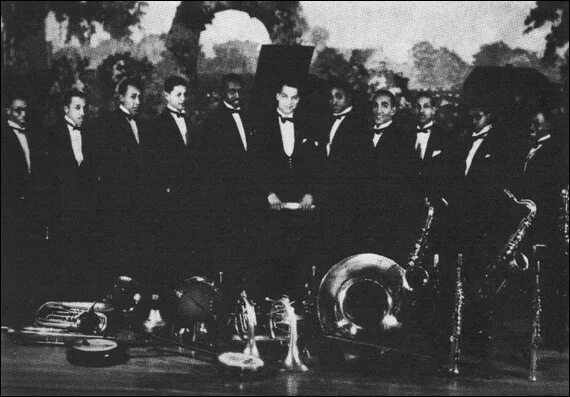 It was Preer's death in 1927 which caused the Cotton Club to seek a replacement band. King Oliver turned down an offer and the plum engagement went to Duke Ellington. The Missourians were deliberately "country" and tried not to take on the sophisticated Harlem ways. But there were excellent musicians on board.
Reedman Andy Brown later became a leading music teacher in New York City. The interesting sax section work on I've Found A New Baby seems to have an innovative tenor lead at one point. It may be the arranging work of Davey Jones, a talented multi-instumentalist and composer.
by Richard B. Hadlock (from the liner notes of Harlem Big Bands on Timeless Records)
If you would like to order the Timeless Records' CD of Harlem Big Bands you can do so direct from Timeless Records.

Title

Recording Date

Recording Location

Company

I've Found A New Baby


(Jack Palmer / Spencer Williams)

2-3-1927
New York, New York
Gennett
6056
Champion
15227


GEX-513

| | |
| --- | --- |
| Artist | Instrument |
| Andrew Brown | Clarinet, Tenor Saxophone |
| R.Q. Dickerson | Trumpet |
| Davey Jones | Clarinet, Alto Saxophone |
| Leroy Maxey | Drums |
| Earres Prince | Piano |
| Andy Preer | Director |
| George Scott | Clarinet, Alto Saxophone |
| Jimmy Smith | Tuba |
| Charley Stamps | Banjo |
| Lamar Wright | Trumpet |
| DePriest Wheeler | Trombone |