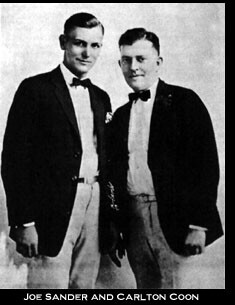 The Coon Sanders Nighthawks Orchestra was formed in 1919 and was at its peak between 1926 and 1932. The Orchestra was assembled by Carleton Coon and Joe Sanders in Kansas City. Coon was born in Rochester, Minnesota in 1893 and his family moved to Missouri shortly after his birth and eventually moved to Kansas City while he was an infant. Sanders was born in Kansas in 1896. Sanders was known as "The Old Left Hander" because of his skills at baseball. He gave the game up in the early '20s to make dance music his career.
The Orchestra was a pioneer in broadcasting their music over WDAF Radio from the Muehlbach Hotel at 1213 Wyandotte Street in Kansas City, Missouri. The broadcasts were in the early morning and the Nighthawks Club was formed for fans of the great music being broadcast. Fans were encouraged to send in requests for songs by letter, telephone or telegram. That move became so popular that Western Union set up a ticker tape between Sanders' piano and Coon's drums so the telegrams could be acknowledged during the broadcasts.
The group left Kansas City for the first time in 1924 for a three month engagement in a roadhouse in Chicago. They moved into the Blackhawk Hotel (139 North Wabash) in Chicago in 1926. The members of the Orchestra at that time were Joe Richolson and Bob Pope, trumpets; Rex Downing, trombone; Harold Thiell, Joe Thiell and Floyd Estep, saxophones; Joe Sanders, piano; Russ Stout, banjo and guitar; "Pop" Estep, tuba; Carelton Coon, drums. In the following years, the Nighthawks performed at the Blackhawk every winter, broadcasting over the powerful WGN Radio station. Their reputation spread from coast to coast through the broadcasts and the many records they made for Victor. They undertook very successful road tours.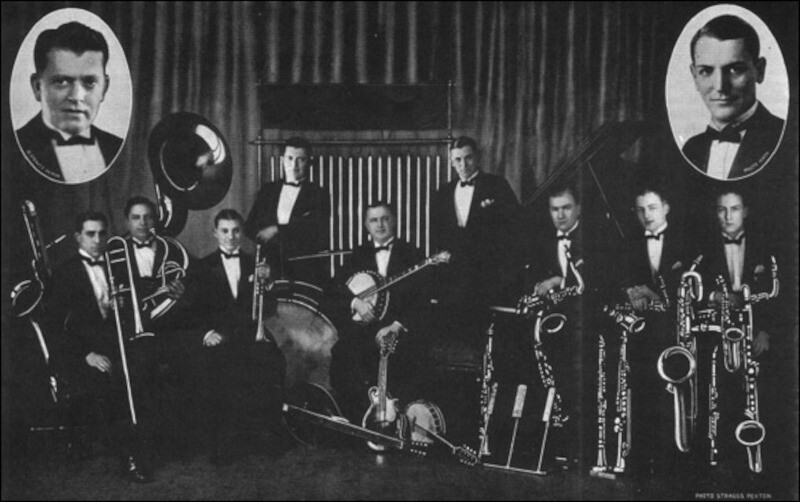 At their peak, each member of the Orchestra owned identical Cord Automobiles, each in a different color with the name of the Orchestra and the owner embossed on the rear. The Orchestra's popularity showed no signs of abating and their contract with MCA had another 15 years to run in the spring of 1932 when disaster struck. Carelton Coon came down with a jaw infection and, on May 4, 1932, at 38 years of age, he passed away.
Joe Sanders attempted to keep the organization going, however, without Coon, the public did not support them. In 1935, he formed his own group and played until the early '40s when he became a part time orchestra leader and studio musician. In his later years he suffered from failing eyesight and other health problems. He passed away in 1965 after suffering a stroke.
The Kansas City Public Library acquired the great scrapbooks and other memorabilia collected and prepared by Joe Sanders and the information is available to researchers.
Some of their most popular hits were "Wabash Blues", "After You've Gone", "Alone in the Rain", "Alone at Last," and the ever popular, Here Comes My Ball And Chain".—by Dale Jones

Title

Recording Date

Recording Location

Company

After You've Gone


(Henry Creamer / J. Turner Layton)

12-6-1929
Chicago, Illinois
Victor
22342-B
Alone At Last
Vocal refrain by J.L. Sanders


(Gus Kahn / Ted Fiorito)

7-13-1925
Camden, New Jersey
Victor
19728-A
Alone In The Rain
(From Pathe picture "The Grand Parade")
Vocal refrain J.L. Sanders


(Edmund Goulding / Dan Dougherty)

12-6-1929
Chicago, Illinois
Victor
22262-B
Blazin'


(Joe Sanders)

6-27-1928
Chicago, Illinois
Victor
21680-B
Bless You Sister


(J. Russel Robinson / Al Dubin)

12-12-1928
Chicago, Illinois
Victor
21895-B
Brainstorm


(Joe Sanders)

12-8-1926
Chicago, Illinois
Victor
20390-B
Deep Henderson


(Fred Rose)

3-9-1926
Chicago, Illinois
Victor
20081-A
Down Where The Sun Goes Down
Vocal refrain by Joe Sanders


(Isham Jones / Verne Buck)

6-29-1928
Chicago, Illinois
Victor
21546-B
Dreaming Of To-morrow
Vocal refrain by C.A. Coon and J.L. Sanders


(Joe Sanders)

7-27-1925
Camden, New Jersey
Victor
19804-A
Everything Is Hotsy Totsy Now
Vocal refrain by J.L. Sanders
(Jimmy McHugh / Dorothy Fields / Irving Mills)
8-7-1925
Camden, New Jersey
Victor
19750-A
Everything's Gonna Be Alright
Vocal refrain by J.L. Sanders


(Benny Davis / Harry Akst)

3-9-1926
Chicago, Illinois
Victor
20003-B
Flamin' Mamie
Vocal refrain by J.L. Sanders
(Fred Rose / Paul Whiteman)
12-21-1925
Chicago, Illinois
Victor
19922-B
Gotta Great Big Date With A Little Bitty Girl
Vocal refrain by Joe Sanders


(Joe Sanders)

7-26-1929
Chicago, Illinois
Victor
22123-A
Hallucinations


(Joe Sanders)

12-14-1927
Kansas City, Missouri
Victor
21397-A
Harlem Madness
(From Metro-Goldwyn-Meyer picture "They Learned About Women")
Vocal refrain by Joe Sanders


(Jack Yellen / Milton Ager)

11-18-1929
Chicago, Illinois
Victor
22300-B
Here Comes My Ball and Chain (1)


(J. Fred Coots / Lou Davis)

11-27-1928
Chicago, Illinois
Victor
21812-B
Here Comes My Ball and Chain (3)
Vocal refrain by J.L. Sanders


(J. Fred Coots / Lou Davis)

11-27-1928
Chicago, Illinois
Victor
21812-B
High Fever


(Joe Sanders)

12-8-1926
Chicago, Illinois
Victor
20461
Hong Kong Dream Girl


(George E. Springer / Harry Barris)

8-7-1925
Camden, New Jersey
Victor
19754-B
I Ain't Got Nobody
Vocal refrain by Carleton Coon – Joe Sanders


(Roger Graham / Spencer Williams)

12-25-1927
Chicago, Illinois
Victor
20875-A
I Can't Realise
(You Love Me)
Vocal refrain by C.A. Coon and J.L. Sanders)
7-27-1925
Camden, New Jersey
Victor
19852-B
I Know You're Lying
(But I Love It!)
Vocal refrain by J.L. Sanders


(Dave Oppenheim / Sam H. Stept)

3-24-1932
Chicago, Illinois
Victor
22969-B
(I'm Just Wild About Everything) And Especially You
Vocal refrain by Joe Sanders


(Abner Silver / Al Sherman / Al Lewis)

7-24-1929
Chicago, Illinois
Victor
22077-A
Indian Cradle Song
Vocal refrain by C.A. Coon


(Mabel Wayne / Gus Kahn)

5-29-1928
Chicago, Illinois
Victor
21562-A
I Need Lovin'
Vocal refrain by J.L. Sanders
(James P. Johnson / Henry Creamer)
12-17-1926
Chicago, Illinois
Victor
20408-B
I Want To Go Home
Vocal refrain by Joe Sanders


(Joe Sanders)

3-24-1932
Chicago, Illinois
Victor
22972-B
I'm Gonna Charleston Back To Charleston
Vocal refrain by C.A. Coon and J.L. Sanders


(Roy Turk / Lou Handman)

6-13-1925
Camden, New Jersey
Victor
19727-B
Is She My Girl Friend?
Vocal refrain by J.L. Sanders


(Jack Yellen / Milton Ager)

12-14-1927
Kansas City, Missouri
Victor
21148-B
Kansas City Kitty
Vocal refrain by J.L. Sanders


(Walter Donaldson / Edgar Leslie)

2-23-1929
Chicago, Illinois
Victor
21939-A
Keepin' Out Of Mischief Now
Vocal refrain by J.L. Sanders
(Fats Waller / Andy Razaf)
3-24-1932
Chicago, Illinois
Victor
22969-A
Lazy Waters
Vocal refrain by Carleton Coon


(Gus Kahn / Joe Sanders)

11-9-1924
Chicago, Illinois
Victor
19522-B
Let That Be a Lesson To You


(Isham Jones)

3-9-1932
Chicago, Illinois
Victor
22950-B
(Listen To The) Rhythm King


(Jo Trent / Joe Hoover)

12-12-1928
Chicago, Illinois
Victor
21891-B
Little Orphan Annie
Vocal refrain by J.L. Sanders


(Joe Sanders)

12-3-1928
Chicago, Illinois
Victor
21895-A
Lo and Behold
3-9-1932
Chicago, Illinois
Victor
22951-B
Louder and Funnier


(Joe L. Sanders)

12-13-1927
Kansas City, Missouri
Victor
V-38083-A
Louise, You Tease
12-21-1925
Chicago, Illinois
Victor
19958
Mine – All Mine
Vocal refrain by C.A. Coon and J.L. Sanders


(Ruby / Cowan / Stept)

12-13-1927
Kansas City, Missouri
Victor
21148-A
Mississippi, Here I Am
Vocal refrain by J.L. Sanders and C.A. Coon


(Arthur Sizemore / Bernie Grossman )

2-12-1929
Chicago, Illinois
Victor
21891-A
Moanin' For You
11-18-1929
Chicago, Illinois
Victor
22278
Moonlight and You
Vocal refrain by C.A. Coon and J.L. Sanders


(Sizemore / Russo / Alden)

11-9-1924
Chicago, Illinois
Victor
19525-A
Moon Dear


(Klein)

12-21-1925
Chicago, Illinois
Victor
19979
My Baby Knows How
Vocal refrain by J.L. Sanders


(Benny Davis / Harry Akst / Harry Richmond)

12-8-1926
Chicago, Illinois
Victor
20390-A
My Daddy's Dream Time Lullaby
Vocal refrain by C.A. Coon and J.L. Sanders


(Lou Herscher / George Keefer)

4-7-1924
Chicago, Illinois
Victor
19325-B
My Suppressed Desire
(From F.B.O. Picture, "Gang War")
Vocal refrain by Carleton Coon


(Cohen / Miller)

11-20-1928
Chicago, Illinois
Victor
21803-A
Night Hawk Blues
Vocal refrain by C.A. Coon and J.L. Sanders


(Joe L. Sanders)

4-5-1924
Chicago, Illinois
Victor
19316-A
Oh! You Have No Idea
Vocal refrain by C.A. Coon and J.L. Sanders


(Phil Ponce / Dan Dougherty)

5-29-1928
Chicago, Illinois
Victor
21501-B
On Revival Day


(Andy Razaf)

3-24-1932
Chicago, Illinois
Victor
22929
Oriental Love Dreams
Vocal refrain by C.A. Coon and J.L. Sanders


(Harry D. Kerr / Burnett / Miller)

4-6-1924
Chicago, Illinois
Victor
19325-A
Ready For The River
Vocal refrain by J.L. Sanders


(Gus Kahn / Neil Moret)

5-29-1928
Chicago, Illinois
Victor
21501-A
Red Hot Mama
Vocal refrain by C.A. Coon and J.L. Sanders


(G. Wells / Bud Cooper / Fred Rose)

4-6-1924
Chicago, Illinois
Victor
19316-B
Roodles


(Joe Sanders)

12-25-1927
Chicago, Illinois
Victor
20875-B
'Round My Heart
Vocal refrain by Joe Sanders


(Joe Young / Carmen Lombardo)

3-24-1932
Chicago, Illinois
Victor
22972-A
Show Me The Way
Vocal refrain by Joe Sanders
(Ted Lewis / Frank Ross / Benny Davis )
11-16-1924
Chicago, Illinois
Victor
19525-B
Sing a New Song
Vocal refrain by J.L. Sanders


(Ned Weaver / Milton Ager)

3-9-1932
Chicago, Illinois
Victor
22951-A
Sittin' Around
Vocal refrain by C.A. Coon


(Joe Sanders / Gus Kahn)

3-9-1926
Chicago, Illinois
Victor
20015-A
Sluefoot
Vocal refrain by C.A. Coon and J.L. Sanders


(Joe Sanders / Neil Moret)

12-13-1927
Kansas City, Missouri
Victor
21305-A
Smilin' Skies (1)


(Milton Samuels / Charley Straight / Walter Hirsch)

11-27-1928
Chicago, Illinois
Victor
V-38083-B
Smilin' Skies (3)


(Milton Samuels / Charles T. Straight / Walter Hirsch)

11-27-1928
Chicago, Illinois
Victor
unreleased
Some Little Bird


(Gillespie / McPhail / Van Alstyne)

3-21-1921
Chicago, Illinois
Columbia
A3403
Some Of These Days
Vocal refrain by C.A. Coon and J.L. Sanders


(Shelton Brooks)

11-13-1924
Chicago, Illinois
Victor
19600-B
Stay Out Of The South!
(If You Want To Miss A Heaven On Earth)
Vocal refrain by C.A. Coon and J.L. Sanders


(Harold Dixon)

12-14-1927
Kansas City, Missouri
Victor
21358-B
Sweepin' The Clouds Away
(From the Paramount picture, "Paramount on Parade")
Vocal refrain by C.A. Coon and J.L. Sanders


(Sam Coslow)

12-6-1929
Chicago, Illinois
Victor
22346-A
Tennessee Lazy


(Carleton Coon / Joe Sanders)

2-12-1929
Chicago, Illinois
Victor
21939-B
That's All There Is
Vocal refrain by C.A. Coon


(Harry M. Woods)

8-7-1925
Camden, New Jersey
Victor
19750-B
The Darktown Strutters Ball
Vocal refrain by C.A. Coon


(Shelton Brooks)

12-12-1929
Chicago, Illinois
Victor
22342-A
The Flippity Flop
(From the Paramount picture, "The Dance of Life")
Vocal refrain by Joe Sanders


(Sam Coslow / Leo Robin / Richard A. Whiting)

7-26-1929
Chicago, Illinois
Victor
22089-B
The Wail


(Joe L. Sanders)

12-14-1927
Kansas City, Missouri
Victor
21305-B
There's No One Just Like You
Vocal refrain by C.A. Coon and J.L. Sanders


(Joe L. Sanders)

4-6-1924
Chicago, Illinois
Victor
19357-A
Too Busy!
Vocal refrain by Carleton Coon


(Chester Cohn / Ned Miller)

6-27-1928
Chicago, Illinois
Victor
21546-A
Wabash Blues
Vocal refrain by C.A. Coon and J.L. Sanders


(Dave Ringle / Fred Meinken)

12-13-1927
Kansas City, Missouri
Victor
LPV-511
We Love Us
Vocal refrain by Joe L. Sanders


(Joe L. Sanders / Lee Moore)

11-29-1929
Chicago, Illinois
Victor
22304-A
What a Girl! What a Night! (1)


(Joe Sanders)

11-20-1928
Chicago, Illinois
Victor
unreleased
What a Girl! What a Night! (3)
Vocal refrain by Joe Sanders


(Joe Sanders)

11-20-1928
Chicago, Illinois
Victor
21803-B
What a Life!
(Trying To Live Without You)
Vocal refrain by J.L. Sanders


(Charlotte Kent / Louis Alter)

3-9-1932
Chicago, Illinois
Victor
22950-A
When You're Smiling


(Fisher / Goodwin / Shay)

1928
Chicago, Illinois
Victor

Who Wouldn't Be Jealous Of You?
Vocal refrain by J.L. Sanders


(Larry Shay / Haven Gillespie / George Frommel)

11-27-1928
Chicago, Illinois
Victor
21812-A
Who Wouldn't Love You?
8-7-1925
Camden, New Jersey
Victor
19754-A
Why Don't My Dreams Come True
Vocal refrain by C.A. Coon and J.L. Sanders


(John Flood / George E. Patton)

4-7-1924
Chicago, Illinois
Victor
19357-B
Yes Sir, That's My Baby


(Gus Kahn / Walter Donaldson )

7-27-1925
Camden, New Jersey
Victor
19745-A

| | |
| --- | --- |
| Artist | Instrument |
| Dewey Birge | Banjo, Guitar |
| Carelton Coon | Drums, Vocals |
| Rex Downing | Trombone |
| Eddie Edwards | Tuba |
| Floyd Estep | Saxophone |
| Pop Estep | Tuba |
| Bill Haid | Banjo |
| Clyde Hendrick | Trumpet |
| Elmer Krebs | Tuba |
| John Jarman | Mellotron |
| Hal McLean | Clarinet |
| Nick Mussolini | Trombone |
| Carl Norberg | Trombone |
| Bob Norfleet | Trombone |
| Bob Pope | Trumpet |
| Joe Richardson | Trumpet |
| Joe Sanders | Piano, Vocals |
| Harry Silverstone | Violin |
| Russ Stout | Banjo, Guitar |
| John Thiell | Saxophone |
| Harold Thiell | Saxophone |
| Joe Richolson | Trumpet |

The Coon-Sanders Nighthawks: "The Band That Made Radio Famous" by Fred W. Edmiston, McFarland & Company, 2003