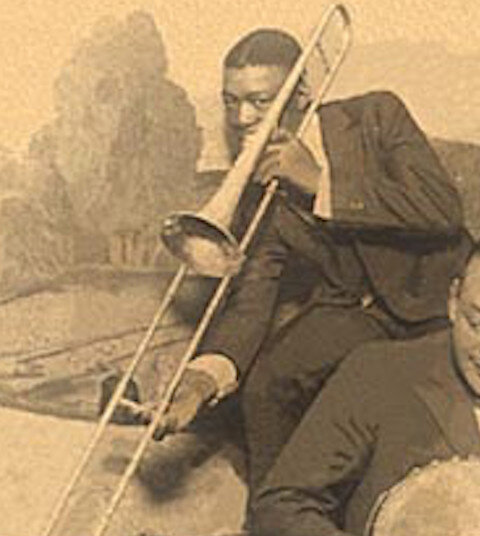 DePriest E. B. Wheeler (March 1, 1903 – April 10, 1998), born in Kansas City, Missouri, was the eldest son of Rev. William Henry Wheeler, a minister associated with the Methodist Conference, developed a deep interest in music, as well as a early fascination for marching bands, which resulted in his traveling and playing with the Hagenbach Wallace Circus for two seasons.
In 1920, after graduating from high school, DePriest officially began his professional career by joining a small group of musicians from St. Louis and Kansas City. They formed a 7-piece orchestra, in which Depriest played trombone with a vibrant skill. The group called themselves the "Robinson Syncopaters."
The Robinson Syncopaters toured Missouri and Illinois and traveled throughout the western part of the United States and Canada on the Keith and Pentages Vaudeville Circuit. Around 1925, the orchestra reached New York City and began to play in the Cotton Club. "Robinson Syncopaters" took the name of the Cotton Club Orchestra, and remained at the club until 1928, when they were replaced by the the Duke Ellington Orchestra. After the former Cotton Club Orchestra returned from their tour with the Ethel Waters Show, the name of the group was changed to the Missourians.
When an exciting young singer named Cab Calloway was hired to front the band, he took the group over and changed the name to the Cab Calloway Orchestra. DePriest E. B. Wheeler toured Europe with the famous orchestra, which had begun making recordings and movies. He continued to play with "the Cab Calloway Orchestra until 1941.
In 1942, DePriest volunteered for the Navy Band, and was stationed in the South Pacific. After being honorably discharged in 1945 at the Great Lakes Navel Center, he returned to New York City where he lived with his wife, Lila, his son Hugh Paul, and his daughter Lila Lee. He continued his music by playing annually in the 369th Armory Band, and joining in various parades.
After honing his musical skills through a four-year course of study in Theory and Composition at the Hartnett Music School, DePriest extended his musicology through writing various musical compositions. In 1996, DePriest received a Citation Of Honor for Excellence in Music from the former Borough President of Queens, the Honorable Claire Shulman. On April tenth, 1998, DePriest E, B Wheeler died at the age of 95. He had lived at 186-20 Dormans Road, St Albans, New York, with his wife, Lila, until she died in 1966. After her death, he lived alone, cooking, shopping, exercising, playing his horns and enjoying the gift of life. —by Lila W. Duckett