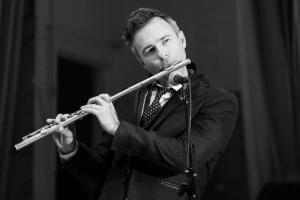 Randy Reinhart and John Allred challenge each other on trombone. (photo by Lynn Redmile Photography; www.lynnredmile.com)
Related: The 54th Annual Chicken Fat Ball
Jazz Travels with Bill Hoffman
Last March I reported on the Chicken Fat Ball, an annual early January event in Maplewood, NJ. This year's installment was held on January 7, and I was glad I returned. The format was a little different this year. Instead of two separate themes, this year there were none. Well, not quite none; the first set consisted entirely of tunes made famous by Louis Armstrong. But the second and third sets featured songs from a variety of composers while not straying from the trad jazz idiom. The honorees this year were Chuck Slate and Derrick Smith, two important figures in the early history of the New Jersey Jazz Society. The event was, as usual, produced by Al Kuehn and Don Greenfield, who've been involved from the very beginning in 1964 (though there was an extended hiatus before the Ball was revived in 1994).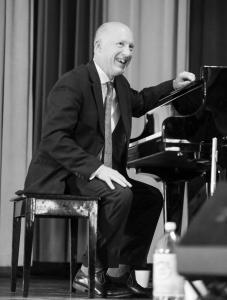 There were seven musicians on the bill this year, all of whom have impeccable trad jazz credentials. They were: Randy Sandke on trumpet; Randy Reinhart on trumpet, cornet, and trombone; John Allred on trombone; Adrian Cunningham on clarinet, tenor sax, and flute; and a rhythm section of Conal Fowkes on piano, Nikki Parrott on bass, and Paul Wells on drums.
Randy Sandke led the first set, with all tunes showcasing the full ensemble but with numerous solos. "Basin Street Blues" had a two-trombone feature, with Randy Reinhart joining John Allred. In spite of having seen him literally dozens of times, I don't recall ever seeing Randy on trombone. Other songs in this set included "Struttin' With Some Barbecue," "Someday You'll Be Sorry," "New Orleans," and "Muskrat Ramble." Adrian rendered a Bobby Darin-like vocal on "Mack the Knife."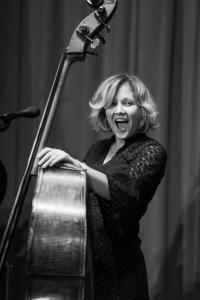 Adrian was the nominal leader of the second set, but he brought in the others individually to introduce their tunes. Adrian also sang the set's opening number, "When I Grow Too Old to Dream." He has a very ingratiating voice and I hope he will employ it more often. That was followed by three numbers featuring the rhythm section with only the tune leader playing the melody. Nikki's tune paid tribute to her dog Humphrey on his birthday. So we got a variation of the Irving Berlin ballad: "I've Got My Dog to Keep Me Warm." Note that this day was the last in a week-long string of exceptional cold in the Northeast, so the song was timely, whether sung as written or not. Conal's solo was Ellington's "Black Beauty." The most unusual offering in the set was Paul accompanying Adrian on flute on "Caravan." Adrian's staccato blowing gave the song an entirely original treatment. Unknown to me, it appears on Adrian's newest CD, which I bought there. The set ended with an ensemble treatment of "Some of These Days."
The shorter third set, with Randy Reinhart leading, contained three extended numbers: "In a Mellow Tone," "Skylark," which showcased Nikki and Conal, and "Creole Love Call" with two trombones. A rousing "Tea for Two" closed the concert.
About 200 people filled the former Women's Club auditorium, a building now owned by Maplewood Township. As invited and encouraged, many patrons brought lunch or other refreshments, creating something of a cabaret atmosphere but without the dim lights. Fine wines and other upscale noshes were observed, making for a festive chilly winter afternoon. The event also has the sponsorship of the New Jersey Jazz Society. While several jazz festivals have folded in the past year, this one-day event remains popular, and I hope it will continue for many years.
---
Readers may find more of Lynn Redmile's photographs of The 2018 Chicken Fat Ball at this link: lynnredmile.com/chickenfatball2018
---
Jazz Travels columnist Bill Hoffman is a retired management consultant and is the concert booker for the Tri-State Jazz Society in greater Philadelphia. Bill lives in Lancaster, PA.
---
This is what our print edition feels like. If you want good news to read with your morning coffee, order a print subscription. You'll get full online access to our archives, web extras, and our next issue will arrive at your door. Online only access to all of our original material is also available! Support Hot Jazz Journalism- Subscribe
Subscription Options
---
Or get the Print Edition with Online Access. To get the print edition of The Syncopated Times use this Paypal link. After you pay you will be issued a coupon for free online access.