The whole company of musicians at The 54th Chicken Fat Ball on stage near the end of the concert (from left): Rossano Sportiello (piano), Jason Anick (violin), Adrian Cunningham (clarinet), Nicki Parrott (bass), Olli Soikkeli (guitar), Henry Acker (guitar), Aaron Kimmell (drums), Max O'Rourke (guitar), Chuck Redd (vibes). Despite the name of the event, this is the furthest thing in the world from schmaltz. (Photo by Lynn Redmile; www.LynnRedmile.com)
Related: From the 2018 Chicken Fat Ball, Maplewood New Jersey
Jazz Travels with Bill Hoffman
The 54th Chicken Fat Ball took place on Sunday, January 8 at the former Women's Club in Maplewood, NJ, a well-to-do suburb about 20 miles west of New York City. Well, it wasn't actually the 54th, as there was an approximate 20-year hiatus in the event from the mid-70s until 1994. But with a run as long as this, who's counting?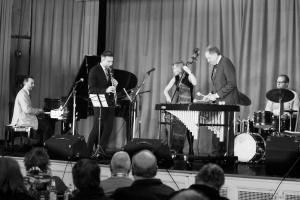 The CFB was the brainchild of Al Kuehn, who still runs it, and his friend Don Greenfield, both trad jazz lovers who lived in the area. Al is also a co-founder of the New Jersey Jazz Society, which has since adopted the event as one of its own. In 1964 Al and Don were talking about planning a jazz party. They happened to be in a deli in Irvington, an adjacent town, trying to come up with a name for the event. Don, looking down at the display counter that all delis have in order to tempt customers, saw a bowl of chicken fat among the trays of pastrami and cold cuts. The area has a large Jewish population, which is all you need to know as to why the chicken fat was there. Don said, "Why don't we call it the Chicken Fat Ball?" Nobody could come up with anything better, and the name has stuck. And why not? Nobody would steal it and it couldn't be confused with anything else. At the end of the concert, Al polled the audience about changing the name, and the overwhelming response was to keep it.
Early CFBs featured names like Lou McGarrity and Frank Foster. Now as then, the musicians come mostly from New York, but some come from farther away. This year's vibraphonist Chuck Redd is from Washington, DC, and guitarist Max O'Rourke hails from Vermont. This was the first CFB that I was able to work into my schedule, and it was a great one.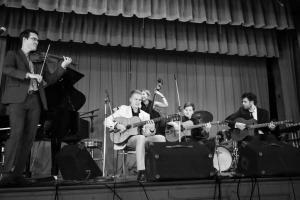 The ball highlighted two musicians—Benny Goodman and Django Reinhardt. The Goodman troupe was led by Adrian Cunningham, whose witty prose graces this newspaper and who is a regular in Vince Giordano's Nighthawks' front line in addition to leading his own band. In today's quintet were fellow Aussie Nikki Parrott on bass, Chuck Redd on vibes, Rossano Sportiello on piano, and Aaron Kimmel on drums. One could hardly wish for a stronger rhythm section. They performed ten tunes, drawn about equally from the small group numbers from the 1938 Carnegie Hall concert and Goodman's early 40s book. Highlights of the set were Nikki's feature and vocal on "Walking My Baby Back Home" and a most tasteful collaboration between Rossano and Aaron on "Moonglow." I have always found Rossano's playing delightful, fitting seamlessly with whatever environment he's in. Of course, there was the obligatory "Sing Sing Sing" to close the set, but not a rote re-creation of the version everyone knows.
The Django band was essentially the Rhythm Future Quartet, co-led by violinist Jason Anick and guitarist Olli Soikkeli. There were two more guitarists—Max O'Rourke, a RFQ regular, and Henry Acker. Nikki Parrott returned on bass, subbing for Greg Loughman. The band played seven numbers, including a couple by Django himself ("Daphne" and "Nuages" [Clouds, but not the tune of the same name written by Walter Donaldson and Gus Kahn]). The latter opened with a solo by Max, followed by an excellent improvisation by Jason. It was followed by a guitar trio on "Songe d'Automne" (Autumn Dream), on which 12-year-old—yes, you read that right—Henry ably held his own. Even without Henry, this band is so young that it takes three of them to equal my age (69).
After both bands played nearly one-hour sets, there was a shorter set combining the two, mostly featuring songs that Benny Goodman played and recorded, but undoubtedly Django also played them, too.
This year's CFB truly had an international flavor. Three of the nine musicians came from foreign countries—Adrian and Nikki from Australia, and Olli from Finland. Four, if depending on your viewpoint, you consider Chuck Redd's home of Washington, DC as a foreign country.
Not having been to any previous CFBs, I cannot compare this venue with any of the others in which it's been held. But Al Kuehn and the New Jersey Jazz Society seem happy with it. The hall is handicapped-accessible and was set up with tables to accommodate a little over 200 people. Patrons were invited to bring their own food and drink, and many did. I saw few vacant seats. An ample stage is at one end, and a balcony, that evidently was not in use this day, at the other. Acoustically, the music sounded fine from where I sat. If there is a downside to this location, it's a minor one—the parking. Certainly there is sufficient capacity for a crowd of 200; it just requires walking a block or two. There is a free municipal lot behind the building, and free on-street parking within a several-block walk. The commuter rail station is a few blocks away, which gives carless New York City residents an easy way to get there.
All three music sets deservedly drew standing ovations. Twenty seventeen is off to a good start at New Jersey Jazz Society events. The next one is the Pee Wee Russell Stomp on March 26. When you read this, there may still be time to order tickets. Go to www.njjs.org for details.
---
Jazz Travels columnist Bill Hoffman is a retired management consultant and is the concert booker for the Tri-State Jazz Society in greater Philadelphia. Bill lives in Lancaster, PA.
---
This is what our print edition feels like. If you want good news to read with your morning coffee, order a print subscription. You'll get full online access to our archives, web extras, and our next issue will arrive at your door. Online only access to all of our original material is also available! Support Hot Jazz Journalism- Subscribe
Subscription Options
---
Or get the Print Edition with Online Access. To get the print edition of The Syncopated Times use this Paypal link. After you pay you will be issued a coupon for free online access.