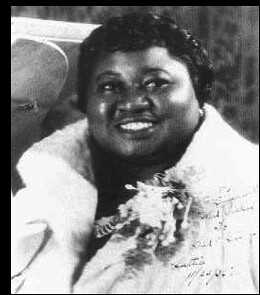 Hattie McDaniel
(June 10, 1893 – October 26, 1952)  is best remembered today for her role in the film
Gone With The Wind
. She won the 1939 Academy Award for best supporting actress for her portrayal of Mammy. She was the first African-American to be nominated for, and to win, an Academy Award.
Hattie got her start in show business with her family's traveling Baptist tent show. As a teenager Hattie performed in the touring vaudeville outfit the Spikes Brothers Comedy Stars on the West Coast. In the early 1920s she was singing with George Morrison's Orchestra in Denver and toured the Pantages and Orpheum vaudeville circuit with them. She made her recording debut in 1926, but never had much of a recording career, she was a popular live act.
As the Blues craze died out in the late 1920s, Hattie started appearing in theatrical productions. She was in the touring company of "Showboat" from 1929 to 1930. In the early 1930s she settled in Hollywood and began her career as a film actress. She was almost always cast as a maid, cook, nanny or servant of some sort, these being the only types of roles available for African-Americans at the time. She appeared in over seventy movies during the 1930s. After winning the Academy Award in 1940 she continued to be cast as the maid for the rest of her life. She famously quipped "I'd rather make $700 a week playing a maid than earn $7 a day being a maid."
Despite the poor quality of her roles Hattie continued to open doors that had previously been closed to African-American performers. In 1947, she starred on radio in "The Beulah Show". In 1951, the show moved to television, and Hattie starred in the first three episodes until she discovered she had cancer and became too ill to continue working. She died of breast cancer in 1952.


Title

Recording Date

Recording Location

Company

Any Kind Of Man Would Be Better Than You
3-1929
Chicago, Illinois
Paramount
12790
Brown-Skin Baby Doll


(Hattie McDaniel)

6-1926
Kansas City, Missouri
Meritt
2202
Dentist Chair Blues (Part 1)
(duet w/Dentist Jackson)


(Bryant / LaMoore)

3-1929
Chicago, Illinois
Paramount
12751-A
Dentist Chair Blues (Part 2)
(duet w/Dentist Jackson)


(Bryant / LaMoore)

3-1929
Chicago, Illinois
Paramount
12751-B
Destroyin' Blues
12-14-1927
Chicago, Illinois
Okeh
unissued
I Thought I'd Do It


(Hattie McDaniel)

12-14-1927
Chicago, Illinois
Okeh
8569
Just One Sorrowing Heart


(Hattie McDaniel)

12-14-1927
Chicago, Illinois
Okeh
8569
Quittin' My Man Today


(Hattie McDaniel)

6-1926
Kansas City, Missouri
Meritt
2202
Sam Henry Blues
(Hattie McDaniel / Richard M. Jones)
12-14-1927
Chicago, Illinois
Okeh
unissued
That New Love Maker Of Mine
3-1929
Chicago, Illinois
Paramount
12790


Hattie: The Life Of Hattie McDaniel by Carlton Jackson, Madison Books, 1990