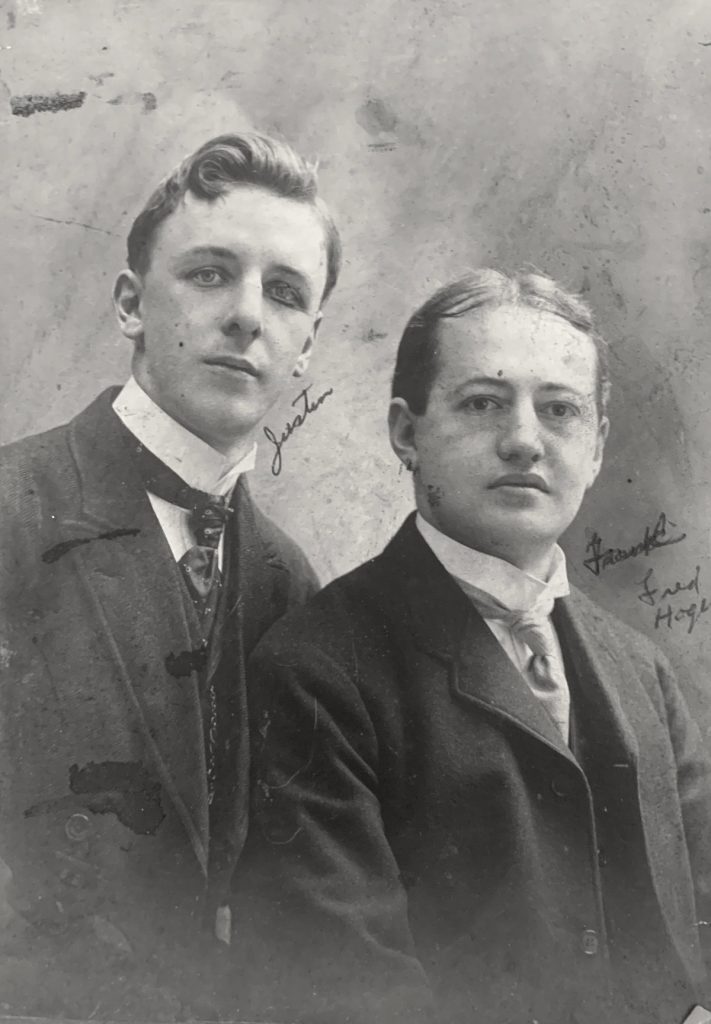 Justin Ring had a lot of love to give in his long life, as he cared for so many close friends and family. Later in life he was devoted to his wife, kids, and dog, but aside from his ideal home life, there was someone else in his life. When going through the dozens of photographs that he and his family kept, it is clear that he considered his old songwriting partner Fred Hager as family.
In the 1940s, Ring wrote a six-page essay entitled, "The Gift of Love" and therein he tells the story of his life through only his family members. With this in mind, it can come across rather curious that Hager is mentioned at all, and given nearly three quarters of a page for that matter. According to Hager's papers, it is most likely that Ring met Hager at the beginning of 1899, as Hager poorly typed up these words on a three page long autobiography:
The following winter I was engaged by an inventor of a new type of disc records called the Zon-O-Phone and supplied him with various singers, instrumental singers[sic] for experimental players. I continued my band concerts for a number of seasons and after I finished my contract with Zon-O-Phone, my band was engaged for both the Edison and Columbia and I had earned the name of the record talent pioneer.
His typed page is difficult to read, as he seems to have written it in a hurry. He didn't specify the date in the snippet above, but based on period phonograph publications, he is referring to the founding of the Universal Talking machine company at the beginning of 1899. Ring spoke of Hager this way:
At that time there wasn't any musicians union so I joined Samuel Gompers who was very active in the cigar makers union. A few years later, I became a charter member of Local #802 of the Musicians Union. I continued to play at Ebling's Casino where I met Fred Hager, another musician who was to play a very important part in my future life. Fred played violin. Some nights after work we would gather the boys for a jam session and they would not go home until morning.
Ring mentions earlier in the essay that he began working for Ebling's casino a little while before Hager came in and picked him up. No date is given, but it was most likely very early 1899 that they met. At first their connection seemed purely professional, as Hager's job was to put him on the talent staff for the new Zon-O-Phone company. Soon, however, he noticed that Ring could be more than just an accompanist and assistant for the orchestra.
They grew closer after they made their first few batches of violin and piano records for the Zon-O-phone, as these records most likely invoke the atmosphere of the long joyful nights that Ring so fondly recalled in his essay. There is something especially lively and emotional about them, more so than many instrumental solo recordings before 1910. These records were not just dear to Ring, but also to Hager, as he kept two pages from Zon-O-phone catalogs with his very detailed descriptions of these same records. Hager got rid of most of his collection over time, but he kept these two pages till the very end; clearly these records were dear to him.
Hager not only put Ring in the house orchestra for Zon-O-Phone and Columbia, but he was also assigned a chair in Hager's American Military Band, who played every weekend on the grand lawn at Bronx park in the summers of 1898 to 1903. In this band Ring played reed instruments, more specifically clarinet and saxophone. He also was given a lot of the paperwork Hager had trouble with, that being writing and copying all the arrangements for the concerts.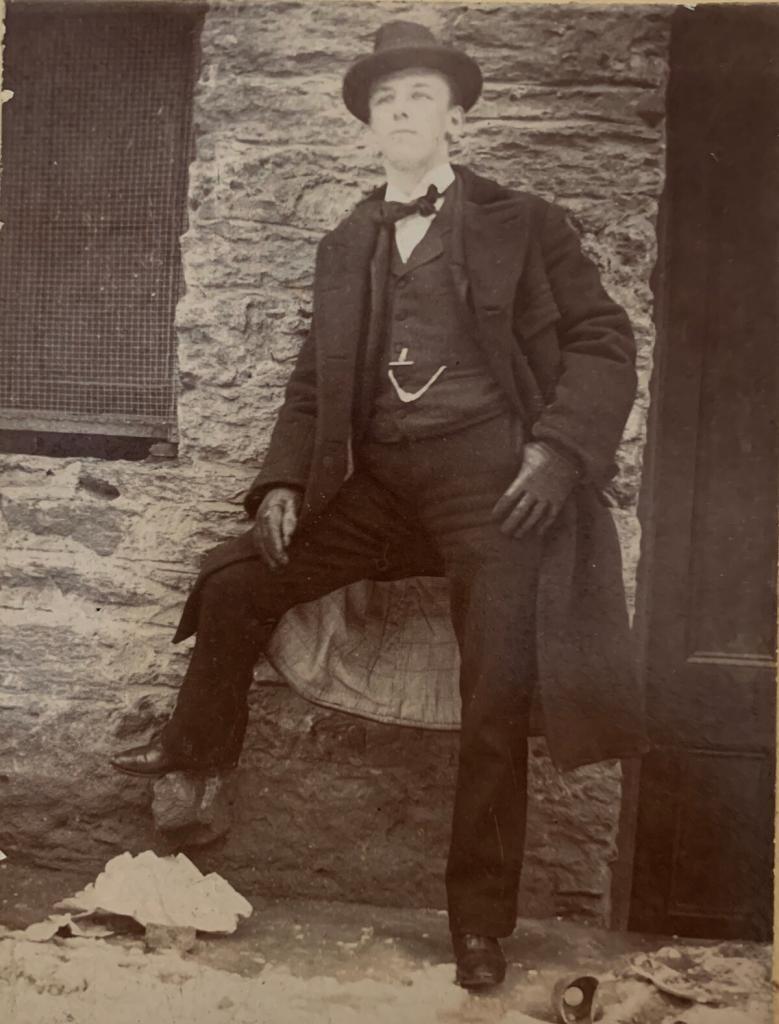 The two of them became well known about the park and the Morrisavia neighborhood in which they lived. Considering their renown at the park, it is curious that Ring saved two unlabeled portraits of himself that look to have been taken at that very park. Just like Hager, Ring kept all his papers in order, and every paper was labeled. These two high quality mounted portraits include no writing on them, no dates, nothing whatsoever. Based on the timing and location, it is quite possible that Hager took the pictures. They are simple portraits taken at two different times of the year (one in summer and another in winter), and could be a crucial peek into Ring and Hager's relationship.
After so many decades, Ring kept these two mysterious portraits that were obviously not taken by a professional photographer, but were cherished enough to have finely mounted. After those portraits, little is found regarding Hager in Ring's papers until the early 1920s, as family had become more important to Ring by that time.
Ring and Hager seem to have had a falling out of some kind in 1905, as they did not work together outside of the recording lab until Hager formally left Zon-O-Phone in mid-1906. Ring went in 1906 to work for the Seminary music publishing company, the one that published most of Scott Joplin's rags while he was in New York. He did not see Hager officially again until the middle 1910s (however it is likely that they met a few times while Hager was working in Boston for the Phono-cut in 1910 to 1912). In the early 1910s, Hager wasn't on Ring's mind nearly as much as a few years before.