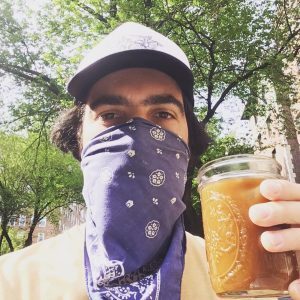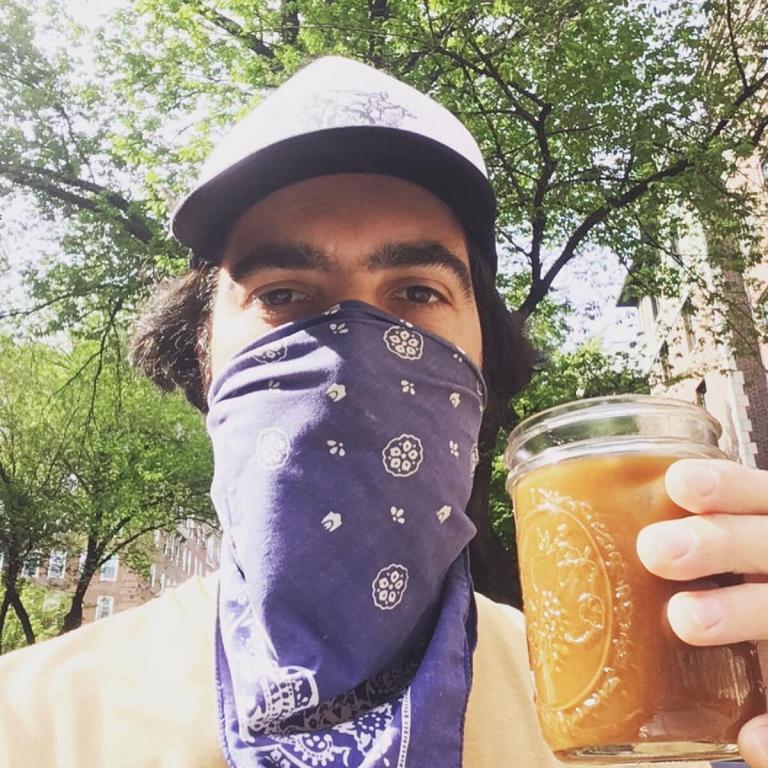 Guitarist Jared Engel is one of the more than 175,000 residents of New York City, considered the epicenter of the COVID-19 epidemic in the United States, who have tested positive for the coronavirus. He now reports that "I have recovered, and though the doctors shy from using the word 'immune' I scored very high for COVID-19 antibodies, which means that I can't be reinfected as long as the antibodies remain in my blood.
"I'm waiting to hear from Mount Sinai Hospital to schedule my actual plasma donation. I'm also researching ways to donate to undocumented immigrants in NYC. While we may be getting stimulus checks, unemployment payments, and various other federal grants, they don't qualify for any of these, yet they are an indispensable part of the fabric of our community. I know several other people who are donating a portion of their weekly unemployment payments to causes such as this."
Musicians may have been shut down from maintaining their normal schedules since early March, but many have stepped up to take on positive acts that have benefited their fellow citizens in helping them get through this difficult time. It may be visiting fire stations or retirement communities on a regular basis, entertaining their neighbors, or assisting overwhelmed medical personnel and front liners in some way. Peter Ford, leader of the Baby Soda Jazz Band, for example, volunteers at Terence Cardinal Cooke Health Care Center providing music and Skype assistance to patients.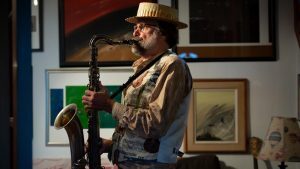 Multi-instrumentalist Scott Robinson cuts and shapes the wire inserts for the face masks that his wife Sharon is sewing for a New Jersey group that has donated upwards of 17,000 masks to area hospitals and police. He also called Eddy Davis who had the virus during his final days in the hospital and played his C melody saxophone over the phone. "He was obviously touched very deeply, and he wept profusely. I'm glad I was able to do that for him."
Chicago-based trombonist Russ Phillips responded to this random survey: "Volunteering has always been impossible for me because of a constantly changing schedule. But now…I have no schedule! So I contacted the local Meals on Wheels organization and started delivering meals to local residents who need the help. I'm currently driving three days a week for them, delivering meals to 10 or 12 households each day. It's virtually non-contact, and the recipients really appreciate it."
Teaching on the Internet
Calling the need to cancel the annual school tour of the Stan Kenton Legacy Orchestra "one of the saddest things I've ever had to do," trumpeter Mike Vax, sequestered in his Arizona home, said. "I decided that since I couldn't go anywhere, I might as well try to help young musicians on-line. I have come into the 21st century, so to speak, and learned how to use Zoom. I have given free workshops to a few school jazz bands, some private lessons to younger and older students, and hosted a 'Band-on line Party' with the SKLO members, which was really fun."
To ease the financial burden of no income for an extended period of time, the Louis Armstrong Educational Foundation has announced a grant program to provide $1,000 grants to be awarded to up to 1,000 New York City area musicians.
Musicians across the country have given of their musical talents in terms of morale building. Many—too numerous to mention individually—schedule regular virtual concerts on line. In the Big Apple, tubist David Ostwald tells us, "Every night at 7 pm, there's cheering, air horns, applause, whoops-and-hollers on my block (and many others here in NYC and around the world) to honor the health-care workers. I've been playing my tuba out the window onto 87th Street every night since April 2nd.
"A couple of weeks ago I realized that there is a whole different celebration going on at the other end of my apartment building where there is a courtyard in the next block. When I'm done in the front, I run to the back and play again out the window into the courtyard. So I have two steady gigs now, collectively lasting six minutes, and both paying more than any amount of money I could ever imagine. Well, maybe not any, but close to it."
The venerable cornetist Ed Polcer has been doing the same thing at his apartment complex over in Brooklyn. "Every night people start arriving with their children and dogs just before 7. There's dancing and socializing—six feet apart, and a true feeling that we're all in this situation together. Occasions like this are a real bonding of people throughout the New York metropolitan area and in other major cities. We always end by playing America the Beautiful."
Grass Roots Entertainment
Out is California, Rob Verdi reports, "I've been doing live performances out of my open garage three days a week. I've noticed an increase in families walking around the neighborhood, and I thought it would be fun to share the joy of music as they passed by. Everyone is so starved for live entertainment that some of my neighbors are arriving with chairs and enjoying my sax accompanied by backing tracks.
"I have also been playing on the back balcony of a senior retirement community close to my home. It's on a man-made lake, and folks come out in their boats and enjoy the music while easily observing social distancing rules. They shout requests, and the interaction is such a welcome thing right now.
"Finally, I've been participating in an educational program set up by Meloney Colllins, our singer with the Side Street Strutters, called Send-A Song. When someone needs a pick-me-up, they can request a song be sent to them or a friend or loved one. It's just a way of giving a little back and making folks feel good. And it makes me feel good as well."
Staying Positive and Upbeat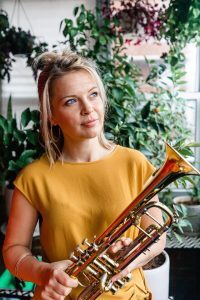 Wishing everyone good health and happiness, Bria Skonberg stated, "It's a time of new experiences, and I'm grateful for the ability to adapt, which likely is influenced by my jazz training. I've been hosting livestreams on Facebook on Wednesdays (4 pm EST) and Sundays (11 am EST), which has been really fun. I keep it light and interactive, which is what I'm craving most these days.
"It amazes me how many people tune in from around the globe, which just solidifies that we're all in this together—and will emerge from it together. Otherwise I've been enjoying making collaborative projects with artists I wouldn't have crossed paths with regularly through the Acapella app. I've done a handful of short solo performances with conversation for hospital and care groups and am grateful I have that to give."
Bassist Richard Simon signed up to be a Red Cross volunteer to distribute food in South Los Angeles, but had to decline when his wife developed flu-like symptoms, necessitating his remaining at home. He nevertheless has maintained his unique sense of humor that always brightens one's day, even under the most dire circumstances. He reports. "I'm still practicing, looking for a few good notes, and de-composing. Some tunes I'll be ready to play when we're again all cleared for social mingling and public performances include:
– "I COVID the Waterfront"
– "Lysol You Last Night (and Got that Old Feeling)"
– "Soap Gets in Your Eyes"
– "The Mask You Made is Over"
– "Lung Ago and Far Away"
– "A Test-kit, A Task-kit"
– and of course, the old favorite, "Vaccinatin' Rhythm"
Not to be outdone by the Bearded Wonder, drummer Ray Templin has composed the 2020 Quarantine Rag, An Infectious Two-Step, "a catchy little ditty that reflects what life is like every day at my house." Its constant repetition of monotonous chords elicited the comment, "It should be played ad nauseam and will certainly keep people a good six feet away."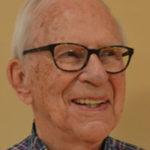 Lew Shaw started writing about music as the publicist for the famous Berkshire Music Barn in the 1960s. He joined the West Coast Rag almost thirty years ago and has been a guiding light to this paper through the two name changes since then as we became The Syncopated Times.  47 of his profiles are collected in Jazz Beat: Notes on Classic Jazz. Volume two, containing profiles from 2013-2016 will be available on Amazon soon. He taps his extensive network of connections and friends throughout the traditional jazz world to bring us his Jazz Jottings column every month.