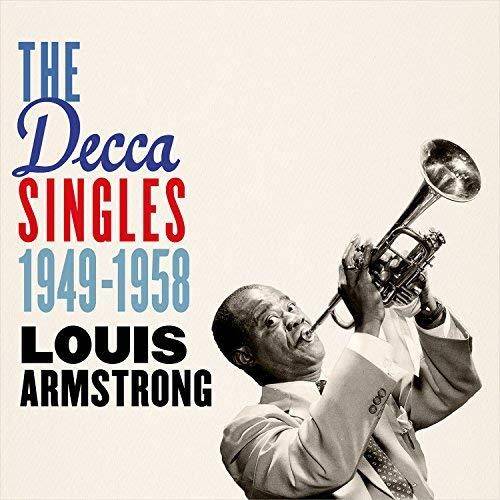 Nights at the Turntable March 2017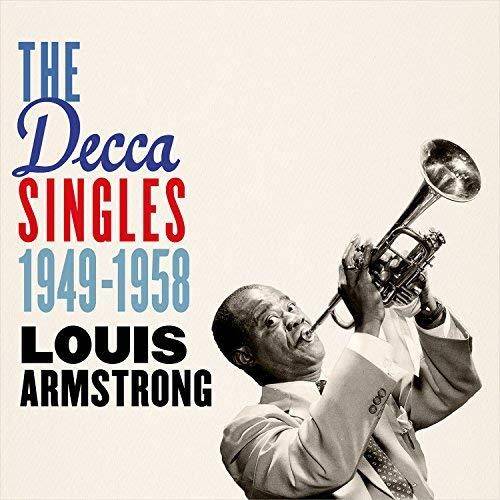 LOUIS ARMSTRONG'S DECCA SINGLES
46 years after his death, Louis Armstrong is still the most famous, beloved and influential figure in jazz history. As an innovative trumpeter, singer and comedic personality, his influence can be heard (at least indirectly) on a countless number of performers today. Armstrong's recordings from the 1923-28 period, which include his work with King Oliver's Creole Jazz Band, the Fletcher Henderson Orchestra, and his own Hot Five, Hot Seven, and Savoy Ballroom Five groups are universally acclaimed. His brilliant sound, chance taking solos and ability to "tell a story" in his improvisations (often with a beginning, middle and end) changed jazz. Armstrong's singing, which used similar phrasing as his horn but with his own very distinctive voice, showed other vocalists how to swing lyrics even when they are not scatting. Satch's early big band recordings (particularly those of 1929-31) are also highly rated.
While continuing to be famous during the Swing Era, Louis Armstrong was a bit overshadowed by other bandleaders (including Benny Goodman, Duke Ellington, and Count Basie), and his own orchestra mostly functioned as a backdrop for his singing and playing. However, after he broke up his big band and formed the Louis Armstrong All-Stars in 1947, his popularity and fame grew year-by-year. Armstrong may have no longer been the most modern pacesetter in jazz, but few could deny the beauty of his tone, his swinging phrasing, and the joy that he always conveyed in his music.
While there would be criticism of Louis Armstrong in the 1950s for some of his set solos and his onstage joking, his playing and singing were actually very much at their prime. On record, it is easy to divide Armstrong's work of the era into two overlapping categories. His performances with his All-Stars ranged from the predictable to the inspired, falling between New Orleans jazz/Dixieland and Swing. At the same time for the Decca label, Armstrong often recorded pop songs with orchestras, having several hits including "That Lucky Old Sun," "Blueberry Hill," "Cést Si Bon," "La Vie En Rose," and "A Kiss To Build A Dream On." While the latter performances were sometimes scorned by jazz fans, they almost always contained bits of jazz, particularly in Armstrong's phrasing and his brief trumpet solos. And the most popular of his orchestral records eventually found their way into Armstrong's repertoire with his All-Stars. Truth is, he had become a musical institution, one who could co-exist with jazz and pop performers alike, always stealing the show. Satch was famous and influential in areas that few other jazz musicians could ever reach.
Louis Armstrong's The Decca Singles 1949-58 contains all 95 of his singles for the label, the first time they have ever been fully collected in one collection. It is unfortunately only available as a download although hopefully someday this music will come out as a three-CD set. Ricky Riccardi, the author of What A Wonderful World: The Magic Of Louis Armstrong's Later Years (Penguin/Random House) and a champion in reassessing Armstrong's work of the 1950s, helped persuade those in charge at Universal to release all of the singles together. Riccardi contributed very extensive and definitive liner notes which number over 50,000 words. His notes are available separately as a free download at www.dippermouth.blogspot.com
The recordings contain 21 selections by the Armstrong All-Stars, 34 songs on which Satch is joined by an orchestra arranged by Sy Oliver (including two duets apiece with Billie Holiday and Ella Fitzgerald), 17 numbers with the Gordon Jenkins Orchestra (which sometimes includes strings and background singers), a duet ("Gone Fishin') with Bing Crosby, several with Gary Crosby, four additional collaborations with Ella (arranged by Dave Barbour), two with Louis Jordan's Tympany Five, and a variety of selections arranged by Toots Camarata, Benny Carter, Sonny Burke and Jack Pleis. While some of the numbers from 1956-58 were originally part of album projects, most of the earlier selections were performed during two or four-song sessions designed specifically to be released as 45's. On tunes ranging from "Panama" to "Dream A Little Dream Of Me," Christmas songs and covers of pop hits (including "Your Cheatin' Heart") to "The Dummy Song," "The Younger Generation," and "Struttin' With Some Barbecue," Louis Armstrong displays his versatility and consistency throughout the intriguing package.
While not every performance is a classic, they all have their moments of interest and many are memorable. Any true Louis Armstrong fan, particularly those already owning his most essential recordings, will want to acquire The Decca Singles 1949-58.
The Decca Singles 1949-58 (Universal Classics, 95 selections, TT = approximately 5 hours) 
ELLA AT 100
This April 25 marks the centennial of Ella Fitzgerald's birth. The First Lady Of Song was at one of the turning points in her career when she met producer Norman Granz in the late 1940s. While Ella had become quite popular while with Chick Webb's Orchestra during 1934-39, culminating in her hit record of "A-Tisket, A-Tasket," and she had a successful solo career going, she would reach an entirely different level under Granz's guidance. Granz booked her on his Jazz At The Philharmonic tours, he became her manager, and in 1956 he lured her away from the Decca label when he started Verve to record her in first-class settings.
The Ella Fitzgerald Set is a disc that has Ella's documented performances with Jazz At The Philharmonic (JATP) from 1949, 1953 and 1954. While all of the music has been out before, several of the performances were only previously available on out-of-print box sets. Most of the songs are from two sets that took place September 17-18, 1949 at one of the greatest of all of the JATP recordings. JATP featured jams by some of the top swing and bop soloists and that year's roster was unbeatable: trumpeter Roy Eldridge, trombonist Tommy Turk (who was very good despite his obscurity), altoist Charlie Parker, both Lester Young and Flip Phillips on tenors, pianist Hank Jones, bassist Ray Brown, drummer Buddy Rich and Ella. The instrumental performances are available on other releases.
The horn players join Ella Fitzgerald for rousing versions of "Flying Home," "How High The Moon," and "Perdido." with Phillips, Parker and the fiery Eldridge making the strongest impressions. Other highlights include Ella's versions of "Robbins' Nest," a boppish "Old Mother Hubbard" "Basin Street Blues" (on which she does an expert imitation of Louis Armstrong) and "Lady Be Good." Her performances are very jazz-oriented and feature some of her most inventive scat-singing.
The selections from 1953 and 1954 are more conventional but still quite enjoyable. Accompanied by a quartet, Ella is in fine form on such songs as "Why Don't You Do Right," "Lullaby Of Birdland," and a humorous "Hernando's Hideaway."
This is a worthy addition to Ella Fitzgerald's huge discography.
The Ella Fitzgerald Set (Verve B002461202, 22 selections, TT = 68:36) www.universalmusic.com
BANU GIBSON'S BY MYSELF
It has been too long since Banu Gibson recorded. One of the major New Orleans jazz and swing singers of the past 30 years, Banu's performances with her seven-piece Hot Jazz group have always been a joy, and she is way overdue to document the version that featured Dan Levinson and Randy Reinhart. While continuing to be active, Banu has gone through some rough times in recent years with her husband Buzz Podewell passing away in March 2013 from lung cancer. While not being overly downbeat, her CD By Myself (recorded in September 2014 but just released in late 2016) was obviously recorded with her husband in mind.
The music is primarily comprised of ballads (although some are taken at a medium-tempo) with a few of the titles having to do with lost love including "Meet Me Where They Play The Blues," "Stop The Sun, Stop The Moon (My Man's Gone")," and "My Buddy." Banu Gibson is featured in an intimate setting with guitarist Larry Scala, bassist Ed Wise, and sometimes the cool-toned tenor and clarinet of Rex Gregory. Pianist Tom McDermott guests on a pair of duets with the singer.
Despite her loss, Banu's interpretations of such songs as "Waitin' For the Train To Come In," "They Say," "Never In A Million Years," and Dave Frishberg's "Our Love Rolls On" are a bit optimistic. Banu Gibson's voice is still in its prime, she always swings, and she digs into the meanings of the lyrics with deep understanding of the words she interprets.
While By Myself is a very different Banu Gibson CD, it is easily recommended as are her earlier recordings.
By Myself (Swing Out 115, 15 selections, TT = 58:05) www.banugibson.com
THE BLACK EAGLE JAZZ BAND – 27 YEARS AGO
The New Black Eagle Jazz Band has been a joyful fixture in New England ever since its formation in 1971. Veteran New Orleans bassist Chester Zardis was part of their first record date and, in Nov. 1990, a reunion performance was scheduled at the Rhode Island School of Design. Unfortunately the 90-year old Zardis passed away the previous August so the event became a tribute concert. The night was filmed and there were hopes that it would air on PBS, but it was soon forgotten.
24 years later, in 2014, the band was alerted to the existence of the video. They were quite surprised by how well it was filmed and the quality of the music. It is now being released as The Last Of The First which Zardis was called since he was among the very last surviving New Orleans musicians of the pre-1950 era. In reality, other than a few moments, the Chester Zardis tribute part of the concert is de-emphasized in favor of some rather exciting music.
Six regular members of the New Black Eagle Jazz Band (cornetist Tony Pringle, trombonist Stan Vincent, pianist Bob Pilsbury, banjoist Peter Bullis, Eli Newberger on tuba, and drummer Pam Pameijer) are joined by clarinetist Tommy Sancton and the late tenor-saxophonist Brian Ogilvie. Clarinetist Billy Novick is absent but Sancton, who was on that first album with Zardis, and Ogilvie (who was with the group in 1981) are perfect substitutes. Sancton's high note clarinet work often shares solo honors with Pringle.
The proceedings begins with a 7 ½ minute version of "In The Sweet Bye & Bye" that is filled with short solos and many stirring ensembles. After "Careless Love," Alan Lomax (1915-2002) is a guest, talking a bit about Chester Zardis and New Orleans jazz, and taking a surprisingly effective unaccompanied vocal on a bluesy number.
The great Danny Barker (1909-1994) is the other guest. He talks about his life in humorous fashion and then, after saying "I don't have a voice like Frank Sinatra, but I'm brave," he performs a classic version of "Gambler's Blues" (his own twist on "St. James Infirmary") and "You've Got The Right Key But The Wrong Keyhole." He is also featured on "Nevertheless" and "C.C. Rider" and sits in on most of the other band pieces including "Girl Of My Dreams" and "Shake It And Break It." Barker clearly enjoyed himself and the playing of the other musicians that night.
The remaining selections are a heated rendition of "Yearning," "Out In The Cold Again" (which has both Ogilvie and Sancton interacting with each other on clarinets), "The Old Rugged Cross" and an explosive rendition of "Panama" that serves as the perfect close to the highly enjoyable concert. The crowd (which was filled with quite a few young people) was rightfully enthusiastic throughout the night.
This is a great DVD, one that classic jazz fans will love.
The Last Of The First (New Black Eagles DVD 102, 13 selections, TT = 98:57) www.blackeagles.com
JAZZ CLASSIC OF THE MONTH
Kid Ory was one of the most important early jazz trombonists, leading legendary early groups in New Orleans during the 1910-20 period that had such sidemen as King Oliver, Johnny Dodds, and Louis Armstrong. After sending time in Los Angeles (where his 1922 recording session was the first ever by a black New Orleans jazz band), Ory was in Chicago for much of the 1920s, appearing on timeless records with Oliver, Armstrong (the Hot Five), Dodds, and Jelly Roll Morton. He spent much of the 1930s outside of music, made a comeback in the early 1940s, and led his own Creole Jazz Band for over 15 years.
While Ory's later groups at various times had Mutt Carey, Andrew Blakeney, Teddy Buckner or Henry "Red" Allen in the trumpet slot, I have always thought that Alvin Alcorn was the perfect trumpeter for the band. His mellow tone, strong musicianship and ensemble playing matched perfectly with Ory's percussive approach. Alcorn was with Ory during 1954-56 and their four recordings for the Good Time Jazz label are classic.
The Legendary Kid features the band in late 1955 when Ory and Alcorn were joined by clarinetist Phil Gomez, pianist Lionel Reason, rhythm guitarist Julian Davidson, bassist Wellman Braud (who had been with Duke Ellington 25 years earlier), and drummer Minor Hall. In addition to the fine solos, this edition of the Creole Jazz Band was superb in ensembles. On such numbers as "Mahogany Hall Stomp," "There'll Be Some Changes Made," "At The Jazz Band Ball," and "Shine," Alcorn, Ory, and Gomez make for a perfect frontline, playing ensembles that are clean, full of fire and build up slowly. Listen to how they climax each ensemble chorus during the final two bars, and how they explode together as they lead into the final chorus.
The other Good Time Jazz releases, Kid Ory's Creole Jazz Band 1954, Creole Jazz Band 1955, and the extensive Kid Ory's Favorites (which was originally a two-Lp set), are also highly recommended, but The Legendary Kid is the perfect place to start in exploring Kid Ory's swinging brand of New Orleans jazz..
The Legendary Kid (Good Time Jazz GTJ-12016, 10 selections, TT = 43:00)
---
In every issue of the Syncopated Times, this monthly column features reviews of CDs by classic jazz, 1920s and '30s, New Orleans jazz, Swing and Dixieland artists, covering both vintage greats and some of today's top musicians. Be sure to send me a copy of your CDs (to Scott Yanow, P.O. Box 1220, Lake Hughes, CA 93532) if you wish to have your recordings reviewed. If you are a musician and need liner notes, bios or press releases, feel free to drop me a line at [email protected] In addition CHOPS, a series of 50 Jazz Trivia Quizzes totaling 1,000 multiple-choice and true/false questions covering all eras of jazz, is available from me as a PDF for $25 via Pay Pal at the same E-mail address.
---
Online Only
For Online Only Access without delivery of the print paper sign up below.
Subscription Options
---
Print Edition
 If you'd like the PRINT EDITION, (12 monthly issues) use the following PayPal link. After your payment is complete you will be allowed to create an online account. You will receive the next mailed copy, usually shipping around the 22nd of the month. See a PDF Sample Here.