Off the Beaten Tracks December 2018
This is the Off The Beaten Tracks column as it ran in the December 2018 issue of the print edition. Beneath each review is a link so you can share it as an individual post.
---
Tex Wyndham and The Rent Party Revellers
At the Jazz Band Ball: The Sources of Dixieland Jazz
Just a Little While to Stay Here: A Guide to Dixieland Jazz
Tex Wyndham has played, studied, and written about Dixieland Jazz for over 50 years. He has won awards for his writing and his bands, the Red Lion Jazz Band, and The Rent Party Revellers, have been popular at major festivals for decades.
The three discs in this set contain two educational performances recorded at Dixieland festivals in the late 1980s. This educational series was unique in trying to give casual fans and non-musicians a foundation for listening to Dixieland so that they could expand their appreciation of the music and ultimately enjoy it more. They were also, of course, as lighthearted and fun as the music they covered.
The recordings were made by the late Dixieland advocate Dan Polin, and for one show the band was unaware that they were being recorded or what would come from those recordings. Despite that primitive set up the sound quality is good and importantly the listener is able to recognize in each track what they have just been told to listen for.
In the early 90s the shows were released on cassette tapes, and in that format, they "sold like hotcakes" for several years. I came upon rave reviews of these tapes in a listserv archive from the early days of the internet.
Tex Wyndham went on to write a column about all aspects of Dixieland for the West Coast Rag. It was the most popular part of that paper, so much so that under the new name, The American Rag, all seven years of the column were republished beginning in the late 90s. Called Texas Shout, we are currently running the columns one every ten days on SyncopatedTimes.com. They are also available as a book: Texas Shout: How Dixieland Jazz Works.
He has also continued to give in-person classes sharing his broad knowledge of Ragtime, Early Tin Pan Alley & Dixieland Jazz first as part of an Elderhostel program and more recently at sold-out Road Scholar retreats held several times a year on Jekyll Island Georgia.
As I mentioned earlier, these tapes were the only educational offerings of their kind, and because they still are the decision was made to republish them in the CD format. The discs consist of a track of commentary followed by a performance by the band. The ability to jump around, repeat a track, or repeat a bit of commentary, without messing with a cassette's forward and rewind functions makes the CDs even more useful than the tapes were.
They are a perfect listen for a long road trip, maybe on your way to a festival, and they stand up well to repeated listening. The interactions of the band are entertaining and the music is top notch. The educational segments are informative without being overly technical. If you want to start learning more about Dixieland music in an entertaining way this set is a great place to start.
For the 3 CD set send $20  plus $2.95 shipping to Tex Wyndham, P.O. Box 831, Mendenhall, PA 19357, Phone (610) 388-6330. On request, Tex will autograph the inner sleeve and add a personalized note (be sure to tell him to whom the note should be addressed).
View and Share this Review as a Separate Post
---
Shotgun Jazz Band- Live at The Dew Drop
The Shotgun Jazz Band should be familiar to many of our readers. Of the many traditional jazz bands on the New Orleans scene, their sound has the most appeal to Dixieland die-hards. Marla Dixon, who leads the band on trumpet, as well as the bass player Twerk Thomson, originate from Toronto where Dixon led traditional jazz bands and Thomson was mentored by The Happy Pals, a long-lived Dixieland outfit.
The band features bluesy no-nonsense ensemble playing and some of the best instrumentalists of their generation including Ben Polcer (piano, trumpet), Charlie Halloran (trombone), Tom Fischer (Clarinet, Alto Saxophone), British transplant James Evans (C-Melody Saxophone, Clarinet), and John Dixon (six string Banjo).  It's no surprise that Marla Dixon led the band to rave reviews at the Tribute to Bix Fest, and is returning there next spring with the all-female Shake 'Em Up Jazz Band.
The show featured on this, their seventh release, was recorded at the Dew Drop Dance and Social Hall in March of 2017. It was a night when everything clicked and fans lucky enough to be present immediately began calling for the set to be released as an album.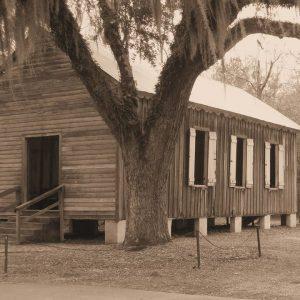 The venue itself may have been their inspiration. The Dew Drop is a simple Barge Board structure in Mandeville, Louisiana on the North Shore of Lake Pontchartrain. Built in 1895 by the Dew Drop Social and Benevolent Association, in its heyday Kid Ory, Bunk Johnson, George Lewis and other legends of black New Orleans jazz frequently played the building after finishing resort engagements in the wealthy white communities nearby. There is evidence that Louis Armstrong played the hall before heading north and returned there as a respite from his fame twenty years later.
The building seats no more than 100, on simple wooden benches, and much of the audience picnics on the lawn outside. They can hear the music fine as the hall has no windows, only shutters to close on the rain. Even after invisible restorations to shore up the structure the scene remains nearly unchanged from over 100 years ago.
The album captures performances of a number of songs the band frequently plays live but has yet to put on an album.  Jelly Roll Morton's "Sweet Substitute" was a highlight for me. "Hesitation Blues" gets groovy with Ben Polcer on piano and vocals. "Original Dixieland One-Step" and "Root Hog or Die" put the whole band on display.
The Shotgun Jazz Band is a must-listen group for traditional jazz fans, support them by buying an album (if you have a thing for live albums this is the one) and look for them in festival line-ups.
View and Share this Review as a Separate Post
---
Champian Fulton: The Stylings of Champian 
Champian Fulton seems much too young to be on her tenth album, but here it is. A double-CD of swinging music highlighting her artful vocals. She is joined on piano by Hide Tanaka on bass, Fukushi Tainaka on drums, and her father Stephen Fulton on flugelhorn. This is her working quartet in New York, and their familiarity shows on the album.
Champian grew up in a musical family in Oklahoma, performing her first paid gig at ten years old. She was mentored by Clark Terry and settled in quickly to the New York jazz scene, holding down a two year residency at Birdland in the mid-2000s.
[See our July 2017 cover profile: Champian Fulton: A Fresh Breath of Swing]
The Stylings of Champian features 14 deeply explored tracks, totaling 85 minutes of music. She highlights compositions from some of her piano favorites including Oscar Peterson and Cedar Walton. The extended time given to each performance gives the album a live, though superbly recorded, feeling. I appreciated the instrumental interplay, notably between drum and bass, the surprising use of a bow at one point snapped me to attention. This is a classy and professional album honoring the heart of mainstream jazz.
Fulton's delightful piano is highlighted on "Martha's Prize" and "Blues Etude". Her place in any contemporary list of great vocalists is secured by her interpretations of the clever "Lollipops and Roses", and "I Didn't Know What Time It Was."
View and Share this Review as a Separate Post
---
The River Raisin Ragtime Revue with Daniel Washington
Nobody is Somebody
WW Records 2018
The River Raisin Ragtime Revue is a theater orchestra based in Michigan that produces exciting performances of America's original popular music. They have curated concerts and CDs around themes such as the works of new ragtime composer Reginald R. Robinson. They also host an annual Ragtime Extravaganza! with musicians, dancers, actors and visual artists in a vaudeville style revue.
The orchestra is led by co-founder William Pemberton, the tubist, who also narrates many performances and since the retirement of William R. Hays has served as music director. Hayes was behind the orchestration of much of their new album Nobody is Somebody. The title is a reference to Bert Williams who became a widely known star, a somebody, after the success of his song "Nobody."
Williams was the starting point in choosing music for this program mixing spirituals and popular songs from turn-off-the-century black composers. In addition to Williams they perform works from H.T. Burleigh, J. Rosamond Johnson, Robert Hood Bowers, George Walker, and others.  Some of the songs were originally part of African-American led stage productions, such as Abyssinia, that were trying to push theater beyond the tropes of minstrelsy. Some were recorded at the time by their composers, and others not recorded by anyone until years later.
The titles are not performed as they would have been in their original context. Instead, this mix of secular and sacred is raised up as the American heritage it is and presented in Bass-Baritone vocals by Daniel Washington. The result is a classy CD honoring the songs and their authors reminiscent of mid-century patriotic concerts by Paul Robeson.
The difference between those efforts and this is the greater focus on orchestration, the music is lively and full behind Washington's powerful articulation, and these songs, such as "Under the Bamboo Tree", have never before been treated as high points of American art. The album is most effective where it is most unique. The spirituals are well done and moving, but not surprising. The serious presentations of popular music, however, capture the deeper significance of lyrics often thought of comically. The extensive liner notes which address the racial circumstance in which the songs were composed help put these songs in context and give them their own spiritual weight. Williams and Walker's "It's all going out" is a marvelous example of this.
This is a worthwhile album for anyone with an interest in turn of the century popular song or the African American composers trying to create a uniquely American music in the years ahead of jazz.
View and Share this Review as a Separate Post
---
Henry Acker: 14
2018 Modern Artist Records
Henryacker.com
Syncopated Times readers were introduced to guitarist Henry Acker back in March of 2017 by our Jazz Travels writer Bill Hoffman. Bill discovered Acker at The Chicken Fat Ball, an annual traditional jazz event in Maplewood New Jersey, and sat him down for an interview. At the time Acker was just 12 years old.
In the interview, Acker describes the family background that set him on a musical path:
"I come from a family of a lot of talented musicians. There were ten siblings in my grandmother's family and they all played well. Most of them were jazz players. The family reunions were big jam sessions. I had some great uncles who were horn players in some of the big bands in the 40s."
He grew up in the Boston area where his father, Victor Acker, and uncle Dana Acker, both Berklee alums, are part of a jazz trio. It was during their preparation for a French-themed show that Henry was exposed to the music of not just Django Reinhardt but the many Gypsy Jazz guitarists that have followed him. He feels particularly inspired by  Biréli Lagrène. Acker has played at several festivals, appearing with many notables of the Gypsy Jazz community and the traditional jazz scene more generally. In the interview with Bill Hoffman he runs off their names like star players on a baseball team.
He became enamored with not only the technical proficiency on display but the fun the greatest musicians seemed to be having on stage. He has a natural ear for catching the playful humor in a solo, and an exuberance about making those connections. As he put it in the interview:
"I love these guys because they are incredible players who also are able to make the music very beautiful and at the same time throw in some very funny stuff if you are listening hard enough. You never know what they are going to sneak into their solos."
This joy in making music is on display in his new album 14.  Along with his father, he is joined in a quartet with Frank Vignola on Guitar and Nicki Parrot on Double-Bass. They play 15 standards of Gypsy jazz, mostly at a high tempo, bringing out the fun angles inherent in songs like "After You've Gone", "Caravan", and "Song D'automne." I especially enjoyed the treatment of "You'd Be So Nice To Come Home To" which opens with a rhythm suggesting rock before passing into a series of inspired interactions between musicians clearly enjoying each other's company.
One other comment from the interview is worth repeating:
"Some people say that I am a prodigy. I don't know if that is true. I work very hard and practice every day." 
View and Share this Review as a Separate Post
---
The Joint is Jumping
Jeff Barnhart Plays Fats Waller with the Galvanized Jazz Band
In Concert at Music Mountain August 11, 2018
www.galvanizedjazz.com
The Galvanized Jazz band has been playing together for 47 years, and many of them were over a decade into playing Dixieland already when the band formed. Among the dozens of frequent and famous guests the band has hosted Jeff Barnhart stands out as a friend to the band.
The GJB has played a summer concert at Music Mountain for 27 years running. Jeff Barnhart was with them at the very first one in 1992 and he was with them again this August.
Music Mountain, in Falls Village Connecticut, has been hosting a summer chamber music series for 89 years.  They liven up their offerings with Dixieland from the GJB and other opportunities for jazz performers. 
At this show the Galvanized Jazz Band is guest trombonist Craig Grant along with Fred Vigorito on cornet, Russ Whitman on clarinet and saxophones, Art Hovey on bass and tuba, and Bob Bequillard on drums. Linda Vigorito narrates the show which was a tribute to the music of Fats Waller.
The Waller theme gives Barnhart a chance to stretch his fingers and he keeps the band rolling while providing welcome vocals on a number of the familiar tunes on display. The show is piano led but the band responds in kind with hot brass and steady rhythms to please every ear. I'm a sucker for a tuba solo, and Art Hovey nails it.
The live sound is clear, and the audience respectful. The narration grabs your attention between tracks and gives you the feeling of having a table up front. Highlights include vocals on "Lulu's Back In Town" and a beautiful instrumental version of "Black and Blue".
No strangers to recording, www.galvanizedjazz.com features 28 currently available CDs from the band and a number that are no longer in print. Conveniently there is a master song list to help you find one with your favorites.
View and Share this Review as a Separate Post
---
Art Hovey wrote a great personal essay for the paper earlier this year: Multi-Generational Jazz
See also our review of two other GJB Albums: Galvanized Jazz Band Plays Ellington With That Old Tuba
---
Online Only
For Online Only Access without delivery of the print paper sign up below.
Subscription Options
---
Print Edition
 If you'd like the PRINT EDITION, (12 monthly issues) use the following PayPal link. After your payment is complete you will be allowed to create an online account. You will receive the next mailed copy, usually shipping around the 22nd of the month. See a PDF Sample Here.