Paul Howard's Quality Serenaders as a name may mean little to European enthusiasts, perhaps because only one side "
New Kinda Blues
" was ever released outside of America at the time. Such names as Lawrence Brown, the trombonist, Lionel Hampton the drummer (and on "
Moonlight Blues
", "
Stuff
", "
Cuttin' Up
" and "
California Swing
" he is the vocalist) and Reginald Foresythe are at once familiar to us.
Brown was soon to join Duke Ellington and stay in his band for many years; Hampton joined Benny Goodman's Quartet as a vibraphonist par excellence in 1936, and played drums on several Goodman sides in the later 1930s, while Foresythe came to London in 1933 and for some years produced very forward-looking compositions, scored for a most unusual assortment of woodwinds against a standard rhythm section.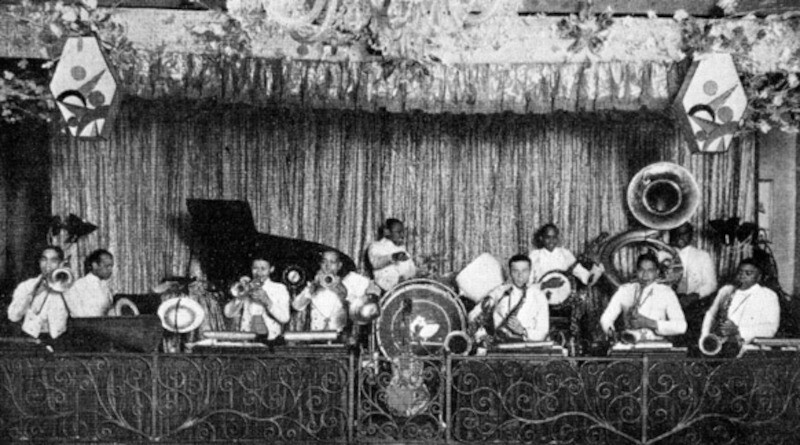 The quality of the Quality Serenaders, however lies in their arrangements by their lead saxophonist, Charlie Lawrence, who composed most of their recorded repertoire, although the brilliant Alex Hill, who died before he was thirty, wrote the score of "Quality Shout". Trumpeter George Orendorff was an exciting soloist. Open or muted, he drives the band along with an attack that never becomes frenzied.
by Brian Rust (from the liner notes of Jazz In California 1923 to 1930 on Timeless Records)
If you would like to order the Timeless Records' CD of Jazz In California 1923 to 19301 you can do so direct from Timeless Records.

Title

Recording Date

Recording Location

Company

Burma Girl


(Charlie Lawrence)

7-25-1930
Culver City, California
Victor
LPM-10117
California Swing


(Earl Thompson)

4-30-1930
Culver City, California
Victor
23354
Charlie's Idea


(Charlie Lawrence)

4-28-1929
Culver City, California
Victor
38070-B
Cuttin' Up


(Charlie Lawrence)

4-30-1930
Culver City, California
Victor
23420
Gettin' Ready Girl


(Charlie Lawrence?)

7-25-1930
Culver City, California
Victor
23420
Harlem


(Charlie Lawrence)

4-30-1929
Culver City, California
Victor
23354
Moonlight Blues


(Charlie Lawrence)

4-28-1929
Culver City, California
Victor
V-38068-A
New Kinda Blues


(Charlie Lawrence)

4-30-1930
Culver City, California
Victor
22660-A
Over Night Blues (4)


(Charlie Lawrence)

4-29-1929
Culver City, California
Victor
V-38070-A
Over Night Blues (5)


(Charlie Lawrence)

4-29-1929
Culver City, California
Victor
V-38070-A
Quality Shout
(Alex Hill)
4-29-1929
Culver City, California
Victor
V-38122-A
Stuff – Stomp
Vocal refrain by Lionel Hampton


(Harvey O. Brooks)

4-29-1929
Culver City, California
Victor
V-38122-B
The Ramble


(Charlie Lawrence)

4-28-1929
Culver City, California
Victor
V-38068-B

| | |
| --- | --- |
| Artist | Instrument |
| Harvey Brooks | Piano |
| Lawrence Brown | Trombone |
| Reginald Foresythe | Piano |
| Lionel Hampton | Drums, Vocals, Piano |
| Paul Howard | Clarinet, Alto Saxophone, Leader |
| Skip Jackson | Tuba |
| Charlie Lawrence | Clarinet, Alto Saxophone, Arranger, Composer |
| George Orendorff | Trumpet |
| Earl Thompson | Trumpet |
| Lloyd Reese | Clarinet, Alto Saxophone |
| Charlie Rousseeau | Guitar |
| Thomas Valentine | Banjo, Guitar |