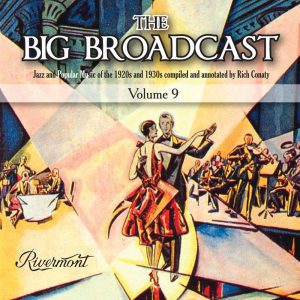 Rich Conaty has hosted his weekly radio show The Big Broadcast since 1973, featuring jazz, dance music and singers from the 1920s and '30s. Since 2006 he has compiled and written the extensive liner notes for a reissue series for the Rivermont label that is also titled The Big Broadcast. In recent times, Vols. 9-11 have been released. Programmed in chronological order, the typical CD in this program begins in the early 1920s or earlier, working its way to the mid-1930s and concluding with selections from a rare radio broadcast. Each set includes an informative and colorful 20-page booklet that discusses each selection.
Volume 9 starts with a piano solo by Felix Arndt from 1914 ("Desecration Rag" which turns a few classical themes into ragtime) and includes among its highlights Fletcher Henderson's "Do Doodle Oom" from 1923, Jan Garber's early jazz group playing 'What Do I Care What Somebody Said," Snook and his Memphis Stompers romping on "Sweet Georgia Brown," very rare versions of "Constantly" and 'Casa Loma Stomp" from the Casa Loma Orchestra, and Red Nichols' intriguing rendition of "Rockin' In Rhythm."
While none of the performances are common, particularly rare are Irene Taylor's previously unreleased rendition of "I Must Have That Man," an unknown test pressing by Irving Aaronson's Commanders, Fred Astaire singing "I've Got You On My Mind" with Leo Reisman's Orchestra, and Nina Mae McKinney performing a filmed but unused song from the 1929 movie Hallelujah, "If You Want My Love, You Gotta Do More Than That."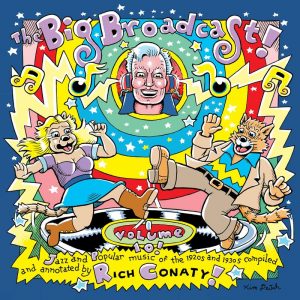 On all of the volumes in this valuable series, Rich Conaty balances sweet orchestras with the hot, dance bands and more freewheeling groups. While some of the CDs have a few more commercial arrangements with vocals and a little less jazz than I would prefer, each disc contains material that early jazz collectors will want. Volume 10 has a real oddity, a version of "I Found A Million Dollar Baby" from 1926 that has little in common with the better known song of the same name from five years later despite both featuring lyrics by Billy Rose. Also noteworthy is one of Annette Hanshaw's rarest recordings, a fine version of "Crying To The Moon" that had eluded being reissued. Other highlights include Bernie Cummins' "When You're With Someone Else," Nat Shilkret's "Why Can't You," Claude Hopkins' "Minor Mania," and pianist Joe Sullivan's "My Little Pride And Joy"
The Big Broadcast Volume 11 overall is the strongest jazz set of this trio. Of the singers, Lizzie Miles is in strong form on 1924's "My Pillow And Me," Peggy English (who deserves a full CD of her recordings) is delightful on "Then I'll Be Happy," and Gene Austin does a fine job on "Someday Sweetheart." The other high points include the Rhythm Maniacs' "Baby – Oh Where Can You Be" (a song worthy of being revived), the first-ever vocal recording of "Stardust" (Scrappy Lambert with Ben Selvin's Orchestra in 1931), a test pressing by Al Rinker's otherwise unrecorded trio and "Tea For Two" by Jerry Johnson's Orchestra.
The Big Broadcast Volume 9 (Rivermont BSW 1161, 26 selections, TT = 75:56)
The Big Broadcast Volume 10 (Rivermont BSW 1163, 25 selections, TT = 78:39)
The Big Broadcast Volume 11 (Rivermont BSW 1165, 26 selections, TT = 76:42)
Also see Scott Yanow's review of The Last of Rich Conaty's Big Broadcasts