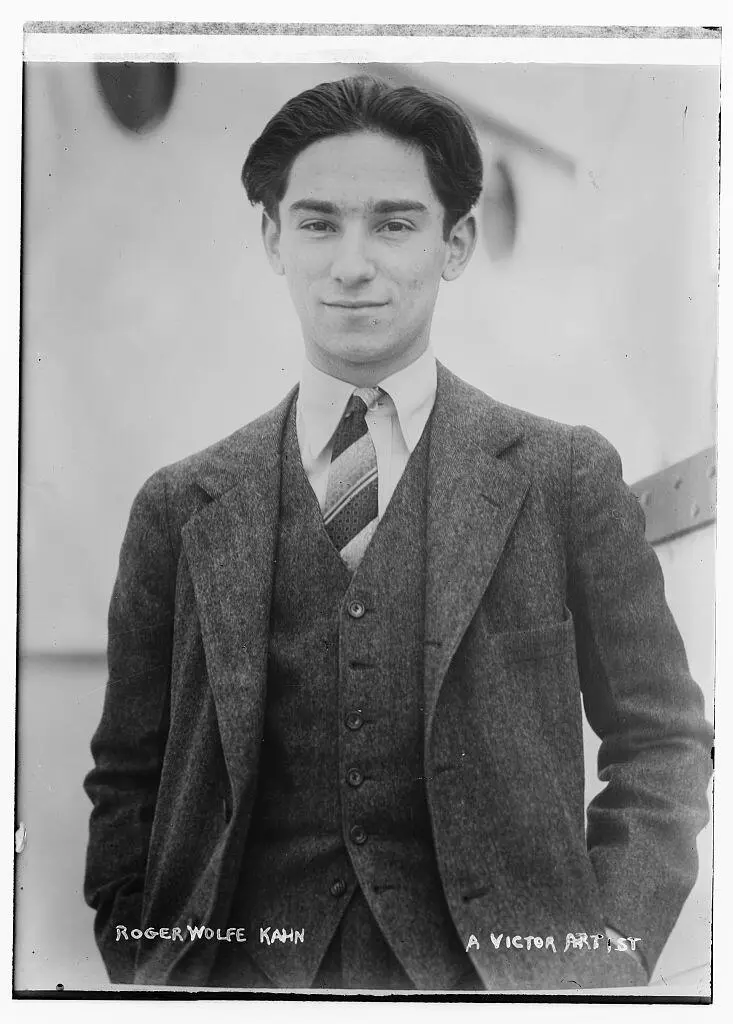 In 1923, a 16 year old teenager named Roger Wolfe Kahn (October 19, 1907 – July 12, 1962) bought the Arthur Lange Orchestra. He was able to do this because his father was Otto Kahn, a wealthy multi-millionaire banker, and he indulged his son's passion for music.
The newspapers at the time got a big kick out of this story because Otto Kahn was a well known patron of the arts and chairman of the Metropolitan Opera's board of directors. They found it humorous that he would stoop to fund a jazz band. But Roger Wolfe Kahn was a serious musician who could play eighteen different musical instruments.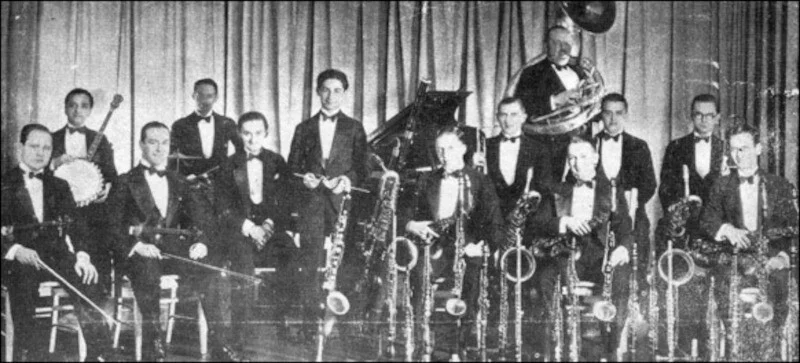 After rehearsing his twelve piece band for a year in the music studio in the Kahn family mansion on 5th Avenue in New York the band made it's debut at the Bohemian Cabaret in New York City in 1924. Roger conducted the band as well was playing saxophone and banjo. Kahn also released records under the name of Roger Wolfe Kahn and his Biltmore Orchestra.
Thanks to Bob Palmer for his help with this page.

Title

Recording Date

Recording Location

Company

A Cup Of Coffee, A Sandwich And You
(from Charlot's Revue")


(Rose / Dubin / Meyer)

12-15-1925
New York, New York
Victor
19935-A
A Little Birdie Told Me So
Vocal refrain by Johnny Marvin
1-25-1927
New York, New York
Victor
20493-A
A Room With A View
(From the Musical Comedy "This Year of Grace")


(Noel Coward)

11-28-1928
New York, New York
Victor
21801-A
A Shine On Your Shoes
(Introducing: Louisiana Hayride)


(Dietz / Schwartz)

11-9-1932
New York, New York
Columbia
2722-D
Adorable


(Tom Ford / Ray Wynburn)

7-8-1926
New York, New York
Victor
20106-B
All By My Ownsome


(Al Dubin / Roger Wolfe Kahn)

7-14-1927
New York, New York
Victor
20828-B
Among My Souvenirs


(Edgar Leslie / Horatio Nicholls)

11-23-1927
New York, New York
Victor
21084-A
An Old Guitar And An Old Refrain
(A Song From Spain)
Vocal refrain by Franklyn Baur


(Kahn / Black / Moret)

11-15-1927
New York, New York
Victor
21078-B
Another Night Alone


(Ted Koehler / Harold Arlen)

8-5-1932
New York, New York
Columbia
2697-D
Anything You Say


(Walter Donaldson)

9-7-1928
New York, New York
Victor
21675
At Peace With The World (waltz)


(Irving Berlin)

5-6-1926
New York, New York
Victor
20045-A
Baby – Fox Trot Lullaby
(from "Castles In The Air")


(Raymond Peck / Percy Wenrich)

1-25-1926
New York, New York
Victor
19942-B
Birdie


(Eugene Herbert)

3-10-1926
New York, New York
Victor
19996
Calling
Vocal refrain by Franklyn Baur


(Ernie Golden)

5-12-1927
New York, New York
Victor
20717-B
Cheer Up
(Good Times Are Comin')
5-1930
New York, New York
Brunswick
4826
Clap Yo' Hands


(George Gershwin / Ira Gershwin)

11-4-1926
New York, New York
Victor
20327
Cooking Breakfast For The One I Love
From the Motion Picture "Be Yourself"


(Rose / Tobias)

2-1930
New York, New York
Brunswick
4699
Crazy Rhythm
(From "Here's Howe!") (take 2)
Vocal refrain by Franklyn Baur


(Kahn / Caesar / Meyer)

4-12-1928
New York, New York
Victor
21368-B
Crazy Rhythm
(From "Here's Howe!") (take 3)


(Roger Wolfe Kahn / Caesar / Meyer)

4-12-1928
New York, New York
Victor
21368-B
Cross Your Heart
(from the Musical Comedy "Queen High")


(De Sylva / Gensler)

5-27-1926
New York, New York
Victor
20071-B
Dance, Little Lady
(From the Musical Comedy "This Year of Grace")


(Noel Coward)

11-28-1928
New York, New York
Victor
21801-B
Dark Night


(Grey / Storhart / Cugat)

5-1930
New York, New York
Brunswick
4811
Delilah


(Billy Rose / Fred Fisher)

1-11-1927
New York, New York
Victor
20464-B
Do What You Do!


(George Gershwin / Ira Gershwin / Gus Kahn)

7-30-1929
New York, New York
Brunswick
4479
Don't Ever Leave Me
11-1929
New York, New York
Brunswick
4614
Exactly Like You
Vocal refrain by Libby Holman


(Dorothy Fields / Jimmy McHugh)

3-5-1930
New York, New York
Brunswick
4742
Fit As A Fiddle


(Hoffman / Goodhart / Freed)

11-9-1932
New York, New York
Columbia
2726-D
Following You Around
1-11-1927
New York, New York
Victor
20573
Give Me The Sunshine
(From "Keep Shufflin'")
(Con Conrad / Henry Creamer / James P. Johnson)
3-14-1928
New York, New York
Victor
21425-B
Great Day


(Youmans / Eliscu / Rose)

11-1929
New York, New York
Brunswick
4600
Heigh-Ho, Everybody, Heigh-Ho


(Harry Woods)

4-1929
New York, New York
Brunswick
4374
Here I Am
(from "Sweet Adeline")


(Hammerstein 2nd / Kern)

10-1929
New York, New York
Brunswick
4583
I Can't Believe It's True
8-5-1932
New York, New York
Columbia
2695-D
I Can't Believe That You're In Love With Me
3-2-1927
New York, New York
Victor
20573
I'd Climb The Highest Mountain If I Knew I'd Find You


(Lew Brown / Sidney Clare)

5-6-1926
New York, New York
Victor
20045-B
If You're In Love You'll Waltz
(From RADIO picture "Rio Rita")


(Joseph McCarthy / Harry Tierney)

3-2-1927
New York, New York
Victor
20557-A
Imagination
(From "Here's Howe!")
Vocal refrain by Franklyn Baur


(Joseph Meyer / Roger Wolfe Kahn)

4-12-1928
New York, New York
Victor
21368-A
In A Bamboo Garden


(Walter Donaldson)

9-7-1928
New York, New York
Victor
21675
Into My Heart
From the Metro-Goldwyn-Meyer Production "In Gay Madrid"


(Turk / Ahlert)

5-1930
New York, New York
Brunswick
4811
It Don't Mean A Thing
(Duke Ellington / Irving Mills)
11-9-1932
New York, New York
Columbia
2722-D
Jersey Walk
(Introducing "The Little White House")
From the Musical Play "Honeymoon Lane"


(Eddie F. Dowling / James F. Hanley)

9-24-1926
New York, New York
Victor
20231-B
Just A Little Home For The Old Folks
11-9-1932
New York, New York
Columbia
2726-D
Just The Same


(Donaldson / Burke)

4-14-1927
New York, New York
Victor
20634-B
Lantern Of Love
(from "Castles In The Air")


(Raymond W. Peck / Percy Wenrich)

1-25-1926
New York, New York
Victor
19942-A
Lazy Day


(Kahn / Kahn)

5-4-1932
New York, New York
Columbia
2653-D
Let A Smile Be Your Umbrella
(On A Rainy Day)


(Kahal / Wheeler / Fain)

2-8-1928
New York, New York
Victor
21233
Liza (All The Clouds'll Roll Away)
7-30-1929
New York, New York
Brunswick
4479
Lonely Little Bluebird
6-26-1928
New York, New York
Victor
21510
Looking For A Boy
(from the Musical Comedy "Tip-Toes")


(George Gershwin / Ira George Gershwin)

1-13-1926
New York, New York
Victor
19939
Montana Call
From the M.G.M. Motion Picture "Montana Moon"


(Gary / Stothart)

3-1930
New York, New York
Brunswick
4750
Mountain Greenery
(From the "Garrick Gaieties of 1926")


(Rogers / Hart)

5-27-1926
New York, New York
Victor
20071-A
My Silent Love


(Sarese / Heyman)

5-4-1932
New York, New York
Columbia
2653-D
On The Sunny Side Of The Street


(Dorothy Fields / Jimmy McHugh)

3-1930
New York, New York
Brunswick
4742
One Summer Night
4-28-1927
New York, New York
Victor
20634
Pretty Little Thing


(Malie / Little)

4-1-1929
New York, New York
Victor
4374
Raquel Miller Medley
5-13-1926
New York, New York
Victor
20066-B
Russian Lullaby (waltz)


(Irving Berlin)

4-14-1927
New York, New York
Victor
20602
Say "Yes" Today


(Walter Donaldson)

2-8-1928
New York, New York
Victor
21507-B
Shady Lady
2-21-1929
New York, New York
Victor
21897
Sheltered By The Stars, Cradled By The Moon


(Waller / Young)

8-5-1932
New York, New York
Columbia
2697
She's A Great, Great Girl (take 1)


(Harry Woods)

3-14-1928
New York, New York
Victor
21326
She's A Great, Great Girl (take 2)


(Harry Woods)

3-14-1928
New York, New York
Victor
LPV-528
Somebody's Lonely
Vocal Chorus by Henry Burr


(Benny Davis / Joe Gold)

5-13-1926
New York, New York
Victor
20059-A
Sometimes I'm Happy
From the Musical Comedy "Hit The Deck"
vocal refrain by Franklyn Baur


(Irving Caesar / Vincent Youmans)

4-14-1927
New York, New York
Victor
20599-A
Song Of The Flame
(From "Song of the Flame")


(Harbach / Hammerstein / Gershwin / Stothart)

1-13-1926
New York, New York
Victor
19935-B
South Wind
5-12-1927
New York, New York
Victor
20645
Tell Me Tonight


(Connor / Little)

12-14-1926
New York, New York
Victor
20398-A
Tell Me Why You Smile, Mona Lisa
5-4-1932
New York, New York
Columbia
2662-D
Tenderly Think Of Me
12-14-1926
New York, New York
Victor
20398-B
That's A Good Girl
9-24-1926
New York, New York
Victor
20243-B
The Hours I Spent With You
Vocal refrain by Franklyn Baur


(Lewis / Young / Little)

11-15-1927
New York, New York
Victor
21078-A
The Moon Is Low
3-1930
New York, New York
Brunswick
4750
The Tap-Tap


(Rose / MacDonald / Greer)

7-14-1927
New York, New York
Victor
20827
Then You've Never Been Blue
9-1929
New York, New York
Brunswick
4571
There I Go Dreaming Again
5-4-1932
New York, New York
Columbia
2662
Through!
(How Can You Say We're Through?)


(McCarthy / Monaco)

9-1929
New York, New York
Brunswick
4571
Ting-a-Ling, The Bells'll Ring
7-8-1926
New York, New York
Victor
20116
Tonight You Belong To Me
Vocal refrain by Franklin Baur


(Billy Rose / Lee David)

11-24-1926
New York, New York
Victor
20359-A
Twas Not So Long Ago
From "Sweet Adeline"


(Hammerstein II / Kern)

9-1929
New York, New York
Brunswick
4614
We'll Have A Kingdom
(from the Musical Comedy "The Wild Rose")
Vocal refrain by Johnny Marvin


(Harbach / Hammerstein / Friml)

11-4-1926
New York, New York
Victor
20338-B
When A Woman Loves A Man


(Rose / Rainger)

2-1930
New York, New York
Brunswick
4699
Where The Wild, Wild Flowers Grow


(Mort Dixon / Harry Woods)

5-12-1927
New York, New York
Victor
20717-A
Why Was I Born ?
(from "Sweet Adeline")


(Hammerstein 2nd / Kern)

10-1929
New York, New York
Brunswick
4583
Without A Song
(From "Great Day")


Rolfe / Elisa / Youmans)

11-1929
New York, New York
Brunswick 4600
Wouldn't You ?


(Owen Murphy)

11-24-1926
New York, New York
Victor
20379
Yankee Rose


(Holden / Frankl)

1-25-1927
New York, New York
Victor
20466-A
You're A Real Sweetheart


(Irving Caesar / Cliff Friend)

6-26-1928
New York, New York
Victor
21510
You're The Only One For Me
(From Metro-Goldwyn-Mayer picture "The Flying Fleet")


(Klages / Askt / Mendoza)

2-21-1929
New York, New York
Victor
21897
You've Got Me In The Palm Of Your Hand
8-5-1932
New York, New York
Columbia
2695-D

| | |
| --- | --- |
| Artist | Instrument |
| Leo Armand | Trombone |
| Owen Bartlett | Clarinet, Alto Saxophone |
| Franklyn Baur | Vocals |
| Vic Berton | Drums |
| Frank Bessinger | Vocals |
| Larry Binyon | Tenor Saxophone, Flute |
| Perry Botkin | Guitar |
| Arnold Brilhart | Clarinet, Alto Saxophone, Flute, Oboe |
| Irving Brodsky | Piano |
| Henry Burr | Vocals |
| Charlie Butterfield | Trombone |
| Arthur Campbell | Brass Bass, String Bass |
| Chuck Campbell | Trombone |
| Russ Carlson | Piano |
| Tony Colucci | Banjo, Guitar |
| Jimmy Dorsey | Clarinet, Alto Saxophone |
| John O. Egan | Trumpet |
| William C. Elkins Jubilee Singers | Vocals |
| Alfie Evans | Clarinet, Alto Saxophone, Baritone Saxophone |
| Sibyl Sanderson Fagan | Whistling |
| Max Farley | Clarinet, Alto Saxophone, Tenor Saxophone |
| Elmer Feldkamp | Vocals |
| Dudley Fosdick | Mellophone |
| Henry Garden | Vocals |
| Tony Gianelli | Trumpet |
| Tommy Gott | Trumpet |
| Ephraim Hannaford | Trombone |
| Libby Holman | Vocals |
| Billy Jones | Vocals |
| Roger Wolfe Kahn | Leader |
| The Kahn-a-Sirs | Vocals |
| Stan King | Drums |
| Manny Klein | Trumpet |
| Scrappy Lambert | Vocals |
| Eddie Lang | Banjo, Guitar |
| Ward Lay | String Bass |
| Burt Lorin | Vocals |
| Johnny Marvin | Ukulele, Vocals |
| Carl Mathieu | Vocals |
| Leo McConville | Trumpet |
| Miff Mole | Trombone |
| Chauncey Morehouse | Drums |
| Fred Morrow | Clarinet, Alto Saxophone |
| Frank Munn | Vocals |
| Dell Porter | Vocals |
| Joe Raymond | Violin |
| Gladys Rice | Vocals |
| Dick Robertson | Vocals |
| Domenic Romeo | Banjo, Guitar |
| Babe Russin | Tenor Saxophone |
| Jack Russin | Piano |
| Andy Russo | Trombone |
| Arthur Schutt | Piano |
| Elliot Shaw | Vocals |
| Artie Shaw | Clarinet, Alto Saxophone |
| Nat Shilkret | Celeste |
| Harold Sturr | Clarinet, Tenor Saxophone |
| Joe Tarto | String Bass |
| Jack Teagarden | Trombone |
| Joe Venuti | Violin |
| Ruby Weinstein | Trumpet |
| Henry Whiteman | Violin |
| Frank Zullo | Trumpet |