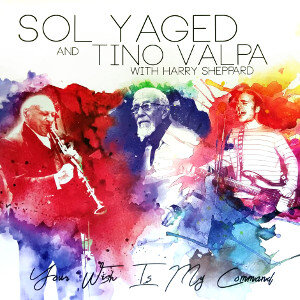 Who woulda thunk it? When a 95-year old New York City jazz legend teamed up with a 28-year old punk rocker from New Hampshire to make a record, you'd think result might swing like a pendulum and rock like dynamite.
In truth the new Pine Hill recording, Your Wish Is My Command, is two different records. On six tracks, aging clarinetist Sol Yaged swings mightily. On the other four tracks—all cut in the studio—youthful vocalist Tino Valpa croaks out lyrics like Johnny Rotten.
Reedman Yaged—who played with Jack Teagarden, Phil Napoleon, and Red Allen among others—delivers a lively live set here backed by a top-notch band. Meanwhile vocalist/electric bassist Tino Valpa frontman of The Cryptics, rips through some tracks at blazing punk rock rhythms.
The album's second track, "Takin' a Swing," shines as the record's most effective example of trad-jazz/punk rock fusion. Valpa's rollickin' vocal style is punctuated by the pumping ska-like horn charts hitting stop times before exploding in a Lindy hop blowout. The jitterbug fun is complemented by brief allusions to jazz landmarks such as The Metropole.
"Takin' a Swing" swings like mad, but Sol's contribution—other than inspiration—is a mystery, as his clarinet is basically unheard.
Other studio tracks, such as the aptly named "Whirlwind," like "Takin,'" do more to showcase Valpa and the horn section while Sol remains in the background. The horn section holds its own, however, with vigorous blowing from trombonist Paul Cole, trumpeter Chuck Merrill, saxophonist Joe Abbiati, and baritone saxman Bryan Campbell.
And for some reason, on the well-known song from Casablanca, "As Times Goes By," Valpa trashes the lyrics with an annoying, nasal treatment that illustrates his decidedly cynical—even mean-spirited—rendition. Never the less, Pine Hill is pushing "As Time Goes By" as the disc's first single.
The studio band also features vibraphonist Harry Sheppard and pianist Marc McElroy, while Valpa did quadruple duty on vocals, guitar, bass, and drums.
On the other hand, a live version of "If I Had You" finally shows Sol blowing pleasant deep-toned clarinet leads complemented by single-note riffing backed solidly by pianist Johnny Knapp, bassist Ray Carl, and drummer Mousey Alexander. Although marketed as a collaboration with Valpa, the CD's back cover identifies the half-dozen live tracks as recorded at the Little Club in New York City on Oct. 25, 1972, some 19 years before Tino was even born!
Anyhow, the 1972 club date tunes are plenty entertaining, featuring clarinet coloratura care of Sol Yaged, especially on the spirited version of "The World is Waiting for the Sunrise." Loud audience conversations mar "Moonglow," but a nine-minute rendition of "Stompin' at the Savoy" righteously rocks the house as does "Sweet Georgia Brown."
In recent years, Sol and Tino became friends which led to this album. On a couple weekend afternoons in 2018 Sol recorded his parts in his Manhattan apartment with Tino at his side. Sol died in May 2019 at age 96.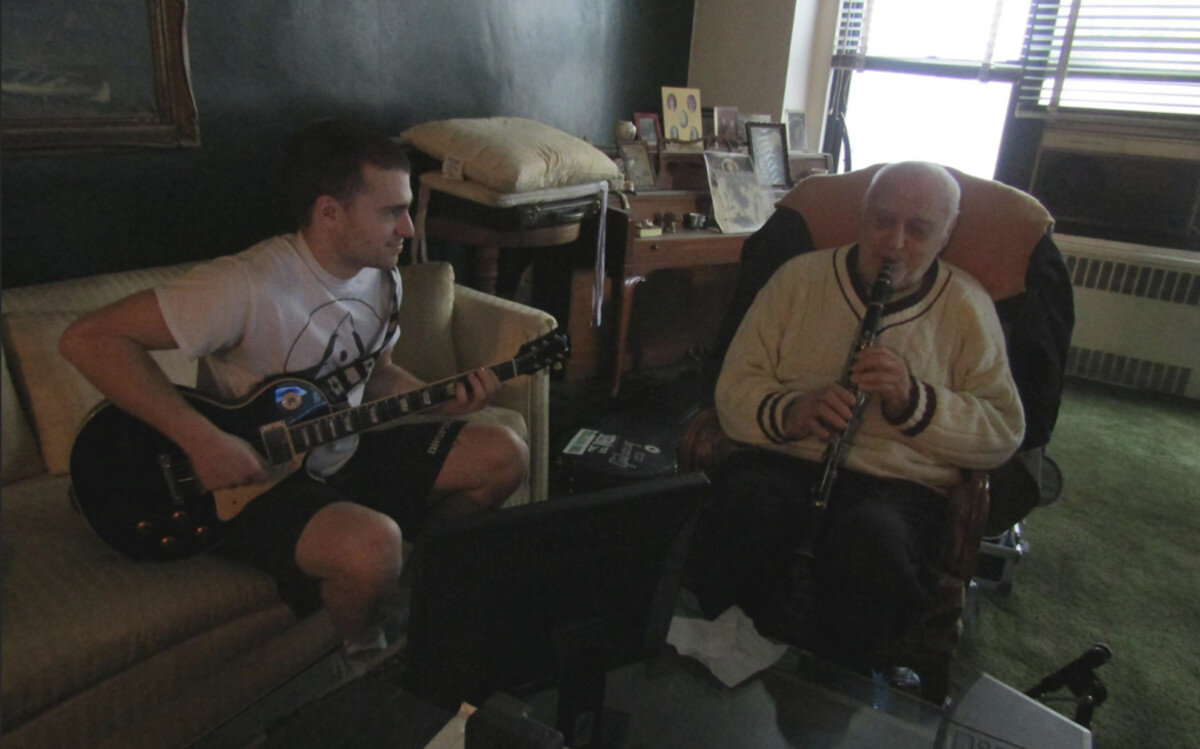 "This is super out of left field especially if you follow my earlier work," Valpa said, "but last year this amazing jazz swing clarinetist named Sol Yaged and I cut a new record together because why not? He was the coolest old dude and had a sincere passion for playing."
Many of the musicians who performed on the disc played a Sol Yaged memorial show fronted by Valpa on September 7, in Kittery, Maine.
Your Wish Is My Command is available for purchase through Original Vinyl Records in Warwick NY as either a limited-edition vinyl LP ($20) or a CD ($12). Visit www.originalvinylrecords.com or telephone (845) 987-3131.