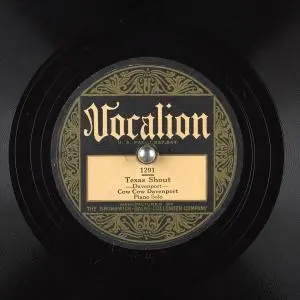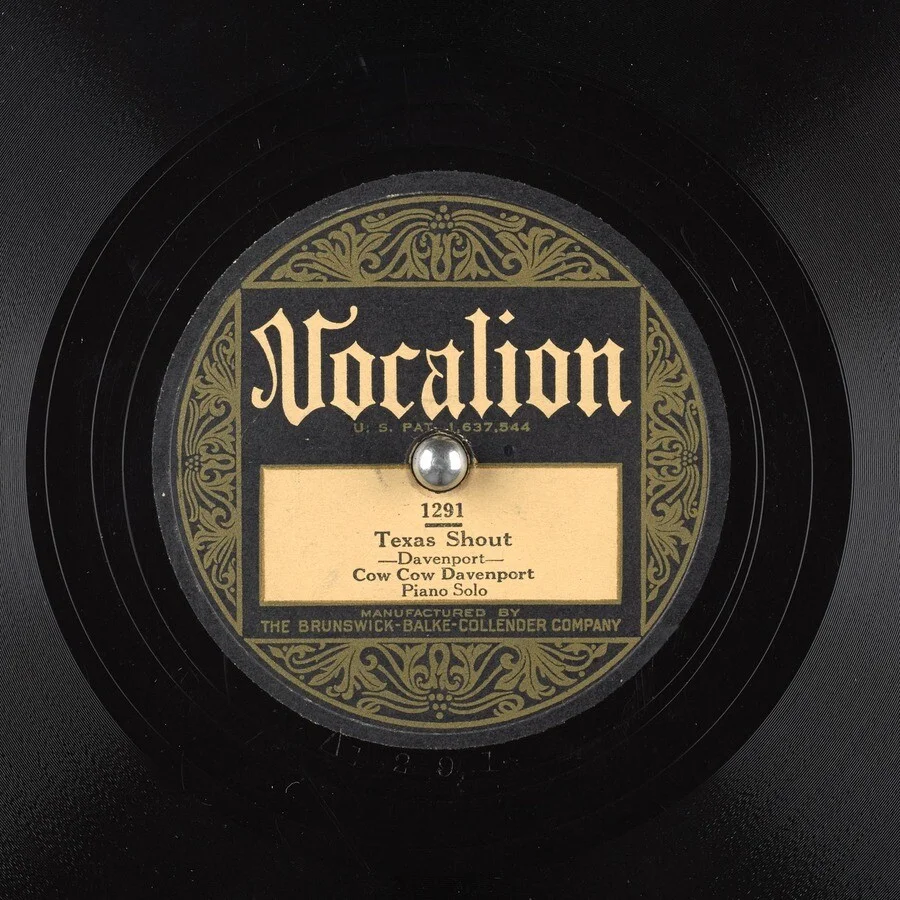 Set forth below is the seventy-fifth and last "Texas Shout" column. The concluding installment of a two-part essay, (part 1,) it first appeared in the August 1996 issue of The American Rag. The following note was added to a reprinting of the Texas Shout column that concluded in September 2004:
Your esteemed editor has advised that "Texas Shout" will not again be reprinted. As you know, I think this is the right decision, having suggested to Don, shortly after this reprint series began, that it be discontinued.
At that time, Don overruled me and continued the re-runs. However, the almost total lack of subsequent feedback regarding "Texas Shout", both in "The Letter Drop" and at my personal appearances, compared with the substantial feedback that resulted from its first appearance, confirms my initial reaction to these reprints.
"Texas Shout" was based on the assumption that Dixieland jazz and ragtime are worthwhile and immortal forms of art, discussing them from that perspective. However, as I have mentioned in recent issues of TAR, the remaining audience for Art Form Dixieland/ragtime is so small as to be insignificant.
Moreover, many of the TAR readers in that audience have been subscribers for some time and read my columns the first time around. I doubt that there are more than a handful of others among the current readership who care much about the aspects of the music discussed in"Texas Shout."
The text of this final installment has not been updated. Thus, I should say that the book collecting all of the columns was published by the late Dan Polin. New copies are still available at the original cover price (see below), even though, as I write these words, Amazon.com is offering used ones, claiming that the volume is out of print, at prices ranging from $65 to $186 per copy!
The cataract surgery mentioned below was completely successful. I was able to get the "glasses" restriction removed from my driver's license and, for the first time since the tenth grade, appear regularly onstage without my spectacles.
As a result of the don't- take-"no"-for-an-answer urging of my friend and fan Jean Hadley and the help of my colleague in The Rent Party Revellers, trombonist Roger Munnell (who used his pre-existing Elderhostel contacts to get me the gig), I have been teaching Elderhostels since 1998. Attendees' post-session comments forwarded to me by the sponsors indicate that my program has been successful beyond my expectations, with assessments so unqualifiedly favorable as to be almost embarrassing.
One of my "students" confided to me, upon my conclusion of an Elderhostel at State College, PA, that, of the 142 (!!!) Elderhostels he'd attended to date, he liked mine the best. He put his money behind that comment, too, attending my Penn State sessions two more times.
For my part, I can't get enough of Elderhostel. The folks who come, being people who have gotten off their duffs and want to learn something, are much like Dixieland/ragtime fans — they are upbeat, responsive, active and fun-loving. It's very bracing to be in their company and a real challenge to try to stay ahead of them for a whole week.
"Texas Shout" has been very good to me. Woody told me, soon after it began, that it was WCR's most popular feature.
In light of the several fine writers who have come on board since, that is probably no longer the case. In any event, I have appreciated the kind words I've received from many of you about "Texas Shout" in person at performances, in "The Letter Drop" and in private correspondence/ conversations.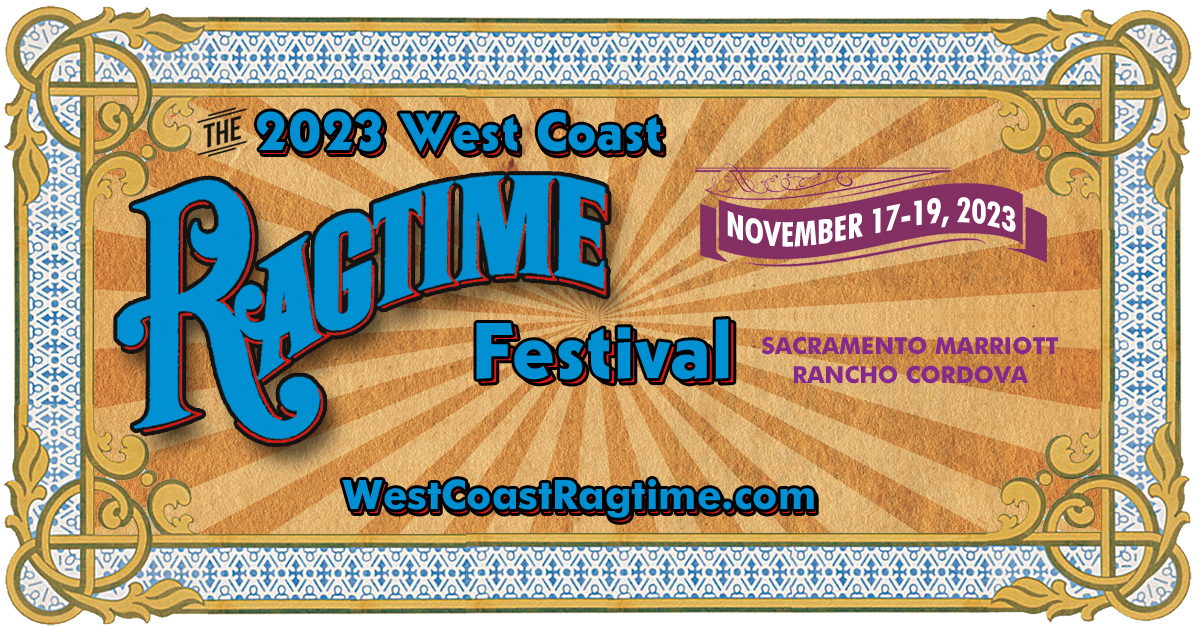 The column has given me a visibility on the circuit that I had not anticipated. Because playing Dixieland and ragtime is my first priority where music is concerned, I'm especially grateful for that aspect of the situation.
Some fans have told me that they've saved all of the "Texas Shout" columns for future reference. One musician keeps certain of them, together with other related material, in a binder he calls his "Bandleader's Bible." A book producer once offered to finance the project if I'd expand certain themes from "Texas Shout" into a book.
These are especially gratifying developments. With regard to the book, a subject about which I regularly receive inquiries, I must tell you that I feel very complimented by the request, but I really need to cut down on my writing, which takes much more time than you might imagine.
(Actually, I've already written the book, if you want to read it piecemeal. There is at least a volume's worth of text in the full complement of "Texas Shout" columns. In fact, at this writing, the above-mentioned producer is planning to collect between two covers the entire run of "Texas Shout" from inception through today's. We'll see what happens.)
Dealing with the demands of practicing two instruments, of booking two bands and a single act, and of daily life, I have, over the years since my first piece of published jazz writing in November 1966: built a collection of thousands of LPs, including several hundred, some bought new that have been out of print for a quarter-century, which I have not yet heard for the first time; amassed stacks of ragtime and jazz sheet music that, also, remain unplayed over the decades since they first entered our house; and surrounded myself with thousands of unread books, mostly my favorite recreational reading of fantasy, horror and mystery.
I told myself that I would listen to the records, play the music and read the books when I retired. Though I've been retired for over four years, none of those things are happening.
If I'm going to get time to do them, much of it will have to come out of my jazz writing. The rest will result from cutting back on my dozens of periodicals, including some jazz magazines, thereby leaving me less well situated to write from an informed, up-to-date viewpoint. (This process is well under way. Several periodicals are already history in our household, including four dealing with music.)
As I place these words in the mail, I am heading into the preliminary stages of operations to remove cataracts from my eyes. Cataract surgery is more routine and less risky than it used to be, but this situation reminds me that I've already started benefitting from senior citizen discounts and that I ought to get cracking on matters I've postponed for too long.
There are two other factors at work here. I'll mention them briefly because it depresses me to dwell on them at length.
For some time now, it has been clear that Dixieland is dying out. The scene is dwindling, as well as becoming diluted with non-genre music. The same thing is happening to ragtime.
The readership of WCR/TAR has, I think, shifted in accordance with this trend. This change in emphasis tells me that smaller proportion of TAR's readership is interested in "Texas Shout" — a column which, as a basic premise, assumes that Dixieland jazz and ragtime are viable worthy art forms and which attempts to set up a framework for appreciating them as such.
If memory serves, when I began "Texas Shout", "The Letter Drop" was filled with comments from readers discussing the merits of their favorite Dixieland bands. Readers' principal concerns have changed since then. For a while, "The Letter Drop" seemed exclusively devoted to a truly boring back-and-forth, carried on with quasi-religious fervor, on (1) dance floor locations, (2) listeners vs. dancers and (3) to a lesser extent, smokers vs. non-smokers.
(By the way, the dance floor controversy is surely irrelevant by now. Most festivals dealt with it in the most practical way years ago by placing, where space permits, dance floors alongside the stage so that both groups of people can be near the band without having to be in each others' way.)
"Texas Shout" has been, in significant respect, a chronicle of the general scene. I don't see much around anymore that gives me cause for optimism.
I love Dixieland and ragtime too much to want to write continued complaints, jeremiads and obituaries about them. If that is the direction "Texas Shout" seems destined to take, I prefer to spend less time on it.
Second, there is no longer a cohesive Dixieland community. Because the music has lost its commercial viability, things have deteriorated so much that Dixieland now consists in large part of individual clubs, festival producers, record labels and bands doing whatever turns them on without much regard to each other or to economic consequences.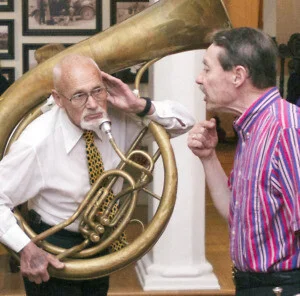 Twenty years ago, if a band made a superior recording, or played an outstanding show at a festival, word quickly spread through common channels of communication. Now there are no common channels, though The American Rag and The Mississippi Rag do good enough jobs in their respective markets. Nevertheless, most festivals, concerts and records are not reviewed anywhere, except possibly in a few local jazz club newsletters.
This fragmentation has reached the point where, with all due respect to you good folks who read TAR devotedly, nothing that anybody writes about Dixieland makes much difference anymore. In those circumstances, I'm having increasing difficulty finding a good answer to a question I periodically ask myself, especially when the pressures mount up: why am I doing this?
I'd like to believe that"Texas Shout" has caused you to think more deeply about this music that we all love so much. You may not agree with what I've said over the years, but I will guarantee you one thing: though the terminology used in this column, and the categories of jazz described herein, may not coincide with what you will hear or read elsewhere, it does square with what's in the grooves of the hordes of ragtime and Dixieland records that have been made throughout the decades.
The good news, for those of you who have found my columns hopelessly academic or worse, is that there will be few, if any, new ones appearing in the future. The bad news is that, according to my understanding, once the backlog runs dry, TAR is planning to reprint selected older "Texas Shout" essays for the benefit of subscribers who've signed up since 1989.
I'm not sure how I feel about such reprints. Like most of Dixieland, I think "Texas Shout" has probably had its day and should be allowed to rest peacefully. At minimum, as with the U.S. government shutdowns during 1995's so-called "budget crisis", we're probably better off to do without "Texas Shout" for a while and see if anybody notices its absence.
As long as I'm winding things up, I'll answer a few questions I'm regularly asked at my gigs:
Where did the nickname "Tex" come from?
My father picked it out for me before I was born. Dad told me that, as a little boy, he went bonkers over a popular song of the day, "Good-Bye Dolly Gray" (1900), words by Will D. Cobb, music by Paul Barnes (the sheet music states that it was "Sung with Immense Success by WILLIAM H. REDMOND"). He whistled "Dolly Gray" so incessantly that folks started calling him "Dolly", a nickname Dad despised (can't say I blame him). He decided to make sure his son, if he ever had one, would bear a two-fisted nickname.
My nickname has worked well. "Tex" is a good stage name and seems to start me off on the right foot with people.
I liked it so much that I did the same thing with my son, nicknaming him "Buck", after Buck Jones, the old-time Western movie star who died while rescuing people from the Coconut Grove fire. Buck also enjoys his nickname, telling me it's turned out to be ideal for someone in his profession (aviator).
Why do you wear a red glove when you play the cornet?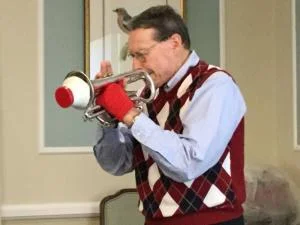 The oil from one's flesh will eventually eat its way through the lacquer on a brass instrument. That's why many trumpet/cornetists hold their horns with handkerchiefs or wind tape around the valve area where the non-fingering hand grips the instrument.
In the early 1960s, I decided that a glove would be more comfortable for me. I started with a white leather glove, but it was too hot. Than I moved to a ladies' one-size-fits-all stretch glove, which works fine.
The only problem is that ladies stopped wearing that type of glove years ago. The oft-mended one I'm wearing now is the last one I have.
The red color started as a subliminal way of advertising my Red Lion Jazz Band. Now it has become a superstition with a life of its own. I never appear onstage without some piece of red apparel. I even have some red underwear to use when nothing else will get by.
You were a teacher in your day job, right?
Never was. In 1963, immediately upon graduating with high distinction from Harvard Business School, I returned to my native Wilmington, Delaware and toiled nearly 29 years in DuPont's finance function. About 2/3 of that time I held middle management jobs or middle-management-level consulting positions. From time to time, I was responsible for such things as DuPont's insurance program, its SEC filings and the financial aspects of mergers and other business combinations.
How did The Rent Party Revellers get together?
During the seventies, I played piano with a reunion band, The Bix Beiderbecke Memorial Jazz Band. Most of the sidemen lived in the New York City area, but two of us lived near Wilmington.
I loved playing with the BBMJB. It was a hot band with a great bunch of guys in the lineup. When it played its last gig in early 1981, the sidemen having become so separated geographically that it was uneconomical to reassemble, I missed it terribly.
The Bix Band had played a number of festivals, during which I started formulating some thoughts on the administration of a reunion band and also met musicians who seemed to be ideal for the kind of combo I had in mind. In spring 1982, after it became clear that the BBMJB was defunct, I picked up the phone and started calling potential sidemen and concert producers. The Rent Party Revellers made our debut about six months later, In December 1982, at Johnson McRee's Manassas (Virginia) Jazz Festival.
Incidentally, as I write these words, the BBMJB is booked for a one-time-only reunion at the 1996 Bix Fest in Davenport, Iowa. I can hardly wait to get back on stage with the band.
How do the Revellers, none of whom live near each other, rehearse?
If time permits at the start of a festival weekend, we may assemble for a short time around a piano to (1) try some new things and (2) get our local bands out of our heads and the Revellers back in. In our earlier years, we sort of rehearsed by mail, sending around lead sheets and tapes of tunes in our book. We still send lead sheets once in a while, but after 13-plus years together, we don't need the tapes anymore.
Why don't you write a book about the history of Dixieland jazz?
Doing so would involve research, something I hate with a passion. Avoiding legal research was one of the principal reasons why I never practiced law, despite holding a law degree and having passed the Delaware bar.
(Tony Kennedy and I studied for finals in my room three nights a week throughout Harvard Law School. We finished in 1961 at the same level in our class, magna cum laude, at which point we made a deal: Tony wouldn't play Dixieland jazz and I wouldn't go on the U.S. Supreme Court. Seeing the way Tony – Mr. Justice Anthony M. Kennedy to the world at large – and his fellow justices get dissected by the press every once in a while, I'm sure I got the better of the bargain.)
I've only once tried to write a piece of original research about music. Thinking that I had all the materials readily at hand and could knock it out in a couple of hours, I set out to recount the facts regarding the tune commonly played under the title "Storyville Blues." I quickly learned that nearly every sentence I drafted was filled with hidden pitfalls that needed double-checking.
Several weeks and many long-distance telephone calls later, I mailed the finished product to WCR (it's the August 1992 "Texas Shout"), telling myself that I would never do anything like that again. So far, I've kept my promise.
Those of you who've seen my shows, in which I typically introduce a tune by telling you who wrote it or recorded it, may be surprised to hear me say that I don't like research and don't consider myself a historian of the music. What I'm doing is what most announcers do, sharing with the audience the thing about the next number that particularly interests me.
As a performer, I'm interested in finding good tunes. Thus, when I run across one, I want to know who wrote it and/or who recorded it. It seems likely that if I look for other material by those composers/recording artists I'll find other worthy stuff to play for you.
These facts, which are right there on the records or sheet music (no research required), naturally stick in my mind, just as the facts that most interest you about your hobby naturally stick in your mind. The bulk of what I know about our music's general historical background I learned from reading liner notes on my LPs or CDs.
Although I do try to stay informed about Dixieland and ragtime, most publications on my music shelves are discographies or periodicals, either in aid of my record reviewing or my understanding of the Dixieland/ragtime scene. While I will occasionally read a music book for pleasure, if it's about something or someone in whom I have a special interest, usually I'd rather read a good hard-boiled thriller or eerie vampire tale.
If you're not interested in writing a book, what about teaching jazz, say at an adult extension course, Elderhostel or jazz camp?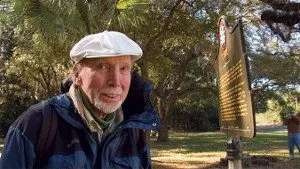 I think doing so would be a lot of fun. The problem is that I have no idea what I would teach.
I wouldn't want to teach jazz history. Many others already do so, much better than I'd do, I'm sure. Besides, preparation of a jazz history would require doing research.
I'd be more interested in trying to teach people how to play ragtime and Dixieland. However, I'm a self-taught Dixieland/ragtimer. To me, our music is something you master via long hours of listening, keeping your ears open, and practicing, not something a person teaches you. I can't imagine how I'd go about teaching it.
In any event, I've covered in previous "Texas Shout" essays the basic principles I followed in learning to play this music, to gain the skill of idiomatic soloing, to plan and present shows, to lead a band, etc. I don't think I have anything left to say that would be much help to a student.
I presently intend to close "Texas Shout" permanently after today. Still, like James Bond, I've learned never to say "never." Thus, I'm leaving the door open a crack in case the compulsion to write another one overwhelms me at some future date.
Either way, this is probably as close to a valedictory as I'm going to get. So, I want to thank those of you who have been so supportive of "Texas Shout" during these six-plus years. I am more grateful to you than words can express.
I also want to thank those of you who disagreed with me, or who didn't like the column, and took the trouble to let me know or to write "The Letter Drop." While I regret that some of you found it necessary to be so abusive in the process, while I felt that many of you hadn't really paid attention to what I'd said and while very few of you presented arguments that I found persuasive, your comments had the beneficial effect of spurring me toward exerting my best efforts to write clearly, accurately and logically. I needed that.
It's been fun. If you're in the audience somewhere that I'm playing, or we cross paths in a festival walkway, come up and say "Hello!." Keep swinging.
* * * * *
The following note was added when this column was reprinted in 2004:
For the entire thirty-five-plus years that I have been performing on the national Dixieland/ragtime festival/cruise/jazz society circuit, that scene has been sustained in large part by dedicated individuals who have contributed much time, much hard work and, in many cases, substantial sums on its behalf. For example, TAR readers and columnists, as well as the musicians who are discussed or advertised in its pages, can be thankful that the publication's founder, Woody Laughnan, and its current editor/publisher, Don Jones, expended, month in and month out over many years, the considerable effort necessary to provide a nationally distributed source for their activities.
Every musician who plays Dixieland and ragtime owes a deep debt of gratitude to a multitude of such people, all of whom could easily have found something else to do with their time and money that would have been more rewarding financially and reached a larger number of people. Their activities enabled us to broaden our musical reach beyond our home towns, providing us with opportunities to visit places, make friends, share stages with some of our favorite artists, and generally do things that enriched our lives beyond our most extravagant dreams.
These fondly recalled experiences would not have been available to us otherwise. During most of the past 30-40 years, Dixieland and ragtime have not been sufficiently viable commercially to pay the festival and record producers thereof, and the officials of jazz societies, what their time is worth.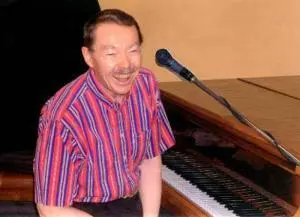 I feel extremely fortunate to have come along at a time when, because there were people willing to produce concerts, festivals and recordings of this uncommercial music, I have been able to spend over half of my life doing something I love to do and getting paid therefor. Regrettably, today's teens who become hooked on Dixieland and ragtime, as I did at their age, will not have this experience because there will soon be virtually no one left to finance their recordings and personal appearances, nor any significant market for them.
For every Dixielander/ragtimer in my generation, a personal list of musical benefactors would be too long to fit within these pages. Moreover, sadly, too many of the names thereon would no longer be among the living.
The reprinting of the foregoing column closes out my years of writing about jazz and ragtime for publication in periodicals. Next month will be the first one in nearly four decades that will see nothing published under my byline.
However, I cannot take a final bow in TAR without expressing my deepest thanks and those of my wife Nancy (mere words really are insufficient for this purpose) to a short list of folks who put themselves out to do something on my behalf musically, or provided me with a special opportunity, that pushed my musical horizons outside of the Wilmington, Delaware vicinity. As the movie says, it's been a "wonderful life", due in no small part to: Keith Miller, John Arpin, Canada's John Norris (of Coda magazine), Shannon Clark, Fred & Anna Wahler, Johnson & Liz McRee, Bill Barnes, Bill Donahoe, Leslie Johnson, Woody Laughnan, Don Jones, George H. Buck, Jr., Bob Erdos, Richard Riley, Bob Eckstein, Dan & Sis Polin, the charter members of The Rent Party Revellers (Ray Heitger, Roger Munnell, John Schober, Ed Metz, Jim Riley, Chuck Stewart, Ray Smith), Trebor Tichenor, Bill Oakley, Alan Granruth, Jack Weaver, Bill Richards, Roger Krum, Alan Adams, Dottie Ashworth, Ed Zimbrick, Dick Zimmerman, Neville Dickie, Bob Thulman, Noel Kaletsky, Fred Vigorito, Hugh Fairman, Hilton Rahn, Kyle Adamczak, Diane Cottingham, Bill Blythe, Carol & Bob Neumann, Chip Ward and Nancy McCord, among too many others to name.
---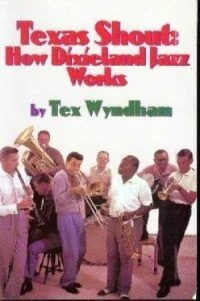 The full run of "Texas Shout" has been collected into a lavishly illustrated trade paperback entitled Texas Shout: How Dixieland Jazz Works.  This book is available @ $20.00 plus $2.95 shipping from Tex Wyndham,   On request, Tex will autograph the book and add a personalized note (be sure to tell him to whom the note should be addressed).
Tex Wyndham's 3 CD Guide to Dixieland with music and commentary is available for $20 plus $2.95 shipping. The separate CD, A History of Ragtime: Tex Wyndham Live At Santa Rosa, is available for $13.00 plus $2.00 shipping. On request, Tex will autograph the inner sleeve and add a personalized note (be sure to tell him to whom the note should be addressed).
Send payment to Tex Wyndham, P.O. Box 831, Mendenhall, PA 19357, Phone (610) 388-6330.
---
Note: All links, pictures, videos or graphics accompanying the Shouts were added at the discretion of the Syncopated Times editorial staff. They did not accompany the original columns and do not necessarily reflect the opinion of Tex Wyndham.