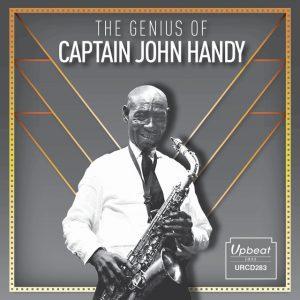 Captain John Handy was a unique figure in New Orleans jazz. A hard-charging altoist who developed a style that was influenced not only by the music of New Orleans but swing and aspects of early r&b, Handy was nearly the only major altoist involved in the revival movement of the 1960s. He had been part of the New Orleans jazz scene since the 1920s when he often played clarinet. He turned down an offer to join Fats Waller's band because he loved working in the Crescent City. Handy made no recordings until 1960 but made up for lost time during the next decade when he was one of the strongest musicians on the scene. He dominated ensembles and his solos could blow the roof off of most establishments as he displayed the ability to build up chorus after chorus to a very exciting and intense level.
The Upbeat release, The Genius Of Captain John Handy, has some of the highlights from CDs previously released by Big Bill Bissonette's Jazz Crusade label. Handy is featured on rousing versions of "Perdido" and "Caldonia" in 1965 with a group led by pianist-singer Dave "Fat Man" Williams that includes trumpeter Alvin Alcorn, on two songs from a 1968 ensemble with trumpeter Kid Sheik Cola, and during ten numbers (nine from a May 7, 1970 television appearance) with a septet that also features trumpeter Punch Miller, trombonist Homer Eugene, Andrew Morgan on tenor and clarinet, and pianist Dick Wellstood. In each of the bands, and especially the last one (which has Wellstood a bit under-recorded in the mix), Handy emerges as easily the most interesting and skilled musician. While Morgan provides some stirring honking tenor solos and a past-his-prime Miller is erratic but not without some good ideas, Handy consistently steals the show during the 1970 telecast.
On the hotter numbers such as "Tiger Rag," "Handy's Boogie," "St. Louis Blues," and "Panama Rag," Captain John Handy shows why he was rated so highly by both his fellow musicians and those who were lucky enough to sit in the audience whenever he played.
The Genius Of Captain John Handy
(Upbeat 283, 14 selections, TT = 76:04) www.upbeatmailorder.co.uk