As a Brit, when I think of US national parks I think Yosemite—thousands of miles of lakes, trees, bears, and continent-threatening supervolcanoes. (Keep an eye on that one, America; it's going to be huge in the next few million years!) What I don't think of is a three-mile square of urban New Orleans. And yet, New Orleans Jazz National Historical Park is a little piece of NOLA managed by the same National Parks Service that keeps watch over your natural disasters-in-waiting and man-eating carnivores.
There's a good chance you knew this already. But did you know the NPS also commissions research on great historical ladies of blues and jazz? This is the topic of a fascinating 372-page paper called A Feminist Perspective on New Orleans Jazzwomen, produced by Sherrie Tucker, et al, back in 2004. It sheds some much-needed light on the often-overlooked ladies integral to America's musical heritage. "While we do see traces of women's participation in extant…jazz histories," Tucker wrote, "we seldom see women presented as central to jazz culture. Therefore, they tend to appear to occupy minor or supporting roles, if they appear at all."
The paper goes a way to setting that right, by documenting the pioneering roles taken by lesser-known women like Lil Hardin and Blanche Calloway. Occupying a good chunk of combined space are the incredible Goodson sisters: Dalla (or Della), Edna, Ida, Mabel, Sadie, and Wilhelmina (later known as Billie Pierce). Helpfully, one Dr. Charles Chamberlain also addressed the sextet together in his 2001 article The Goodson Sisters: Women Pianists and the Function of Gender in the Jazz Age. This piece draws on both sources and more to summarize their sensational lives.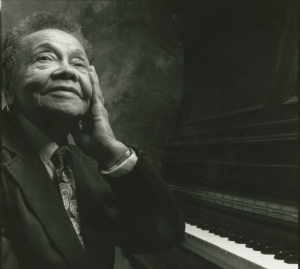 The Goodsons were all born in Pensacola, Florida, between 1899 and 1909. All pianists, none but Sadie ever had a music lesson; they honed their talents at the Pensacola church where their father Madison was a deacon and their mother Sarah an organist. Asked in later years why so many women took up piano, Sadie replied: "At that time there weren't as many men playing piano; they wanted to play a trumpet or another wind instrument. It was considered more masculine to play a wind instrument." She added: "A lot of women, to be socially accepted, learned the piano as part of their upbringing. The men in the band liked the chords I played. Many of them depended on the chords to be able to play their part." (Chamberlain expounds his own theories about this in his paper.)
Some accounts put Sadie at the keyboard from age three. Billie, the second-youngest, recalled playing blues piano even before she could talk. The musical family focused on spirituals; dabbling in jazz and blues was discouraged. But the pull of these secular styles was too powerful, and four would eventually defy their devout parents to pursue careers in "the Devil's music", with varying success and recognition.
Sadie recalled that Sarah—herself a very competent player and singer—was the siblings' gateway into jazz and blues, through her collection of secular "old time records" like Henry R Bishop's 'Home Sweet Home'. Soon, the sisters began sneaking out to hear jazz and blues played by big names traveling through Pensacola; bands led by the likes of Papa Celestin, Buddy Petit, and Kid Rena. Billie told one interviewer in 1966 that when their parents were out of the house, "me and my sisters would all get around a piano and have a good time. One would watch out for Daddy and when he'd come, we'd break into 'What a Friend We Have in Jesus.' He never knew the difference." (Ida repeated this anecdote in the 1989 documentary Wild Women Don't Have the Blues.)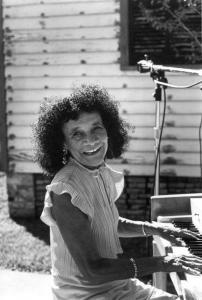 When slinking out to catch a gig, the younger Goodsons would often see Sadie on stage, having established herself as a popular backing performer by age 14. She regularly accompanied Mack's Merrymakers (a Pensacola band led by NOLA native Thomas Mack) and a whole host of big names—including Ma Rainey, Bessie Smith, and even the Barnum and Bailey Circus—considered Sadie the go-to pianist when playing Florida dates.
Accounts vary as to how strongly Madison resisted the girls' moonlight flits. Tucker claims that jazz and blues were off limits to the sisters, but Chamberlain records Sadie as recalling her father "would say nothing about it." Either way, nothing could keep the girls from the music they loved. Madison eventually relented, allowing his talented daughters to play jazz at local dances and house parties. In fact there was little he could do to stop them; Sarah had died in 1918—as had Mabel, aged just 19 and at the outset of her musical career—and his work as a railroad porter took him away often.
Della kept a lower profile, playing mainly at churches, but dabbling in ragtime as a sideline. (Chamberlain records this fact, based on interviews with her sisters; curiously, Tucker omits her altogether.) By 1920, the Goodson name was a byword for piano talent and a sister was hired by almost every act passing through Pensacola. "If they didn't have a pianist, they would always get a Goodson sister," Sadie later recalled. Then aged 16, Sadie took some advice Petit gave her ("you play too much piano to be in Pensacola") and ran away to New Orleans where she hoped to make it big. Bessie Smith hired her to replace Clarence Williams when he became ill on tour, before Sadie joined Petit's band full-time, supporting them in their residency on a lake steamer which shared her father's name: Madison.
Back home, Sadie's younger sisters inherited many of her Florida gigs, playing at the Belmont Theater and elsewhere. Billie would play there for Papa Celestin, Ida Cox, and Ma Rainey, as well as touring all over the state with Edna and the Mighty Wiggle Carnival. (Edna sang, danced, and played in the minstrel show band, while Billie played organ and sang.) Ida Goodson followed in her siblings' footsteps by going on tour with travelling medicine shows, as well as accompanying silent movies.
Chamberlain put forward several theories for their success—including a loosening of restrictive, Victorian moral codes for women and the sex appeal of having young ladies on the bandstand—but found that talent undoubtedly played a major role. "In Pensacola… no man could come close to the Goodsons on piano during the teens and twenties," he concluded.
When Petit left the Madison to find work elsewhere, Sadie took over. She led the band through the 1920s, except for a spell in 1929 when she was ill and Billie—who had been working in a nine-piece band called the Nighthawks Orchestra in Birmingham, Alabama—took it over. In the mid-1930s Sadie moved to New York, where she trained as a nurse. There she met and married a Ford Motor Company supervisor, prompting another move to Detroit.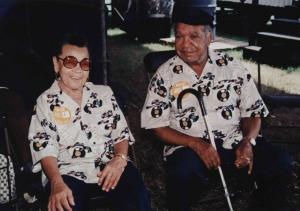 She continued to play music and, when her husband died in 1982, she remarried George "Kid Sheik" Colar, an old friend she had known since the 1920s. They played together at Preservation Hall and Sadie was one of those original jazz musicians made even more famous by the style's revival. (Benjamin Jaffe, whose parents founded Preservation Hall, described her playing as "loud and extremely musical.") She appeared with Ida at the New Orleans Jazz Festival in 1994, before moving back to Detroit and dying aged 101.
When Sadie first moved North, Billie had again left the Nighthawks to again take over the old Petit band. But the Great Depression saw the ship sailed and Billie out of a job. As interest in swing boomed, Billie kept playing old-style jazz in the riverside bars of Decatur Street. She married fellow musician De De Pierce in 1935, playing together for the next two decades (and for four or five months with Edna, too).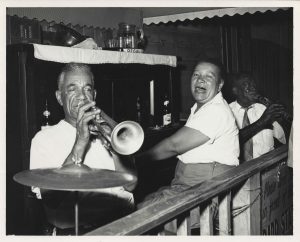 Billie led the band at popular dance spot Luthjen's for 24 years, until she suffered a stroke and De De lost his sight to glaucoma. Nonetheless, the trad revival made Billie and De De too stars of Preservation Hall and they enjoyed professional success through the 1960s and 1970s. Billie died in 1974, with sister Sadie returning to the keyboard and taking her spot until 1995. Edna did not achieve the same stardom but played piano along the Gulf Coast and occasionally in New Orleans, until she died in 1986.
Ida, the youngest Goodson, had worked early on as a babysitter, cook and maid, having been forced to leave school when her father died. She later took up music professionally, playing with Pensacola sax player Wallace Rankin among others, but turned her back on "sinful" blues in the 1950s to concentrate on gospel. (Sadie recalled that Ida preferred a more modern jazz to the trad her siblings adored.) She performed right up until her death in 2000 in the same Baptist church at which her father was a deacon. An audio interview kept by the Hogan Jazz Archive betrays an ongoing interest in rhythm; in it, Ida plays both "Swing Low, Sweet Chariot" and bouncing boogie-woogie number "The Florida Riff."
Sadie's death in 2002 came shortly before a tribute to the Goodson sisters (The Goodson Sisters: Pensacola's Greatest Gift to Jazz) was hosted by Jazz Society of Pensacola. She was invited to attend, and so must have died knowing that the Goodsons would be forever remembered for their musical mastery. This popular acclaim was evidenced by Billie and De De's funerals, which were two of the biggest New Orleans ever saw, and its continuance aided by fascinating biographies like those penned by Tucker and Chamberlain.