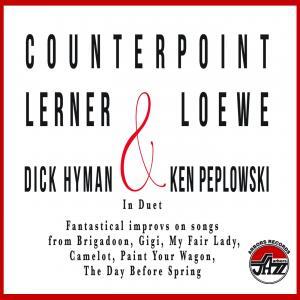 Composer Frederick Loewe (1901-88) and lyricist Alan Jay Lerner (1918-86), who met in 1942, wrote the music for such Broadway hits as Brigadoon, Paint Your Wagon, Camelot, and, most notably, My Fair Lady in addition to the film Gigi. Their better-known songs have been recorded many times through the years with 1956's best-selling Shelly Manne & His Friends: Modern Jazz Performances Of Songs From My Fair Lady (a trio set with pianist Andre Previn) being the first full-length jazz album dedicated to the music from one Broadway show.
Counterpoint Lerner/Loewe by the duo of pianist Dick Hyman and Ken Peplowski (on clarinet and tenor) is quite a bit different than one would expect. While the still-superb 92-year old Hyman has recorded many straightforward stride piano and swing albums through the years and Peplowski is considered one of the top swing clarinetists of all time, both of the virtuosos have also long had an interest in more advanced improvising, particularly Hyman.
Their CD, subtitled "Fantastical improvs on songs from Brigadoon, Gigi, My Fair Lady, Camelot, Paint Your Wagon, The Day Before Spring," contains plenty of very surprising explorations. The 13 Lerner & Loewe songs ("Gigi" is played twice in very different versions), which include both familiar standards and obscurities, are taken on some wild rides. Hyman provided frameworks (which are often quite complex) and then the duo simply played, following each other in spontaneous flights. The themes are stated but quite often the chord structures disappear for long stretches as the duo makes up very fresh variations, playing off of each other. Somehow neither of the musicians ever gets lost. Certainly no other versions of such songs as "I Could Have Danced All Night," "Almost Like Being In Love," and "On The Street Where You Live" ever sounded like this! It makes for a fascinating (or fantastical) listen.
Adrian Cunningham & His Friends Play Lerner & Loewe only repeats five of the tunes from the Hyman/Peplowski album but, even if it had had the same song list, the performances would be far from a repeat. Cunningham, featured on clarinet, tenor and flute, is joined by the masterful jazz pianist Fred Hersch, bassist John Hebert, drummer Eric McPherson, and, on two songs apiece, trombonist Wycliffe Gordon or trumpeter Randy Brecker.
While not quite as potentially death-defying as the Hyman outing, these modern but swinging versions also cast new light on the Loewe songs. "Say A Prayer For Me" and "I Talk To The Trees," both showcases for Cunningham's clarinet, sound fresh enough to have been written this year. "I Could Have Danced All Night," while modernized, has New Orleans parade rhythms that inspire some rambunctious playing from Gordon. The trombonist also adds plenty of spirit to "I Was Born Under A Wand'rin' Star." "Just You Wait" is a post-bop romp for Cunningham's flute. "If Ever I Would Leave You" and "The Heather On The Hill" (which features some pretty clarinet playing in a duet with Hersch) are given melodic and straightforward treatments. "Thank Heaven for Little Girls" is taken as cooking bebop with fine solos by trumpeter Brecker (who is also on a nearly unrecognizable "They Call the Wind Maria") and Cunningham on tenor. A delightful flute version of "The Rain In Spain" and the tenor ballad "Brigadoon" conclude this excellent outing by the versatile Adrian Cunningham.
Dick Hyman and Ken Peplowski Counterpoint Lerner/Loewe (Arbors 19471, 14 selections, TT = 64:36)
Adrian Cunningham & His Friends Play Lerner & Loewe (Arbors 19470, 11 selections, TT = 46:03)