Wilbur C. Sweatman
 was one of the first African-Americans to record Jazz. His first Jazz recordings were made less than two months after 
The Original Dixieland Jazz Band's
"Livery Stable Blues"
 which is generally considered to be the first Jazz recording.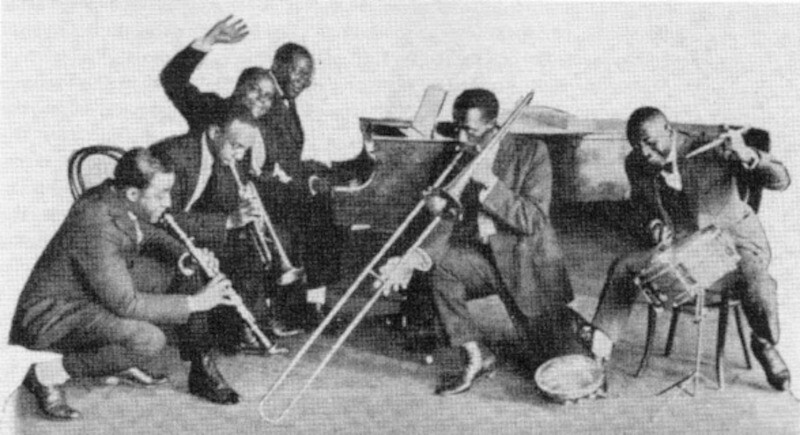 The recordings on this list, other than the "Darktown Strutters Ball" and "Goodbye Alexander" are variously labelled as by Wilbur C. Sweatman's Jazz Orchestra/Original Jass Band, Original Jazz Band/Jazz Band, sometimes omitting the middle initial.
Copies are known to exist where the band name varies from one side to the other, and sometimes on the same titles from one record to another. The Little Wonder records were released simply as Jazz Band but have been attributed to Sweatman.

Thanks to Merle Sprinzen for the Little Wonder recordings on this page. Be sure to visit Merle's Little Wonder Records site at www.littlewonderrecords.com to hear more Little Wonder Records and learn about the interesting history of these records.

Title

Recording Date

Recording Location

Company

A Good Man Is Hard To Find
(Introducing: "Sweet Child")


(Eddie Green / Erving / Stovall)

2-6-1919
New York, New York
Columbia
A2721
A Good Man Is Hard To Find


(Eddie Green)

2-6-1919
New York, New York
Little Wonder 1091
(Jazz Band)
Bluin' The Blues


(Henry Ragas)

12-5-1918
New York, New York
Columbia
A2682
But
(Introducing: "Tiddle-Dee-Winks")


(Irving Berlin / Handman)

6-10-1920
New York, New York
Columbia
A2994
Dallas Blues
(Introducing: "At The Funny Page Ball"/"Lovin' (I Can't Live Without It)"


(Hart A. Wand / Lloyd Garret)

10-7-1918
New York, New York
Columbia
A2663
Dallas Blues


(Hart A. Wand / Lloyd Garret)

10-1918
New York, New York
Little Wonder
996
(Jazz Band)
Ev'rybody's Crazy 'Bout The Doggone Blues, But I'm Happy


(Henry Creamer / J. Turner Layton)

3-30-1918
New York, New York
Columbia
A2548
Ev'rybody's Crazy 'Bout The Doggone Blues, But I'm Happy (1)


(Henry Creamer / J. Turner Layton)

3-1918
New York, New York
Little Wonder
851
(Jazz Band)
Ev'rybody's Crazy 'Bout The Doggone Blues, But I'm Happy (2)


(Henry Creamer / J. Turner Layton)

3-1918
New York, New York
Little Wonder
851
(Jazz Band)
Good-Bye Alexander
(Introducing: "Oh! Frenchy")
(Henry Creamer / J. Turner Layton)
(Con Conrad)
5-31-1918
New York, New York
Columbia
A2596
Has Anybody Seen My Corinne?
(Introducing: "Down On Bull Frogs' Aisle"/"Livery Stable Blues")
(Graham / Johnson)
(White)
(Ray Lopez / Yellow Nuņez )
8-22-1918
New York, New York
Columbia
A2663
Has Anybody Seen My Corinne?


(Graham / Johnson)

1919
New York, New York
Little Wonder
1039
(Jazz Band)
Hello, Hello!


(King)

7-22-1919
New York, New York
Columbia
A2818
I Ain't Gonna Give Nobody None Of This Jelly Roll
(Introducing: "Just Leave It To Me")
(Spencer Williams/ Clarence Williams / Maceo Pinkard)
9-24-1919
New York, New York
Columbia
A2818
I'll Say She Does
(Introducing: "'n Everything")
from "Sinbad"


(Buddy De Silva / Gus Kahn / Al Jolson)

3-31-1919
New York, New York
Columbia
A2752
Indianola
(Introducing: "Those Draftin' Blues")


(Henry and Olivas / Maceo Pickard)

6-15-1918
New York, New York
Columbia
A2611
JADa (JADa, JADa, Jing, Jing, Jing)


(Bob Carlton)

2-6-1919
New York, New York
Columbia
A2707
Kansas City Blues


(Bowman)

3-24-1919
New York, New York
Columbia
A2768
Kansas City Blues


(Bowman)

3-24-1919
New York, New York
Little Wonder
1192
(Jazz Band)
Lucille


(Wadsworth / Arden)

3-31-1919
New York, New York
Columbia
A2752
Lonesome Road (1)


(unknown)

2-6-1919
New York, New York
Little Wonder
1092
(Jazz Band)
Lonesome Road (2)


(unknown)

2-6-1919
New York, New York
Little Wonder
1092
(Jazz Band)
Oh! You La! La!
(Introducing: "I Want Him Back Again")


(Tush / Brown)

6-25-1918
New York, New York
Columbia
A2611
Rainy Day Blues


(Frank Warshauer)

1-18-1919
New York, New York
Columbia
A2707
Regretful Blues


(Hess)

3-29-1918
New York, New York
Columbia
A2548
Regretful Blues


(Hess)

3-1918
New York, New York
Little Wonder
852
(Jazz Band)
Ringtail Blues


(J, Russel Robinson / Spencer Williams)

12-5-1918
New York, New York
Columbia
A2682
Ringtail Blues


(Robinson / Williams)

12-5-1918
New York, New York
Little Wonder
1041
(Jazz Band)
Rock-ABye Your Baby With A Dixie Melody
from "Sinbad"


(Schwartz)

8-17-1918
New York, New York
Columbia
A2645
Slide, Kelly, Slide


(Briegel)

3-24-1919
New York, New York
Columbia
A2775
That's Got 'Em
(Wilbur Sweatman)
2-10-1919
New York, New York
Columbia
A2721
The Darktown Strutters Ball
(Introducing: "I'm Sorry I Made You Cry")
(Shelton Brooks)
(Clest)
5-31-1918
New York, New York
Columbia
A2596
Think Of Me Little Daddy
(Introducing: "I'm Going Back To My Used To Be")


(Whitman / Cox)

6-23-1920
New York, New York
Columbia
A2994
Those Draftin' Blues
(Introducing: "Somebody's Done Me Wrong")
(Maceo Pinkard)
(Skidmore / Friedlander)
8-17-1918
New York, New York
Columbia
A2645

Artist

Instrument

Henry Bowser
Drums
Arnold Ford,
Arthur Gray,
Arthur Shaw
Banjolines
Walter Gray
Banjo, Guitar
William Hicks
Trumpet
Major Jackson
Trombone
Palmer Jones
Piano
Romy Jones
Brass Bass
Ogese T. McKay
Brass Bass
Dan Parrish
Piano
Arthur Reeves
Trombone
Russell Smith
Trumpet
Wilbur Sweatman
Clarinet, Leader
Henry Zeno
Drums