As much as I've missed dancing during the pandemic—more than I can express, really—it's not something I've sought out online. People have put a ton of effort into organizing virtual camps, but I've generally not joined in. I've threatened to, but in the end it never felt worthwhile; if I can't explore new places, dance with new people or sit with old friends, is there much point? It took a whole new style—rekindling the thrill of being a novice—to show me the point. (That, and the sad realization that live events aren't coming back soon.)
If you'd asked me in December what I knew of Balboa, I'd have said "very little." I knew it was very fast in a very close hold—hardly a pastime for the socially distanced age. Enter CalBal Live: the online festival for both obsessives and the Bal-curious, streamed from California from January 15th through the 17th. This made things tricky for Krissy and I, joining in from England: the time difference is eight hours and, much as I miss dancing until sunrise, we weren't rising at 2 am for classes. Fortunately, festival organizers the Pacific Swing Dance Foundation were posting class recordings on Vimeo. So we opted to watch Friday's material from Saturday morning.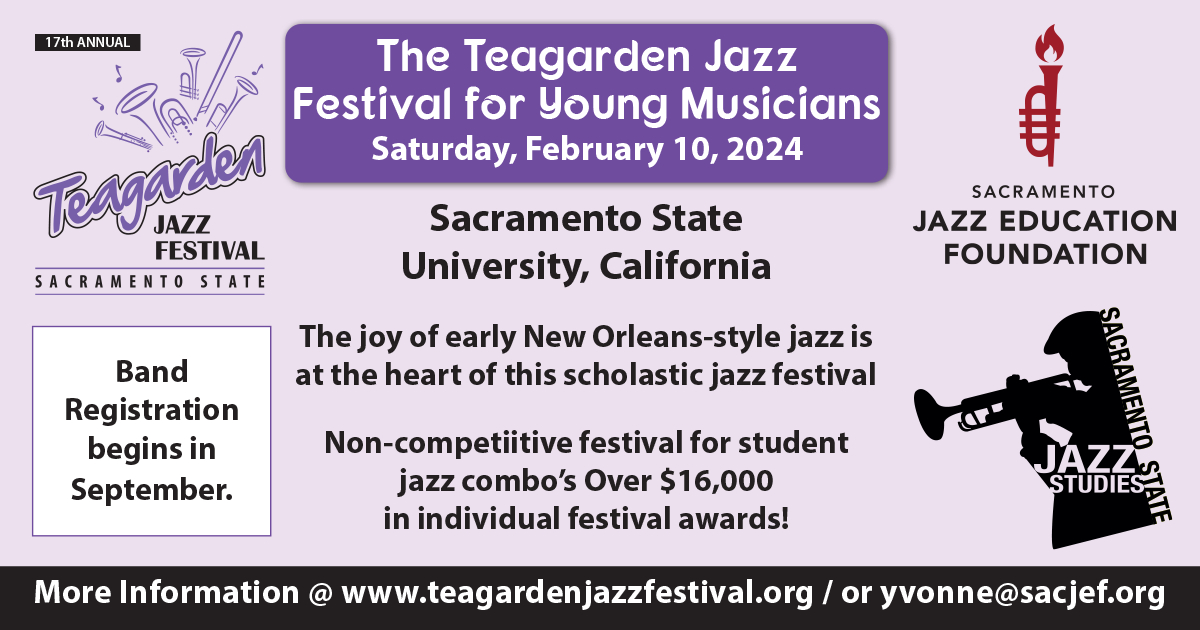 Alas, I couldn't find the beginner session to watch on demand, leaving us without even a basic step to start from. So we got on with our day, waiting for seminars to kick off that evening (Saturday morning, California time). Our first whiff of CalBal came as a lecture duet by celebrity coaches Jeremy Otth and Niko Centino. They traced the style back to 1930s Newport Beach, CA, where teens developed tight new footwork for the overcrowded floors of the Balboa Pavillion and Rendezvous Ballroom. Our guides played iconic Hollywood soundies, in which we were comforted to see a lot of Lindy hop and Charleston.
And then after dinner, taking a dive into the event's social media—eureka! A ten-minute tutorial video decoded CalBal's on-demand service, pointing us to our much-needed beginners' footwork session. Our Balboa adventure was back on. And so we dimmed the lights, removed the coffee table, whipped up some cocktails and donned our glad rags (we were doing a dance weekender, after all) for a lesson with Kelly Arsenault and Mickey Fortanasce, veterans of the nineties swing revival.
Organizers could hardly have picked better teachers for the Balboa baby pool. Kelly and Mickey walked viewers through a four-step sequence and within an hour we were dancing—although it helped that we could pause and run each part through a few times more. As we laughed through our missteps and high-fived our successes, we remembered (with a little sadness) everything we'd missed since our last dance camp in 2019.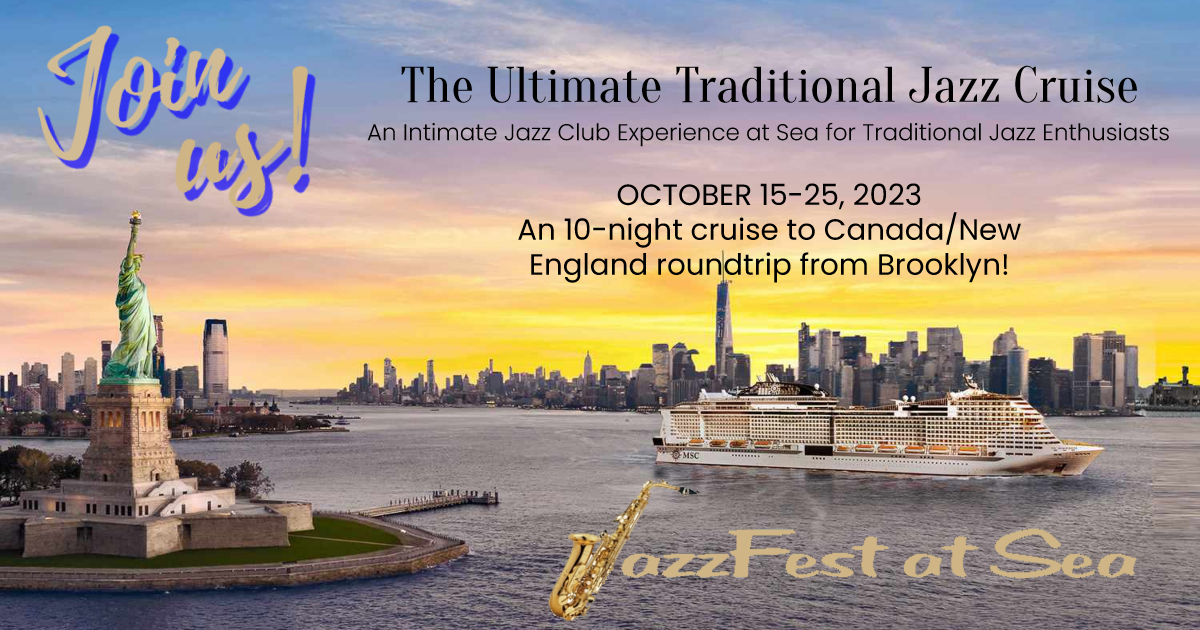 "Bring on the social," we cheered—just a little lubricated by rum and ginger beer. Firing up the Friday night recording, we were treated to some insightful interviews and inspiring archive footage, from years gone by. Then Deejay Travis Taylor (Seattle, WA) spun some tunes, as the screen cycled through the video feeds of those folks who had danced along at home. And although we weren't amongst them, CalBal Live finally began feeling like a social occasion. And so when the time came, I leapt up and danced the Jitterbug Stroll just as eagerly as I might have done in person—again, the cocktails didn't hurt.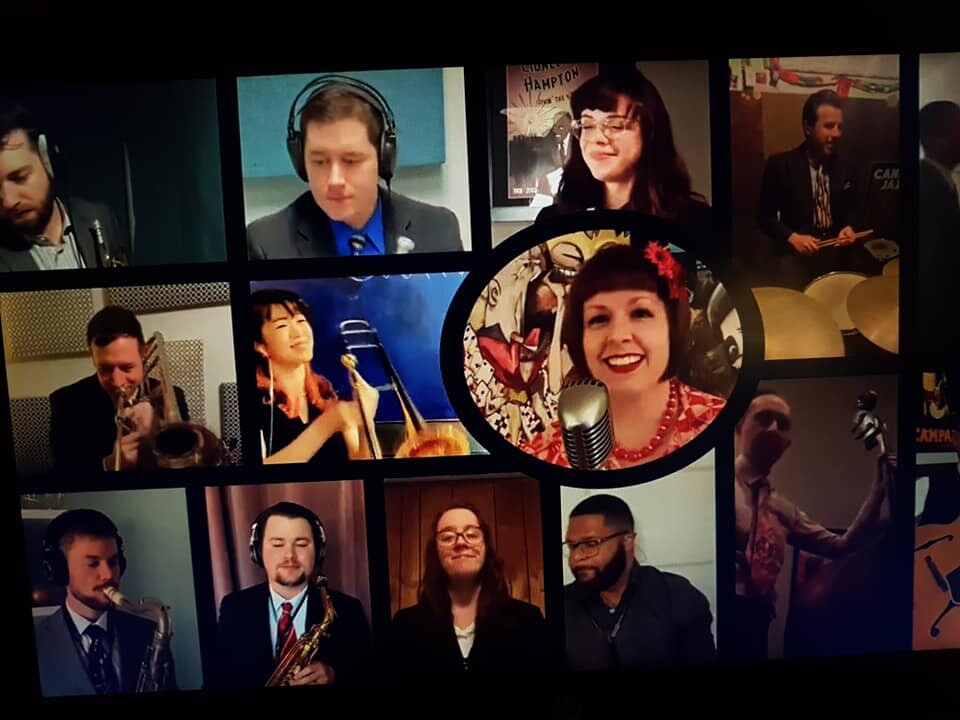 Then came the main event: specially recorded sets for dancing by Laura Windley and the Mint Julep Jazz Band, Michael Gamble and the Rhythm Serenaders, the Jen Hodge All Stars, Keenan McKenzie and the Riffers, and the Grand Street Stompers. The last of these blew us away with their take on "I Can't Give You Anything But Love," featuring the incredible vocal talents of Tamar Korn. Well, blew me away—Kris was by now asleep on the sofa. (This is something she tends to do at real weekenders, though here she was at least already home.)
No need for a taxi, we stumbled up to bed. I just had to get in on the action, so I woke at 5 am to catch Saturday's Zoom after-party with more deejayed tunes and a text chat. Not quite as intimate as the real thing, but at what other dance event could one see so many gorgeous cats? (Not just hep cats but actual cats, which were legion in Zoom's gallery view.) I couldn't help but envy those in US timezones, who could enjoy this interaction all weekend and sleep too. But then, when did I ever get much sleep on a dance camp?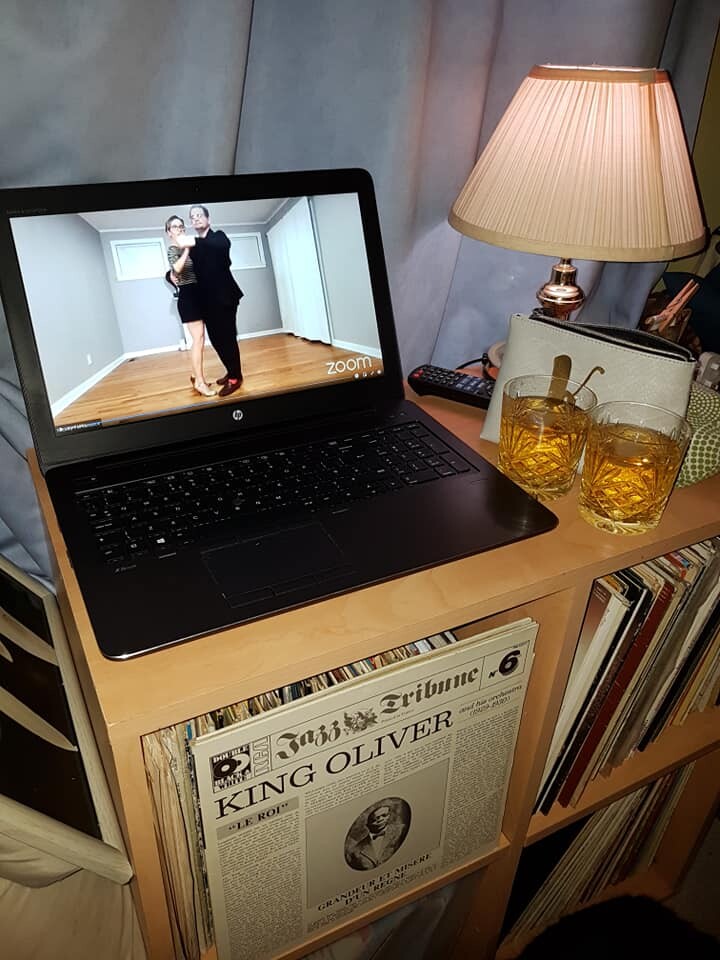 With Kris working Sunday I had to make my own fun, so I checked out the festival's other options. I'd signed up to the partner dance track, but on-demand viewing let me catch the solo dance classes and panel discussions I'd have otherwise missed. Mickey and Kelly waxed lyrical about competition and showcase dancing—something I'm nowhere near with Balboa, but which I've dabbled in as a Lindy hopper. Why to do it, when to do it and how to do it well, plus the art of creating the modern dance soundie. All are key to the survival of Balboa, they insisted—I'd better get practicing.
I also caught a seminar by superstar deejays Shana Worel and Ryan Swift (host of popular podcast The Track). They discussed how to discern great swing from merely good—including separating Basie's best and worst—and deliver a set packed with floor-fillers. It was a fascinating chat which has me re-evaluating my record collection, chock-full as it is with strange (not always good) takes on my favourite numbers. They also traded tips on where to find the best new music, from record liners to internet radio—loads of food for thought, for the future festival headliner and the mere jazz fan.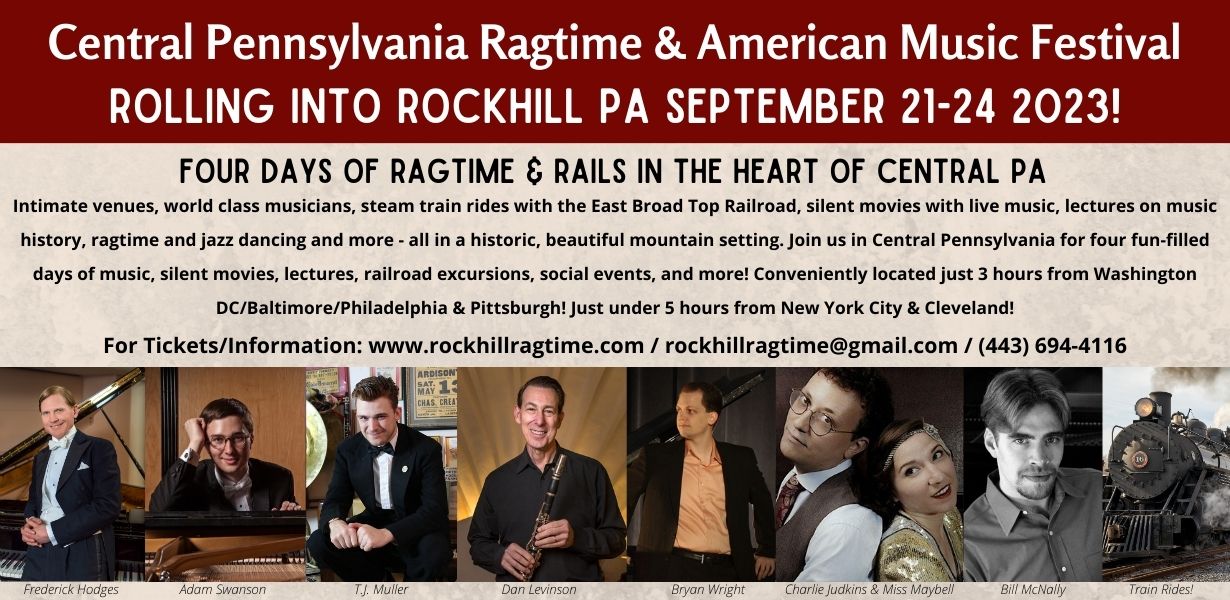 Saturday night was supposed to be dress-up night—but we were watching on Sunday, so we went casual. Lauren Ryan and Michelle Stokes kicked it off with Bobby White and Chisomo Selemani, co-hosts of the Integrated Rhythm podcast. They introduced the CalBal Film Festival, with minidocs and art pieces inspired by a mantra repeated throughout the festival: "CalBal is for everyone" (very 2021). Shana Worel raised the tempo with classic clips of Count Basie, Nat King Cole, Duke Ellington, Martha Davis, and more (plenty of pianists—I approve), before making way for a dance festival staple: the headline Saturday night contests (including solo Balboa, which we'd never even seen before).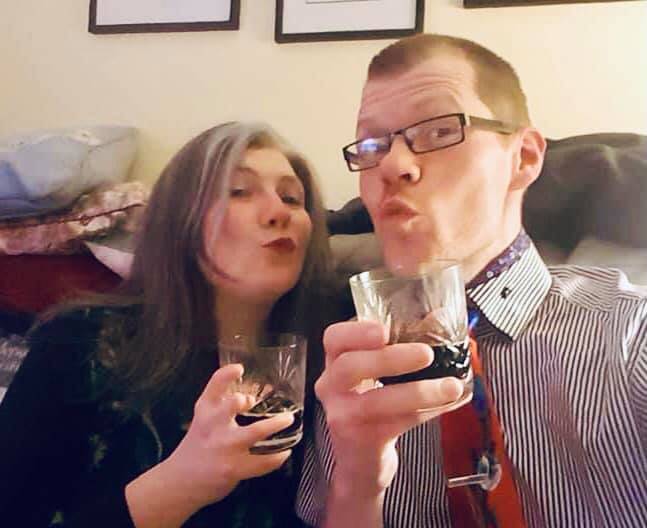 Niko presented behind-the-scenes footage of recording Jonothan Stout's new album, followed by an interview with the man himself—I must say, CalBal really found superb opportunities in the constraints of an online dance festival. Friday's bands "returned" with another hour of world premiere performances, rounding off three days of exciting online content (much like a real dance festival, I didn't last until the final after-party).
But I'm finally hep to the online dance festival. Take fifty per cent of a live camp's features, add twenty-five per cent things you can't do offline and you've got a virtual weekender almost as good as the real thing. And without ballrooms to rent, costs are slashed—tickets for CalBal Live started at just $60. Being half a world away meant we missed the live bits; a European camp would have been even better, for us. But I can see a future in the online dance festival—maybe a blended event, with packed classes beamed worldwide for remote attendees (organizers, call me). Until then, bring on another year of locked-down ballrooms—CalBal Live showed me that it need not stop us dancing.