This is supposed to be a column for the new year, but I find myself beginning to write on Thanksgiving Day, thinking of all the things for which I'm grateful. It turns out that I'm extremely thankful for the privilege to write for this publication which is about to begin its fifth year. TST not only emphasizes my favorite music, but I have the monthly privilege of being in the same publication with some of the finest writers and performers in the field. What an amazing gift and all thanks to a dear and gifted friend I've never met in person but have come to appreciate and respect immensely.
Andy Senior took on the formidable task of editing and publishing The Syncopated Times with the February 2016 issue and through nearly every imaginable trial and tribulation he has edited and composed each page so that we have received each monthly issue promptly since then. I distinctly remember buying the first issue and being impressed by the variety and quality of the articles, many in that first issue written by Andy himself. He continues to write extensively on top of everything else he does.
Gary Price's Jazz Birthday illustration also really caught my attention in that first issue. Lew Shaw, Russ Tarby, and F. Norman Vickers were also among the contributors and their journalistic credentials are extensive in the field of jazz.
The writers Andy has gathered over the last four years (now over 100 of them) are some of the finest in the fields of hot jazz, ragtime, and swing plus one fellow in Missouri who just writes for the sheer joy and fellowship of rambling on about nearly anything syncopated.
In April 2018, Joe Bebco appeared on the masthead as Associate Editor and his website expertise soon produced the remarkable digital version of TST on the Internet. He is also responsible for the paper's Facebook and YouTube sites. I must also mention the superior articles and features he writes for all the formats of TST. His articles first appeared in December 2016. Joe enjoys music from jazz to early international ethnic recordings and he has been a 78-rpm record collector for many years. It has been a pleasure to get acquainted with Joe on-line and I treasure his encouraging correspondence.
I've known of and admired Lew Shaw for many years. He was an early writer for The Music Barn in Lenox, Massachusetts, and my wife and I attended programs there many times on our stays in the Berkshires. His decades of writing and reporting on Jazz resulted in Lew being named a "Jazz Hero" by the Jazz Journalists Association in 2017.
It is high and appropriate recognition for a such a legend.
Russ Tarby's jazz writing career can be traced right down I-90 from the Andy in Utica to Syracuse NY where Russ writes for a local paper. He has covered the jazz scene for decades and his familiarity with the personalities and music greatly enrich his writing.
I learned of F. Norman Vickers passion for music and medicine from the book, Doctor's Afield, edited by Mary G. McCrea Cumen,  and was intrigued by Dr. Vickers' interest and extensive background in Jazz. His knowledge of the history and music began to grow while he was at SMU in the 1940s. I was still in elementary school when he was entering college. All these men have been at this a very long time.
By April that first year, film and music historian Jack Theakston and early Jazz stylist and sax virtuoso Dan Levinson were adding their expertise. Scott Yanow's "Nights at the Turntable" reviews have informed us of new releases ever since. I can't begin to list Scott's contributions to jazz commentary and literature. His eleven books on the subject provide a hint to his productivity.
And speaking of renowned reed men, Adrian Cunningham began contributing his "Professor is IN" columns that June. That was a big month as Bill Hoffman's first "Jazz Travels" column also appeared. I've vicariously enjoyed touring with Bill and reading his "tell it like he sees it" reports and reviews ever since. He is avid about traditional jazz and a strong supporter of musicians and companies like Rivermont that bring great music recordings to us. And, oh my, band leader, singer, dancer, and actor Randi Cee also began contributing in June. Her vividly colorful and often introspective column always leaves me with a quote or story I treasure.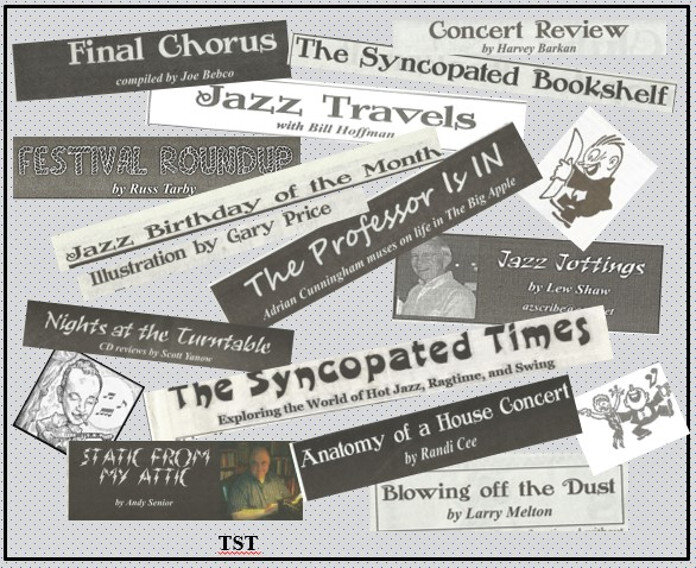 In September of 2016 I decided to try a new adventure and audaciously submitted a brief article on ragtime periodicals based on the archive collection I am curating for the Sedalia Heritage Foundation. When Andy published it in October it was all the impetus I needed to start cranking out monthly rambles I've been calling "Blowing off the Dust."
It's been a wonderful opportunity to wander around among some incredible memories of my time dabbling in ragtime history and meeting some of the most talented performers in the world (and that is not to mention the honor of rubbing journalistic shoulders with the world class writers appearing in each issue).
By the end of 2016, sixteen other writers had made occasional contributions to the 36-page papers. The issues were chocked full of event and performance information in ads and charts, with profuse illustrations and insightful and informative book and recording reviews, features, columns, and articles.
One of my regular pastimes is to check the obituaries in my local hometown paper to be sure I'm not in it. One of the critical services of TST is "The Final Chorus" column informing us of the deaths of those in the music industry who have enriched and entertained our lives. I was gratefully blessed when Andy kindly included the sad news of my wife Karen's death in June 2017. The Syncopated Times reminds us of both the joy and the sadness that encompasses reporting the music industry.
Andy's second year revealed even more expansion was taking place and the already thorough features and articles continues to get even better. I was thrilled to see my friend Fred Hoeptner contribute an article from his research and begin offering reviews of festival events he attended. Fred, who is from Southern California, had ably reported on the Sedalia festival for many years.
Harvey Barkan began contributing regular concert reviews and 35 others offered occasional articles. The paper was really building depth and the great variety of writing made for colorful reading not to mention a wider range of information and history.
Andy's third year as man of all publishing trades, began by expanding each issue from 36 to 40 pages as his ads and articles continued to increase. An article in May even featured Kareem Abdul-Jabbar proclaiming "Jazz is the Musical Narrative of My Life." Thirteen new writers made occasional contributions
2019 has seen The Syncopated Times hold its 40-page size and it has been loaded with more great writing on jazz, ragtime and swing than ever. The ensemble of regular writers have been nicely augmented by a variety of occasional contributors with varying styles and range of subjects.
After reading her posts on Facebook and enjoying her delightful drawings, I have been thrilled to see Ramona Baker's regular articles appear since April this past year. I've read her blog for months on the studio pianists and musicians from 1888-1920 and have enjoyed her colorful illustrations she posts on Facebook. Ramona is a thorough researcher and a fine performer. She has amassed quite an impressive sheet music and recording collection, yet she is also the youngest regular contributor at only 18.
I have been quite overjoyed to read Dr. Edward Berlin's recent articles and reviews. Ed is one of the most thorough researchers it has ever been my privilege to know or of whom I've known for that matter. He is the nearly definitive biographer of Scott Joplin and everything he pursues reflects the highest level of scholarship.
I shared Andy Senior's grief in June when he announced that Gary Price would no longer be illustrating the "Jazz Birthdays of the Month." Gary's caricatures were a highlight for me. He is a gifted artist. Frank Page now provides some illustrations occasionally and Joe Busam has taken over the monthly "Birthdays" illustrations.
Andy tends to rotate the feature articles each month among the musical genre the paper promotes. He and Joe and several others collect information every month on major upcoming events and review many of them when they end. There is so much packed into each issue.
And so, as I send my greetings to everyone for a joyfully syncopated New Year, I give thanks for all my unmet friends who write for The Syncopated Times and for Andy and Joe (and certainly for Sue's support) who have so professionally published it for us each month. Finding new subscribers and renewing subscriptions will make a great New Year's resolution for us all.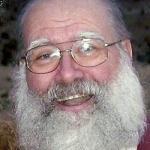 Larry Melton was a founder of the Scott Joplin Ragtime Festival in 1974 and the Sedalia Ragtime Archive in 1976. He was a Sedalia Chamber of Commerce manager before moving on to Union, Missouri where he is currently helping to conserve the Ragtime collection of the Sedalia Heritage Foundation. Write him at [email protected]