Delaying our celebration of the New Year at home, we got back to New Orleans on January 11th to begin the real festivities!
We met friends from Houston and Kansas City that first week and with beautiful weather, we enjoyed several lunches and dinners indoors and outdoors at iconic French Quarter restaurants. Oysters are always on the list together with shrimp, catfish, and crawfish delicacies.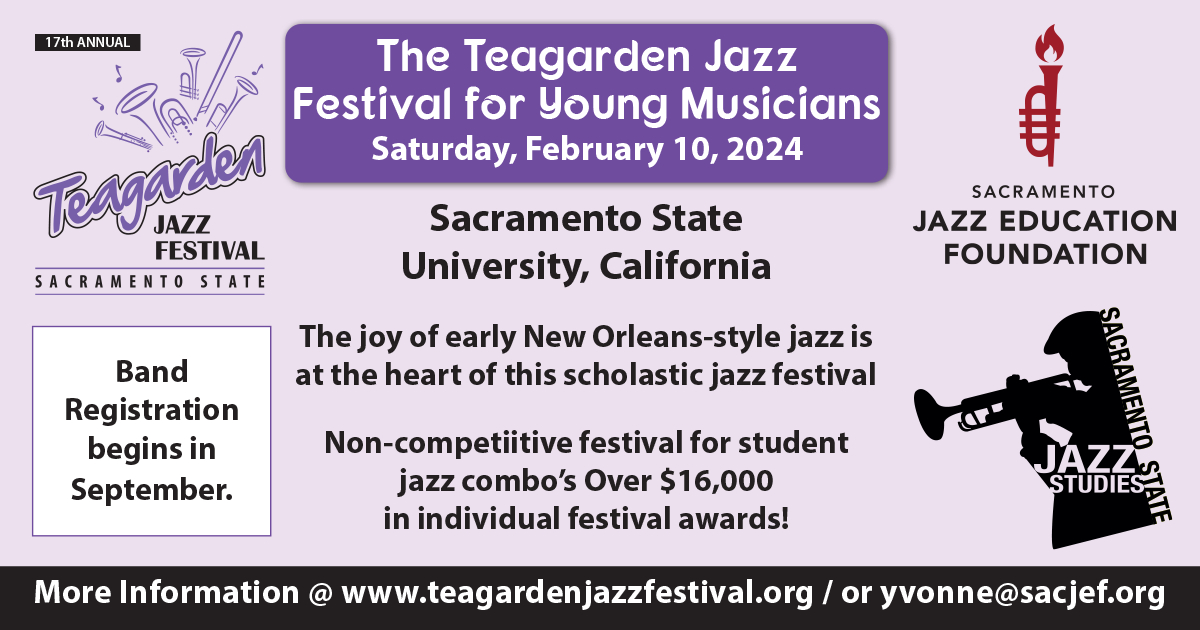 Our first stop at the Maison Bourbon featured Dave Ruffner (tb), John Gill (bj), Danny Rubio (tuba) and Josh "Jams" Marotta (dr). We stayed for a set and then headed down the block to Fritzel's with Tom Fischer (cl), Kevin Clark (tp), Gerald French (dr), Chris Sharkey (bs), and Leslie Martin (p).
As mentioned in the prior column, The Danny Barker Banjo & Guitar Festival was postponed to March 17th so we had a few afternoons that needed to be filled that first week. Fortunately Kevin Clark, as the recently appointed Music Director of Fritzel's, has arranged for afternoon music sessions on Thursday thru Sunday beginning at 12:30 pm. Many of the musicians that have regular gigs at the Frenchmen Street clubs welcome the opportunity to play during the afternoon in a French Quarter location. On Wednesdays, Richard Scott (p) also has a several hour session so that satisfied the need for some afternoon activities.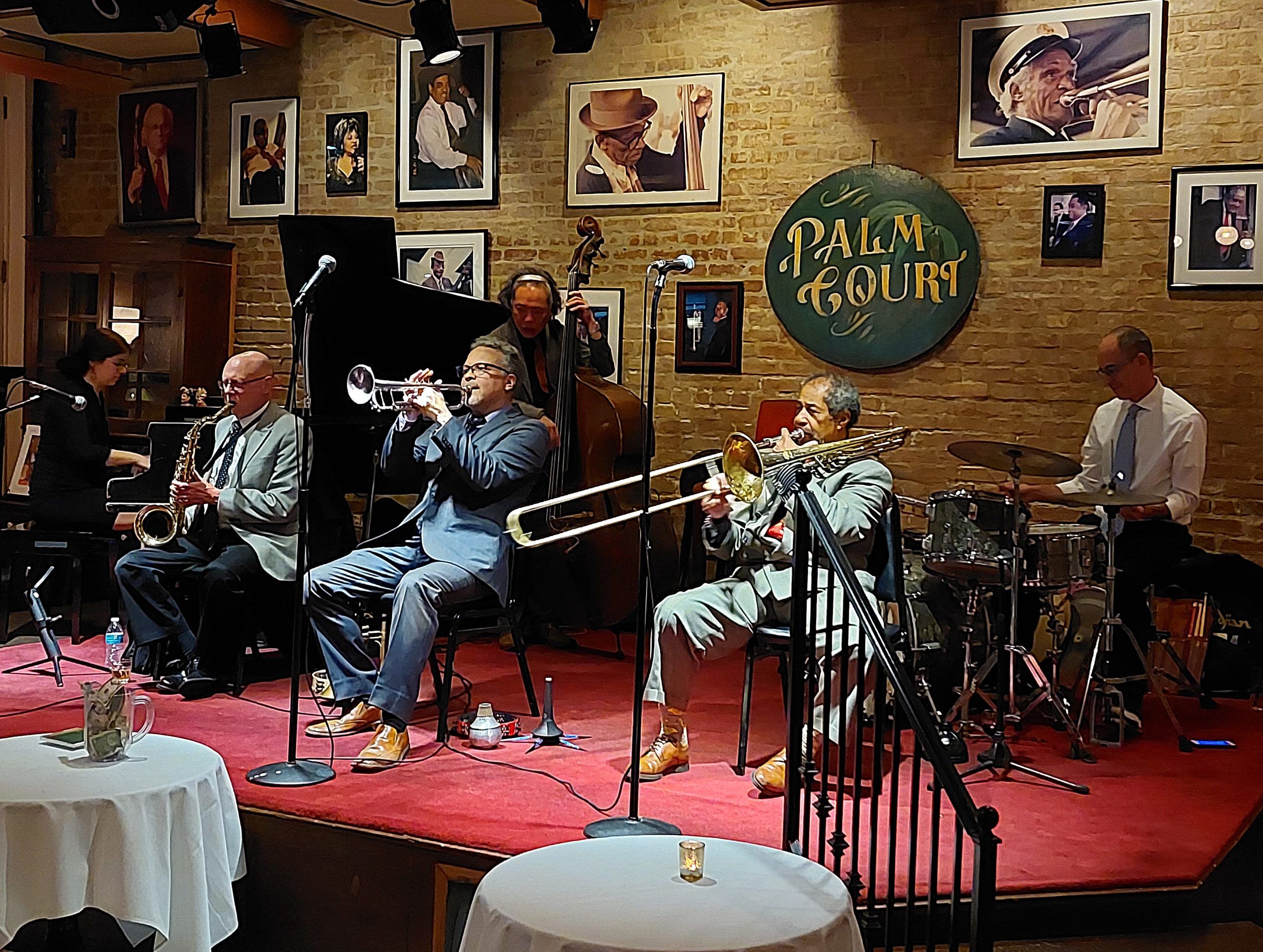 The Palm Court Jazz Café always rounds out the evenings Wednesday thru Sunday so we get to see and hear lots of our favorite traditional jazz artists: Lars Edegran (p), Gregg Stafford (tp), James Evans (reeds), Shannon Powell (dr), Duke Heitger (tp), Tim Laughlin (cl), Ed Wise (bs), Doug Belote (dr), David Boeddinghaus (p), Kevin Louis (tp, flgl), James Singleton (bs), Craig Klein (tb), Mari Watanabe (p), Tom Fischer (reeds), Glen Finister Andrews (dr), Topsy Chapman (v), Yolanda Robinson (v), Aron Lambert (dr), Mark Braud (tp), Meghan Swartz (p), Kerry Lewis (bs), Will Smith (tp), Fred Lonzo (tb), Richard Moten (bs), Louis Ford (reeds), Mitchell Player (bs) and Robert Harris (tb). Also Bruce Brackman (cl), Leroy Jones (tp), Katya Toivola (tb), Barnaby Gold (dr), Shawn King (dr), Nobu Ozaki (bs) and Joe Lastie (dr) rounded out the list. One evening local vocalist Ingrid Lucia sat in for a few songs and Peter Rozee (gtr) and new-comer Zack Lang (tp) hit the stage for several numbers.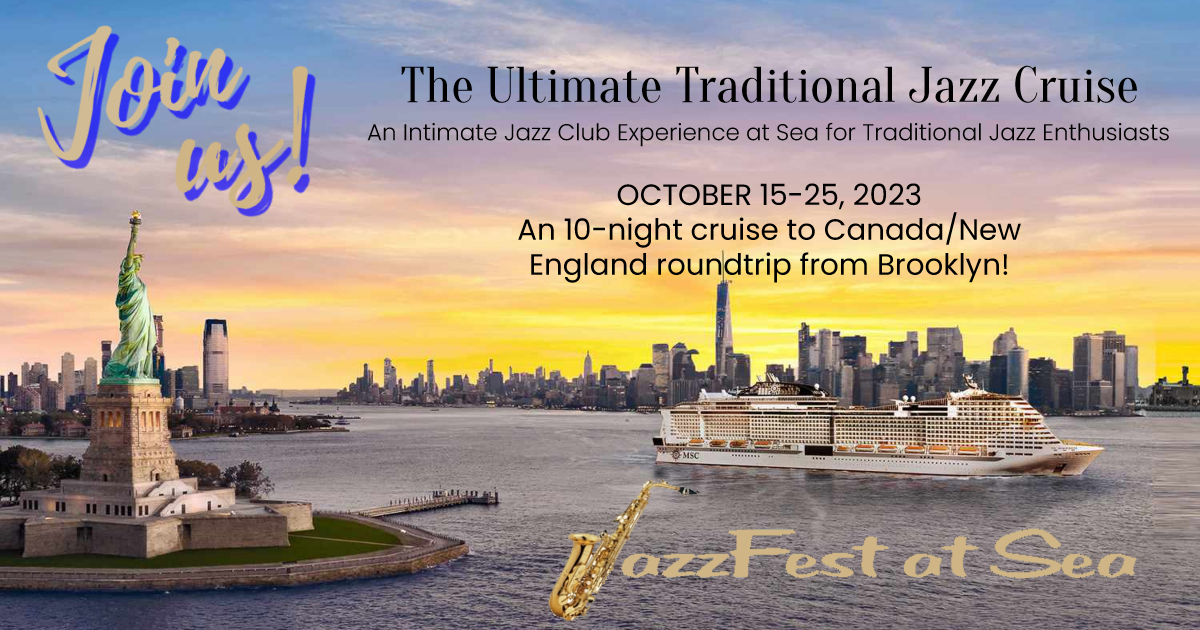 James Evans plays a C-Melody Sax which has a narrower bell than a tenor and a slightly different sound than either the tenor or alto. It is in the "middle" of those tones and is an intriguing instrument. I prefer the alto sax and the C-Melody holds its own versus the tenor.
Tim Laughlin has a late afternoon gig on Fridays and Saturdays at the beautiful Westin Hotel along the Mississippi River. The 11th floor "observatory" is a striking location for sunset views and various libations. The two-story high ceilings provided excellent acoustics for the trio with Peter Harris (bs) and Kris Tokarski (p) and it is a fine beginning to the evening.
We met a group at Fritzel's celebrating a wedding that took place the day before and the bride's parents and guests were continuing the party atmosphere. The group of 18 from Chicago and other areas ended up at Palm Court, so that evening was a special event. Lots of dancing and singing filled the venue and the smiles were everywhere. I enjoyed getting to acquaint the visitors with some of the band's usual standards and introduce them to the delicious Creole dishes. No one had ever heard anything like Freddie Lonzo's rendition of "On the Back Porch"—it will be etched in their memories forever!
As it turned out, The Historic New Orleans Collection cancelled their in-person Making Mardi Gras symposium for the following weekend (it became a virtual event in February) so we had a few more afternoons to fill. The beautiful weather left and a strong cold front came in which "dampened" a few spirits. We weren't prepared for a low of 33 degrees or for bitter winds coming off the river banks; we had to curtail a few activities through several days of rain. Outdoor dining was definitely restricted.
Several more afternoons and evenings at Fritzel's gave us the opportunity to see Bryan Besse (dr), Barry Foulon (bj), Connor Stewart (cl), Chuck Brackman (tp), Richard Scott (p), Catie Rodgers (tp), Ben Fox (bs), Doyle Cooper (tp), Josh "Jams" Marotta (dr), Z2 (p), Aaron Levinson (dr), J.D. Haenni (bs), Jory Woodis (cl), Joe Kennedy (p), Tyler Thompson (bs), Simon Lott (dr) and Marla Dixon (tp).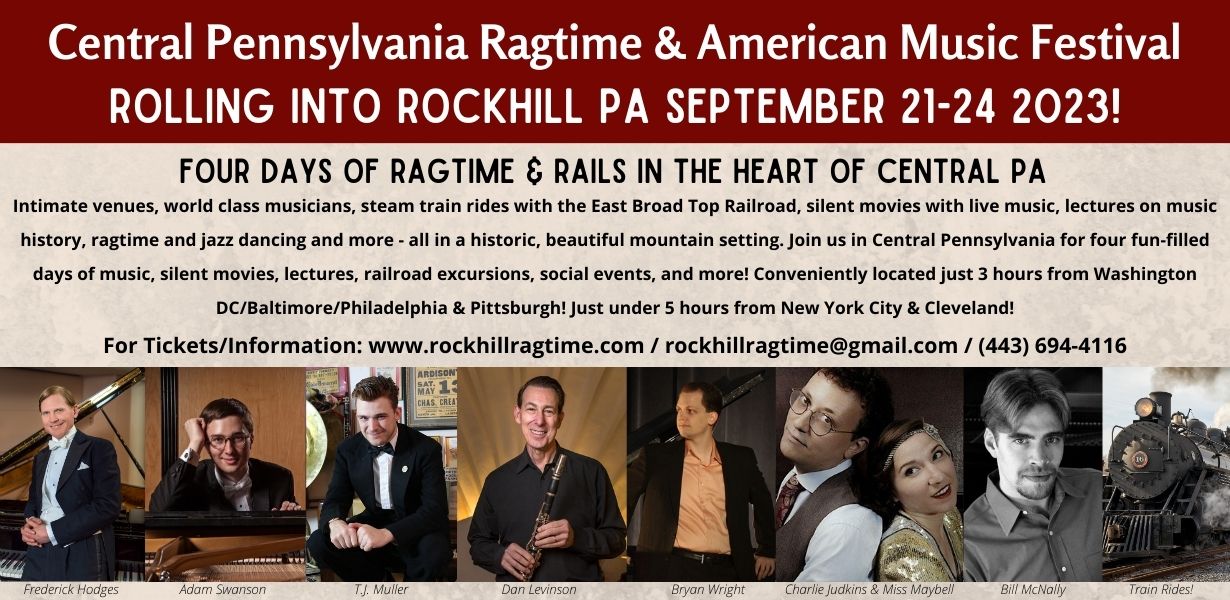 The Maison Bourbon also had Lee Floyd (bj) and Fred Staehle (dr) with a few of the regulars.
On one of the sunnier days, we stopped at Café Beignet to see Dave Ruffner again with Michael Parsons (p) and Fred Staehle (dr) while Big Al (harm) sat in for a set.
Mahogany Jazz Hall with traditional music every night showcased Kevin Louis, Joe Kennedy, Tom Fischer (cl) Mark Brooks (bs) and Gerald French (dr) one Saturday. We see so many of the same musicians at the different venues and it is fun to listen to the various arrangements as they often perform with different musicians each time. It is the improvisation that is so unique and enjoyable. You may see a trumpeter with one group and then the next night see that musician with a different set of sidemen. Their own talents are displayed in many ways depending on the leader that evening. It is always a wonderful surprise! Some of the musicians have certain numbers that are "theirs" and we look forward to the selection that we or others "request"—it is a special treat.
On Sunday, January 16th, the Betty White Memorial Parade began at Bourbon Street and Canal. The following day would have been her 100th birthday and the parade was filled with bands and go-karts and lots of pets to honor the woman that gave so much for Animal Welfare causes. Dogs of various sizes, cats, rabbits, and other household pets, walked, ran, or were carried by their owners down the street and lots of waves and beads were exchanged. The Bourbon Street Brass Band led the way down toward St. Ann and past Fritzel's and Maison Bourbon. The Audubon Society was the recipient of many monetary contributions from Betty over the years and various animal rescue organizations benefited from the parade's activities.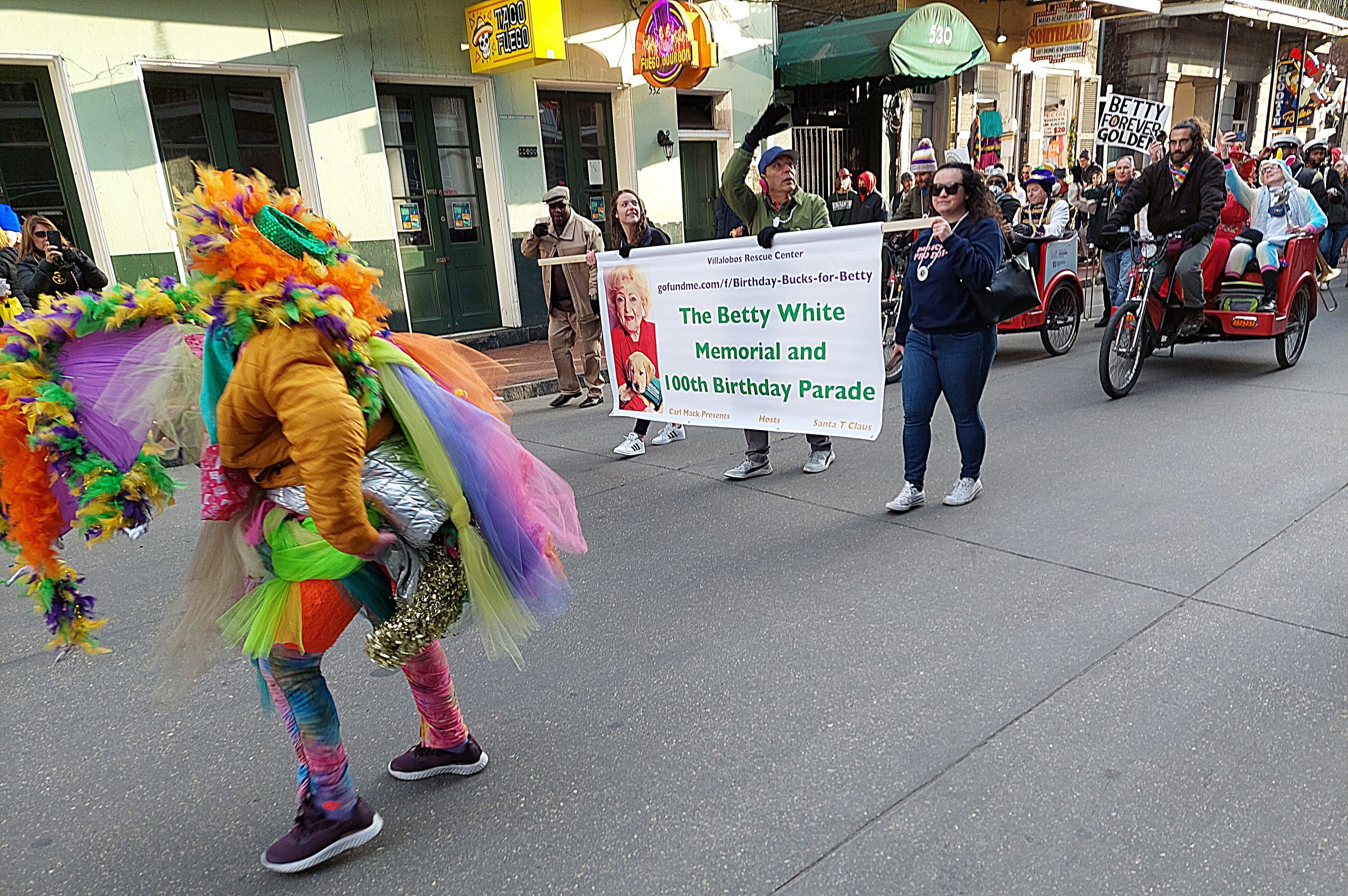 The historic Hotel Monteleone has jazz music Thursday thru Sunday and Lena Prima and her band have had a relatively steady gig there since 2011. We have seen her several times at both the Jazz Fests and at the grand opening of her father's exhibit, The Wildest Comes Home, at the New Orleans Jazz Museum a few years ago. Lena's lively band will pay tribute to her dad's most famous songs and they will throw in some rock and roll and other jazz standards throughout the evening.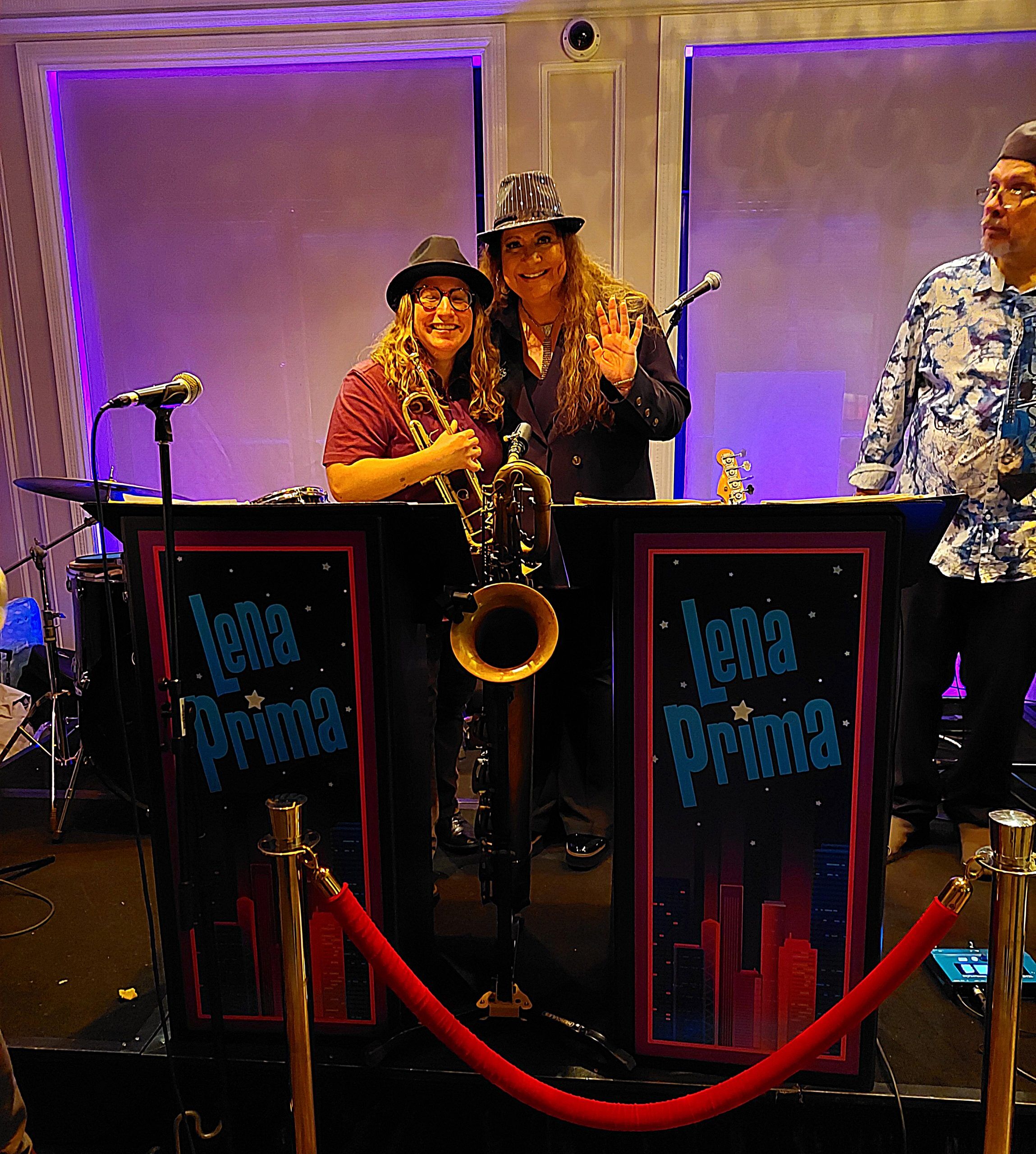 The Carousel Lounge expanded its footprint a while ago and it is always a busy venue. Lena's husband, Tim Fahey, plays guitar and contributes other support to the group. Both Mike Fulton (plays on Saturday) and Catie Rodgers (plays on Thursday) would make Louis Prima proud of their trumpet skills and the enthusiasm with which they interpret those classic tunes. Lena is a strong vocalist and band leader and it is always a pleasure to enjoy her performances.
The film crews were back in the Quarter for a Disney production of The Haunted Mansion and another group was busy with the TV series Interview with the Vampire. With the ability to turn night into day using the huge klieg lights and equipment, the filming takes place late at night into the wee hours of the morning. Large trucks line the streets and are used not only for the mechanics needed but to provide "housing" for the actors in between their takes. It is truly a "production" to witness!
We are all looking forward to the multi-postponed French Quarter Fest in April with seven days of the Jazz & Heritage Festival following that weekend. It is hard to believe it has been three years since we all gathered to hear traditional jazz in the Economy Hall tent at the Fairgrounds with its thirteen additional venues for other musical genres on the grounds. Music fills the air for miles and the surrounding neighborhoods welcome the many ancillary activities that bring such joy and pleasure to all!