Art Hickman and his Orchestra started out at the St. Francis Hotel (335 Powell Street) in San Francisco in 1913. In those early years of Jazz he was even described by the press as the originator of Jazz, which was clearly not the case and which Hickman also denied. In 1916 the jazz craze started up in New York City with the success of the 
Original Dixieland Jass Band
.
The popularity of this style of music continued to grow and in 1919 the Hickman Orchestra went to New York to play at the Biltmore Hotel and record with Columbia. The trip was very successful for the band and they returned briefly to San Francisco in 1920, but they were soon offered a part in Ziegfeld Follies. The Follies was one of the hottest show business tickets in those days and the Hickman returned to New York and were part of the show for five months in 1920.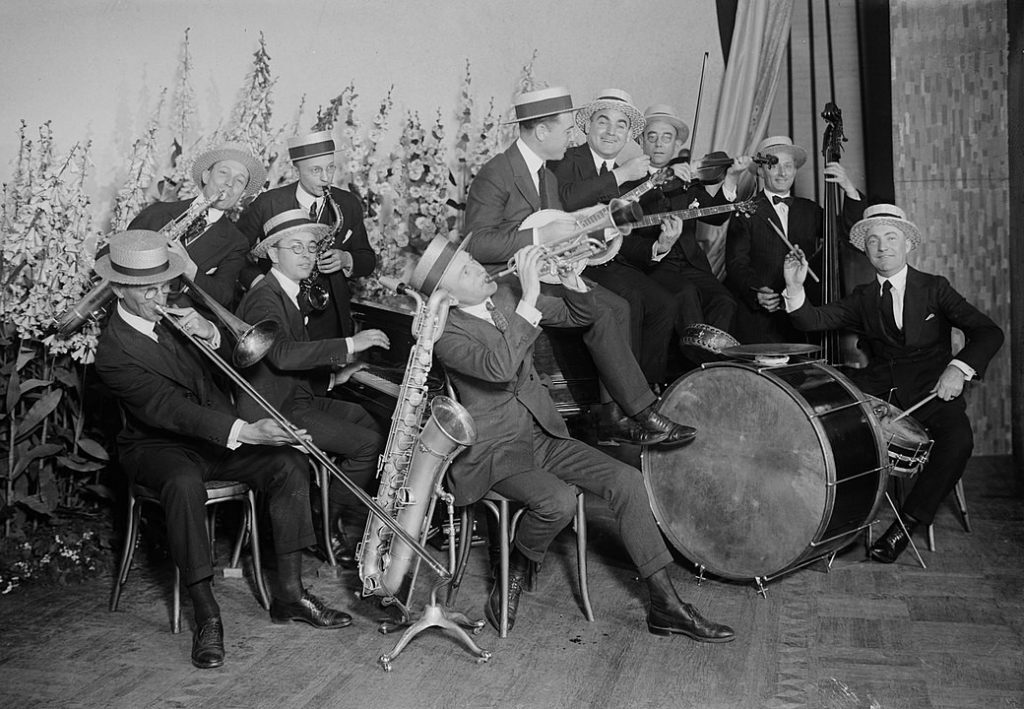 In 1921 Hickman sent a smaller group to London, England to play under the name of Art Hickman's New York London Five. Hickman did not accompany band on this trip. Returning to California the band played residencies at hotels in San Francisco and Los Angeles. In 1926 Hickman Orchestra joined another Ziegfeld show, this time in Palm Beach, Florida, but in the midst all of this success, Hickman's health began to fail and he had to turn down gigs.
In 1929 he was hospitalized and he died in 1930 of Banti's disease. The style of Jazz that Art Hickman's Orchestra played had a lot in common with the early music of Paul Whiteman's Orchestra (who also started out in San Francisco). Both groups saw themselves elevating the music beyond the wild and crazy sounds of Original Dixieland Jass Band and Ted Lewis and in the words of Whiteman, "trying to make a lady out of Jazz".
Some of the information in this article is based on the great research that Bruce Vermazen has done on the Art Hickman Orchestra. You are encouraged to read Bruce's definitive article about Hickman by clicking here. Additional thanks to Bruce for his help with some of the recordings on this page.

Title

Recording Date

Recording Location

Company

A Young Man's Fancy
(Music Box Song)
From "What's In A Name?"


(Milton Ager)

7-10-1920
New York, New York
Columbia
A2970
Alone With You
Earl Burnett, Director


(John Alden)

6-13-1924
Los Angeles, California
Victor
19498-A
Along The Way To Damascus


(Wallace)

9-15-1919
New York, New York
Columbia
A2917
Anytime, Anyday, Anywhere


(Kortlander)

9-18-1920
New York, New York
Columbia
A3325
Avalon
(Introducing: "The Japanese Sandman")


(Richard A. Whiting / Al Jolson / Rose)

10-1-1920
New York, New York
Columbia
A3322
Burmese Belles


(Platzman)

9-17-1919
New York, New York
Columbia
A2841
Cairo


(Freed / Weeks)

9-18-1919
New York, New York
Columbia
A2858
Cherry Cherokee


(Moret)

2-7-1921
San Francisco, California
Columbia
A3402
Come Back To Georgia


(Art Hickman / Ben Black)

9-25-1919
New York, New York
Columbia
A2938
Cuban Moon
(Introducing: "When Alexander Blues The Blues")
(Spencer)
(Squires)
7-21-1920
New York, New York
Columbia
A2982
Dance It Again With Me


(Wallace)

9-15-1919
New York, New York
Columbia
A2899
Dancing Honeymoon


(Grant)

9-18-1919
New York, New York
Columbia
A2880
Darling
(Introducing: "Love Flower")


(Schonberg / Silvers)

10-21-1920
New York, New York
Columbia
A3334
Day Dreams


(King)

2-14-1921
San Francisco, California
Columbia
A3387
Down The Lane With You Again (waltz)
4-29-1927
Clift Hotel,
San Francisco, California
Victor
20687
Dream House
From "Monkey Business"


(Earl Foxe / Lynn Cowan)

4-19-1928
New York, New York
Victor
21392-A
Dream Of Me


(Art Hickman / Frank Black / Jerome)

2-7-1921
San Francisco, California
Columbia
A3409
Fee Fi Fo Fum


(Motzan / Olman)

9-18-1919
New York, New York
Columbia
A2880
Goodbye, Pretty Butterflies


(Cooke / Olman)

2-7-1921
San Francisco, California
Columbia
A3458
G'wan With It
Earl Burnett, Director


(Kerr / Burtnett / Hickman)

6-10-1924
Los Angeles, California
Victor
19399-B
Happiness
(I Find My Happiness, Dear, With You)


(Meyer)

2-21-1921
San Francisco, California
Columbia
A3428
Hesitating Blues
(Introducing: "Beale Street Blues"


(W.C. Handy)

9-20-1919
New York, New York
Columbia
A2813
Hokum


(Ted Fiorito)

2-21-1921
San Francisco, California
Columbia
A3402
Hold Me
(Introducing: "Midnight Maid")


(Art Hickman / Ben Black)

9-26-1919
New York, New York
Columbia
A2899
Hold Me In Your Arms Again
4-26-1927
Clift Hotel,
San Francisco, California
Victor
20687
Honey Lou


(Rose)

2-21-1921
San Francisco, California
Columbia
A3440
Honeymoon Home
(Introducing: "In A Little Front Parlor")
(Carlo / Sanders)
(Whiting)
2-21-1921
San Francisco, California
Columbia
A3440
I Call You Sunshine


(Silver)

2-14-1921
San Francisco, California
Columbia
A3428
I Could Have Had You
(But I Let You Get By)


(Gumble)

9-18-1920
New York, New York
Columbia
A3347
I Spoiled You


(Harris)

2-14-1921
San Francisco, California
Columbia
A3391
I Still Believe In You
4-29-1927
Clift Hotel,
San Francisco, California
Victor
20685
If A Wish Could Make It So
(Introducing: "We've Got Something") from "Tickle Me"


(Stothart)

9-3-1920
New York, New York
Columbia
A3301
If I Stay Too Long From Carolina
6-13-1924
Los Angeles, California
Victor
I'll Just Go Along
4-26-1927
Clift Hotel,
San Francisco, California
Victor
20688
In Old Manila


(Earl)

7-21-1920
New York, New York
Columbia
A2982
In The Gloaming (waltz)


(A.F. Harrison)

9-17-1919
New York, New York
Columbia
A2970
I Want Your Love
(Most Of All)
Vocal Refrain by L. Van Berg
Earl Burnett, Director


(Horne / Tander)

3-3-1925
Los Angeles, California
Victor
19618-A
June
(Introducing: "Look What They've Done With Your Dog-Gone Dangerous Eyes")(Art Hickman / Ben Black)
(Kalmar / Ruby)
10-22-1920
New York, New York
Columbia
A3343
La Veeda


(John W. Alden)

7-9-1920
New York, New York
Columbia
A2972
Little Devil
Earl Burnett, Director


(Johnson / Fredricks / Bibo / Lyman)

3-8-1925
Los Angeles, California
Victor
19732-A
Mandalay


(Burtnett / Lyman / Arnhiem)

6-13-1924
Los Angeles, California
Victor
19379-A
Maybe You'll Be The One Who'll Be The One To Care


(Joe McKiernan)

4-19-1928
New York, New York
Victor
21392-B
Missy
(Introducing: "Bamboola")


(Stanton / Wenrich)

10-22-1920
New York, New York
Columbia
A3334
Molly-O


(Art Hickman / Frank Black)

2-21-1921
San Francisco, California
Columbia
A3458
My Baby's Arms
from "Follies of 1919"


(McCarthy / Tierney)

9-19-1919
New York, New York
Columbia
A2811
Near Me
(Introducing: "Broadway Rose")


(Timberg / Fisher)

2-14-1921
San Francisco, California
Columbia
A-3409
Nestle In Your Daddy's Arms


(Herscher / Burke)

2-21-1921
San Francisco, California
Columbia
A3391
Nightingale
(Introducing: "Drifting Along On A Blue Lagoon")


(Rose / Magine)

10-25-1920
New York, New York
Columbia
A3335
Nobody Knows (And Nobody Seems To Care) (intro. "I've Lost My Heart In Dixieland")


(Irving Berlin)

11-8-1919
New York, New York
Columbia
A2839
(Hickman Trio)
On The Streets Of Cairo


(Hulten)

9-18-1919
New York, New York
Columbia
A2811
Patches


(Roberts / Callahan)

9-26-1919
New York, New York
Columbia
A2814
Patsy (Patricia)
Earl Burnett, Director


(Coburn / Burtnett / Winfree)

6-10-1924
Los Angeles, California
Victor
19399-A
Peggy


(Moret / Williams)

9-19-1919
New York, New York
Columbia
A2812
Rainbow Of My Dreams


(Wallace)

9-17-1919
New York, New York
Columbia
A2841
Rose Of Mandalay


(Claar)

9-15-1919
New York, New York
Columbia
A2917
Rose Room


(Harry Williams / Art Hickman)

9-20-1919
New York, New York
Columbia
A2858
Roses For Remembrance
Vocal Refrain by Dudley Chambers


(Kahn / Curtis)

4-28-1927
Clift Hotel,
San Francisco, California
Victor
20633-A
Ships That Pass In The Night
Earl Burnett, Director


(Wallace Smith)

3-6-1925
Los Angeles, California
Victor
19732-B
Siren Of A Southern Sea


(Brashen / Weeks)

2-7-1921
San Francisco, California
Columbia
A3387
Song Of The Orient


(Rosenthal)

6-11-1920
New York, New York
Columbia
A2955
Sweet And Low (waltz)


(Johnson)

9-17-1919
New York, New York
Columbia
A2814
Sweet Little Stranger
(Introducing: "When The Right Little Girl Comes Along")


(Hanley)

10-25-1920
New York, New York
Columbia
A3335
Take It Easy


(White)

9-16-1919
New York, New York
Columbia
A2938
Tell Me Why


(Rose)

9-20-1919
New York, New York
Columbia
A2812
Tell Me, Little Gypsy
(Introducing: "Bells" from Ziefeld Follies of 1920)


(Irving Berlin)

7-9-1920
New York, New York
Columbia
A2972
The Japanese Sandman
(Introducing: "Avalon")


(Richard A. Whiting / Al Jolson / Rose)

10-1-1920
New York, New York
Columbia
A3322
The Love Nest
(Introducing: "Mary"
(from "Mary")


(Otto Harbach / Louis A. Hirsch)

6-11-1920
New York, New York
Columbia
A2955
The Winding Trail
4-29-1927
Clift Hotel,
San Francisco, California
Victor
20633-B
This Time Is The Last Time
(You're Ever Goin' To Two-Time Me)
3-6-1925
Los Angeles, California
Victor
19734
Those Draftin' Blues
(Introducing: "St. Francis Blues"/"Tishomingo Blues")


(Maceo Pinkard / Art Hickman / Spencer Williams)

9-20-1919
New York, New York
Columbia
A2813
Twilight (The Stars And You)
Earl Burnett, Director


(Nacio Herb Brown)

3-3-1925
Los Angeles, California
Victor
19575-A
When We Are Together
Earl Burnett, Director


(Rose / Owens / Coburn)

3-2-1925
Los Angeles, California
Victor
19618-B
Whispering


(Melvin Schonberger / John Schonberger)

9-1-1920
New York, New York
Columbia
A3301
Wonderful Pal
(Introducing: "Sweet Baby")


(Maceo Pinkard)

11-8-1919
New York, New York
Columbia
A2839
(Hickman Trio)
You And I


(Art Hickman / Ben Black)

9-19-1919
New York, New York
Columbia
A3325
You're The Only One
3-8-1925
Los Angeles, California
Victor
19734

| | |
| --- | --- |
| Artist | Instrument |
| Nora Bayes | Vocal |
| Walter Beban | Alto Saxophone |
| Ben Black | Banjo |
| Earl Burtnett | Piano, Director |
| Dudley B. Chambers | Vocal |
| Frank Crumit | Vocal |
| Clyde Doerr | Alto Saxophone |
| Steve Douglas | Violin |
| Frank Ellis | Piano |
| Roy Fox | Cornet |
| Art Hickman | Leader, Drums, Piano |
| Fred Kaufman | Trombone |
| Victor King | Banjo |
| Charles W. Marshall | Vocal |
| John Preston | Vocal |
| Bert Ralton | Alto Saxophone |
| Walter Rosner | Trumpet, Alto Saxophone, Director |
| Bela Spiller | Tuba or Sousaphone |
| Leonard M. van Berg | Vocal |