The Arizona Classic Jazz Society held its 32nd annual festival the first weekend in November at the beautiful Crowne Plaza Phoenix-Chandler Golf Resort (the San Marcos) with excellent weather and accommodations for all four of the venues on site. In addition to the main ballroom, there are two smaller rooms utilized at the same time while the smaller outside patio is enjoyed during the late morning or afternoon sessions. It is always a treat to stay at the host hotels for these festivals so we are right in the middle of all the "action" and can enjoy occasional chats with the musicians throughout the day and evening performances on site.
Last year's festival had only a few complete bands and it was fun to have the musicians subbing for each other on different sets. However this year, all the musicians (except two) were able to attend and were enthusiastically greeted by all of the attendees. The Lindy Exchange also took place in the ballroom and two of the other venues so dance teachers Dabney and Karen Hopkins were busy with instructions and multiple contests for their participants. It is always entertaining to watch the dozens of dancers moving to the tempos of our favorite tunes. They seem to really enjoy their involvement with the festival.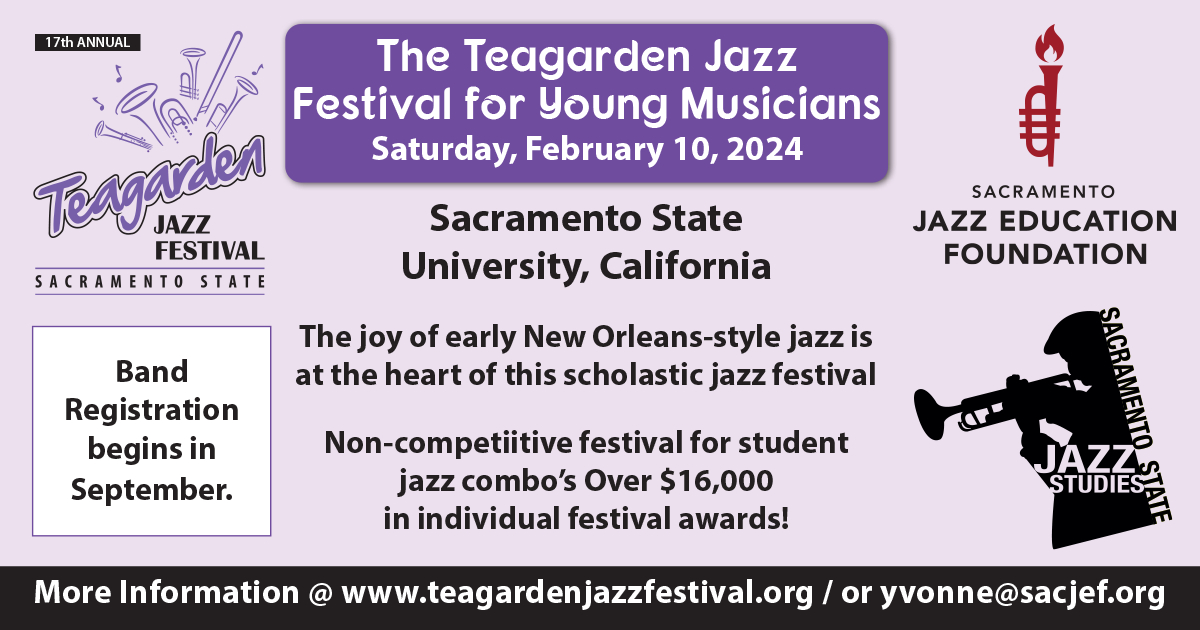 Thursday evening kicked off with a Ragtime group (Something Doin') which consisted of past and current members of the Queen City Jazz Band from the Denver area. Bill Clark (tuba), Hank Troy (p), Lance Acker (reeds), and Maurie Walker (bj) got everyone in the spirit with a set devoted to the art.
Perennial favorites Stephanie Trick and Paolo Alderighi excel at dual piano or four hand arrangements and always bring new and exciting renditions to these events. Their research and devotion to their craft is impeccable and they make it fun for themselves and their audiences! I always enjoy the explanation or history of a piece and their attention to details is admirable.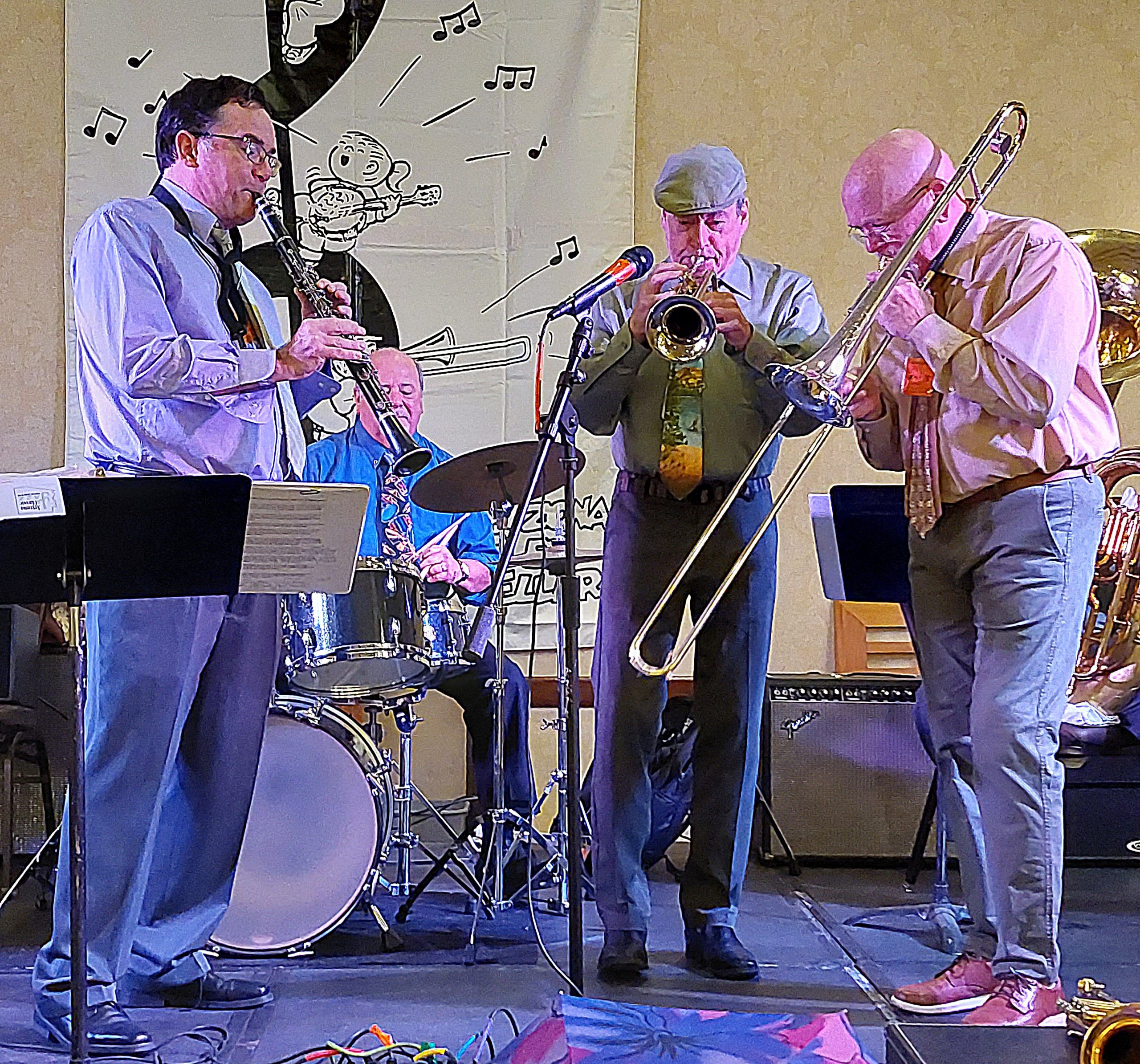 The Wolverine Jazz Band from the Boston area included leader John Clark (reeds), Tom Boates (tb), Jeff Hughes (cnt, tp, flgl), Dave Didrikson (dr), Rick MacWilliams (tuba) and Ross Petot (p). Local resident and world famous musician, Howard Alden (gtr, bj), stood in for Bob Barta (bj) who was not able to attend at the last minute. Howard was also a featured guest musician on many of the special sets throughout the weekend.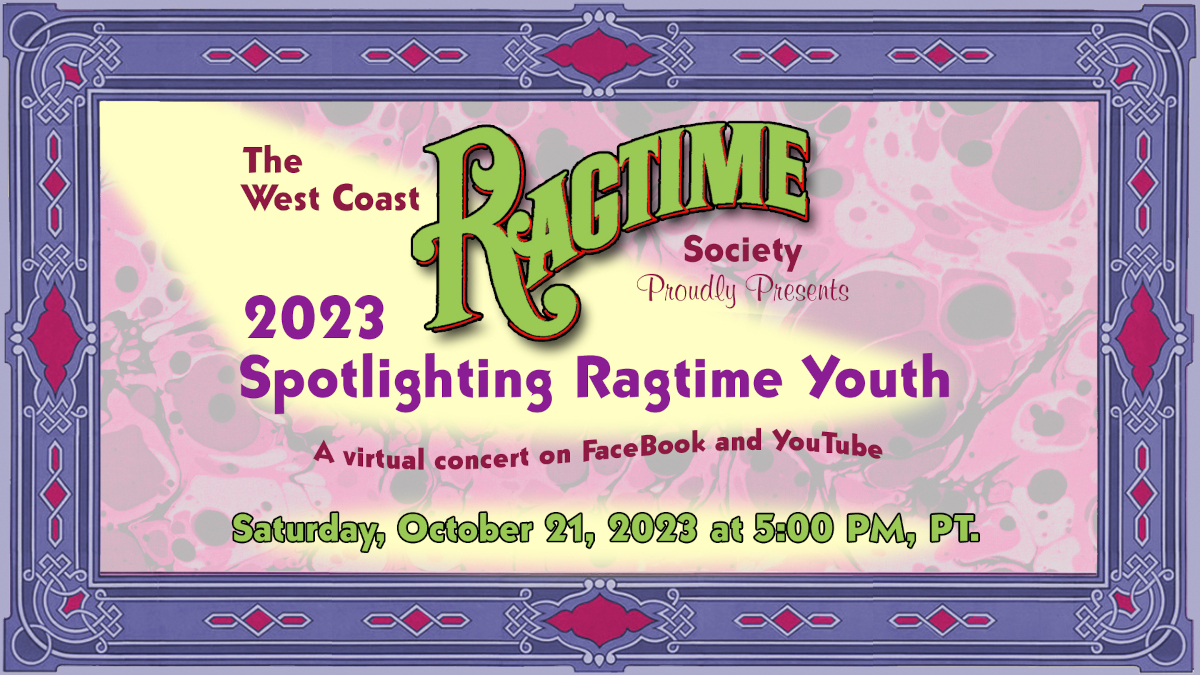 Leader Danny Coots (dr) of "Big B.A.D. Rhythm" was not able to attend the festival last year so he was also greeted with lots of enthusiasm for his band with Pat Bergeson (gtr, harm), Brian Holland (p), Andy Reiss (gtr) and Sam Rocha (bs). Danny is always fun to watch and enjoy. Pat's harmonica is extraordinary and is the tiniest instrument with the biggest sound—it is hard to believe he is actually playing all the notes that emanate from that little piece of metal! Danny also leads both Brian and Steve in their group Groovus which had several sets throughout the weekend.
Both Friday and Saturday performances run from 10:30 AM until around 11 PM with over 30 sets each day. Special sets with specific educational emphasis allowed the grant from the National Endowment for the Arts to help fund the weekend. Some of these included tributes to Eddie Condon, Louis Armstrong, Joe Oliver, Fats Waller and Duke Ellington. Others featured The Great American Songbook, Female Jazz Singers, Jazz Guitarists, and Broadway Through The Years. On Saturday night, an unscheduled, impromptu late performance with Cheryl's Vintage Jazz had the Lindy Exchange dancers in the spotlight in the ballroom until close to midnight—they had the energy and the audience had the delight of watching them expend it!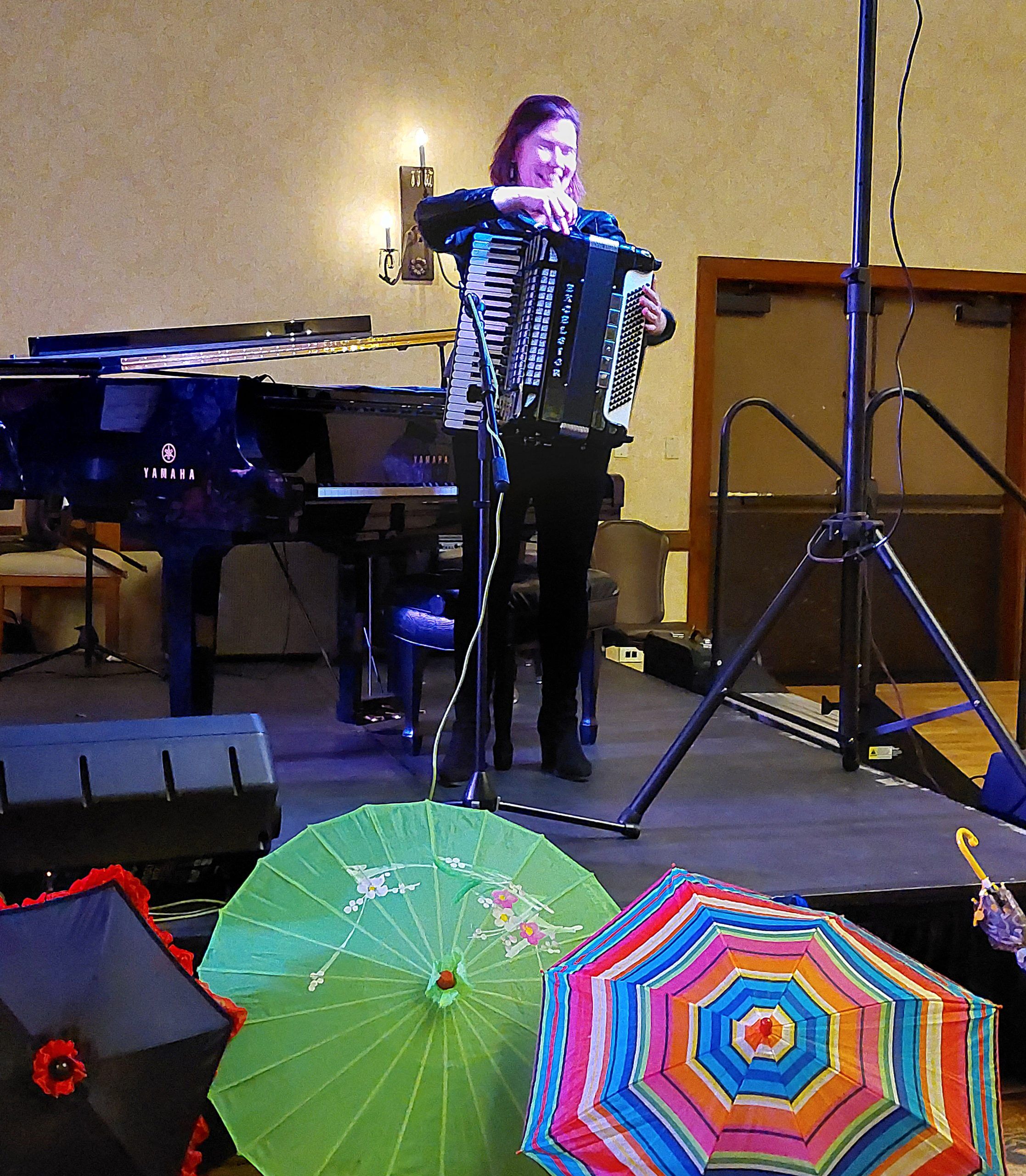 We 3 + 1 consisted of Nicole Pesce (p), Suzanne Lansford (vln), Sheila Early (dr) and vocalist Renee Grant Patrick. Renee's father was a member of one of the several non-original Ink Spots groups in the '50s-'60s and her soulful renditions of some of their most favorite songs channel her father's famous voice. They are consummate performers and blend well together for a memorable experience. It was a thrill to experience Nicole's bold performance of Gershwin's Rhapsody in Blue—it sounded like several pianos at the same time, an incredible effort.
Tucson's own Wildcat Jazz Band and leader Rob Wright (gtr, bj) together with Rob Boone (tb), Evan Dain (bs), Rick Peron (tp), Marco Rosano (reeds), Ray Templin (p) and Arthur Vint (dr) take us back in time with their banter and arrangements.
Dick Maley's WYSIWYG (What You See Is What You Get) had the drummer less in the spotlight than last year (Dick had to sub for Danny Coots in dozens of sets over the weekend in 2020—and was literally everywhere at once!) but he managed to provide lots of entertainment with Herb Bruce (tb), Greg Varlotta (tb), Randy Morris (p) and Steve Pikal (bs). This very entertaining group enjoyed playing together again and their smiles reflected that contagious happiness.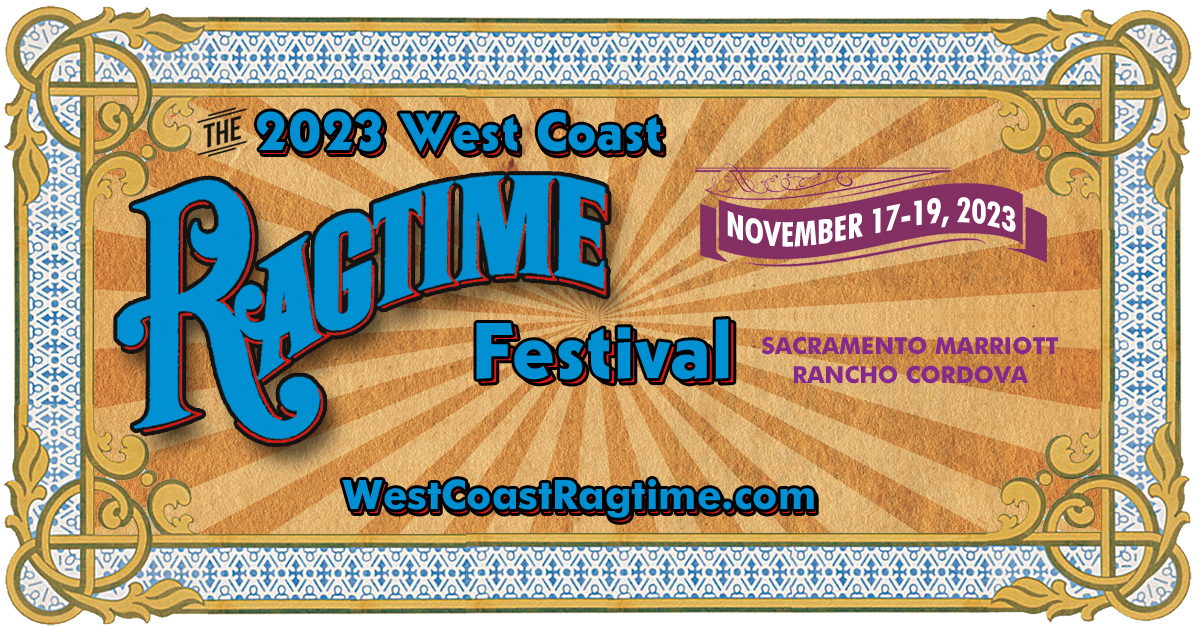 The whole Queen City Jazz Band had many sets including the Sunday morning gospel set. Leader Bill Clark (tuba), Kevin Bollinger (tp), Eric Saffeldt (tb), Lance Acker (reeds), Tony Pantelis (dr), Rory Thomas (bj) and Hank Troy (p) with vocalist Wende Harston always give a wonderful performance and their ease in playing with each other is evident. Former member Lance Acker was subbing for regular John Bredenberg who was not able to attend at the last minute and played several pieces with an "antique" sopsax – a soprano sax with a bell.
Steve Lilley (formerly of the St. Louis Rivermen) is the leader of the St. Louis Stompers with Michael Lilley (reeds), John Gillick (dr), Cody Henry (tb), Dave Majchrzak (p) and David Zink (sousa). Steve (cnt) lead the band through some phenomenal pieces exhibiting a "chase chorus" which was a call and response technique utilizing more than two instruments. I love that technique and really enjoyed multiple instruments participating in the exercise on various songs.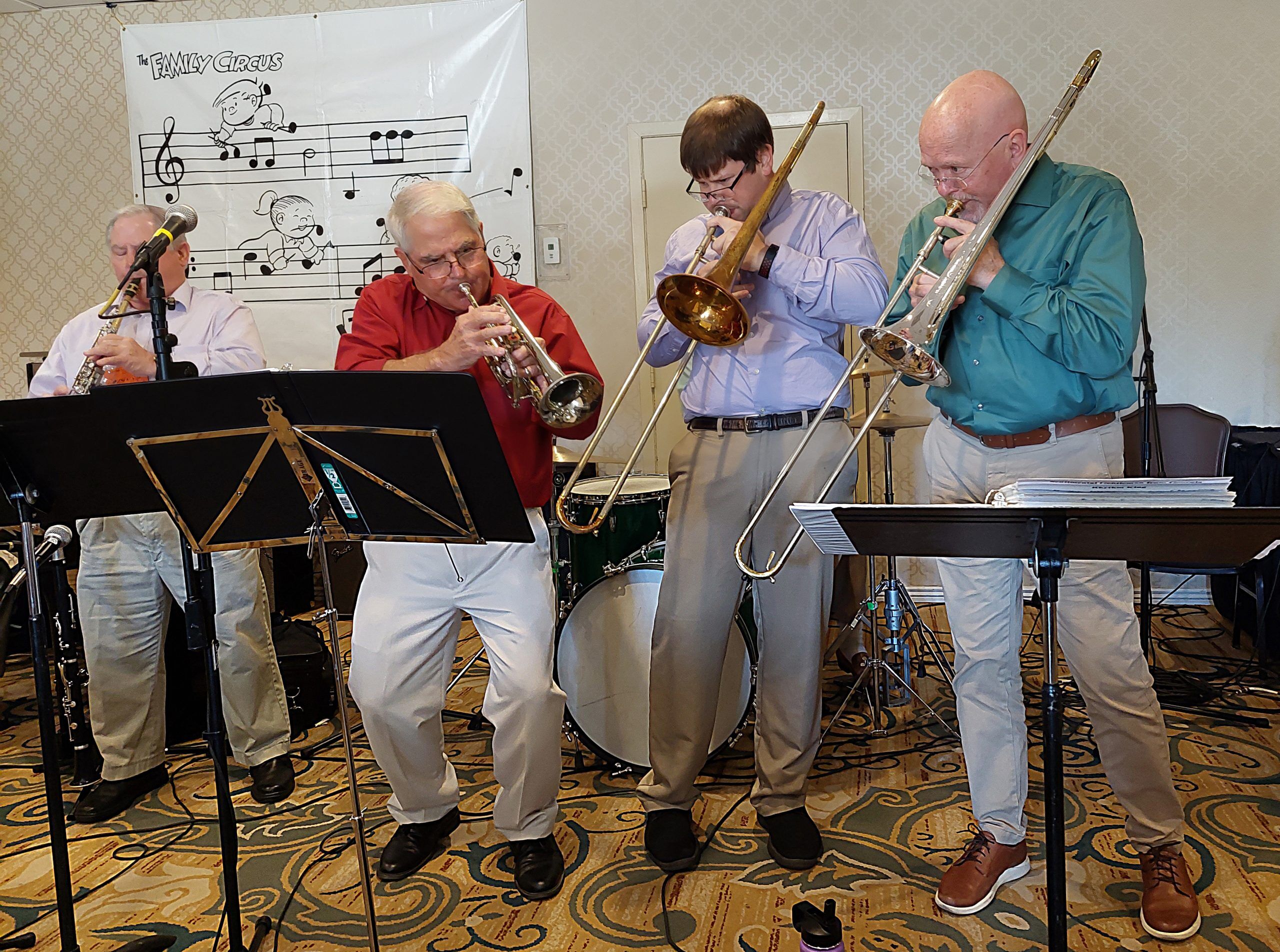 Local leader Cheryl Thurston (p) and her group Cheryl's Vintage Jazz continues to entertain and surprise us with her versatility. The line-up consisted of Marc Caparone (cnt), Katie Cavera (gtr, bj), Danny Coots (dr), Evan Dain (bs), Dan Levinson (reeds) and Howard Miyata (tb). We saw both Katie and Dan in New Orleans this past June at the Traditional Jazz Camp events, so it was a dual pleasure to see them again on our home turf.
Tom Rigney & Flambeau is beloved by many festival goers and his violin virtuosos are very special. Together with Caroline Dahl (p), Anthony Paule (gtr), Brent Rampone (dr) and Sam Rocha (bs) their infectious zydeco/Cajun sound is a foot-stomper. Because of scheduling conflicts we only caught the end of one set but what a good one to hear—his rendition of The Orange Blossom Special—it was something to witness!
Two other local groups (Sun City Stompers and Sentimental Breeze) also played but again with expected scheduling conflicts, I wanted to focus on the other bands from mostly out of town. Members from both of those groups often play at the monthly meetings/concerts of the Arizona Classic Jazz Society so I can enjoy them throughout the year.
The Grand Finale included Stephanie and Paolo with We 3 + 1 so two grand pianos were hauled into the main ballroom. Now with three pianists, the 176 keys and 6 hands were kept very busy! Each performer was given an opportunity to solo but the blended pieces were the best! Nicole also plays the accordion, who knew?!
Although the festival officially ends after the Grand Finale, there is separately ticketed Afterglow with dinner in one of the smaller rooms.
Cheryl's Vintage Jazz and Dick Maley's WYSIWYG provided the entertainment and now the relaxed musicians could really enjoy themselves. With such an attentive audience, the evening came to a close much too quickly and some of us adjourned to the lobby for additional libations and conversation. It was another great weekend with our jazz pals and performers!
♫ ♫ ♫ ♫ ♫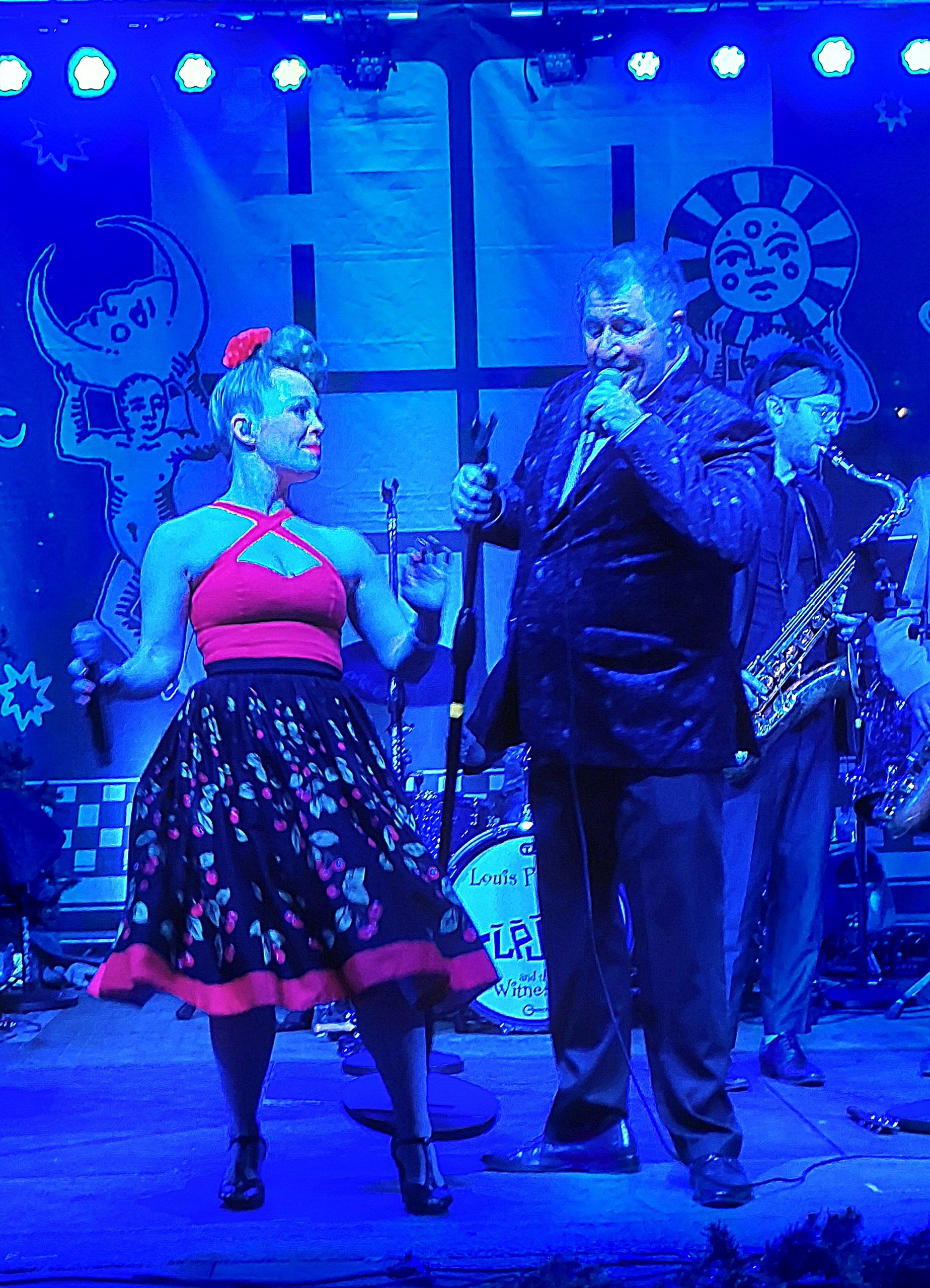 Back in Tucson on the 1st of December, Hotel Congress, a local downtown venue, had constructed an outdoor stage with seating for about 100 across the street from its sister venue, bar and eatery, Maynards. Good food and a beautiful setting welcomed Louis Prima Jr. and The Witnesses. We saw his sister Lena in New Orleans (she has had a standing gig at the Hotel Monteleone for several years) a few weeks prior so it was a special evening to see his band that has been a fixture in Vegas for many years having moved there in his teens in 1978.
His band also performed at the Jazz & Heritage Festival in New Orleans in 2015. Louis moved back to New Orleans this past year and will concentrate on being a "touring" band. He and his vocalist Kate Curran together with a strong horn section, piano, drums and guitars pay tribute to his father's band with some of his famous tunes. Louis added some holiday numbers and a few original songs to the performance. His finale of "When The Saints Go Marching In" had several of us following his band off stage with an appropriate second line around the venue. His current tour was taking them to Phoenix, California and then to several New York and Boston area settings. I'm hoping I will get to see him again in New Orleans when he isn't traveling.
♫ ♫ ♫ ♫ ♫
On December 5th we were back up in Chandler for the short annual meeting of the Arizona Classic Jazz Society. Budgets and Board Members are approved within a few minutes and then Dan Reed and Friends took to the stage for three hours of some holiday music and lots of cheer. Vocalist Ellie Chaffee with Barry Clapper (reeds), Dave Braun (cnt), Holly Channell (dr), Megan Marshall (gtr, bj), Jim Whittaker (p), Dale Gleason (tuba, tb) and Shengwen (Wen) Wu (cl, flute). They managed to follow Dan's emphases on any solo and Dan's three horns provided the intros. Dan is an exuberant entertainer and an accomplished instrumentalist with an energetic approach to any tune. Of course, beginning with "When The Saints Go Marching In" as they all entered the ballroom surely captured my heart right away! It was another fun Sunday in Chandler!