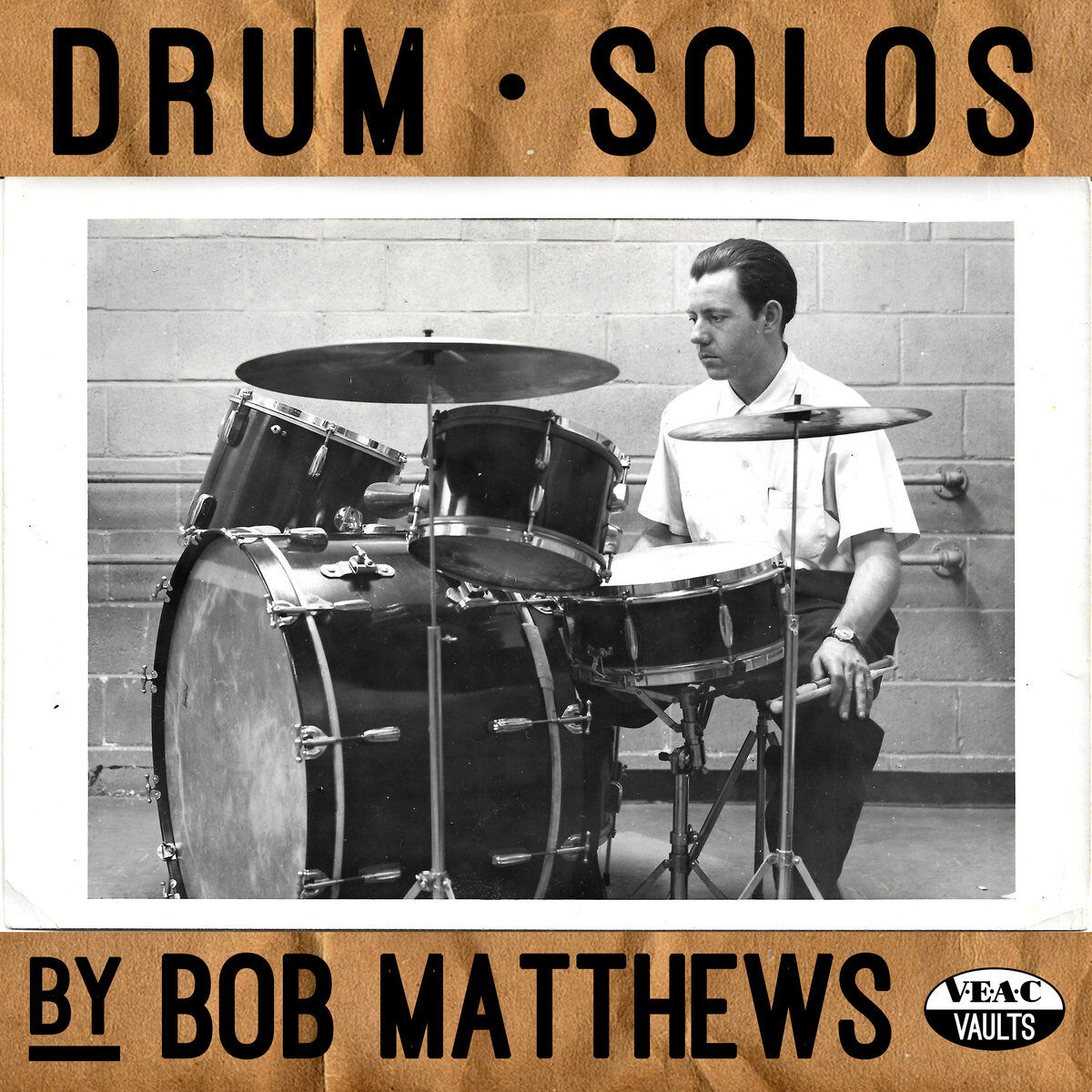 Just over two years ago, I was contacted through my Drums In The Twenties website by a man called Bob Matthews. He was at that time ninety years old, and living in more or less complete isolation in a remote rural community in North Carolina.
Over the course of several emails his life story gradually unfolded, and a remarkable one it is—its dramatis personae including numerous seminal jazz heroes, with the clubs of New York and New Orleans during the heady period immediately following the Second World War as a backdrop. Since then, Bob and I have become regular pen pals, and he's entrusted me by international mail with several of his most treasured possessions, including the only extant copy of the EP he recorded, in New Orleans in 1955, for the great jazz historian Bill Russell and his voracious tape machine: Drum Solos.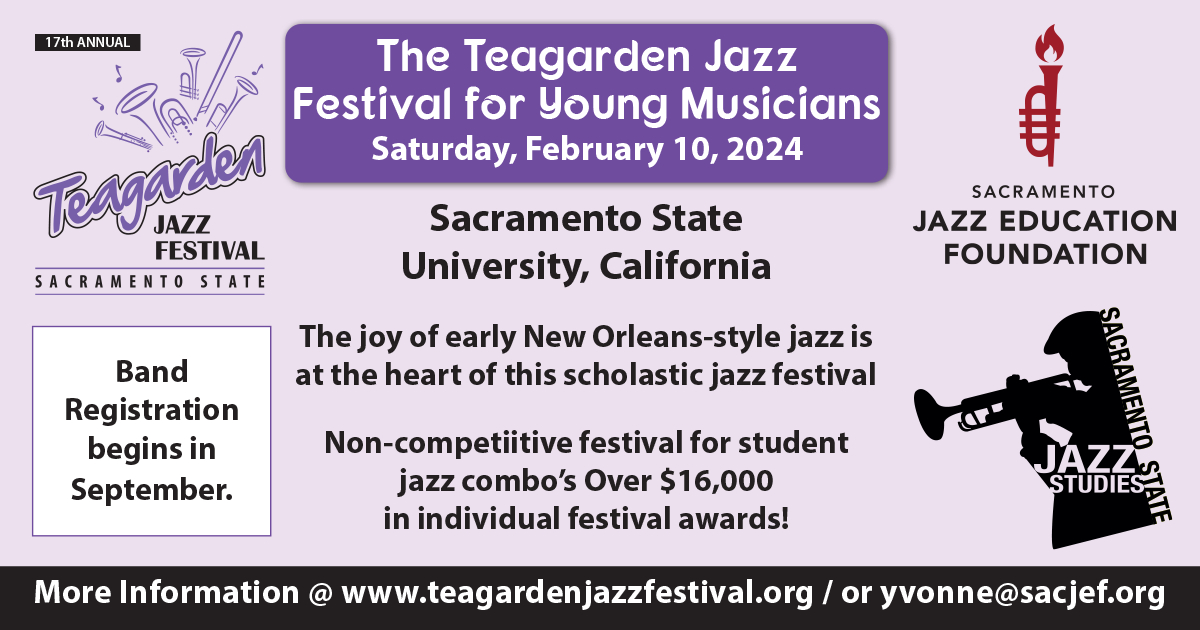 Drum Solos has never been released to the public—until now, 66 years later! Despite the passage of time, it's a thrilling glimpse of a great but almost-forgotten virtuoso of the skins—and a unique document redolent of the fascinating period in jazz history when the first great generation of heroes passed on the torch to another.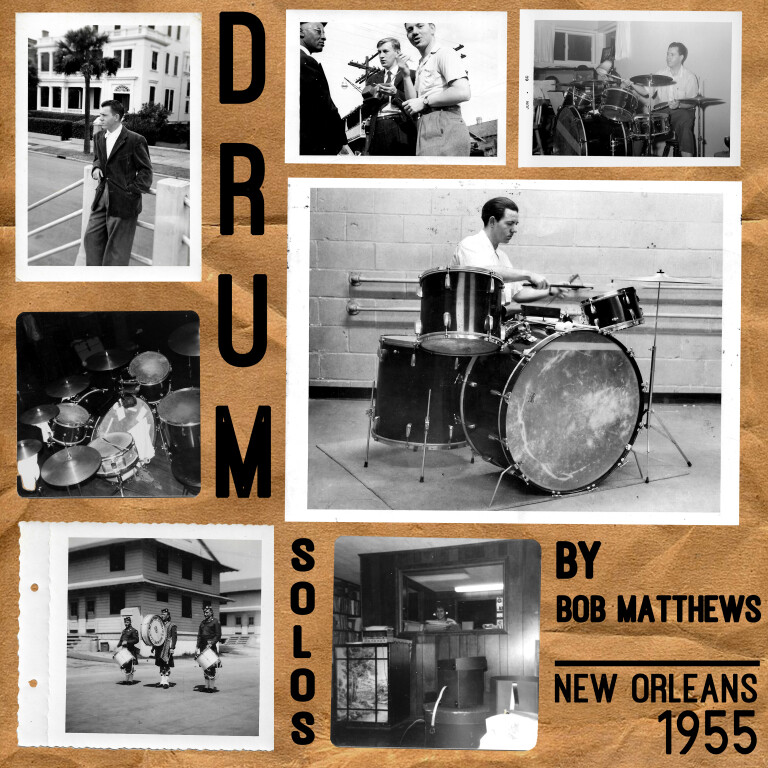 Bob was born in Atlanta, Georgia, in 1928. As a very young child he was entranced by music and having begun lessons on mallet percussion and piano, received his first drum ("a beautiful wood parade drum") aged nine. In his high-school years during the late '30s and early '40s, he immersed himself in jazz, playing local gigs with his school band and religiously attending concerts whenever touring artists passed through the state. At several of these gigs he even managed to sneak backstage to meet some of his drummer heroes, including Jo Jones and Dave Tough.
In 1947, having turned 18 and with the war at an end, Bob travelled to New York, where he met, befriended and played with some of the stars of the traditional jazz scene, including Sidney Bechet, Bunk Johnson, and the great Baby Dodds, who adopted him as something of a protegé. Bob also attended concerts to hear and meet Louis Armstrong, Gene Krupa, and Duke Ellington, among many others.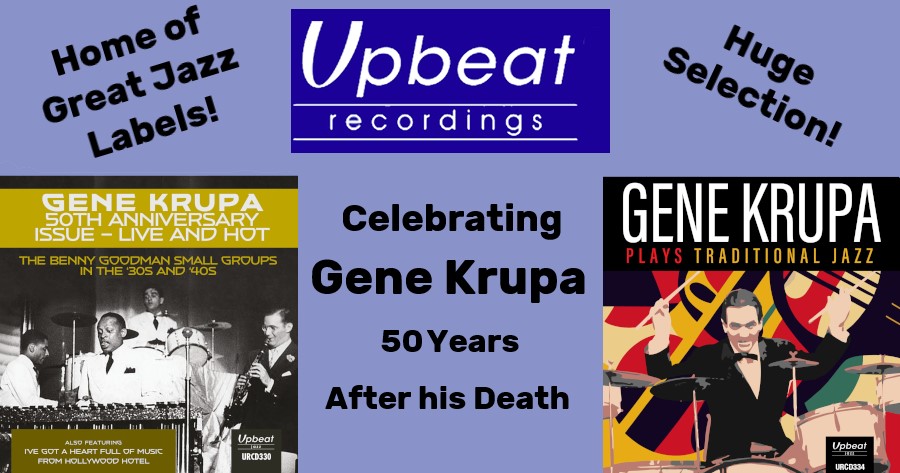 Matthews then moved to New Orleans to study at music college on a GI Bill scholarship. There he became part of the furniture in the traditional jazz world for well over a decade, performing and recording with Ray Burke's Speakeasy Boys and coaxing the legendary Johnny St. Cyr out of retirement to record with him; St. Cyr would consequently enjoy a late-life second musical renaissance. For a spell Bob was also close with Bill Russell, who was then utterly consumed by his lifelong mission to trace, record and preserve as much of the city's musical history as he humanly could. It's also Bob we have to thank for the unique and fascinating film Russell made of Baby Dodds playing the drums, since it was he who suggested that the great drummer's unique and original style really ought to be seen as well as heard.
It was in October 1955 that Russell set up his portable unit to record Matthews' own solo record, in the dance studio of the music school he was attending. A 92-year old Bob recalled:
"When we started the session I just couldn't get it together. We then took a break & had a meal at a nearby cafeteria I always ate at. After we returned it started to fall into place. I don't know how, but it did. I recorded a variety of things: Morton's New Orleans Joys, Scott's Climax Rag, two Improvisations (full set and soft mallets on tom toms), and three others. I don't remember how I thought of using complex rags and melodies to inspire me to try and follow."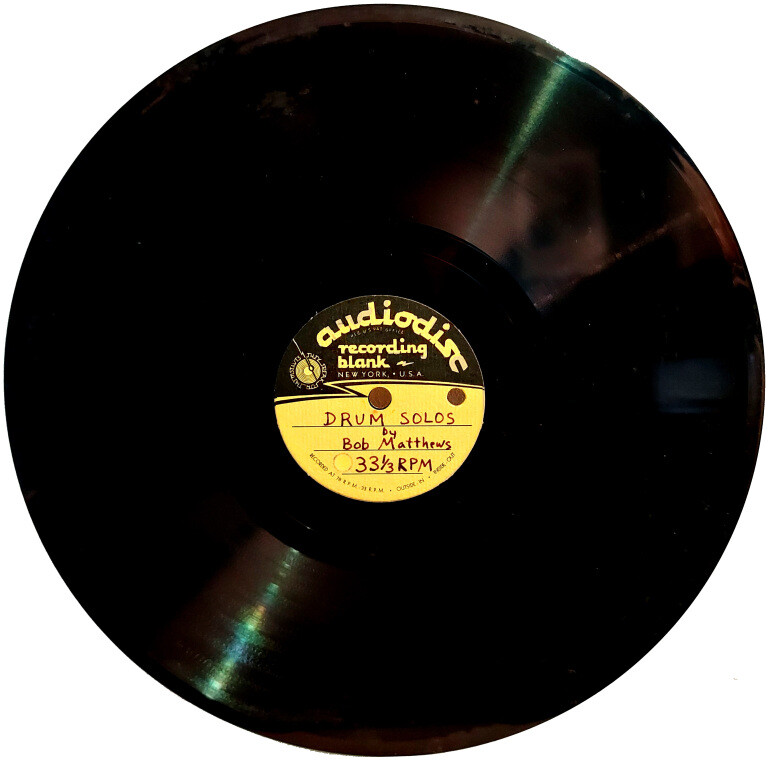 Bob's playing on Drum Solos, whilst clearly inspired by that of his mentor Dodds, and derived from a New Orleans drumming heritage, possesses a distinct character and quality of its own. Like Dodds, he performed several examples of a kind of "extrapolated drum part" for several pieces drawn from the jazz canon, which are measured, groovy and very absorbing. But possibly even more intriguing are the two artistic and colourful "Improvisations"—presumably composed in the moment solely out of the drummer's own imagination—which are, simultaneously, both deeply traditional and (for 1955) almost approaching the avant-garde.
As a student of the history of jazz drumming as well as a practitioner, when Bob first told me he had decided to send me the only copy of the album I felt an immense amount of responsibility, as well as a thrill to discover this unique and hitherto-unheard musical artifact. It took a certain amount of work to prepare and transfer the disc (which had been dubbed from the original tapes some time in the late '50s, and damaged by mildew) and to collaborate with Bob on the accompanying liner-notes PDF document telling his story in more detail, through memoirs and photographs. I'm delighted to finally be able to present Drum Solos it to the world, with the blessing and co-operation of Bob himself—who in fact still owns the same set of drums he used for the session. I believe it's a very special and unusual record.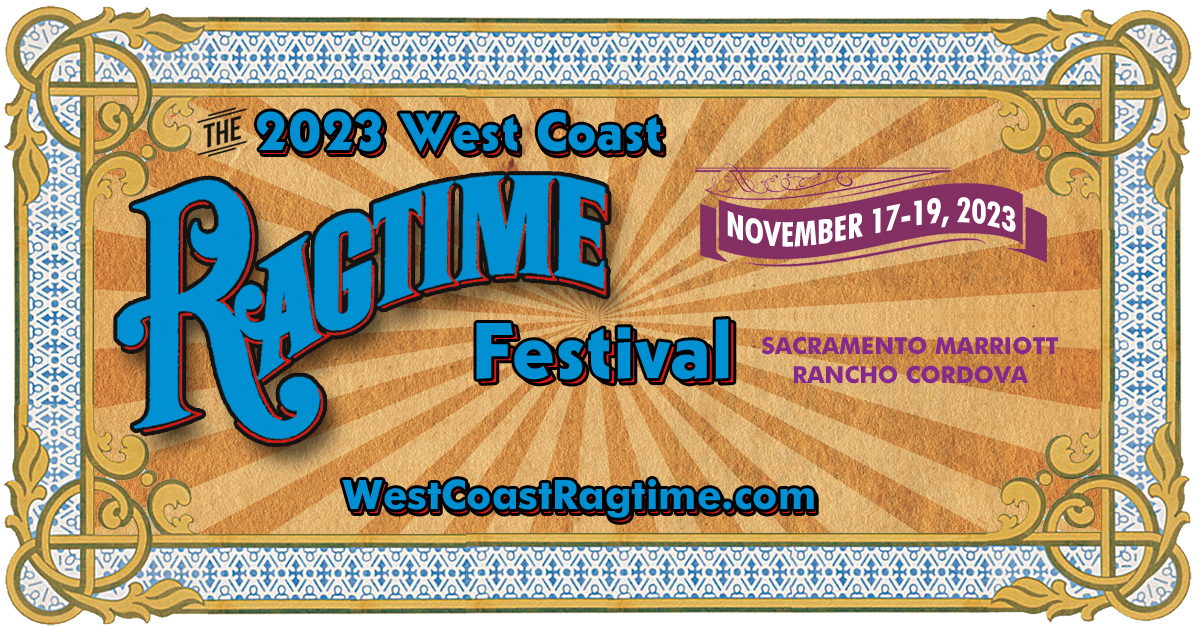 Drum Solos is available now from VEAC Vaults Historic Record Reissues via Bandcamp: veacvaults.bandcamp.com.