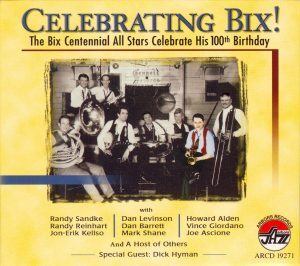 2003 was the centennial of cornetist Bix Beiderbecke's birth. Celebrating Bix! is a very well-conceived tribute to Beiderbecke that Arbors released that year.
Organized by Dan Levinson, Doug LaPasta, and David White, the project includes quite an all-star cast: cornetists Jon-Erik Kellso, Randy Reinhart, and Randy Sandke, Dan Barrett on trombone and cornet; trombonist Harvey Tibbs; Dan Levinson, Peter Martinez, Scott Robinson, and Jack Stuckey on reeds; pianist Mark Shane (with guest Dick Hyman taking "Clementine" as a piano solo); guitarists Howard Alden and Matt Munisteri; bassist Greg Cohen; Vince Giordano on bass sax and bass; and drummer Joe Ascione, plus Barbara Rosene, James Langton, and the Manhattan Rhythm Kings on vocals.
Throughout this project, the group (with arrangements by Peter Ecklund and Levinson) succeeds at doing a balancing act between recreated passages and new improvising. While aspects of the original recordings are brought back, the soloists often get the chance to come up with their own statements within the style.
Using three cornetists on most selections is an inspiration for they play harmonized renditions of some of Beiderbecke's famous solos and ensemble playing on such songs as "At The Jazz Band Ball," "Riverboat Shuffle," "Davenport Blues," "Jazz Me Blues," "Clarinet Marmalade," "Way Down Yonder In New Orleans," "San," "Deep Down South," and of course "Singin' The Blues."
In addition, all of the horn players (other than Martinez) get solo space, including each of the cornetists. Barbara Rosene does very well singing in the period style on "Proud Of A Baby Like You," "I'm Coming Virginia," and "Singing The Blues" while the Manhattan Rhythm Kings liven up "Borneo" and "San."
I'm sure that Bix would have loved to sit in with this group.
Celebrating Bix! (Arbors 19271, 19 selections, TT =76:54) wwwarborsrecords.com (CD Sold Out, a Download is available from Bandcamp, Amazon or any other service.)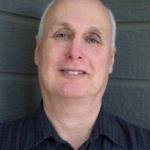 Since 1975 Scott Yanow has been a regular reviewer of albums in many jazz styles. He has written for many jazz and arts magazines, including JazzTimes, Jazziz, Down Beat, Cadence, CODA, and the Los Angeles Jazz Scene, and was the jazz editor for Record Review. He has written an in-depth biography on Dizzy Gillespie for AllMusic.com. He has authored 11 books on jazz, over 900 liner notes for CDs and over 20,000 reviews of jazz recordings.
Yanow was a contributor to and co-editor of the third edition of the All Music Guide to Jazz. He continues to write for Downbeat, Jazziz, the Los Angeles Jazz Scene, the Jazz Rag, the New York City Jazz Record and other publications.