Jazz Travels with Bill Hoffman
In the past two months or so I attended release parties in Manhattan for two CDs that have already been reviewed in TST: The Unheard Artie Shaw by the James Langton New York All-Star Big Band, and the New Wonders' first release.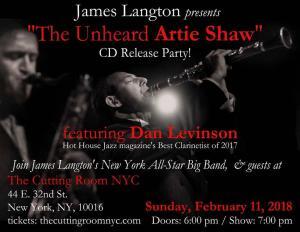 The first was on Sunday, February 11, for the Langton band at a place called the Cutting Room. This is an upscale restaurant/bar with a spacious stage and good acoustics, and coincidentally, very good food at prices that are not unreasonable given its Midtown location. Its only drawback is two substantial pillars that partially block the view of the full stage from tables on the sides of the room.
I had seen the Langton band in Manasquan, New Jersey a few weeks earlier for its tribute to the 80th anniversary of Benny Goodman's Carnegie Hall concert, which I reported on in April. The personnel was slightly different not only this time, but also from the recording date in August, 2016. On reeds, Marc Phaneuf and Matt Koza replaced Will and Peter Anderson, but the former may be considered the regulars in the section, as I've seen them before with the band and both are on the CD. Mike Weatherly on bass and Mark Shane on piano, instead of Rob Adkins and Craig Gildner, respectively, are on the record.
All the other regulars, save one, were on hand: James Langton, Dan Levinson, and Mark Lopeman on reeds, Jim Fryer and Harvey Tibbs on trombone, Joe Boga, and Brian Pareschi on trumpets (with Mike Davis replacing Jon-Erik Kellso who is on the CD but was not at either live concert I attended), Kevin Dorn on drums, and Molly Ryan on guitar and most vocals. There was another vocalist, Madeleine Peyroux (pronounced pay-ROO), uncredited on the CD but identified in the liner notes as "Moanin' Mary." She sang several songs that Billie Holiday sang with the Shaw band that were never released. I attest that her renditions of Holiday were very close to the original. There was one important difference between the CD, tonight's show, and Shaw's band for much of its peak popularity: the lack of a string section.
It is common at CD release parties to construct most, but not all, of the playlist from the CD, and this event was no exception. Due to a power problem at Penn Station, I was 15 minutes late arriving and missed perhaps three numbers. There are 18 tunes on the record, the same number I heard at the concert, so I don't know which, if any, of the ones I missed had been recorded. There was one tune that Shaw recorded without a vocal: Irving Berlin's "How Deep Is the Ocean?" So it was played that way tonight, but I was disappointed when I thought about what Molly would have done with it.
The New York All-Stars ably live up to their name, and this CD definitely belongs in your collection.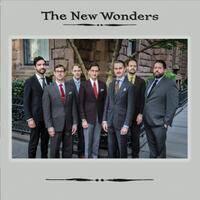 On March 13, Mike Davis's New Wonders CD had its official unveiling at a new-to-me place, Norwood, on West 14th Street. This elegant townhouse has rooms on the second and third floors for performances, but the spaces are poorly laid out. Both have bars in the middle of the room instead of at one end, and this seriously hampers the ability of patrons on the wrong side of the bar to see the musicians. The few who were fortunate enough to grab seats had it very comfortable, with plush armchairs or sofas. Everyone else had to stand for the 90-minute show. Fortunately, many of the 60-or-so were young enough to have the stamina to do so.
But enough about the venue; I went for the music. I've been to at least half a dozen CD releases, but this was the first where the band played only the tunes on the CD, and in the same order as on the album. As mentioned above, making the album contents the major part of the show is to be expected, but it would've been nice to hear the band play some other tunes (especially since I already had the CD and had listened to it several times). Although the New Wonders have not been in existence too long, there must be other titles in their book that would have deserved an airing. Mike gets credit for all the arrangements, many of which had to be scaled down for seven pieces from large bands like Whiteman's, Goldkette's, and Coon-Sanders'.
In the five years or so that I've been seeing Mike as a sideman, and more recently as a leader, I've watched him develop a stage presence to the point where he is now relaxed and able to draw in the audience. Dan Levinson has said that that is a skill one can't learn in a classroom. The New Wonders is a young band, and Mike, who will have just turned 27 by the time you read this, is the youngest member. None of the others have reached 40, which bodes well for its future. Also notable is that none of the musicians is originally from New York, although they all live there now. It was the vibrant trad jazz scene in the city that drew them, and others, to our benefit. Mike's musical background was profiled in this paper a few months ago, so I won't repeat that.
The members and their instruments, in addition to Mike on cornet and trumpet, are: Ricky Alexander on clarinet and alto, Joe McDonough on trombone, Jared Engel on plectrum banjo and guitar, Jay Rattman on bass sax, Jay Lepley on drums, and Dalton Ridenhour on piano. I have always enjoyed the bass sax in a band, and Adrian Rollini set the bar pretty high in the 20s. Rattman acquits himself quite well on this instrument, especially his solo on "Reaching for Someone," a tune from the Whiteman book. Jay Lepley on his period drumset recalls Chauncey Morehouse and other great drummers from the Jazz Age. In fact, there are no weak links at all in this band.
All but four of the titles on the CD have vocals, most of them by Mike alone, but there are several in which Ricky and both Jays sing the lyrics as well as provide background à la The Rhythm Boys, adding an enjoyable twist. Mike reflects the archetypical 20s crooner, with his flawless diction and crisp sound. At times his voice sounds a little thin, but it fits the pop tunes of the era. And his '20s appearance—both age and era—completes the picture.
This CD, and the New Wonders, are a welcome addition to our community.
---
Jazz Travels columnist Bill Hoffman is a retired management consultant and is the concert booker for the Tri-State Jazz Society in greater Philadelphia. Bill lives in Lancaster, PA.
---
This is what our print edition feels like. If you want good news to read with your morning coffee, order a subscription ($30 for 12 monthly issues). You'll get full online access to our archives, web extras, and our next issue will arrive at your door. Online only access is available for only $20 a year! Support Hot Jazz Journalism- Subscribe
Subscription Options
---
Or get the Print Edition with Online Access. To get the print edition of The Syncopated Times use this Paypal link. After you pay you will be issued a coupon for free online access.