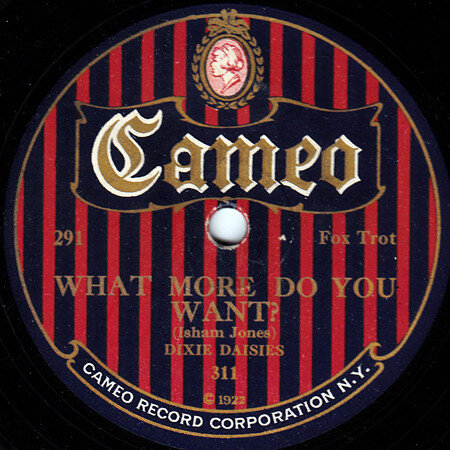 The euphemistically named Dixie Daisies were not so much a name as a catch all pseudonym for a variety of groups that recorded for the Cameo Record Corporation. Cameo, and its even cheaper sister label Lincoln, was a bargain imprint marketed through S.S. Kresge stores. When the name was first used in 1922 it was applied to records made by a group similar to
The Memphis Five
, and this applies to most if not all of the Dixie Daisies records made through 1925.
In 1926 Cameo merged with Pathé and from that point the identity of the groups maketed under the name "Dixie Daisies" becomes a complex issue that is still in the process of being untangled. The name persisted until 1928, when Cameo, Pathé and several other dime store lables were sucked into the American Record Corporation. A young Benny Goodman can be heard playing on some of the very last records as issued under the name of the Dixie Daisies. -by Uncle Dave Lewis
Rivermont Records has released a 26 track collection of restored Dixie Daisies recordings from 1922-23. 

Title

Recording Date

Recording Location

Company

Aggravatin' Papa
(Don't You Try To Two-Time Me)


(Turk / Robinson)

11-1922
New York, New York
Cameo
299
All Aboard For Heaven
4-4-1925
New York, New York
Lincoln
2330
Away Down East In Maine


(Walter Donaldson)

1-1923
New York, New York
Cameo
312
Beale Street Mama


(Turk / Robinson)

2-1923
New York, New York
Cameo
320
Bees Knees
(Ray Lopez / Ted Lewis)
1-1923
New York, New York
Cameo
312
Can't We Get Together
From "Connie's Hot Chocolates"
(Harry Brooks / Fats Waller / Andy Razaf)
New York, New York
Cameo
9231
Choo Choo
(Dave Ringle / Duke Ellington / R. Schafer)
11-14-1924
New York, New York
Cameo
682
Clap Hands! Here Comes Charlie!


(Meyer / Rose / Mcdonald)

11-24-1925
New York, New York
Cameo
835
Crazy Rhythm


(Meyer / Kahn)

New York, New York
Cameo
834
Dancin' Dan


(Tracy / Stanley)

12-20-1923
New York, New York
Cameo
476
Down In Argentine


(Herbert / Kapell)

New York, New York
Romeo 3259
Ev'rything You Do
12-11-1924
New York, New York
Cameo
647
Farewell Blues
(Paul Mares / Leon Roppolo / Elmer Schoebel)
3-1923
New York, New York
Cameo
325
Fritz Is On The Fritz


(Lewis / Young / Ahlert)

6-1925
New York, New York
Cameo
769
Foot Loose


(Cochran / Rupp)

8-24-1925
New York, New York
Cameo
783
Got Everything
(Don't Want Anything But You)


(Andy Razaf / Jack Palmer)

New York, New York
Cameo
8245
Have A Little Fun


(Pascoe / Delange / Werner)

11-1924
New York, New York
Cameo
627
Headin' For Baltimore


(Coslow / Bernie / Conrad)

9-1925
New York, New York
Cameo
781
High Fever


(Joe Sanders)

New York, New York
Romeo
Hotsy Totsy Town


(Kalmar / Ruby / Jerome)

3-1923
New York, New York
Cameo
325
I Ain't Got Nobody
(And Nobody Cares For Me


(Graham / Williams)

New York, New York
Romeo
501
I'd Love To Call You Sweetheart
11-1926
New York, New York
Cameo
1047
If You Don't Give Me Want I Want
12-7-1923
New York, New York
Cameo
461
I'm Walking Around In Circles


(Lewis / Young / Phillips)

New York, New York
Romeo
In My Wedding Gown


(Charles Kenny)

New York, New York
Romeo
1082
It Took A Lot Of Blue
(To Take My Blues Away)


(Washington / Cleary)

New York, New York
Cameo
3902
I've Got A Song For Sale
9-1923
New York, New York
Cameo
414
Kiss Your Little Baby Good Night
11-1926
New York, New York
Cameo
1055
Long Lost Mamma
(Daddy Misses You)


(Harry Woods)

5-1923
New York, New York
Cameo
506
Louisville Lou
(The Vampin' Lady)


(Jack Yellen / Milton Ager)

4-1923
New York, New York
Cameo
345
Lovin' Sam
The Shiek of Alabam


(Milton Ager)

11-1922
New York, New York
Cameo
291
Mad
('Cause You Treat Me This Way)


(Heath / McHugh)

New York, New York
Romeo
Mama Goes Where Papa Goes
(Or Papa Don't Go Out Tonight)


(Jack Yellen / Milton Ager)

9-1923
New York, New York
Cameo
418
Mamas Gonna Slow You Down
12-7-1923
New York, New York
Cameo
461
Mama's The Boss
10-1923
New York, New York
Cameo
612
Nobody Loves You Like I Do
11-1924
New York, New York
Cameo
634
Nola


(Felix Arndt)

7-27-1926
New York, New York
Cameo
698
Oh! Flo
(On A Midnight Choo-Choo Honeymoon)


(Lewis / Young / Donaldson)

12-11-1924
New York, New York
Cameo
630
Oh Sister Ain't That Hot


(Harry White / Will Donaldson)

9-1923
New York, New York
Cameo
418
On The Riviera


(Gilbert / Van Loan / Rich)

7-27-1926
New York, New York
Cameo
988
Papa Blues


(Max Kortlander)

4-1923
New York, New York
Cameo
348
Paddlin' Madeline Home


(Harry Woods)

New York, New York
Cameo
834
Pipe Organ Blues
1-1923
New York, New York
Cameo
312
Red Lips (Kiss My Blues Away)
Vocal Chorus, Herb Hobbs


(Bryan / Monaco / Wending)

New York, New York
Pathe
36628
Perfect
14809 B
Sam Jones Blues
(You Ain't Talkin' To Mrs. Jones)
8-1923
New York, New York
Cameo
403
Salt Your Sugar


(Seymour Simons)

8-1923
New York, New York
Cameo
392
Side By Side


(Harry Woods)

New York, New York
Pathe
36628
Perfect
14809 B
St Louis Blues


(W.C. Handy)

7-27-1926
New York, New York
Banner 839
St Louis Gal


(J. Russel Robinson)

8-1923
New York, New York
Cameo
403
Sweet Butter
New York, New York
Cameo
428
Sweet Temptation Man
10-1923
New York, New York
Cameo
612
Tell Me Tonight
12-1925
New York, New York
Romeo
249
Thanks For The Buggy Ride


(Jules Buffano)

3-1926
New York, New York
Cameo
892
The Co-Ed


(Con Conrad / Ben Bernie)

6-1925
New York, New York
Cameo
773
The House Of David Blues
(Elmer Schoebel / Billy Meyers / Irving Mills)
9-28-1923
New York, New York
Cameo
428
Usen't You Used To Be My Sweetie
11-1926
New York, New York
Cameo
1040
Romeo
287
'Way Back When
10-1927
New York, New York
Cameo
1238
Romeo
469
Lincoln
2703
'Way Down Yonder In New Orleans


(Henry Creamer / J. Turner Layton)

10-1922
New York, New York
Cameo
291
What More Do You Want?


(Isham Jones)

10-1922
New York, New York
Cameo
291
Where'd You Get Those Eyes


(Walter Donaldson)

7-1926
New York, New York
Cameo
986
Yes Sir! That's Lazy Bones


(Lange / Robinson)

11-1922
New York, New York
Cameo
299
Yes! We Have No Banana Blues


(Brown / Hanley / King)

8-1923
New York, New York
Cameo
392
Yiddisha Charleston
11-1926
New York, New York
Cameo
1044
You're All The World To Me


(Al Hoffman)

8-1929
New York, New York
Cameo
9261
Romeo
1063
You're The One And Only One


(Wayne / Schafer)

New York, New York
Cameo

| | |
| --- | --- |
| Artist | Instrument |
| Hymie Faberman | Trumpet |
| Ephraim Hannaford | Trombone |
| Jules Levy, Jr. | Trumpet |
| unknown | Clarinet, Alto Saxophone |