Fess Williams led bands in both Chicago and New York in the 1920s and early 1930s. He seemed to model himself after 
Ted Lewis
 wearing a top hat and playing a slap tongue, gaspipe clarinet style and alto saxophone that is reminiscent of Lewis' playing, but with often more interesting and creative results. Williams' song "
Hot Town
" was the band's biggest selling record and it is a really good Hot Jazz anthem. Fess also cut a record under the name of 
Fess Williams and his Joy Boys
 while leading a band at the Regal Theatre (4719 South Parkway Blvd.) in Chicago in 1928.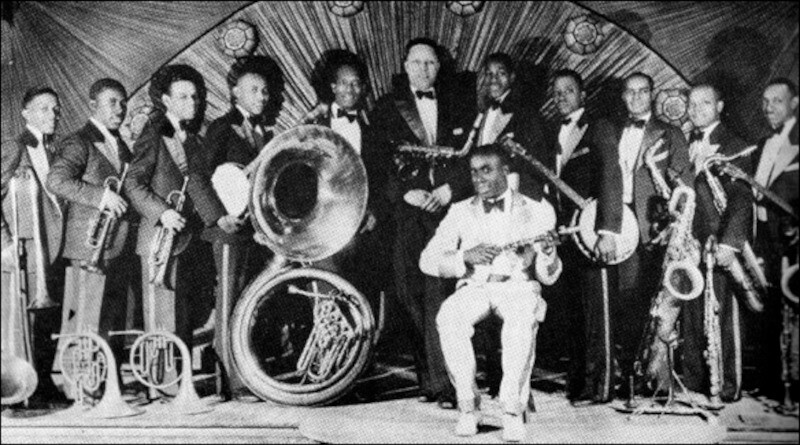 The Royal Flush band continued to play at the Savoy while he was in Chicago. Williams was also the uncle of modern jazz great Charles Mingus. Mingus invited his uncle to perform a set in his 1962 Town Hall concert in New York. Williams assembled a seven piece band that included some of Williams' old band mates as well as members of Mingus' band including Eric Dolphy. Williams' demonstration of his "circular breathing" alto saxophone technique which allowed him to hold notes indefinitely was a real crowd pleaser. This concert is available on the Blue Note CD The Complete Town Hall Concert unfortunately it doesn't include Williams' portion of the show.
Thanks to Rene Greblo, Bob Palmer and Robert English for his help with the recordings on this page. 

Title

Recording Date

Recording Location

Company

A Few Riffs


(Fess Williams)

4-17-1929
New York, New York
Victor
V-38064-A
Ain't Misbehavin'
(From "Connie's Hot Chocolates")


(Andy Razaf / Fats Waller / Harry Brooks)

9-20-1929
Camden, New Jersey
Victor
55929-3
All For Grits And Gravy


(Sidney Easton)

7-10-1930
New York, New York
Victor
23025-A
Alligator Crawl


(Andy Razaf / Fats Waller)

6-15-1927
New York, New York
Vocalion
1117
Brunswick
3589-B
Atlanta Black Bottom


(Dickerson / Robinson)

11-18-1926
New York, New York
Vocalion
A 1058
Vocalion
15492
Betsy Brown


(George Temple)

5-16-1929
New York, New York
Victor
V-38062-B
Big Shot


(Fess Williams / Hank Duncan)

5-15-1929
New York, New York
Victor
V-38128
Buttons


(Stanley Bennett)

9-20-1929
Camden, New Jersey
Victor
V-38095-B
Caroline
Vocal Chorus, "Fess" Williams


(Yellman / Squires)

12-3-1925
New York, New York
Gennett
3210-A
Caroline


(Yellman / Squires)

5-6-1926
New York, New York
Okeh
8322
Dinah


(Sam M. Lewis / Joe Young / Harry Akst)

7-31-1930
Camden, New Jersey
Victor
23005-B
Do Shuffle (1)


(Kenneth A. Roane)

4-22-1929
New York, New York
Victor
V-38064-B
Do Shuffle (3)


(Kenneth A. Roane)

4-22-1929
New York, New York
Victor
V-38064-B
Everything's O.K. With Me


(Davis / Coots)

7-23-1930
New York, New York
Victor
23003-B
Everything's O.K. With Me


(Davis / Coots)

7-31-1930
Camden, New Jersey
Victor
23003-B
Friction


(Fess Williams)

4-22-1929
New York, New York
Victor
V-38056-A
Bluebird
B-6546-B
Gambler's Blues


(Moore / Baxter)

2-25-1927
New York, New York
Vocalion
1087
Goin' To Getcha


(Fess Williams)

12-6-1929
New York, New York
Victor
V-38106-B
Green River Blues


(Arthur Schutt)

10-2-1925
New York, New York
Gennett
3182-B
Heebie Jeebies


(Atkins / Jones)

10-1-1926
New York, New York
Brunswick
3351-B
Heebie Jeebies


(Atkins / Jones)

10-1-1926
New York, New York
Vocalion
1054
Here 'Tis


(Fess Williams)

4-17-1929
New York, New York
Victor
V-38056-B
Her Smiling Face
12-6-1929
New York, New York
Victor
unissued
High Fever


(Joe Sanders)

11-18-1926
New York, New York
Vocalion
B 1058
Hot Mama


(Jelly James)

4-18-1930
New York, New York
Victor
22864-B
Hot Town


(Fess Williams)

4-17-1929
New York, New York
Victor
V-38077-A
Bluebird
B-6431-B
Ida, Sweet As Apple Cider


(Eddie Leonard)

7-23-1930
New York, New York
Victor
23005-A
I'm Feeling Devilish


(Maceo Pinkhard)

4-18-1930
New York, New York
Victor
V-38131-B
It's Breaking My Heart To Keep Away From You


(Romm / Squires)

6-8-1926
New York, New York
Gennett
3336-B
Champion
15120-B
I Wasn't Scared, But I Just Thought That I Had Better Go
2-25-1927
New York, New York
Vocalion
1087
Just To Be With You Tonight


(Fusman / Samuels / Sandry)

7-31-1930
Camden, New Jersey
Victor
23003-A
Kentucky Blues


(Walter Brown)

4-22-1929
New York, New York
Victor
V-38077
'Leven-Thirty Saturday Night


(Jess Kirkpatrick / Earl Burtnett / Bill Grantham)

4-18-1930
New York, New York
Victor
V-38131-A
Make Me Know It


(Williams / Squires)

5-6-1926
New York, New York
Okeh
3210
Make Me Know It (1)
(singing by Fess Williams)


(Williams / Squires)

5-24-1926
New York, New York
Harmony
189-H
Make Me Know It (2)
(singing by Fess Williams)


(Williams / Squires)

5-24-1926
New York, New York
Harmony
189-H
Messin' Around
(Johnny St Cyr / Doc Cooke)
10-1-1926
New York, New York
Vocalion
1054
Messin' Around


(Johnny St Cyr / Doc Cooke)

10-1-1926
New York, New York
Brunswick
3351-A
Musical Campmeeting


(Fess Williams)

9-20-1929
Camden, New Jersey
Victor
V-38095-A
My Pretty Girl
2-12-1927
New York, New York
Vocalion
1085
My Mamas In Town (2)


(Panico / Hirsch / Nuzio)

5-24-1926
New York, New York
Harmony
189-H
My Mamas In Town (3)


(Panico / Hirsch / Nuzio)

5-24-1926
New York, New York
Harmony
189-H
Nobody But My Baby Is Getting My Love
11-30-1926
New York, New York
Victor
unissued
Number Ten
6-24-1927
New York, New York
Brunswick
3596-B
Ozark Blues (In Yale Blues Time)
6-15-1927
New York, New York
Vocalion
1117
Brunswick
3589-A
Playing My Saxophone


(Fess Williams)

7-10-1930
New York, New York
Victor
24153-A
Phantom Blues
3-28-1927
New York, New York
Brunswick
3532-B
Vocalion
15550
Razor Edge
6-24-1927
New York, New York
Brunswick
3596-A
Sell It


(Fess Williams)

5-16-1929
New York, New York
Victor
V-38062-A
She's Still Dizzy


(George Temple)

4-18-1930
New York, New York
Victor
23025-B
Slide, Mr. Jelly Slide


(Fess Williams)

12-6-1929
New York, New York
Victor
V-38106-A
Snag Nasty
5-15-1929
New York, New York
Victor
V-38128
Some Other Time
Vocal Chorus, "Fess" Williams


(Davis / Squires)

12-3-1925
New York, New York
Gennett
3210-B
Sweet Savannah Sue
(From "Connie's Hot Chocolates")


(Andy Razaf / Fats Waller / Harry Brooks)

9-20-1929
Camden, New Jersey
Victor
V-38085
Variety Stomp


(Henderson / Green / Trent)

3-28-1927
New York, New York
Brunswick
3532-A
What Did Romie-O-Juliet
11-30-1926
New York, New York
Victor
unissued
White Ghost Shivers
2-12-1927
New York, New York
Vocalion
1085
Wimmin – Aaah!


(Bud Green / Harry Warren / Dan Dougherty)

2-19-1925
New York, New York
Gennett
3259-B
You Can't Go Wrong


(Fess Williams)

7-10-1930
New York, New York
Victor
24153-B
Ya Got To Know How To Love


(Warren / Green)

6-8-1926
New York, New York
Gennett
3336-A
Champion
15118-A

| | |
| --- | --- |
| Artist | Instrument |
| Ralph Bedell | Drums |
| Ollie Blackwell | Banjo |
| Ralph Brown | Alto Saxophone |
| Emanuel Casamore | Tuba |
| Emanuel Clark | Trumpet |
| Henry Duncan | Piano |
| Felix Gregory | Clarinet, Alto Saxophone, Tenor Saxophone |
| Bobby Holmes | Clarinet, Alto Saxophone |
| David "Jelly" James | Trombone |
| Lockwood Lewis | Clarinet, Alto Saxophone |
| Frank Marvin | Vocals |
| Otto Mikell | Clarinet, Alto Saxophone |
| Andy Pendleton | Banjo |
| Walter "Fats" Pichon | Piano |
| Kenneth Roane | Trumpet |
| Perry Smith | Clarinet, Tenor Saxophone, Vocals |
| George Temple | Trumpet |
| Clinton Walker | Tuba |
| Professor Stanley Williams | Alto Saxophone, Clarinet, Vocals, Leader |
Thanks to Owen Miller and Robert English for their help with this page