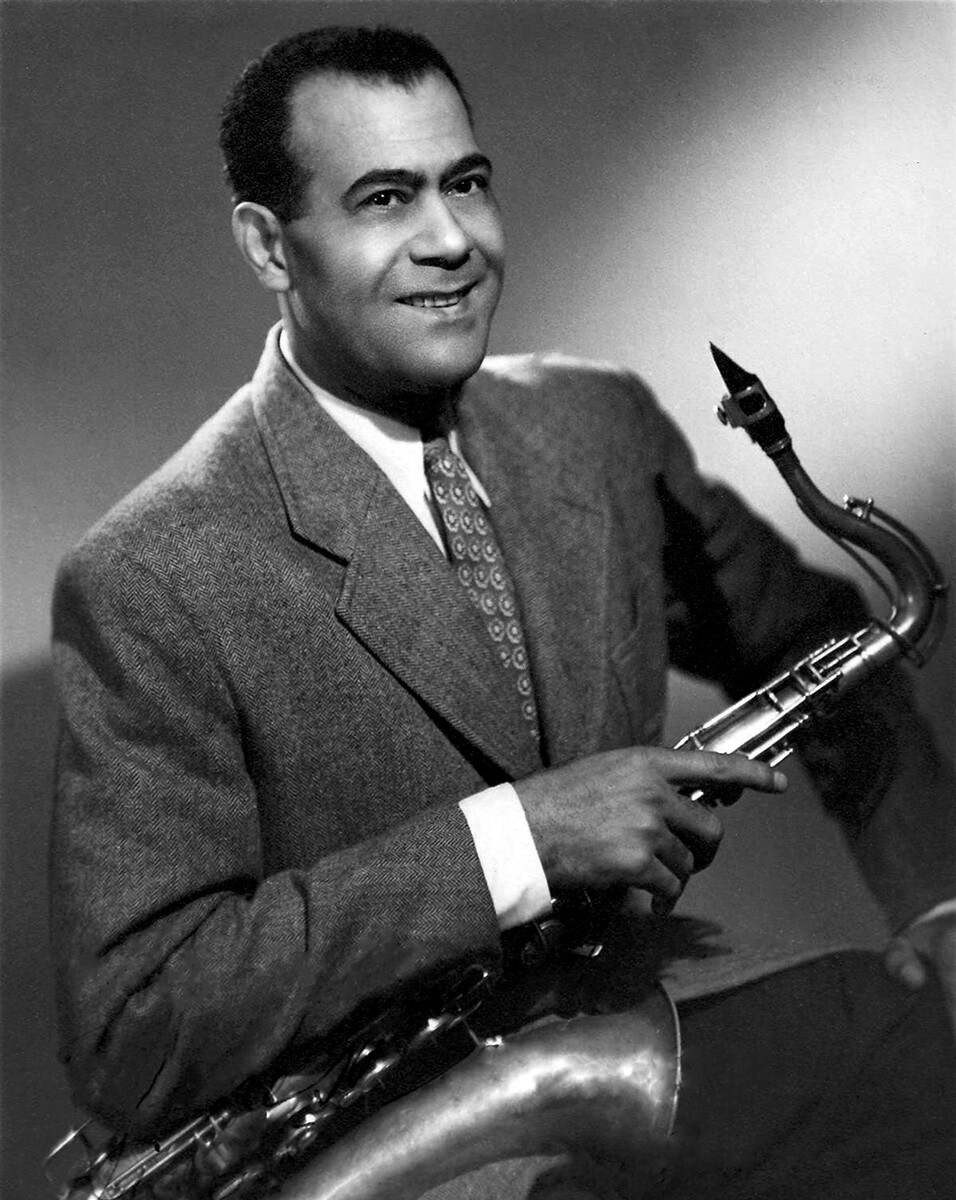 The path of Creole multi-instrumentalist Frank "Big Boy" Goudie (b. 1899 Lafayette, LA 1899 – d. 1964 San Francisco, CA) parallels the history of Jazz itself: origin in Louisiana, migration to Europe, transition to Swing, integration with Latin music, the New Orleans revival and the introduction of Bop. Big Boy played saxophone, trumpet and clarinet in New Orleans, Texas, Mexico, Argentina, Paris, Rio de Janeiro, Switzerland, Berlin and San Francisco.
Curiously, Goudie has remained almost completely overlooked by Jazz History until now, barely mentioned in the music chronicles. Yet mounting evidence firmly places him at the heart of a European Golden Age of Jazz and Swing. All of the music offered below was recorded in France or Paris between the two world wars, excepting the premier of an unrecorded waltz composed by Goudie.
Clip A – Introduction 1 and 1939 recordings 
A Big Life
Goudie (pronounced "goody") was tall and handsome, a cultured gentleman with advanced musical skills, fluent in French and Portuguese. He was large and broad with a massive frame, at least six feet five inches tall. Traveling the world, this master musician had four distinct musical lives.
New Orleans and the Southwest 1917-24:  Born near New Orleans, he was a journeyman jazz cornet player before 1920. Moving to Texas, he went on the road in the Southwestern states and Northern Mexico.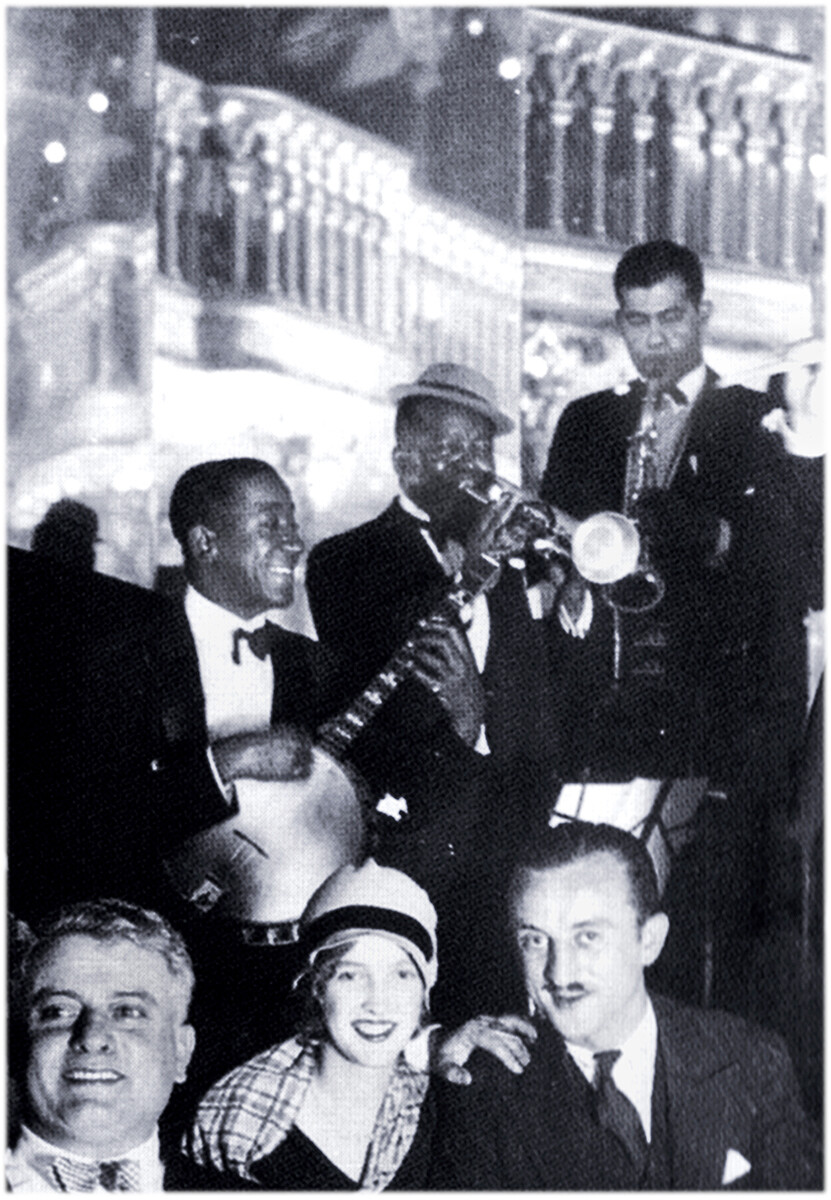 Paris and Europe 1924-39 and 1946-56:  Big Boy became quite popular in Paris. Focusing on tenor saxophone, easily making the transition to Swing.  For nearly three decades Goudie worked, recorded or jammed with the jazz elite of Europe — except during the Second World War.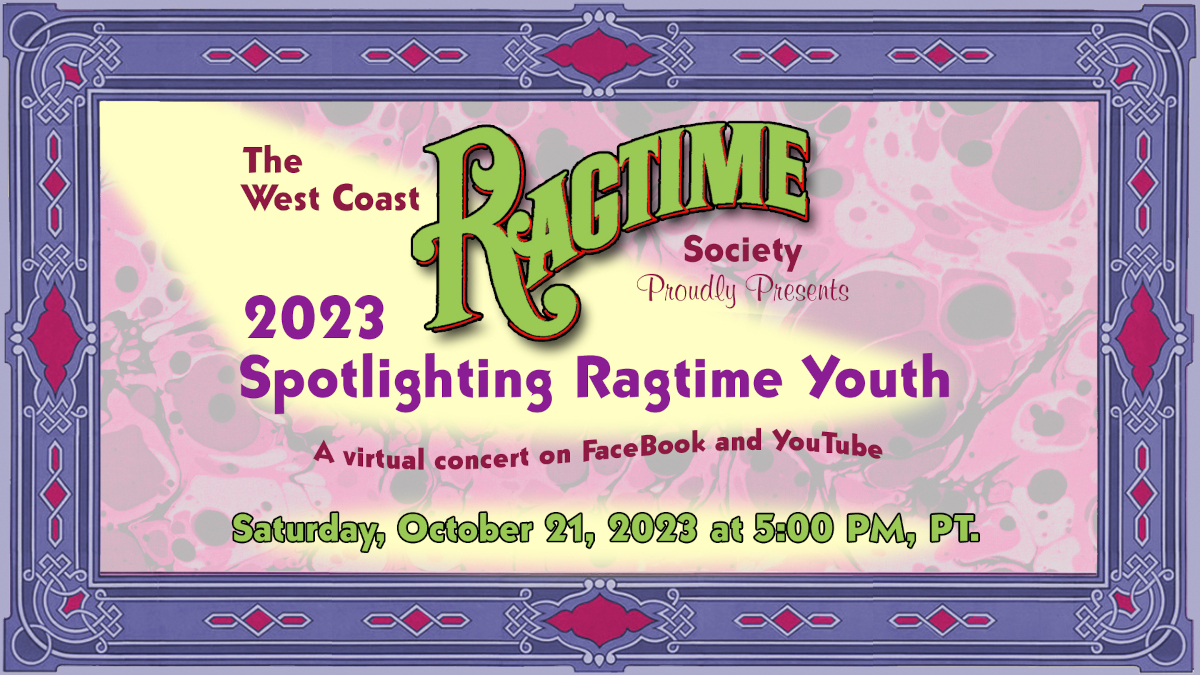 South America 1939-46:  Unable to leave South America until the war ended, Frank played Latin dance music, Samba-swing and Jazz when he could, encouraging the nascent jazz movement. He and wife Madeleine operated a small cafe in Rio de Janeiro and traveled the continent.
San Francisco 1956-64: Repatriating to the United States after 32 years overseas, Goudie's expressive New Orleans-style clarinet was welcomed into the flourishing San Francisco Jazz Revival.
Clip B – Introduction 2, Arrival in Paris, Tenor & Trumpet First recording & The Sheik 
Arrival in Paris, 1924
As an American in Paris, Big Boy was a giant among Lilliputians. And not just because he was tall. Goudie was an experienced show business professional with a firm musical grounding. He found work within days of his arrival, becoming popular at multiple simultaneous gigs. Among the earliest African American musicians migrating to France, Goudie was one of the few to arrive under his own power and stayed longer than most.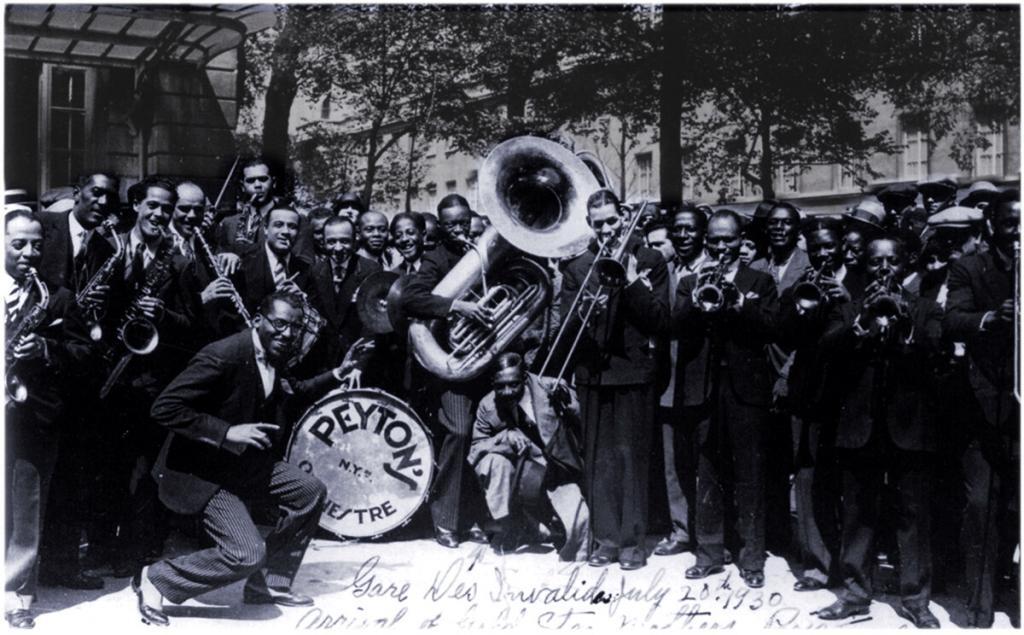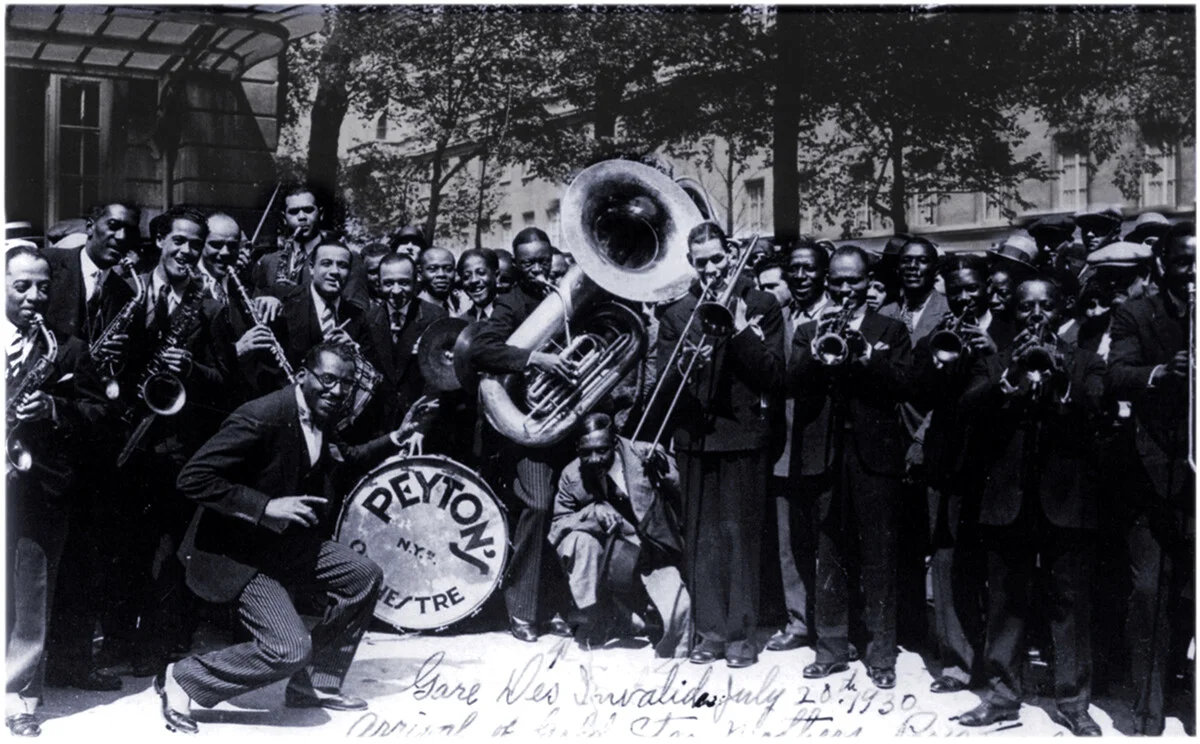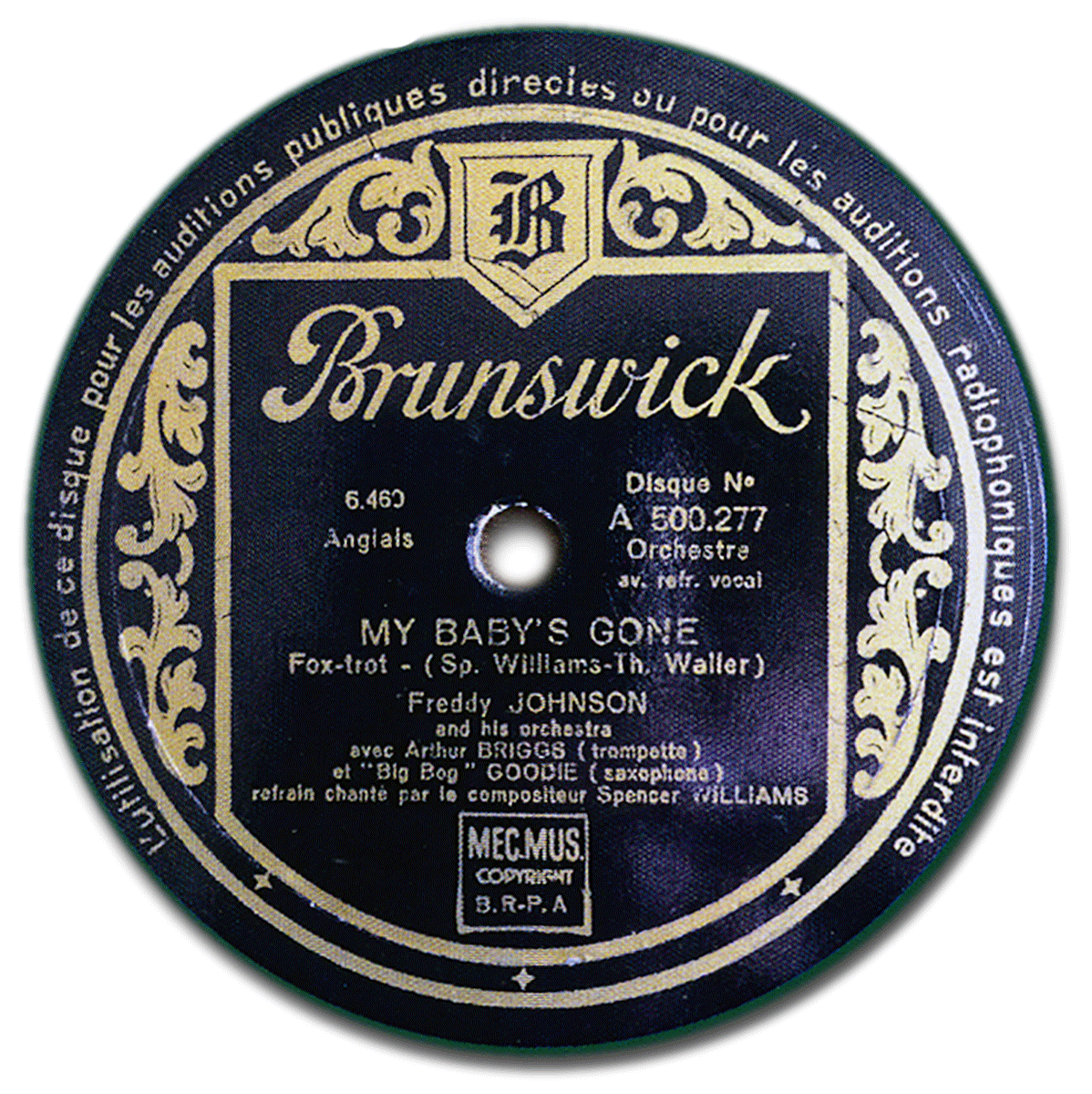 Big Boy was often a freelancer, occasionally a headliner and ran his own music groups on the side. He worked steadily for the top African American band-leading impresarios in Europe — Benny Peyton, Leon Abbey, Willie Lewis and Noble Sissle. Big Boy is seen playing alto saxophone in rare 1931 London footage of the Sissle band.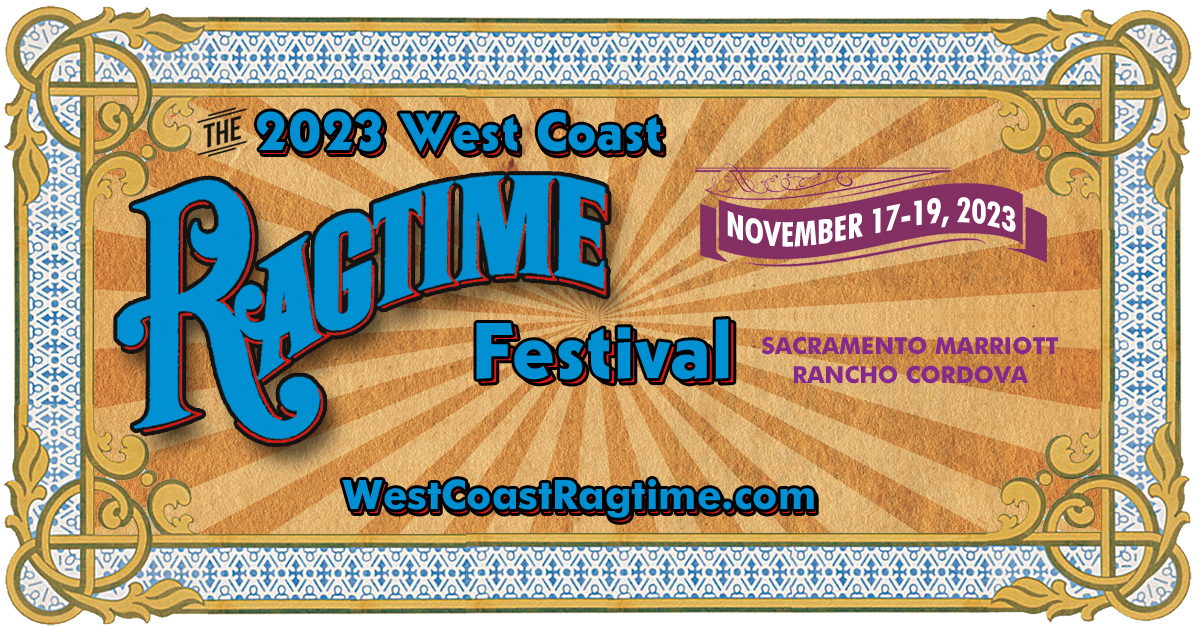 Clip C – Early Jazz in Paris Zellis 
Formerly known as a trumpet player in America, in Paris Goudie took up saxophone (alto, then tenor) while continuing to play trumpet. He may well have played clarinet earlier, but there is no evidence of him performing with it before France. By the early-1930s, his reputation and popularity rested firmly on his identity as a tenor saxophonist in the Coleman Hawkins manner.
An excellent recent biography documenting his life for the first time is BIG BOY: The Life and Music of Frank Goudie by Dan Vernhettes, Tony Baldwin and Christine Goudie (his French daughter) published in 2015. It cites more than sixty venues: concerts, gigs, tours, residencies and special events where Frank performed in France and Europe between 1924 and 1939.
Clip D – Harlem in Montmartre, Coleman, Boudons, Bullards, Decline 
Goudie, 'Le Tumult Noir' and Harlem-on-the-Seine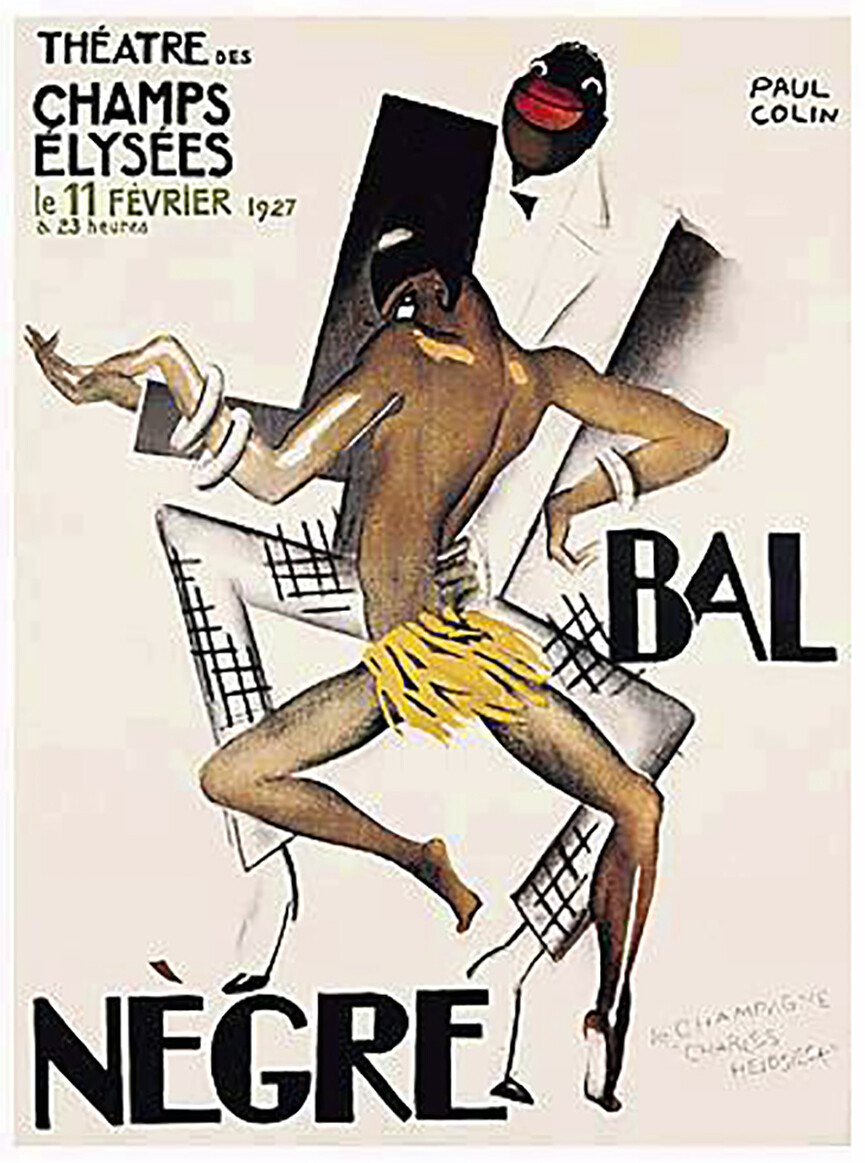 Shortly after his 1924 arrival in France, the wild success of Josephine Baker (1906-1975) ignited a fascination with and insatiable demand for African American music and entertainment. Her seminude dance performances in Revue Nègre and Folies-Bergere shocked jaded French audiences and made her a sensation in Brussels and Berlin, 1925-26. Artist Paul Colin created more than 1000 images of Josephine in a portfolio known as "Le Tumult Noir" (The Black Craze), becoming the preeminent French graphic artist of his generation.
Clip F – Divas of Montmartre
During the mid-1920s, the working-class Montmartre quarter of Paris transformed into a booming Harlem-style Jazz district. Catering to a chic international set of celebrities, writers and royals., it became a world-class destination second to none, drawing African American and Caribbean entertainers, dancers, artists, writers, poets and singers. The few nightspots that weren't outright jazz venues presented music from Martinique or the West Indies.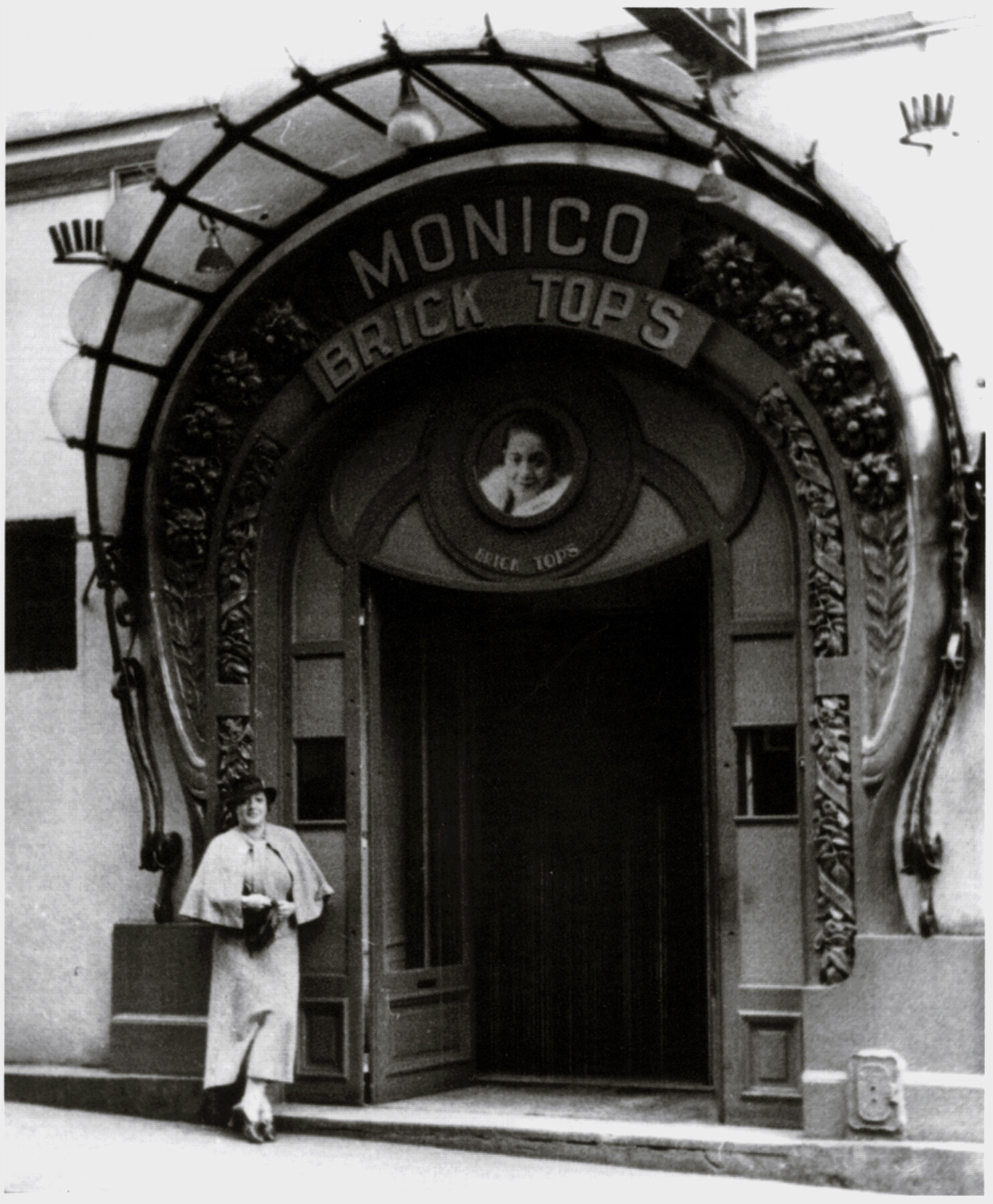 Inevitably, Goudie was drawn into this European outpost of the Harlem Renaissance, now called Harlem-in-Montmartre. By 1930 he was often seen performing at the best Jazz spots in Paris, including the now legendary cabaret of Bricktop.
Clip E – Bricktop: Langston Hughes
Big Boy at the Moveable Feast
Bricktop (1894-1984) was born Ada Beatrice Queen Victoria Louise Virginia Smith to a former slave in West Virginia. A mixed-race bisexual American cabaret singer, she had a shock of red hair and face full of freckles. Her cabaret became a playhouse for the rich and privileged of Europe and America, attracting the Prince of Wales, songwriters Cole Porter and Noel Coward, American writers F. Scott Fitzgerald, John Steinbeck, Ezra Pound and Ernest Hemingway.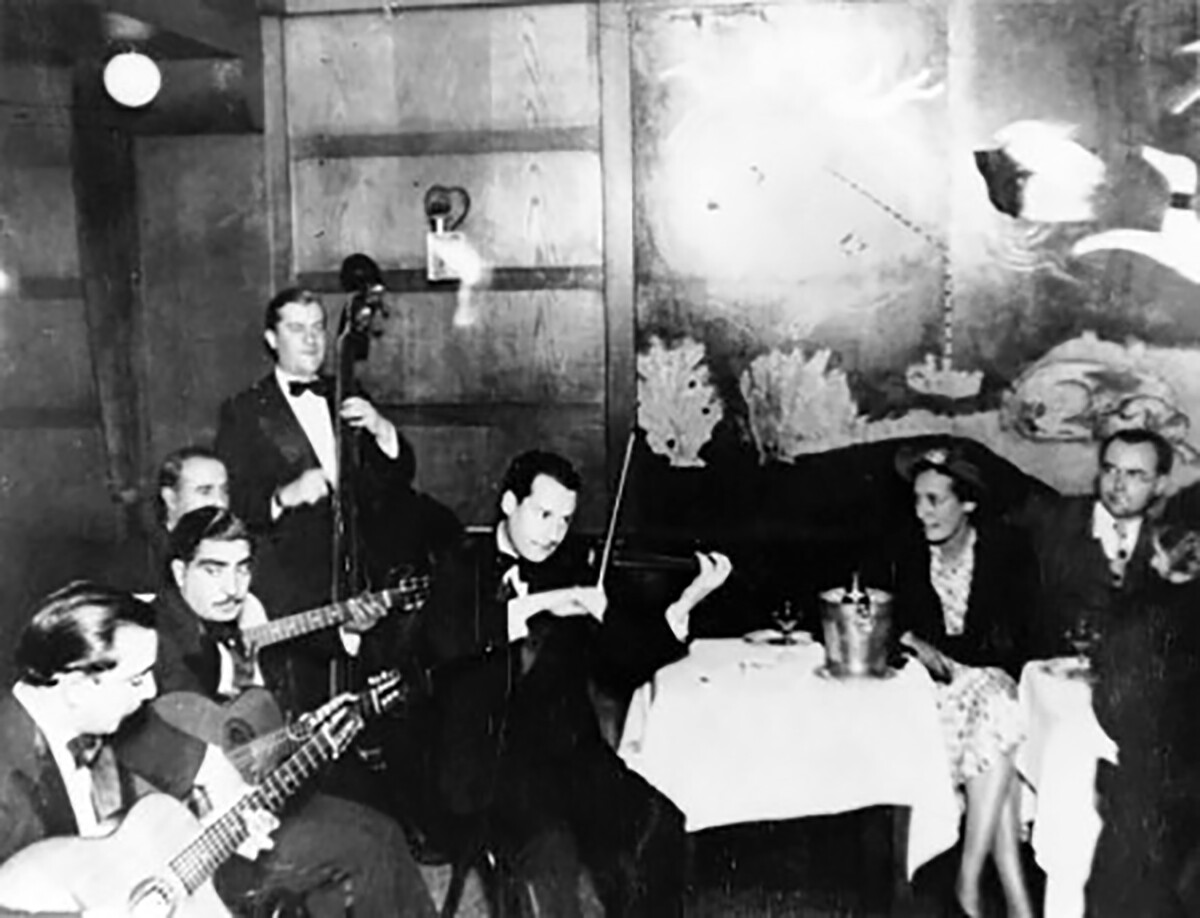 When Hemingway evoked the "Moveable Feast" that was Paris between the wars, he was referring to Bricktop's Cabaret and the jazz bars of Montmartre. By the late 1920s, her cabaret was the top destination in Paris and one of the first commercial establishments to present the inventive string jazz of Django Reinhardt.
Goudie was at Bricktop's in the early 1930s with trumpeter Arthur Briggs and piano player Freddy Johnson. He made his first Jazz recording with the Johnson-Briggs Orchestra on 7.8.33.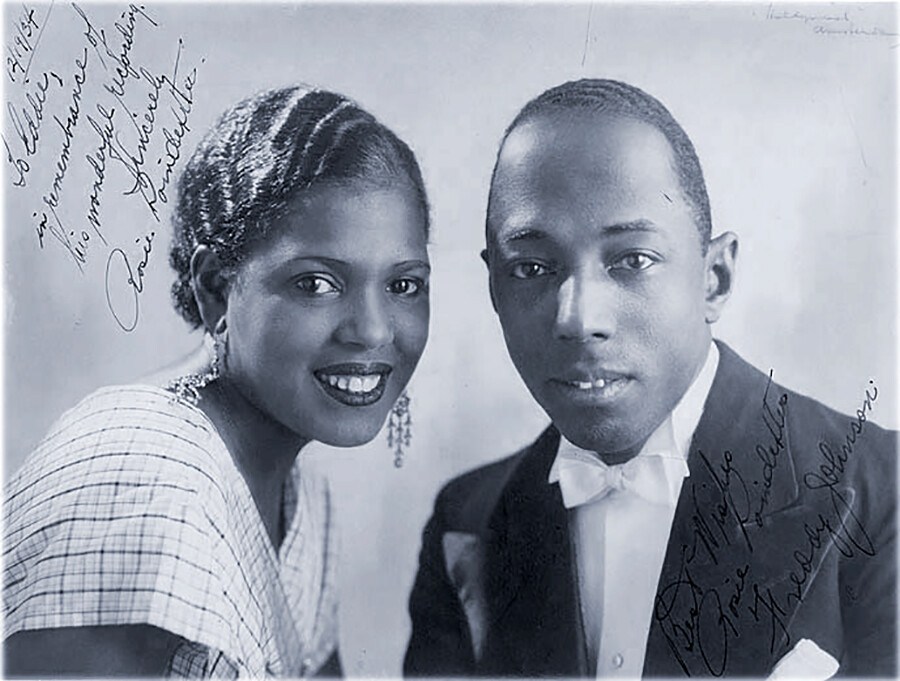 For a decade bracketing 1930, Bricktop's establishment was at the nexus of a vibrant expatriate community, helping to sustain black entertainers like Goudie in Paris. African American performers could send or receive mail, catch up on gossip, find gigs or get a down home meal of fried chicken, cooked greens and cornbread.
If Frank's music income ever ran thin, he had handy manual skills to fall back on such as his family upholstery trade. Throughout his life the man had an enterprising knack for engaging in multiple simultaneous ventures.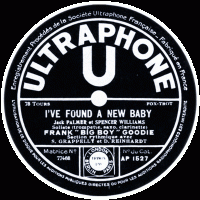 I've Found a New Baby – tpt, tenor, clt, tpt
St. Louis Blues – clt, tpt
First Feature Recording, 1935
Goudie's remarkable debut on disc under his own name was a potent display of his skills, playing trumpet, clarinet and tenor saxophone in succession — what musicians call "doubling" except that he was "tripling." The rhythm section featured Django Reinhardt on guitar and Stephane Grappelli playing piano, which he did very well.
Traditional and Classic Jazz horn player Chris Tyle has examined Goudie's five known trumpet recordings. In his opinion, Frank's horn style was well established before Paris, showing traces of early New Orleans, the impact of Louis Armstrong and creditable technique (Tyle interview, 2014):
"By the time Goudie made his first records on trumpet in 1935, he would have had approximately 20 years of experience playing the horn and what is apparent on these recordings is an assuredness and ability to get around the instrument easily.  His playing of the lead especially illustrates the New Orleans concept of adhering closely to the melody for the first chorus – a quality that stuck with him for the rest of his life."
"His first session . . . could in some respects be considered a demonstration of his talents as a musician…  This is quite a feat, as each instrument utilizes a different embouchure and uses different facial muscles. Yet he pulls it off with seemingly great ease."
"Goudie's trumpet playing on the last chorus of 'St. Louis Blues' is remarkable as he plays up to a concert 'D' above the staff. An impressive illustration of his command of the instrument."
Clip G – Django Reinhardt and Goudie
Concerts for the Hot Club and Django, 1934-38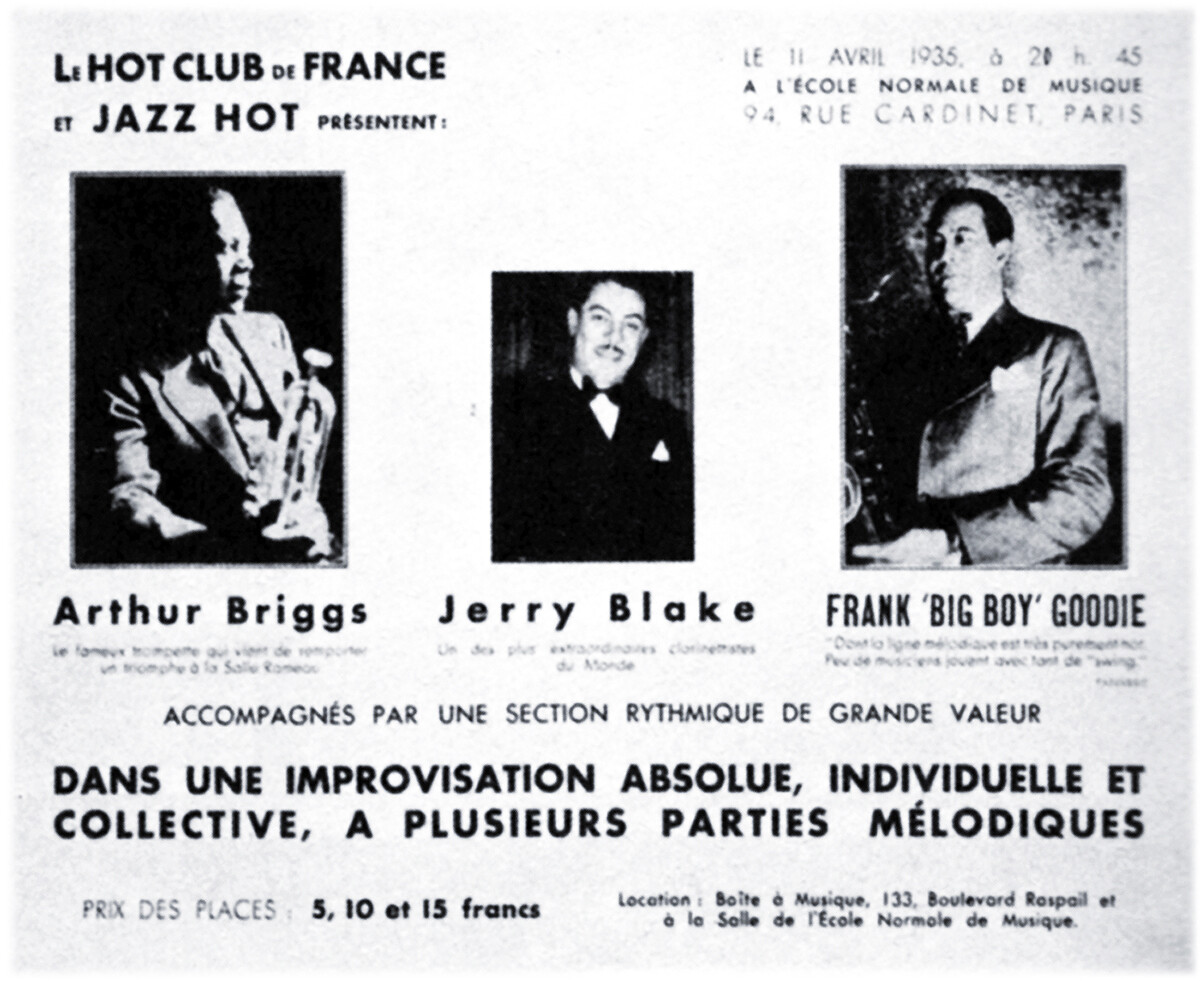 It seems that most French jazz musicians lacked the capacity to swing or play improvised music well until the mid-1930s. Django Reinhardt's Quintet of the Hot Clubs of France was the nucleus around which a native Jazz movement coalesced.
Goudie lent his skills and encouragement to the emerging network of jazz enthusiast organizations known as the Hot Clubs of France. Their primary mission became introducing Django, often at performances featuring Big Boy as a main attraction.
Hot Club writers consistently gave Goudie superlative reviews. Writing up the first of a half-dozen Hot Club-sponsored events, their Bulletin of 2.4.34 declared his clarinet playing "a real revelation," reporting that he performed "in the New Orleans manner of Barney Bigard (BIG BOY, Vernhettes et al):
"Actually, Big Boy plays [clarinet] the same way as he does the trumpet; with simple, well-articulated phrases, long held notes, and a delicious tone that has all the vitality of his trumpet sound. The audience was immediately aware of this and asked him to do more. He also did a nice vocal, and backstage I saw him surreptitiously strumming [Django's] guitar; an all-round musician."
Last in the series were two marvelous Grand Nuit du Jazz concerts on 12.16.38 and 1.13.39. Among the two-dozen marquee talents, besides Goudie and Django, were trumpeters Valaida Snow, Bill Coleman and Arthur Briggs; singer, bandleader and alto saxist Willie Lewis; guitarist Oscar Aleman; piano players Herman Chittison, Garland Wilson and Una Mae Carlisle, a Fats Waller protégé.
In the Swing Orchestra of Willie Lewis, 1936-38
For a couple years, Goudie worked in the excellent Swing orchestra of Willie Lewis and his Entertainers, the most popular Jazz ensemble on the Continent. The orchestra performed for an affluent social elite at the finest ballrooms, hotels, resorts and casinos. Goudie played tenor and clarinet on almost three dozen of their European recordings.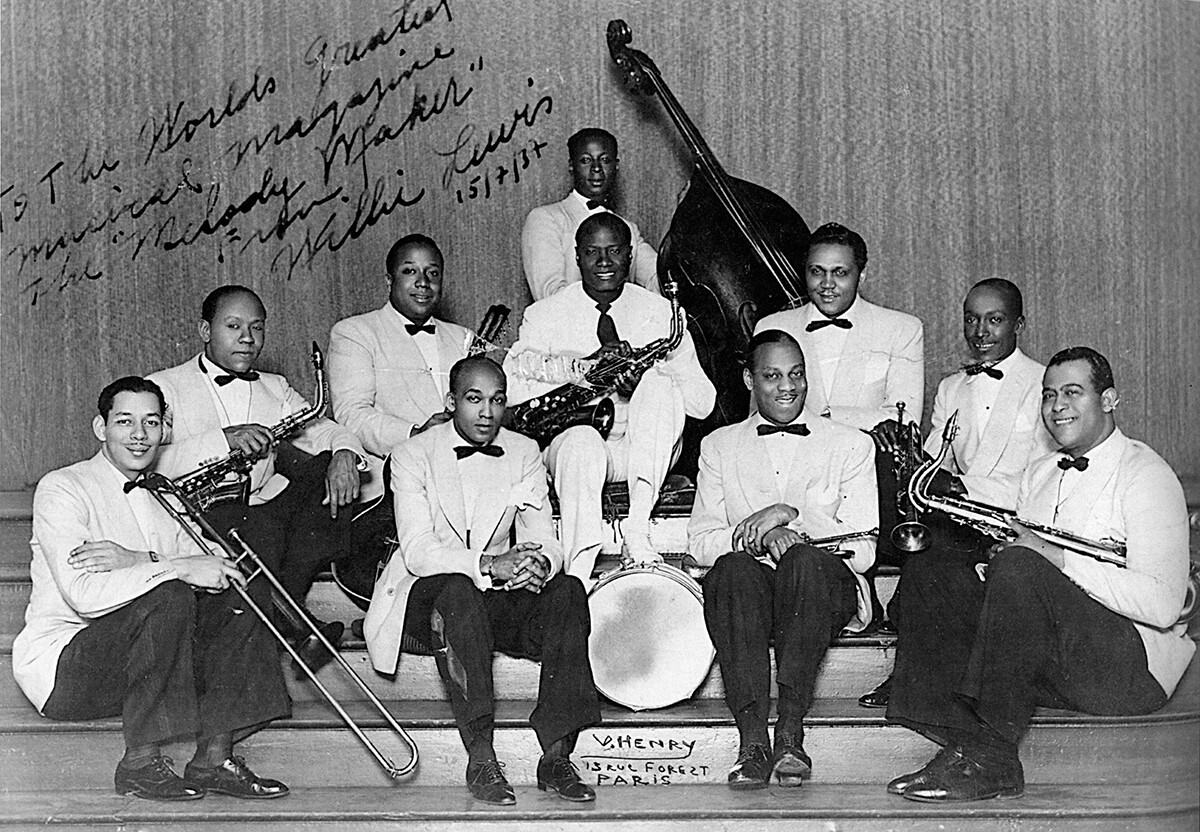 Willie Lewis was a singer who played alto saxophone and clarinet. Tall and handsome, a sharp dresser and fluent in French, his greatest talent lay in maintaining a successful African American Swing band on the Continent.
The brief tenure of Benny Carter playing mostly trumpet during 1935 and '36 (which did not overlap with Big Boy) garnered added cachet. It's unknown if Carter made any contribution to their formidable band book, which contained arrangements by the likes of Fletcher Henderson and Spud Murphy.
Clip H – Willie Lewis and his Entertainers, Christopher Columbus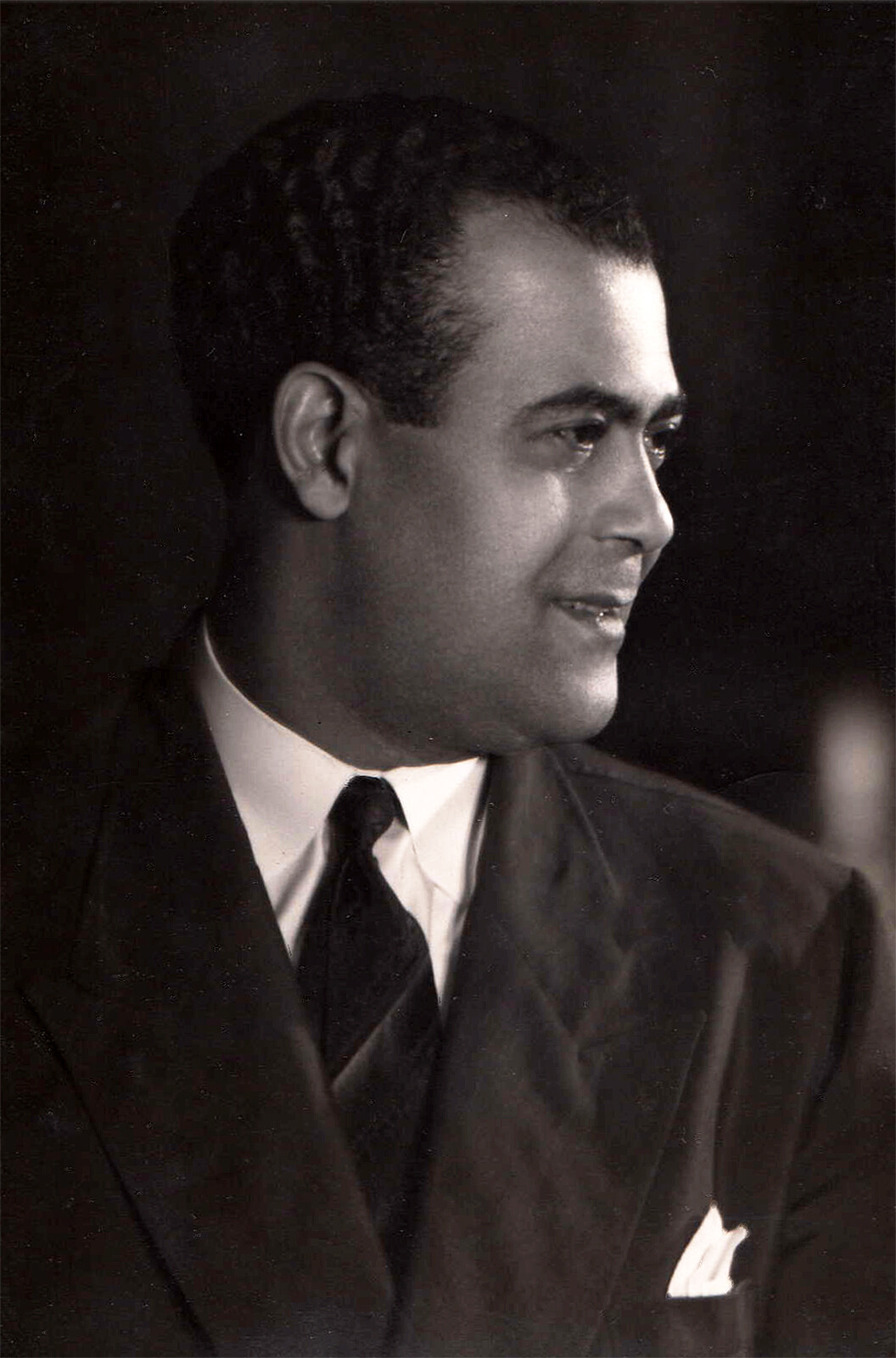 The most prestigious venue for the Entertainers was Chez Florence in Paris, entailing a Saturday night broadcast heard across the Continent over radio Poste Parisien. A DownBeat magazine correspondent — one Duncan MacDougald II — reviewed them favorably in 1938 but suggested that playing for high society might have dulled their jazz chops (BIG BOY, Vernhettes et al):
"Unfortunately, the group has been playing for several years to a fashionable but dull and unappreciative audience; and at times one notes a dearth of spontaneity and teamwork, which of course is largely due to their public."
"But when they choose to settle down and really shell out their best stuff, there is probably not another band in Europe, which can beat them. Recently they blew a special program for the BBC in which the group reached heights of almost greatness. The weekly broadcasts of the band are, I understand, extremely popular with Continental swing devotees, for they play about the only authentic Harlem music to be heard in Europe."
Singling out the "likeable" Goudie for special praise, MacDougald asserted that he was:
" . . the star of the reeds who plays plenty of soulful hot tenor in a sort of rhythmically rolling fashion, and who picks up his former instrument, the trumpet, to assist the brass now and then. When Big Boy is playing hot solo passages against a background of blocked brass and reeds, the band is at is very best . . . where he is featured, the group creates music which is distinctly first class."
The Entertainers dissolved in late 1938, though Lewis continued performing, recording and broadcasting. But he couldn't elude the rising political tensions. In Holland he witnessed the Nazi chaos that drove most Americans from Europe before returning home in 1941.
Clip I – Willie Lewis, Swiss Miss
Big Boy and his Little Boys, 1936-39
During this period, when he not otherwise employed Goudie organized and ran his own band, Big Boy and his Little Boys. Documented for the first time in the BIG BOY biography, the versatile sextet played for dances at Le Coliseum and other Parisian clubs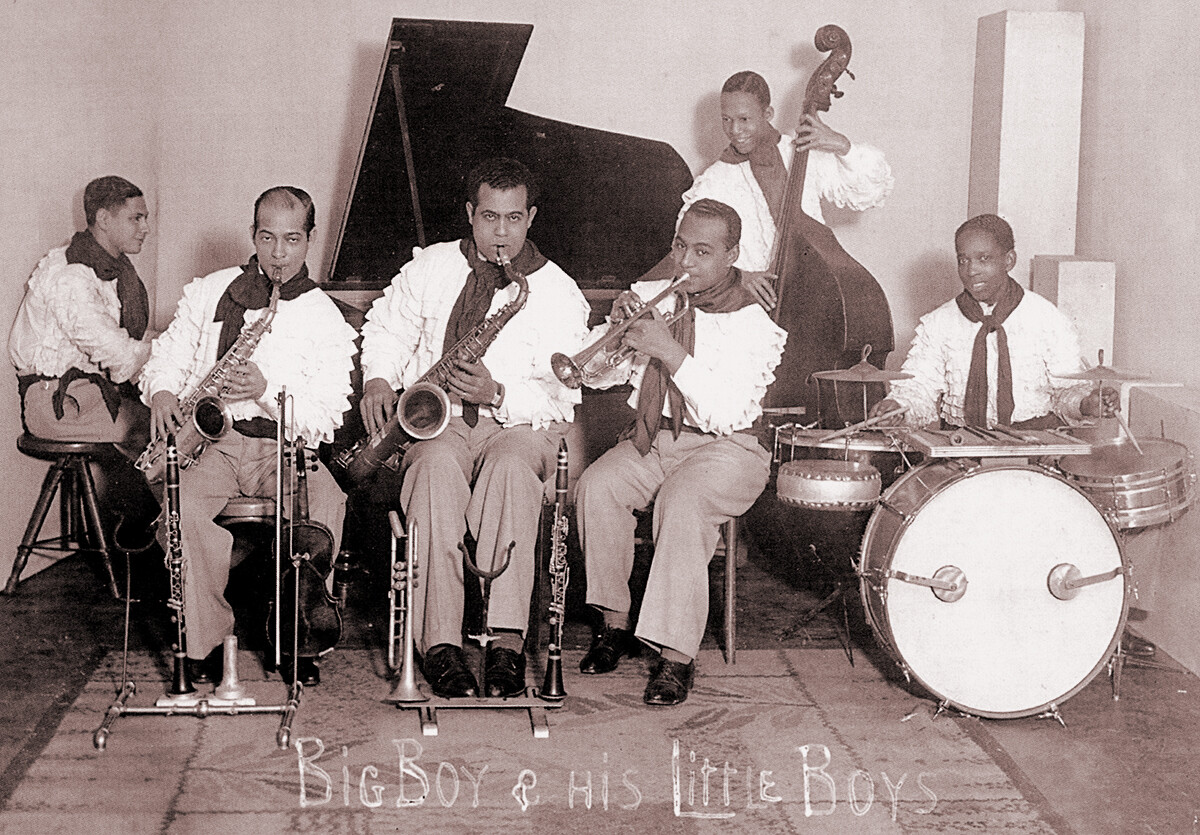 Goudie and Wanderly each played three different instruments, lending it flexibility. They performed a wide range of styles and repertoire including Brazilian music. And it should be said that Big Boy frequently played Caribbean, Brazilian or Latin music in France and Europe, before and after the war.
Clip J – Encountering the Hawk 
Meeting Coleman Hawkins: 'Saxo-tenor Champion du Monde'
In Europe, the Jazz saxophone ascended to a stature equal to or greater than the trumpet earlier than in the United States.  This may be due to the extended visits by superlative American saxophonists living or working in Europe such as Sidney Bechet (soprano) and Benny Carter (alto). Foremost among them was Coleman Hawkins (1904-1969), considered the undisputed master of the tenor on both sides of the Atlantic, even while he lived in Europe (Holland mostly) from 1934 to 1939.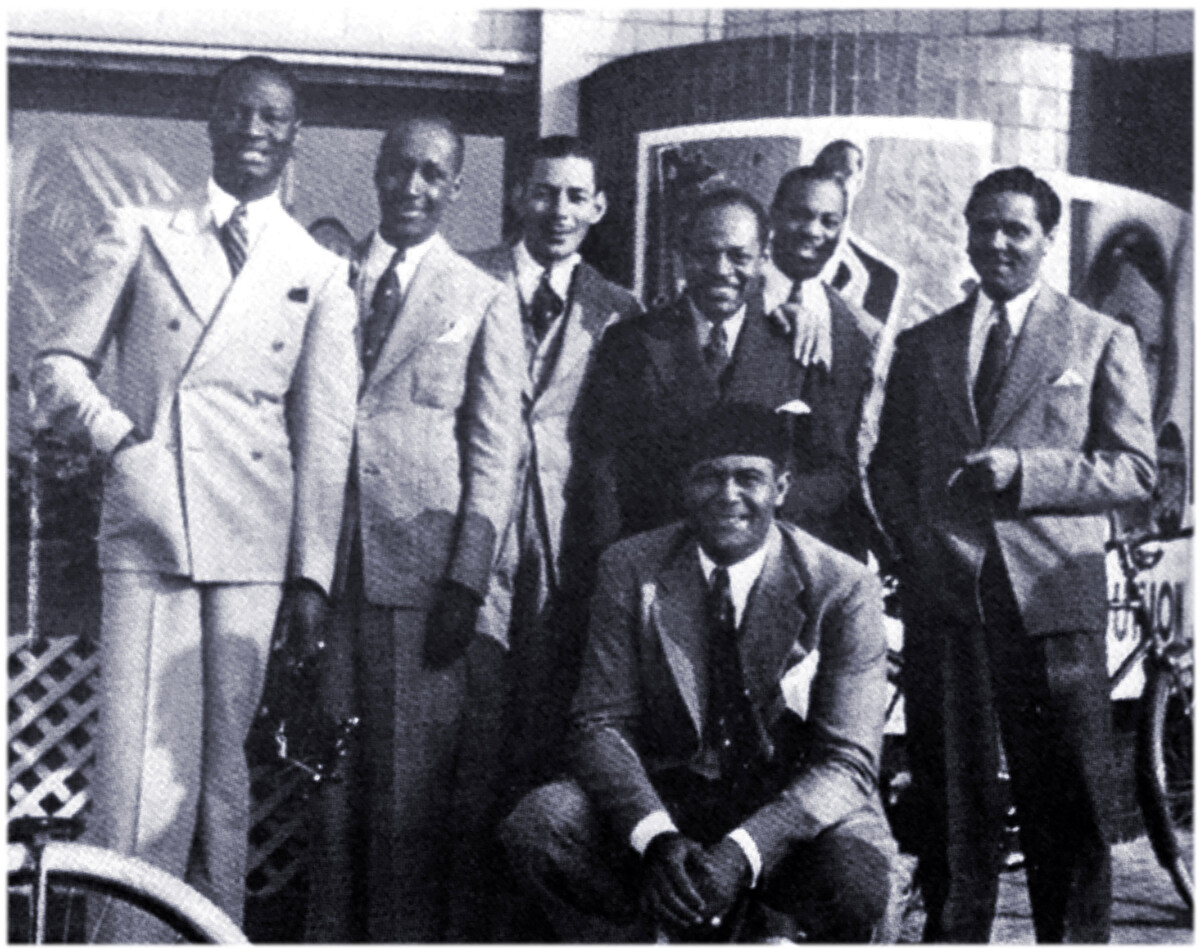 The first great soloist of the instrument, Hawk was broadly popular with fans, critics and musicians.  He made the saxophone itself a contender for lead instrument second to none in the Jazz ensemble.  And by shifting the focus of improvisation from melody to harmonic structure, he laid the predicate for Modern Jazz.
Goudie toured Belgium and Holland with Willie Lewis and his Entertainers in the Summer of 1937, encountering his old friend, piano player Freddy Johnson who was having great success operating a nightclub in Amsterdam and recording with Hawkins.
And Frank got to meet his greatest inspiration, The Hawk. Hearing and meeting Hawkins left a deep impression on Goudie, as related by musician and writer Richard Hadlock in the San Francisco Examiner, 1.19.64:
"He told me once that he was very inspired by the visit of Coleman Hawkins to Europe. . . He said, "You know, I listened to Hawkins in an all-night session. He played 'Stardust' for half an hour and never repeated himself . . . I learned a lot from him. It was a fantastic experience'."
Clearly, Frank placed Hawkins in a rare category, as conveyed in his memoir by trombonist Jim Leigh: "Oh, Hawk. The man was just champion of the world, that's all. Saxo-tenor champion du monde. He showed everybody how to play that damn thing."
Wherever he went, Goudie too was rated among the top saxophonists by those who actually heard him play. But he never made any commercial recordings in the United States, not one single disc and was on only a few European records which were not widely distributed.
Swing Label Sessions, May 1939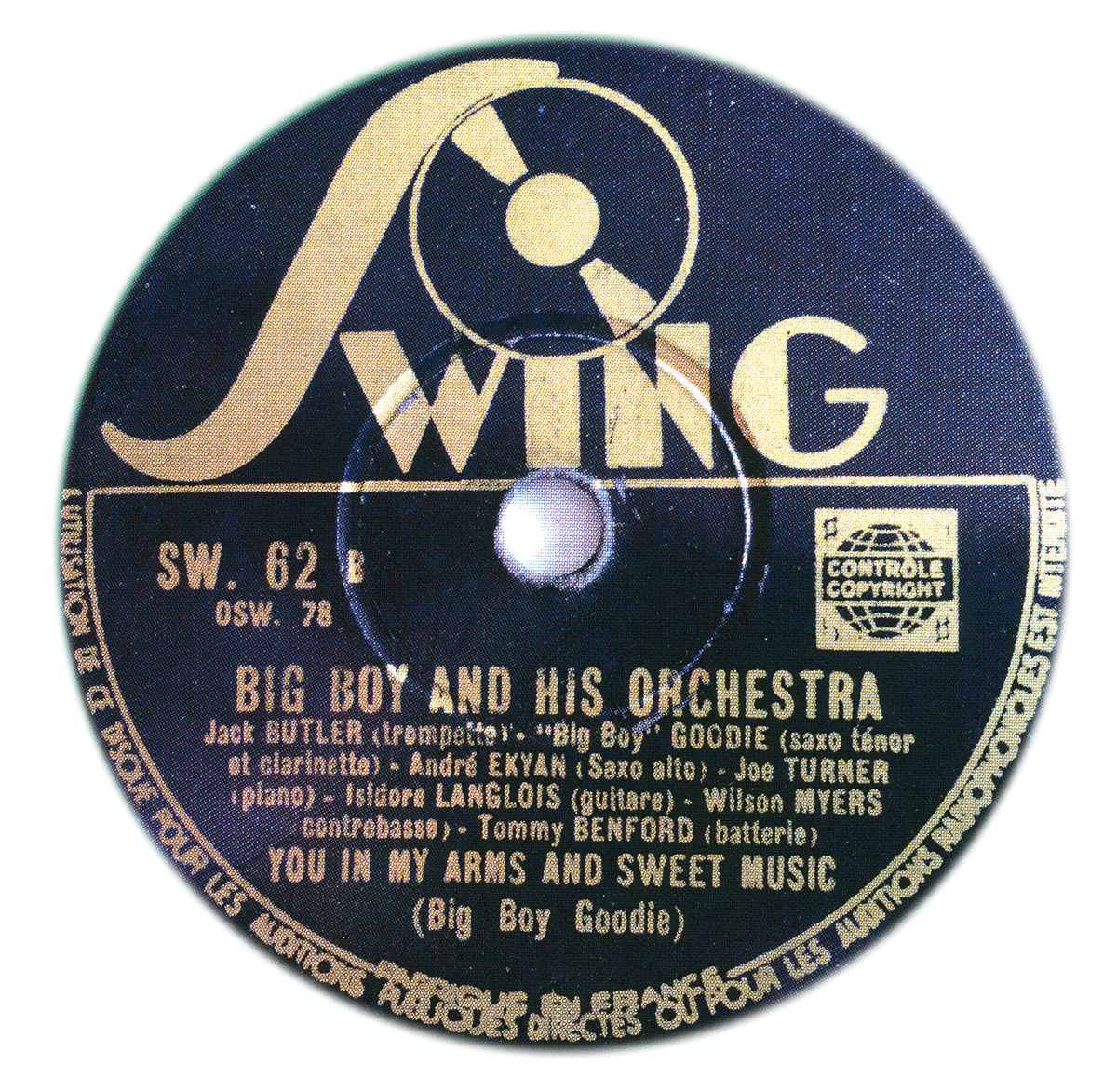 Goudie worked regularly in close partnership with the two most original native talents of European Jazz, gypsy guitarist Django Reinhardt and the alto saxophonist and clarinet player Andre Ekyan (1907-1972). Ekyan was a brilliant French jazz pioneer, promoter, prodigy and impresario who organized concerts, jam sessions and recording dates.
With a distinct talent for making great sounding records, Ekyan was an early proponent and sponsor of Django – as explored in The Maestro and the Gypsy. Both these innovators were recording with Big Boy on the Swing label in the late 1930s. Goudie played trumpet (and some tenor) on three Ekyan discs recorded on May 24.
On the 28th, Frank led a studio session for Swing under his own name for the first time. The recordings of Big Boy and his Orchestra were graced by Ekyan on alto saxophone and clarinet, with added effervescence from stride piano player Joe Turner (not the Kansas City blues singer) and Goudie played only tenor.
Among the five sides waxed were two of Frank's buoyant originals — "You and I, Babe" and "You in my Arms and Sweet Music." The cheerful mood might have reflected his anticipated betrothal within days to Madeleine Boisson after a lengthy courtship.
You In my Arms and Sweet Music – Frank Goudie and Orch, 1939
You and I, Babe – Frank Goudie and Orch, 1939
'Do – valse lente' by Goudie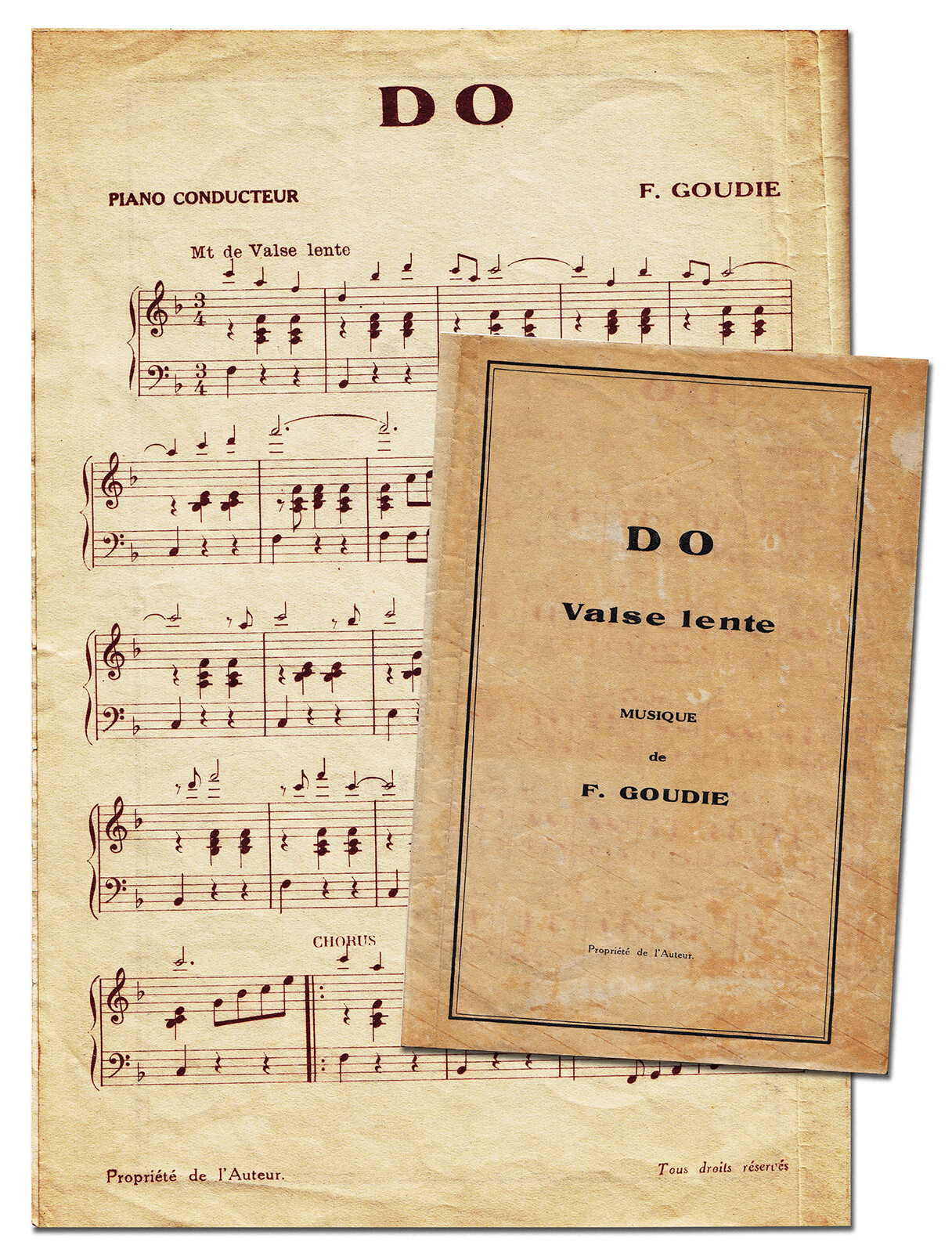 Goudie composed and published a slow waltz, "Do – valse lente." Madeleine recalled him composing music on a harmonium (a hand-pumped portable keyboard) and writing it along with the original tunes for the 1939 session in his apartment opposite the church of Notre Dame de Clignancourt on Rue du Mont-Cenis.
Big Boy never got an opportunity to record this sweet little tune. Today however, an accomplished musician, my brother Dan Radlauer has been kind enough to offer an interpretation, based on Frank's lead sheet published some 80 years ago.
Do, Waltz lente by Goudie
1939: The End of a Jazz Age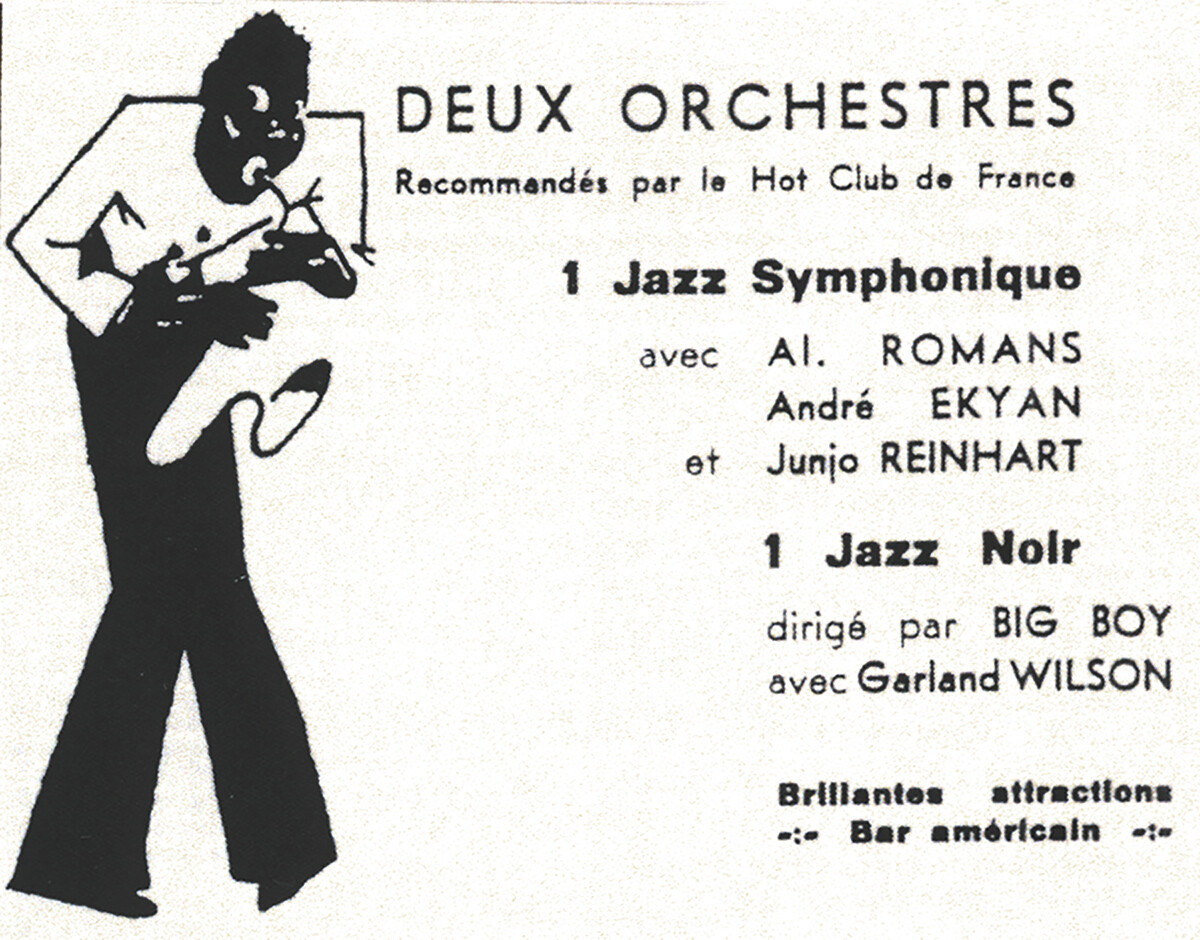 A pall was descending on France and Paris as the real possibility of war or occupation by Germany loomed. American musicians who tarried too long – like Willie Lewis, Freddy Johnson, Valaida Snow or Arthur Briggs — faced escalating disorder, harrowing escapes, arrest or internment.
Late 1939 marks the end of a rich musical efflorescence on the Continent that had been shared by European and American jazz musicians, black or white. In November, Frank headed for South America.
He already had a contract in Brazil thanks to his associate Peter Wanderly and Madeleine joined him in Rio de Janeiro in a couple months. It would be a successful and vibrant chapter for the Goudies and is explored in part two. But he was unaware that it would not be until mid-1946 when they could return to Europe.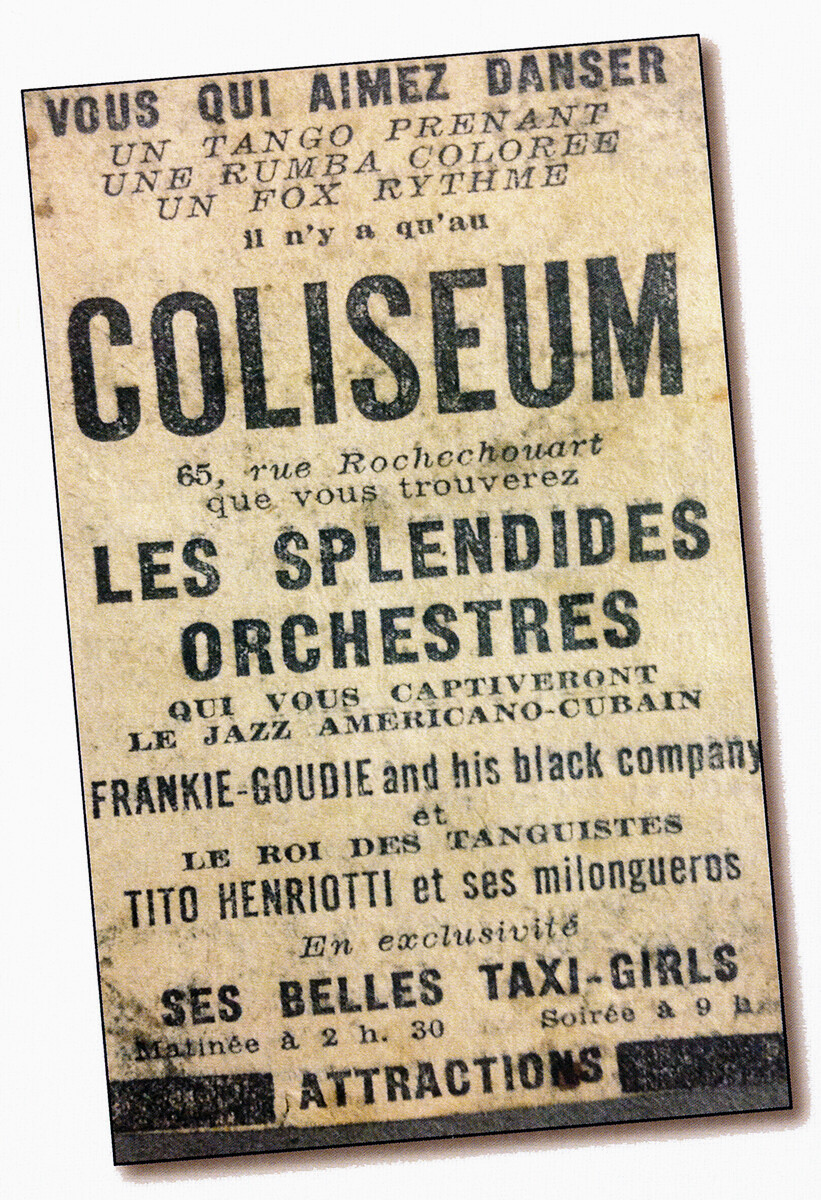 Research now verifies that Goudie was a key player among the cadre of a few hundred musicians, dancers and entertainers who spread Jazz and African American culture across the globe between the World Wars. Le Tumult Noir and Harlem-in-Montmartre were made more colorful and musical by the large presence of this Creole Johnny Appleseed of Jazz. Frank Big Boy Goudie was a big man who lived a big life — a Jazz vanguard, exemplar and icon at the heart of a Continental Golden Age of music.
Part two investigates his fascinating half decade in South America (1939-46), return to Europe, recording and travels (1946-56). Part three depicts his life as a jazz clarinet player in San Francisco (1956-64) through exclusive photos, rare music and the words of those who knew him.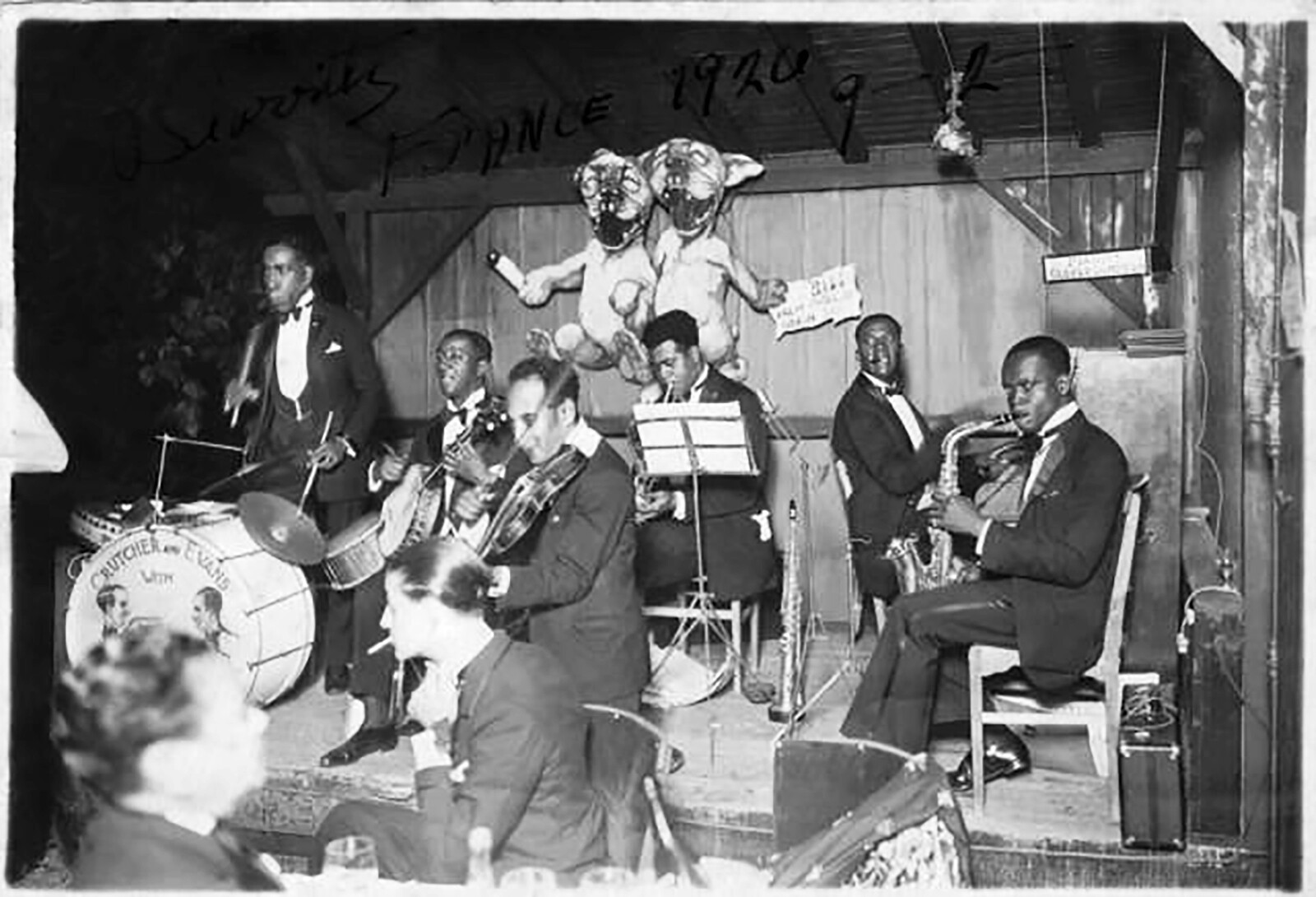 Coda: Goudie's Trumpet Records, 1935-39
In this clip, skilled Classic Jazz cornet player Chris Tyle comments on Goudie's five trumpet records with examples. He detects fragments of early New Orleans, the influence of Satchmo and considerable skill – even when doubling on reeds.
Clip K – Chris Tyle comments on Goudie's trumpet records 
All of the music above was recorded in France or Europe except the waltz. You'll find extensive music, graphics, interviews and documents further illuminating Goudie's saga, and the story of Classic Jazz at the JAZZ RHYTHM website.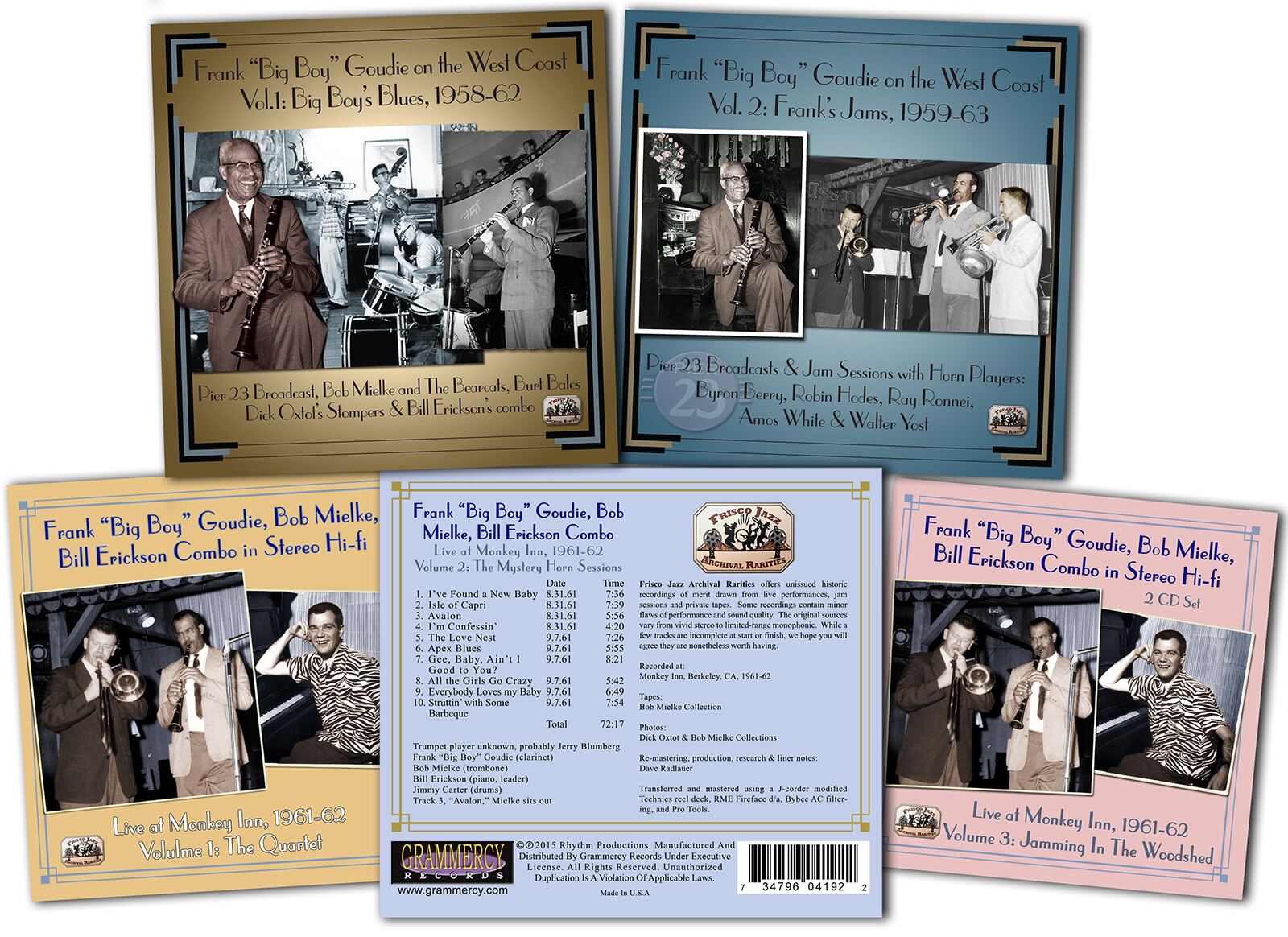 Frank Goudie at itunes
Monkey Inn at Amazon
---
Frank Big Boy Goudie, Pt. 1 of 3, Paris 1924-1939
Frank Big Boy Goudie, Pt. 2 of 3, South America 1939-46, Europe 1946-56
Frank Big Boy Goudie, Pt. 3 of 3, San Francisco 1956-64
Thanks, Sources and Further reading:
Thanks to Richard Hadlock for his out-of-print San Francisco Examiner articles 1963-64. Great thanks to Chris Tyle for his 2014 insights on the trumpet records. Merci to Christine Goudie and Dan Vernhettes for assistance, photos and corroboration. Thanks to voice actor Kenneth Gant and Joanne Fish. Thanks to Dan Radlauer for transcribing the unrecorded waltz to audio.
Bricktop (Smith, Ada) with James Haskins, Bricktop, Welcome Rain Publishers, 2000
Coleman, Bill, Trumpet Story, Northwestern University Press 1981
Goddard, Chris, Jazz Away from Home, Paddington, 1979
Hadlock, Richard, The Towering Reedist Goudie: Clarinetist 'Home' After Years Abroad with Top Bands, San Francisco Examiner, 4.28.63 ; Eulogy to a Gentleman of Jazz, San Francisco Examiner, Sunday, 1.19.64
Hughes, Langston, The Big Sea: An Autobiography, Hill and Wang, 1993
Leigh, Jim Heaven on the Side: A Jazz Life, self-published, 2000
Shack, William A., Harlem in Montmartre: A Paris Jazz Story Between the Great Wars, University of California Press, 2001
Stovall, Tyler Edward, Paris Noir: African Americans in the City of Light, Houghton Mifflin, 1996
Vernhettes, Dan with Christine Goudie and Tony Baldwin, BIG BOY, The life and story of Frank Goudie, 2015 Jazzedit.org
LINKS:
Goudie- Main Goudie page on JAZZ RHYTHM